Barcelona vs. Celtic: 6 Things We Learned in Late Barça Triumph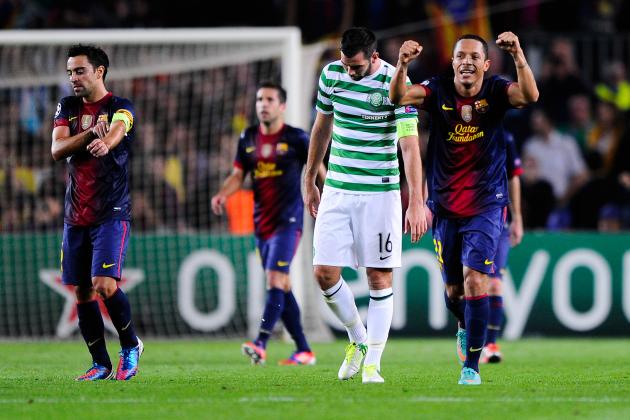 David Ramos/Getty Images

Barcelona left it very late to pick up another three home points in the Champions League against Scottish champions Celtic, but they walk away top of Group G with nine points from their three matches played.
Celtic, who were within half a minute of adding to their tally, remain in second place in the group on four points, after Spartak Moscow beat Benfica 2-1 in the other match in the group.
The Calatan side are all but through into the knockout stages already, with just a single further victory enough to assure them of a place in the Champions League in the new year.
Javier Mascherano put through his own net to give Celtic the lead, but Andres Iniesta equalised before halftime and Jordi Alba scored a late winner.
Here are six things we learned in the game.
Begin Slideshow

»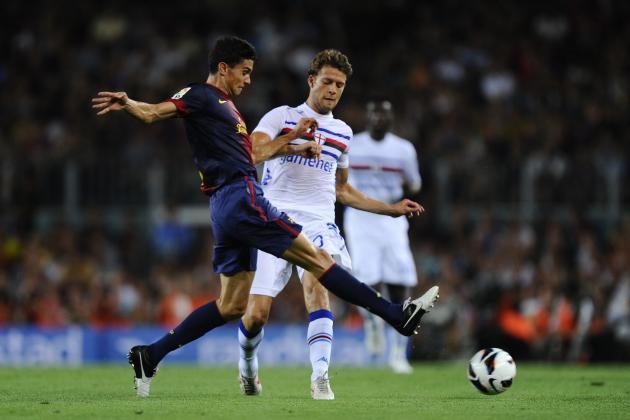 David Ramos/Getty Images

With Carles Puyol and Gerard Pique still missing in action for Barcelona, Tito Vilanova could have handed Javier Mascherano and Alex Song another chance to build their partnership at the back.
Instead, the manager paired Marc Bartra with the Argentina player.
The two played decent enough games on the ball, but they were so rarely tested defensively that there was no opportunity to get a rapport going.
Organisationally they were lacking from set pieces, with neither player taking charge enough and Mascherano ending up shouldering the ball past his goalkeeper for the game's opening goal.
There are still plenty of issues for Vilanova to resolve in this area of the pitch.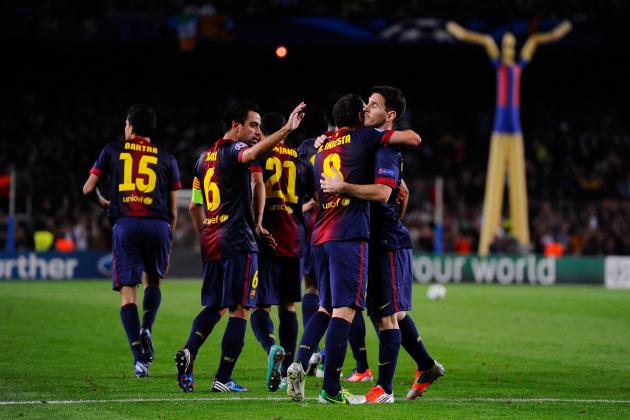 David Ramos/Getty Images

Pass, pass, pass, pass.
When things aren't going quite as well as you'd hope—only drawing at home against Scottish opponents, perhaps, with just a few minutes left on the clock—there can sometimes be the temptation to go against everything you've learned and repeated and perfected in training, and just lump the ball into the penalty area in the hope of getting a lucky knock-down.
The Barcelona players, however, feel no such urge.
They know the methodology of the final third inside out and are so at ease and have so much trust in the system of playing that they merely continued passing, probing and moving the ball around deep into stoppage time—and were rewarded with a 94th-minute equaliser.
Barcelona have a way of playing which lends itself to them winning a massive amount of games.
You only have to win by one goal to win any single game—and, as they showed against Celtic, it doesn't matter if that goal comes in the fourth minute of the game or the 94th.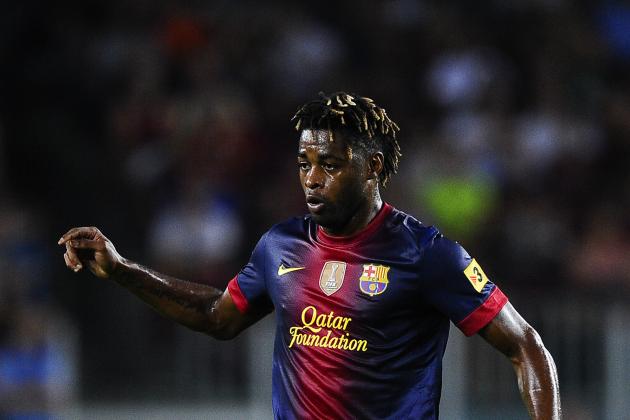 David Ramos/Getty Images

Former Arsenal midfielder Alex Song was let loose in his favoured position against Celtic, and fared pretty well.
He got his passing right for the most part, rarely wasted time in possession and made six tackles, more than any other Barcelona player.
However, he didn't really stamp his authority on the game where perhaps at times an extra marauding runner from deep would have benefited the home side immensely.
Instead, Song was content to sit deeper and control the possession when it needed to come back to him.
In part this will stem from an idea to get the basics right, hold his tactical position and be safety-conscious so as not to cost his side a goal—but Barça are all about winning by being more aggressive and better than other teams, and Song didn't manage to show that side of his game again.
For now he remains in limbo, neither starting regularly in midfield or defence.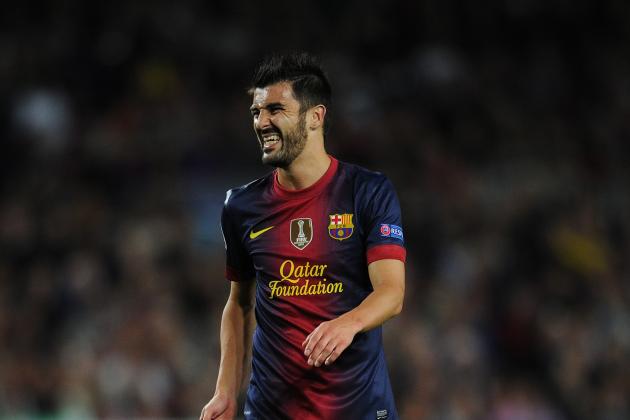 Jasper Juinen/Getty Images

David Villa endured another frustrating 80 minutes on the substitutes' bench against Celtic, before being called into action late on in the game.
He almost won it too; a late low finish beat the 'keeper but struck the post, as Villa looked to prove something of a point to his manager, who has continually overlooked him.
There are times Barcelona have needed, and will in the future need, an experienced goal-getter like Villa to come on and help them take three points which otherwise might be defended against—but the all-time leading Spanish scorer wants more than that.
He wants to be playing more often, having an impact on games and scoring at his usual prolific rate.
To do that, David Villa might have to look elsewhere this January.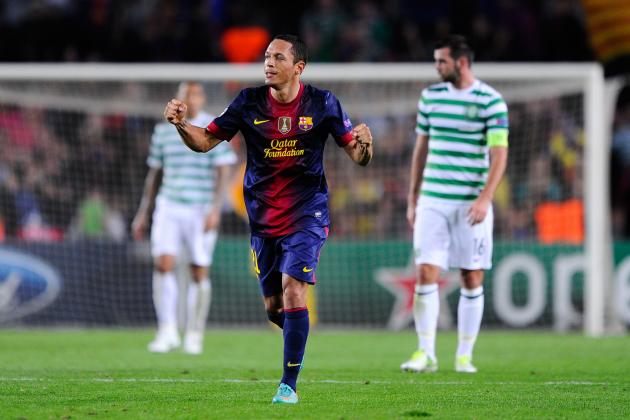 David Ramos/Getty Images

Jordi Alba simply never runs out of energy.
His 94th-minute winner was quite astounding, as he showed excellent movement, pace and desire to get beyond the defender marking him and tap home an easy finish from close range.
It was the movement and acceleration which got his name on the scoresheet, and the remarkableness came from the fact that a player who had covered so much ground already in the match was able to showcase his physical prowess one final time so late in the game.
Technically speaking, Alba is a prince among men even when his lung-bursting runs are not considered. A fine passer of the ball, he's unafraid in the tackle and has an innate drive and ability to reach the opponents' byline before pulling back a low cross or pass into the path of a forward.
Alba has been a great signing for Barcelona and will go on to prove his worth many times over.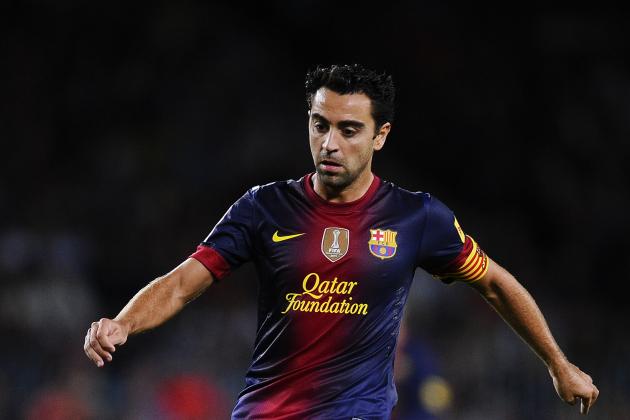 David Ramos/Getty Images

Messi has the flair and plenty of goals; Pedro, Tello or Alexis might provide the support cast and Alba the thrust from wide areas—but Barcelona's two greats are still Xavi and Andres Iniesta.
The two players are the perfect embodiment of the on the ball attributes required to play this relentless, high-pressure, perfection-seeking brand of football which sees Barcelona top 70 percent possession almost every game.
Against Celtic, that figure surpassed even 80 percent.
While the away side attempted 198 passes between all their players and subs on the evening, Xavi went on and made 183 of them just by himself, completing 97 percent of them.
The two are a constant, never-ending thorn of possibility and danger for all opposition teams, and Celtic found out the hard way the amount of running and chasing that needs to be done to keep them at bay.
And, for all their hard work in trying to do so, Barcelona still went and scored a late winner—because the passes just kept on coming, until the moment to try and break through came.
stats from whoscored.com