WWE Power Rankings: Breaking Down WWE's Top 25 Superstars for Week of Oct. 21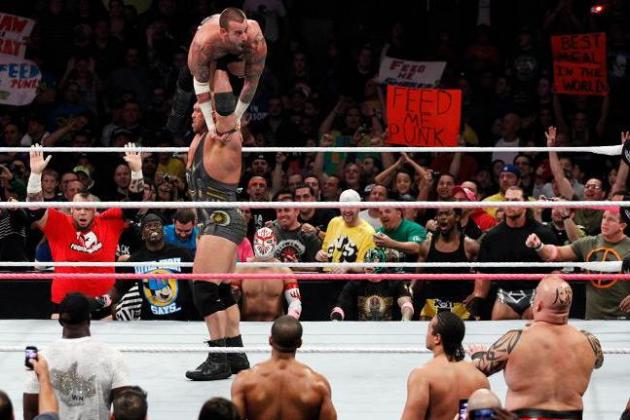 Photo courtesy of WWE.com
The build toward Hell in a Cell is nearly complete, as it is set to take place in less than a week, and while several superstars will head into the event on a high note, others are moving in the wrong direction.
It simply isn't possible for every wrestler to look good all the time, but the writers did their best to make guys look strong ahead of the pay-per-view.
That was especially apparent when it came to the WWE Championship feud between CM Punk and Ryback.
For the past few weeks Ryback has gotten the better of Punk, and that continued to be true, as he laid out the titleholder to close RAW. However, Punk scored a big win over World Heavyweight Champion Sheamus, so they enter Sunday's show on equal footing.
There are several other important feuds that will culminate or progress at Hell in a Cell, and the rankings are sure to be shaken up even further.
Here are the top 25 superstars in the WWE for the week beginning on Oct. 21.
Remember that the rankings are based solely on entertainment value and utilization, rather than kayfabe factors like wins and losses
Begin Slideshow

»
Last Week's Ranking: NR
After a couple months on the house-show circuit following his return from injury, Ted DiBiase finally wrestled a singles match on WWE programming.
DiBiase was essentially squashed by United States Champion Antonio Cesaro on SmackDown, but it was nice to see the former Tag Team Champion in action.
I simply can't figure out why DiBiase hasn't been utilized better. He was in line for a major face push a few years ago, and while that never came to fruition, he still has loads of potential.
DiBiase is lacking a bit when it comes to charisma, but the mid-card face scene is so barren that the WWE would be wise to give him a push.
Last Week's Ranking: 22
With Rhodes Scholars and the team of Rey Mysterio and Sin Cara meeting in the tag-team tournament finals, as well as Team Hell No holding the Tag Team Championships, The Prime Time Players have taken a back seat within the division.
Now that the No. 1 contender situation is sorted out, though, I expect to see a lot more out of Darren Young and Titus O'Neil.
The Prime Time Players may not be all that great from a technical standpoint, but they feel like a real team and certainly deserve to remain in the Tag Team Championship hunt.
Once Kane and Daniel Bryan beat Cody Rhodes and Damien Sandow at Hell in a Cell, perhaps Young and O'Neil will be next in line.
Last Week's Ranking: 21
After a couple weeks of participating in high-profile matches against the likes of Sheamus and Big Show, Tensai didn't play much of a role over the past week.
He took part in a pair of lumberjack matches, but his impact was negligible.
Even so, I was quite impressed with Tensai's encounters against Sheamus, as he matched up well with the World Heavyweight Champion.
That isn't to say that I believe Tensai should be a world title challenger, but he should be used much better than he has been. Tensai is very good in the ring for a man his size, and he could have a great heel persona.
It simply comes down to whether or not the creative team decides to use him.
Last Week's Ranking: 23
A couple months ago it was looking like Brodus Clay would be a stalwart in the upper mid-card and a possible future Intercontinental or United States Champion, but he has fallen off in a big way.
His Funkasaurus gimmick is still over, but the WWE has decided to job him out to guys like Heath Slater, and that has killed his credibility.
It seems to me like the WWE missed the boat with Clay.
He was red-hot for a while and was being built up effectively, but he was suddenly thrown to the curb, and now I have no clue where he can possibly go from here.
Last Week's Ranking: 20
No matter what Zack Ryder does, he just can't seem to catch a break.
Even though the WWE buries him at every turn, Ryder is still one of the most popular guys on the roster. His weekly routine involves losing a couple of quick squash matches and doing his YouTube show, which has also been neutered in a big way by the WWE.
I would much rather see Ryder as Intercontinental Champion than Kofi Kingston, because of the entertainment factor he brings to the table, but the WWE obviously sees him as a jobber.
Ryder blew the roof off of Madison Square Garden last year at Survivor Series and he wasn't even on the card, so that should tell you all you need to know about how over he is.
Last Week's Ranking: 19
I think we can all agree that 3MB is awful, but at least the WWE is trying to do something with guys who are normally only seen on Superstars.
Heath Slater gained somewhat of a cult following after the angle in which he took on WWE legends week after week leading up to the 1,000th episode of RAW, and I believe this stable was made in an attempt to get him over.
Although I'm not confident that it will work, Slater has been given some pretty notable wins of late, and he has showcased some charisma.
It's going to be tough for Slater to truly break through in the mid-card scene, but we'll see where this angle takes him.
Last Week's Ranking: 25
Justin Gabriel has always been an extremely talented in-ring performer, dating back to his WWE debut on NXT, but he has always had to contend with a great deal of other guys being higher on the totem pole.
It just so happens that the mid-card face scene is in dire straits right now, so he will get his chance to impress against United States Champion Antonio Cesaro.
Gabriel lost to Cesaro last week, but he bounced back with a surprising victory on RAW, and all signs point to a match between the two at Hell in a Cell.
Cesaro will win that match in all likelihood, but Gabriel has the ability to make himself and Cesaro look like a million bucks, so I'm certainly looking forward to seeing that match.
Last Week's Ranking: 16
No matter how much the WWE tries to make Alberto Del Rio seem relevant, I simply can't get on board.
He has loads of potential, and that was evident especially during his first year with the company, but the luster has worn off.
His pure wrestling is quite good, but Del Rio's character is stale, and he is far too repetitive on the mic to captivate the audience.
Del Rio will go at it with Randy Orton at Hell in a Cell, but I doubt the feud will help either man, as both are beyond boring right now.
Del Rio was damaged so badly by his constant losses to Sheamus that all the wins in the world won't make him look credible.
Last Week's Ranking: 18
With Rey Mysterio out of action for a week, Sin Cara carried the flag for his team and did a really nice job.
He scored a singles victory over Damien Sandow, and although Sin Cara and Mysterio lost to Rhodes Scholars in a tournament to determine the No. 1 contenders for the Tag Team Championships, I have been impressed with the work of Sin Cara of late.
I had high expectations when Sin Cara entered the WWE, but I was disappointed, as were many other fans. Perhaps Sin Cara simply wasn't ready for such a high-profile singles spot, and maybe he should have teamed with Mysterio from the very start.
They have a great rapport, and this should bode well for Sin Cara as a singles star in the future.
Last Week's Ranking: 17
Rey Mysterio has dealt with a lot over the past year, including knee surgery, a wellness policy violation suspension and an undisclosed illness, but he continues to impress and defy Father Time each and every time he steps into the ring.
Whatever Mysterio suffered from seemed to take a lot out of him, as he was noticeably thinner on RAW, but he didn't miss a step and stayed on top of his game.
Mysterio doesn't have much left to prove in the business, as he is a former WWE and World Heavyweight Champion, so pairing him with Sin Cara was a brilliant move.
Sin Cara needed a mentor and a guy who can help him reach his full potential, and I feel like Mysterio is the perfect person to do it.
Last Week's Ranking: 14
I've never been a big fan of Randy Orton and thought that I wanted him out of the main-event scene.
However, he has been so stale in the upper mid-card for the past year that I'm wondering if he would be better off challenging for a world title.
Orton's matches are usually good, but I can't remember the last time I cared about a single promo or feud in which he was involved.
Orton and Alberto Del Rio are perfect for each other in a lot of ways, as I believe the fans are tired of both of them and neither of them has anything on the horizon.
Orton is simply in a state of flux right now, and I'm not sure what the WWE can do to get him out of the funk in which he is clearly mired.
Last Week's Ranking: 15
Cody Rhodes is a guy who was fading fast as a singles competitor after dropping the Intercontinental Championship to Christian.
But he was saved by a burgeoning partnership with Damien Sandow.
The big issue with Rhodes is that he doesn't have an actual gimmick that the fans can get into, but that fact is hidden now that he and Sandow have formed Team Rhodes Scholars.
Rhodes and Sandow beat Rey Mysterio and Sin Cara to become the No. 1 contenders for the Tag Team Championships, and they will face Team Hell No for the straps at Hell in a Cell.
I don't expect Rhodes and Sandow to win, but I hope the team perseveres, as Rhodes provides the in-ring ability and Sandow excels on the mic.
It's an ideal combination.
Last Week's Ranking: 13
After months and months as a tag-team competitor with Evan Bourne and R-Truth, Kofi Kingston finally returned to singles wrestling, and he did it in style.
Kofi immediately challenged The Miz for the Intercontinental Championship , and he won the prestigious title for a fourth time on Main Event last week.
Kofi is obviously lacking in terms of charisma and mic skills, but he is a very safe guy to have the title.
Kingston is always going to put on good matches, and he has the fans behind him, so he should be a good transitional champion at the very least.
I'm guessing that there are plans to do something bigger with The Miz, since he dropped the title so abruptly, so Kofi figures to retain the Intercontinental Championship at Hell in a Cell.
Last Week's Ranking: 11
United States Champion Antonio Cesaro is in an interesting spot, as he has held the title since SummerSlam and has been quite impressive in the process.
However, he has yet to partake in a true feud.
Cesaro has rolled through several mid-carders over the past few weeks, but his momentum was halted on Monday when he was surprisingly defeated by Justin Gabriel.
That figures to lead to a match between the two at Hell in a Cell.
I feel bad for Cesaro, since he's great in the ring, solid on the mic and should be getting a great heel reaction. The fans don't seem to care about him much, though, and that isn't his fault.
There is a total lack of worthy challengers for the United States Championship, and unless the writers figure out something soon, they may give up on Cesaro far too early.
Last Week's Ranking: 10
The WWE has done its best to feature Big Show and make him look strong over the past month, but I find it very difficult to get behind him.
I don't actually believe that he'll beat Sheamus, despite his recent dominance. Thus. I can't buy him as a credible threat.
Big Show has mostly been an unstoppable force, and the WWE has done a nice job with his character, but that only helps so much.
Big Show is a guy who has no business being around a world title, because he simply doesn't need one. He's a veteran and a future Hall-of-Famer with nothing left to prove, and I wish he would hold down the mid-card scene instead.
Big Show hasn't done anything wrong while feuding with Sheamus, but I'm just not entertained by him.
Last Week's Ranking: 8
The WWE has a potential main-eventer and future World Heavyweight Champion staring it right in the face, and it can't figure out what to do with him.
I'm talking about Wade Barrett, of course, and while he has had three great matches with Sheamus over the past few weeks, the WWE refuses to give him a proper push.
It was apparent that Barrett had the "it" factor from the moment he debuted on NXT and ultimately led Nexus. He seemed well on his way to a massive push prior to WrestleMania this year, but an elbow injury derailed that.
Barrett has proven on several occasions that he can hang with the World Heavyweight Champion, and he looks like he belongs.
Hopefully, he gets a chance to truly feud with Sheamus sooner rather than later.
Last Week's Ranking: 12
Whenever Damien Sandow is afforded the opportunity to speak, I can't help but move him up this list.
Sandow may not be a top-flight technical wrestler, but he has an excellent persona and is the quintessential, arrogant heel.
His condescending use of advanced vocabulary is hilarious each and every time, and I believe that the only negative to his partnership with Cody Rhodes is that he doesn't speak quite as much.
With that said, Sandow didn't have a direct avenue to the main-event scene as a singles competitor, so I can't complain too much about the formation of Team Rhodes Scholars.
I feel like it is only a temporary team created to give both Sandow and Rhodes something to do while storylines are thought up for them as singles wrestlers.
But I have really enjoyed them, and I consider Sandow to be the star of the team.
Last Week's Ranking: 9
I haven't been overly impressed with Sheamus' reign as World Heavyweight Champion, but I must admit that he delivers in the ring pretty much every time he has a match.
Sheamus is one of the WWE's biggest workhorses, as he routinely competes on both RAW and SmackDown. He's capable of having a great match with a big guy like Wade Barrett or Tensai, or even a smaller guy like CM Punk, as was the case on Monday.
The biggest problem with Sheamus is that none of his challengers since Daniel Bryan have been made to look legitimate, and that has damaged his credibility.
Big Show does look like a threat, but the fans are tired of Big Show in the main-event scene, and simply aren't buying him.
My hope is that Sheamus vanquishes Big Show at Hell in a Cell and moves on to an opponent who the fans truly want to see.
Last Week's Ranking: 5
I have no problem admitting that I'm an unabashed Miz supporter, but even his biggest detractors have to admit that he's being wasted right now.
I initially felt like giving him the Intercontinental Championship was a great move, as it would give him some direction and possibly elevate the title as well.
But he was constantly made to lose non-title matches, and so he never had the appearance of a true champion.
Because of that, I'm glad he dropped the title to Kofi Kingston, but the poor booking continued on Monday.
I know that Miz won't beat Kofi at Hell in a Cell, but the illusion needs to be created, at least, by making him look strong heading into the event. Instead, Miz was squashed by Ryback on RAW.
I have no clue what the plans are for Miz, but he is incredibly entertaining, and I would love to see him challenge for the World Heavyweight Championship.
Last Week's Ranking: 6
A guy can only move so much in the standings without wrestling, so I decided to keep John Cena at No. 6.
He backed down and endorsed Ryback to face CM Punk at Hell in a Cell on last week's edition of RAW, but then said that he was cleared to compete this week.
Since he wasn't put in any physical situations, however, I'm guessing that he wasn't actually cleared. Rather than wrestling, Cena took part in a convoluted angle involving former RAW general manager A.J. Lee.
A.J. was fired for "fraternizing" with a WWE superstar, and that superstar was apparently Cena. The two of them apparently had a business dinner, but Vickie Guerrero told the board that it was more than that.
I really have no clue where this storyline is heading, but it's clearly being used to give Cena some purpose while he is out of action.
I'm not a big fan of it, and I hope it doesn't dominate WWE programming moving forward.
Last Week's Ranking: 4
Team Hell No has lost a bit of its steam and has been overshadowed by CM Punk and Ryback, but Kane and Daniel Bryan are still extremely entertaining.
When you consider how terrible the tag-team division was even a couple months ago, you have to give Kane and Bryan credit for breathing new life into it.
While Bryan is clearly the future star of the team, Kane is a veteran who knows his role and has executed it to perfection.
The "newly-tag game" was a little over the top for me, but Kane managed to keep it interesting with his dry sense of humor.
I have always preferred Kane as a dominant monster heel, but his comedic chemistry with Bryan has been so good that I feel like Kane's current work may be his best.
I hope he and Bryan are in for a very long and fruitful title reign.
Last Week's Ranking: 7
He may not have a match scheduled for Hell in a Cell, but that doesn't change my opinion about Dolph Ziggler being the best worker in the WWE.
You could argue that Daniel Bryan and CM Punk are better pure wrestlers, but Ziggler knows how to make himself and his opponent look good, and comes through for the WWE whenever he is called upon.
Speaking of Bryan, he and Ziggler had a firecracker of a match on RAW, with Ziggler coming out on top.
As Mr. Money in the Bank, Ziggler should be going over like that all time, but wins have been few and far between for The Show Off.
I have no doubt that Ziggler will attempt to cash in his contract at Hell in a Cell, but I doubt he is able to do it.
Big Show will probably beat down Sheamus after the match, but when Ziggler tries to cash in, Big Show will lay him out as well.
I want to see Ziggler as champion, but I'm patient enough to wait as long it takes.
Last Week's Ranking: 2
I haven't bought into Ryback hook, line and sinker, like most members of the WWE Universe, but I have to give credit where credit is due.
Ryback has managed to get incredible fan support, despite being very limited in many areas, and that is good enough for me to place him at No. 3.
Ryback is a physical freak and a sight to behold, but his move-set is limited. I'm not sure if he can take part in a long, well-wrestled match, and he has demonstrated absolutely no mic skills.
Despite those shortcomings, Ryback has been placed in a WWE Championship match against CM Punk at Hell in a Cell, and he will be counted upon to perform in the main event.
This is a classic case of the WWE striking while the iron is hot, but I hope that doesn't lead to a rash decision such as giving Ryback the title.
I would be absolutely shocked if that happened, but you never know what type of scheme Vince McMahon is cooking up.
Last Week's Ranking: 3
I have had Kane and Daniel Bryan right next to each other in these rankings for the past several weeks, but I believe Bryan separated himself a little bit on Monday.
Not only was he funny during the "newly-tag game," but his match with Dolph Ziggler was absolutely fantastic.
Kane is the veteran of Team Hell No, the one who each and every member of the WWE Universe can identify with, but Bryan is the one who is going to carry them when it comes to in-ring competition.
With each passing day, I become more and more convinced that Bryan is a future WWE Champion. He just continues to impress me.
I'm in no rush to see that happen, though, as I believe Bryan and Kane have a lot left to do as a unit.
Both are singles competitors at their very core, but they have done great things for the tag division and have to help it grow even more before moving on.
Last Week's Ranking: 1
WWE Champion CM Punk will almost certainly reach a full year as WWE Champion if he defeats Ryback at Hell in a Cell.
Because of that, he has been the focal point of WWE programming for the past couple months.
I'm never happy to see a guy like John Cena injured, but the fact that he has been away from the spotlight for the past several weeks has been good for Punk, as he has essentially assumed the temporary role of the face of the company.
Punk has done most of his damage on the mic since Night of Champions, but he did his talking in the ring on Monday.
Punk took on Sheamus in a champion-vs.-champion match on RAW with, referred to as the biggest lumberjack match of all time.
Punk actually controlled most of the match and looked like the superior superstar, and although he needed Big Show's help to win, Punk looks very strong heading into Hell in a Cell.
He deserves to keep his top spot.
Follow @MikeChiari on Twitter and listen to him on Ring Rust Radio.