It isn't often that Week 10 of the NFL schedule decides a playoff spot, but a few teams will be knocked out of the picture this weekend.
Several weeks ago the Dallas Cowboys versus Philadelphia Eagles matchup looked like it would be an important battle in the NFC East. Now it pits a pair of 3-5 teams, the loser of which will no longer have a realistic chance to reach the playoffs.
The San Diego Chargers and Tampa Bay Buccaneers sit at 4-4 and still harbor playoff potential, but the loser of their game will have a hard time reaching the postseason.
There are also a few division leaders that can create separation with a win. The San Francisco 49ers and New England Patriots could each emerge with a two-game edge in the loss column on Sunday night.
Following are all of the Sunday games on FOX and CBS, along with summaries on two of the more important games.
Week 10 Coverage Info:
Maps courtesy of the506.com: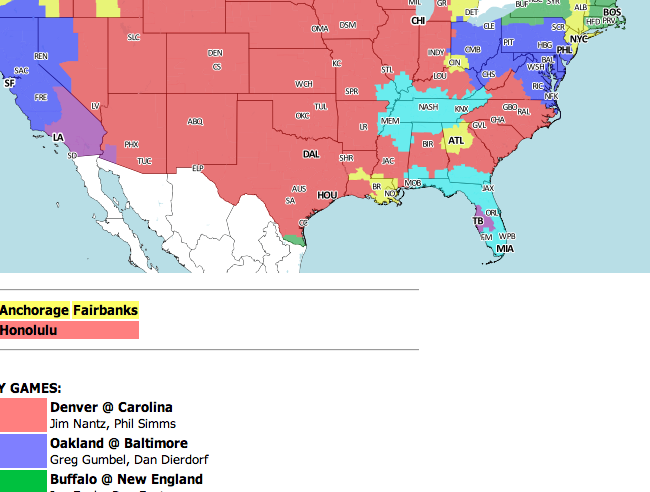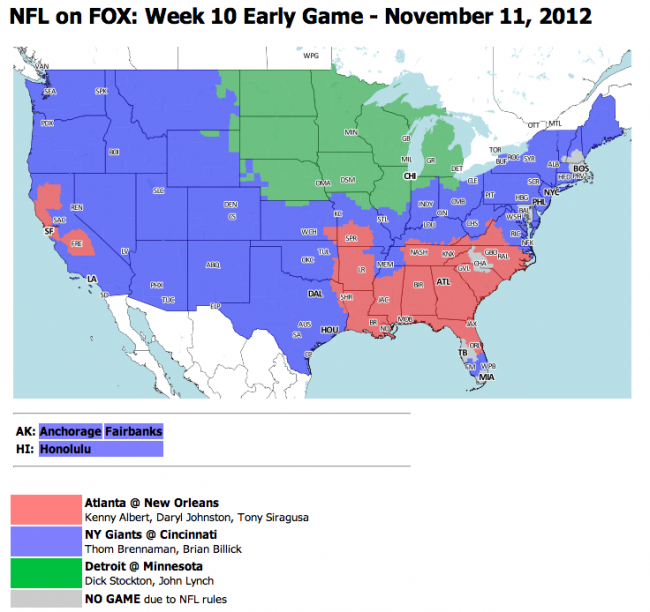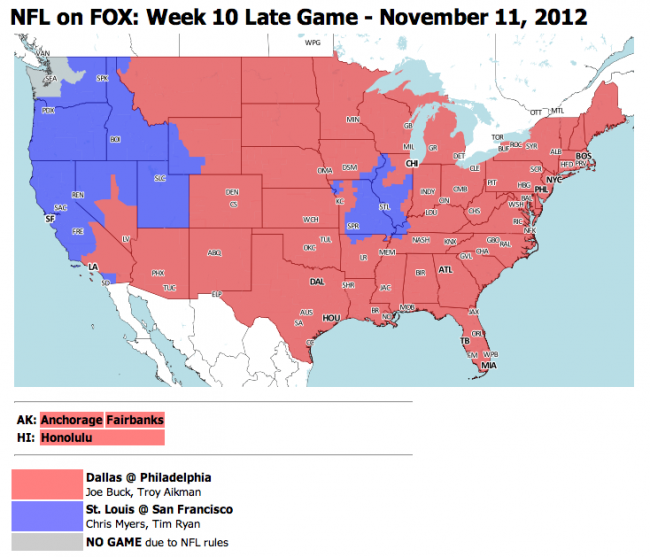 MATCHUP
START TIME
NETWORK
ANNOUNCERS
Detroit at Minnesota

1:00 p.m.
FOX

Dick Stockton, John Lynch
NY Giants at Cincinnati

1:00 p.m.
FOX

Thom

Brennaman

, Brian Billick
Tennessee at Miami
1:00 p.m.
CBS

Spero

Dedes

, Steve

Tasker

Buffalo at New England
1:00 p.m.
CBS
Ian Eagle, Dan Fouts
Atlanta at New Orleans
1:00 p.m.
FOX
Kenny Albert, Daryl Johnston
San Diego at Tampa Bay
1:00 p.m.
CBS
Kevin Harlan, Solomon

Wilcots

Denver at Carolina
4:05 p.m.
CBS
Jim

Nantz

, Phil

Simms

Oakland at Baltimore
4:05 p.m.
CBS
Greg Gumbel, Dan

Dierdorf

NY Jets at Seattle
4:05 p.m.
CBS
Marv Albert, Rich Gannon

Dallas at Philadelphia
4:25 p.m.
FOX
Joe Buck, Troy Aikman
St. Louis at San Francisco
4:25 p.m.
FOX
Chris Myers, Tim Ryan

Matchup of the Week: Atlanta Falcons at New Orleans Saints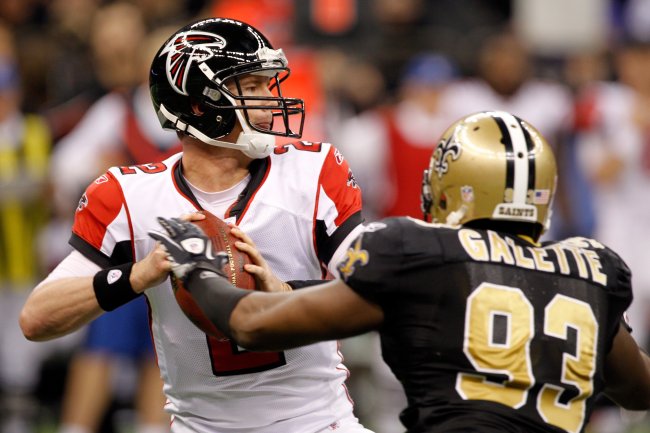 Chris Graythen/Getty Images
A poll on FoxSports.com asks readers which 3-5 team has the best chance to reach the postseason. An overwhelming percentage of the 25,000-plus respondents gave the edge to the Saints (67 percent) with the Dallas Cowboys coming in second (17 percent).
It is quite possible fans didn't look at schedules before answering.
What is the best game this weekend?
New Orleans faces the 8-0 Falcons twice, along with the division-leading 49ers and New York Giants. They likely need to go 7-1 to make the playoffs, making their home game with their division leader a must-win.
The Saints should be able to score on the Falcons, even with a strong Atlanta pass defense. They are weak against the run, but that isn't exactly the strength of New Orleans' offense.
The biggest issue continues to be defense. The Saints haven't proved they can stop an offense.
Some will point to holding the Eagles to 13 points, but that was more a case of Philly stopping themselves. Prior to Monday every opponent had scored at least 24 points.
Atlanta should be able to give Drew Brees a pretty high score to try to beat.
Underrated Matchup of the Week: Oakland Raiders at Baltimore Ravens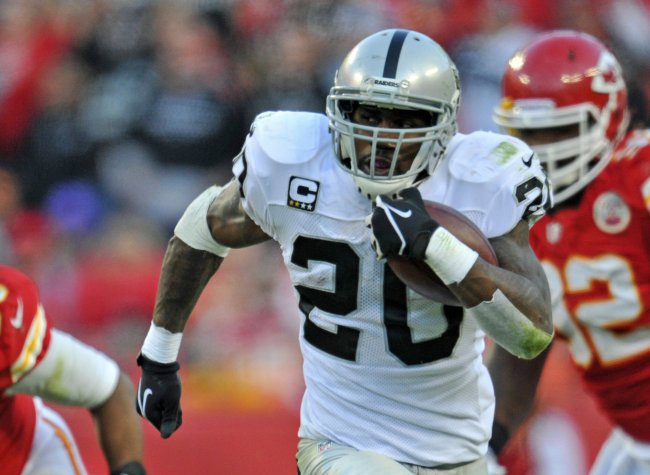 Peter Aiken/Getty Images
Injuries to the Baltimore Ravens and Pittsburgh Steelers have caused many to wonder when the losses will start piling up. It hasn't happened yet, but something will have to give soon. Two of Baltimore's next four games are against the Steelers, with the Raiders and San Diego Chargers mixed in.
Those games could go a long way in determining wild-card spots.
It is hard to take the Raiders as a serious contender, especially if Darren McFadden can't suit up. Though the Raiders have yet to rule out their star running back, Run DMC did miss practice on Wednesday, according to CSN California's Paul Gutierrez on Twitter. If he can play, he'll hope to get his season on track to help his team make a run at a wild-card spot.
The Raiders are a long shot. But if they can secure a win over Baltimore they only have one game left against a team with a winning record (Denver).
This weekend will either be be a turning point for the Raiders or secure the Ravens as a playoff team.
Darin Pike is a writer for Bleacher Report's Breaking News Team and a Featured Columnist covering the NFL and the Seattle Seahawks.