NFL Week 7: The Good, Bad and Ugly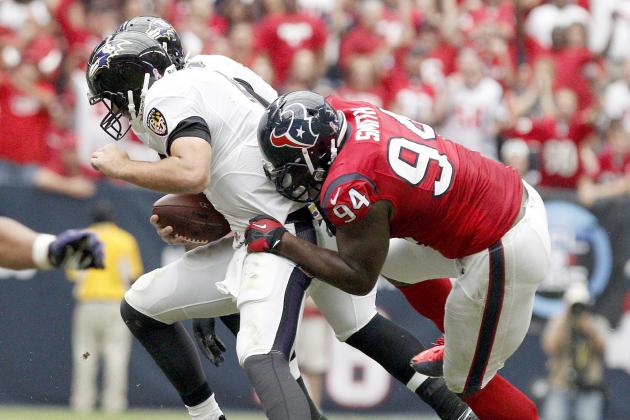 Thomas B. Shea/Getty Images

One week after getting torched by Aaron Rodgers and the Green Bay Packers, the Houston Texans defense bounced back in a huge way. They held the Baltimore Ravens to 176 yards of total offense.
The Texans constantly harassed Ravens quarterback Joe Flacco. They registered four sacks, hit Flacco another eight times and intercepted him twice, including a 52-yard interception return by Johnathan Joseph.
The Texans showed that they are not going to let the loss of Brian Cushing affect their run to the playoffs.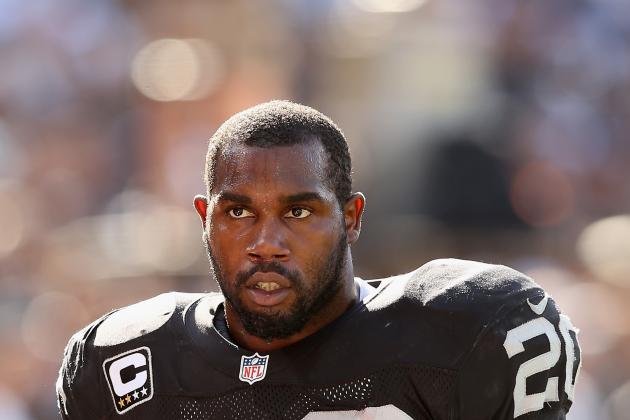 Ezra Shaw/Getty Images

Maybe it's time to take Darren McFadden's nickname away from him. This season, his production is not worthy of the name Run DMC. He's been more like "Moving Lightly DMC".
McFadden averaged a meager 2.8 yards per rush against the Jacksonville Jaguars. He gained 53 yards on 19 carries and has yet to revert to his form from a season ago. That's not going to get it done for the Raiders.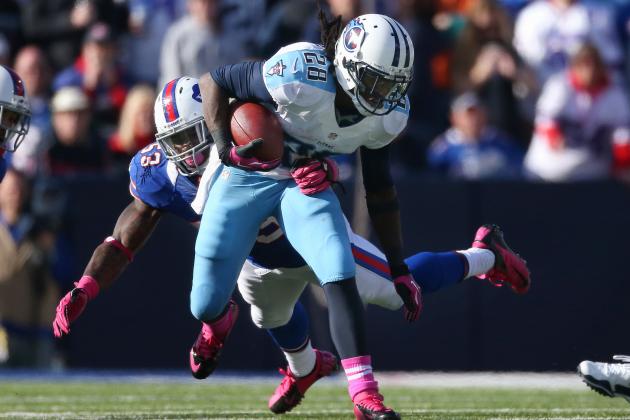 Tom Szczerbowski/Getty Images

Just when you thought the Buffalo Bills defense could not get any worse, it allowed Chris Johnson to rush for 195 yards, including an 83-yard touchdown run in the first quarter. That was Johnson's second rushing TD of the game.
That was bad enough, but the worst part of the defense came late in the game. With the Bills clinging to a 34-28 lead, the defense was asked to make one stop to seal the win. Instead, it allowed Matt Hasselbeck and the Titans to go on a 52-yard drive and score the game-winning touchdown.
The Bills are currently the 31st ranked defense in the league.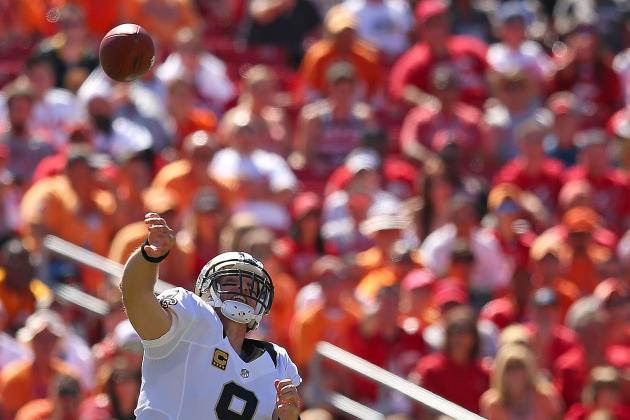 Mike Ehrmann/Getty Images

Drew Brees continued his recent stretch of solid play, leading the New Orleans Saints on back-to-back wins. After throwing an interception on the fifth play of the game against the Tampa Bay Buccaneers, Brees turned it around and was almost perfect.
Brees threw for 377 yards on 27-of-37 passing with a 130.1 passer rating and four touchdowns. Brees has now thrown 18 TD passes on the season.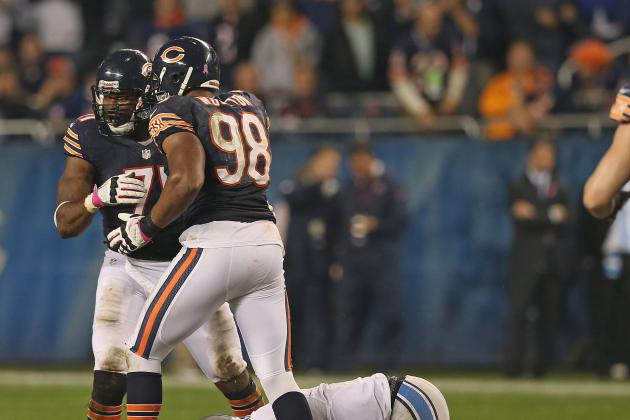 Jonathan Daniel/Getty Images

The Detroit Lions offense was awful throughout the entire game on Monday Night Football. On their first six possessions, the Lions only managed 32 yards and punted all six times. They gained 54 yards on their final possession of the first half but that drive ended with a Mikel LeShoure fumble.
Things did not improve in the second half. Two of their five possessions ended in turnovers in the red zone. They finally scored a touchdown on their final drive. Unfortunately, only 30 seconds remained in the game.
Quarterback Matthew Stafford was widely inconsistent and you know it's a bad night when Calvin Johnson only has three catches for 34 yards.
Grant Halverson/Getty Images

Just when you think Dez Bryant has turned a corner, he proves you wrong. For every step forward, he takes two steps back. It appears he always follows up a good game with a bad one.
This week, Bryant was a non-factor in the Dallas Cowboys' victory over the Carolina Panthers. Bryant only had two catches for 14 yards and once again, he had a huge dropped pass in the end zone. With the Cowboys trailing the Panthers 14-13 late in the fourth quarter, Bryant dropped a perfectly thrown pass by Tony Romo, and the Cowboys were forced to settle for a field goal.
Not the kind of performance the Cowboys expect from their "superstar" wide receiver.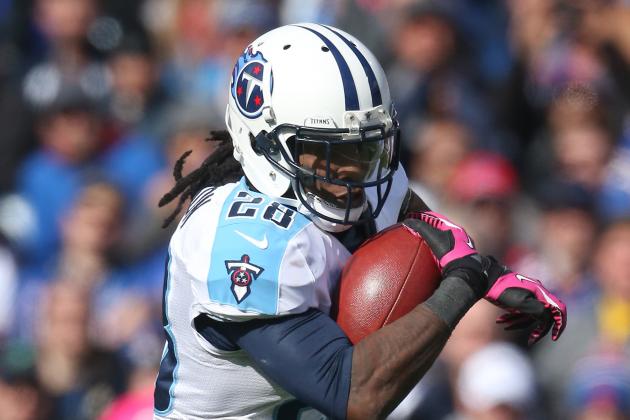 Tom Szczerbowski/Getty Images

Could this be the return of CJ2K?
Chris Johnson amassed 103 yards and two touchdowns rushing before the end of the first quarter. He scored on rushing plays of 16 and 83 yards before most fans even got to their seats.
This is the Chris Johnson the Tennessee Titans have been looking for all year. He finished the game with 195 yards and two touchdowns. Even without the long 83-yard touchdown run, Johnson averaged 6.9 yards per carry.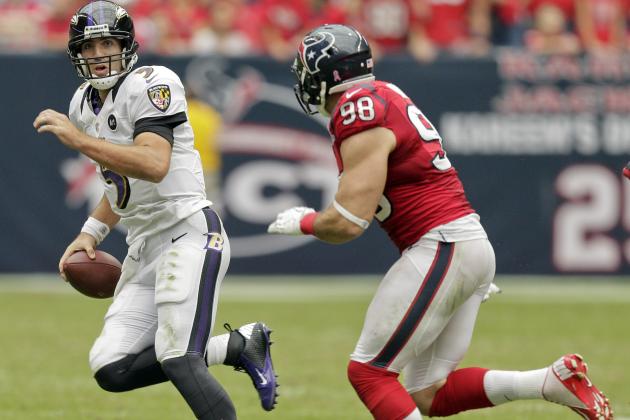 Bob Levey/Getty Images

Joe Flacco did not have one of his best days against the Houston Texans. In a game that featured the teams with the two best records in the AFC, Flacco struggled and was harassed all day.
Flacco only completed 49 percent of his passes for the Baltimore Ravens. He finished with a passer rating of 45.4. He went 21-of-43 for a mere 147 yards and one touchdown with two interceptions. He also lost 26 yards on four sacks.
Al Bello/Getty Images

Someone needs to explain to New York Giants running back Ahmad Bradshaw that there are more productive ways to let his coach know that the team should "run the ball."
At least that was Bradshaw's explanation (via The Star-Ledger) for his sideline temper tantrum with head coach Tom Coughlin.
Better yet, Coughlin should just give Bradshaw the "coaches coach and players play" speech.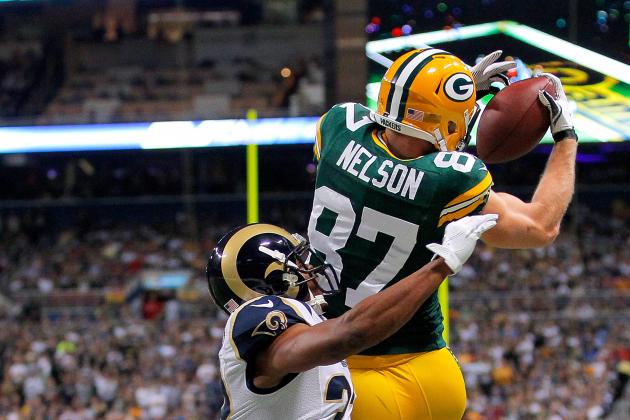 Doug Pensinger/Getty Images

Somebody woke up the monster!
Last week Jordy Nelson had a huge game against the Houston Texans. This week he had another big game for the Green Bay Packers.
Going up against a tough St. Louis Rams defense, Nelson caught eight of the nine passes thrown in his direction. He finished the game with 122 receiving yards and a touchdown.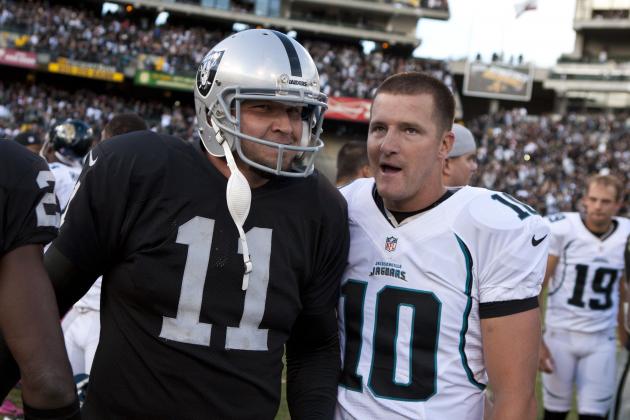 Jason O. Watson/Getty Images

For a kicker who prides himself on his ability to successfully make long field goals, Oakland Raiders kicker Sebastian Janikowski missed his opportunity to have his name stand alone in the NFL record books for a kicker.
With six seconds remaining in regulation, the Raiders sent Janikowski out onto the field to attempt a game-winning, NFL record-breaking 64-yard field goal attempt. Janikowski didn't even come close and instead, the Jaguars' Aaron Ross returned the ball 36 yards before being tackled and sending the game into overtime.
Janikowski later kicked a 40-yard field goal to give the Raiders a 26-23 overtime win. It seems for now, Janikowski will have to share the NFL record for the longest field goal in the NFL with three other players.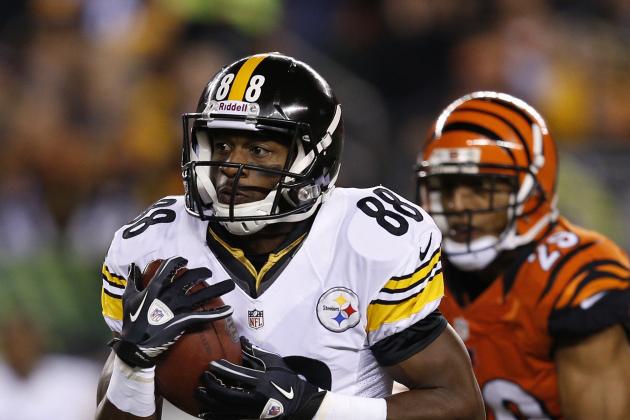 Joe Robbins/Getty Images

Midway though the fourth quarter after the Cincinnati Bengals sacked Pittsburgh Steelers quarterback Ben Roethlisberger, wide receiver Emmanuel Sanders was in the huddle ready for the next play.
Seconds later, with the Steelers facing a delay of game penalty, Sanders dropped to the ground and got the attention of the referee, who decided to stop the clock for an injury timeout. The Steelers, who had just called a timeout prior to the Roethlisberger sack, were able to save a timeout. Two players later, the Steelers punted the ball back to the Bengals. Guess who downed the ball at the Bengals' 11-yard line?
Emmanuel Sanders.
Flops belong in the NBA or on a soccer field, not in the NFL. Hopefully Sanders and the Steelers get a call from Roger Goodell, who hands them a fine instead of an Oscar.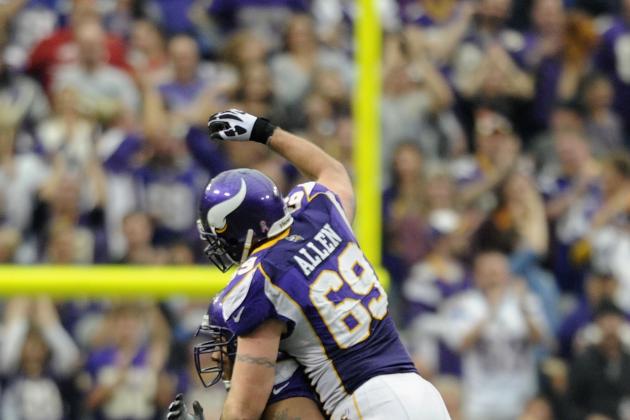 Hannah Foslien/Getty Images

The Minnesota Vikings defense stifled the Arizona Cardinals offense in a 21-14 victory. They were able to harass Cardinals quarterback John Skelton all day, sacking him seven times and hitting him an additional eight times. They also forced two turnovers and scored a defensive touchdown.
A few of the bright spots for the Vikings defense include Brian Robison, Jared Allen and Harrison Smith. Robinson had his share of hits on the Skelton. He had three sacks and eight total tackles, which included two tackles for a loss.
Jared Allen had two sacks, two QB hits and two tackles for a loss. Both players were a huge part of the Vikings success.
Rookie safety Harrison Smith added a 31-yard interception for a touchdown for the Vikings defense.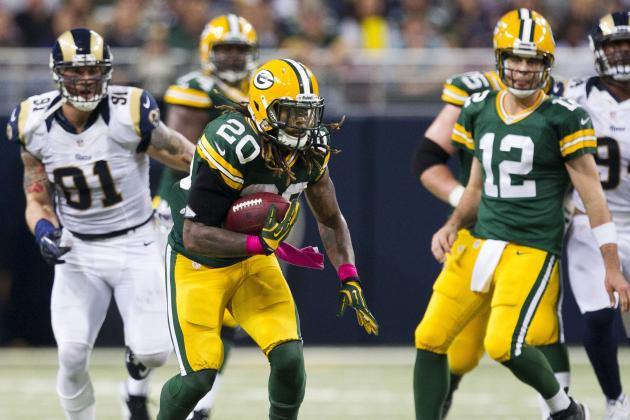 David Welker/Getty Images

If the Green Bay Packers expect to get deep into the playoffs then something needs to be done about their running attack. Alex Green is not getting it done.
This week Green gained a pedestrian 35 yards on 20 carries for an average of 1.8 yards per rush. Green needs to improve on that number significantly if he expects to keep the job.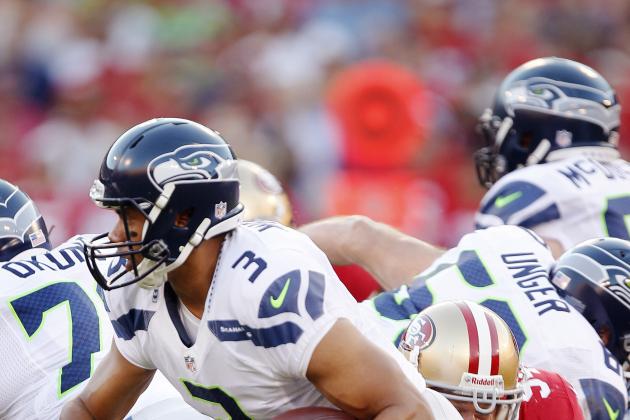 Brian Bahr/Getty Images

Seattle Seahawks quarterback Russell Wilson had a particularly rough game playing against the San Francisco 49ers on Thursday Night Football.
Wilson had his worst game of the season. He has been bad on the road this year, but he was abysmal against the 49ers. Wilson only completed 39 percent of passes. He finished with a passer rating of 38.7 on 9-of-23 passing for 122 yards.
Wilson also threw an interception and was sacked twice.