9 Best Baseball Player Appearances in TV and Movies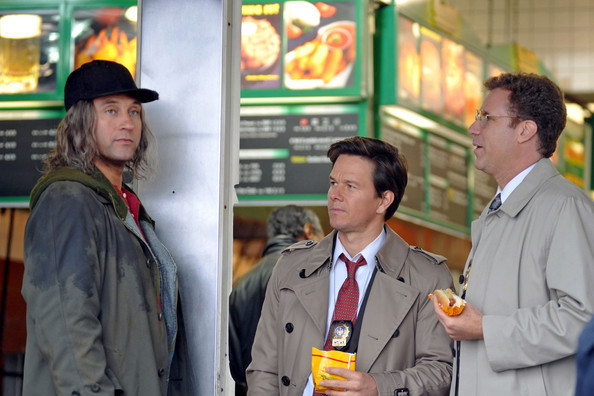 photo courtesy of zimbio.com
Though most of you devoted readers may know me as a baseball fan and historian, those closest to me know that I'm also a huge film and TV nerd. Seriously, my Netflix queue is full of everything from Italian horror movies to seasons of Night Court, so you have an idea how eclectic my tastes are.
Thus, when a baseball player makes an appearance in a movie or on one of my favorite shows, I understandably go crazy with excitement.
Be it Keith Hernandez romancing Elaine on Seinfeld or Ken Griffey Jr.'s silent but deadly cameo in Little Big League, our favorite ballplayers venturing into the entertainment world is almost like a breath of fresh air. It's kind of nice to see that they're more than just jocks and can take time out of their schedule to provide the fans a chuckle or meaningful moment away from the stadium.
The fact that New York Yankees shortstop Derek Jeter, easily the biggest pretty boy in MLB, was willing to play a bum in the Will Ferrell comedy The Other Guys shows that deep down, he's a complete goofball.
Oddly enough, Jeter isn't the first player to test his acting chops. Still, along with some others, his cameo is one of the best in baseball-player-acting history.
Begin Slideshow

»
Say what you want about him choking in the playoffs. Nick Swisher is just plain awesome and you don't need to be a Yankee fan to know that. The whole reason he's so popular both on the team and with the fans is that he has a fun-loving personality and seems like a genuinely decent human being.
Don't believe me? Check out his cameo on the hit CBS sitcom How I Met Your Mother. Usually, if any professional athlete comes to a bar, the staff goes out of their way to make sure that he isn't bothered and he usually has a large entourage with him. This may just be set up for TV, but note how Swisher is just hanging out by himself in what, by New York City standards, is a pretty divey bar. When people approach him, he welcomes it.
The cameo is short, but it definitely gives one a good idea of the man's laid-back personality.
WARNING: VIDEO CONTAINS NSFW LANGUAGE
If you like South Park and/or stupid guy humor, then Baseketball is the movie for you. Matt Stone and Trey Parker play two misfits who create the ultimate front yard game, which becomes a national sensation.
The movie is fraught with cameos, particularly broadcasters Bob Costas and Al Michaels, but the cameo at the end is the best. It features Mr. October himself, Reggie Jackson. His cameo isn't super-meaningful (at around the 9:30 mark), but funny just the same.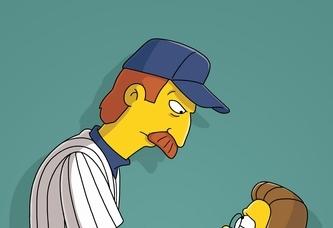 photo courtesy of 90feetofperfection.com
Sadly, no clip of this epic cameo could be found, but the fact that one of the greatest pitchers of all time appeared on one of my favorite TV shows was enough for me to make sure to catch the episode on its original airdate in 2006.
It just shows future Hall of Fame pitcher in 6'10" Randy "The Big Unit" Johnson doing what he does best: being tall and scary in front of everyone's favorite annoying neighbor, Ned Flanders.
Check out the transcript of their exchange here.
Derek Jeter: New York Yankees shortstop, shooting victim and conspiracy theorist? Well, at least he'll be able to keep busy post-retirement.
Not many people have seen nor heard of Little Big League, but it's one of those hidden gems that's always fun to watch. It tells the story of a child who inherits the Minnesota Twins from his grandfather, and he subsequently hires himself as the manager of the lovable losers.
Sure enough, he turns the team around and has them fighting elimination up until the very end.
In this case, the villain team is the Seattle Mariners squad headlined by star outfielder Ken Griffey Jr., who was my favorite player growing up. This segment of the movie shows him as just the type of player he was back then: a silent assassin who would either make you cheer or cry.
Does the assassin get bested by the boys from Minnesota? Well, watch and see!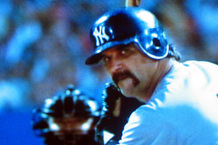 Pete Vuckovich enjoyed an 11-year career as a pitcher for the Chicago White Sox, Toronto Blue Jays, St. Louis Cardinals and Milwaukee Brewers, and he even won the AL Cy Young award in 1982. Yet, after he retired, he earned a new following of fans with his cameo in the hit movie Major League.
Vuckovich served as one of the villains of the film, New York Yankees power-hitting first baseman Clu Haywood. The Fu Manchu mustache certainly helped him look intimidating at the plate, and if you want to see him in full New York force, rent the movie!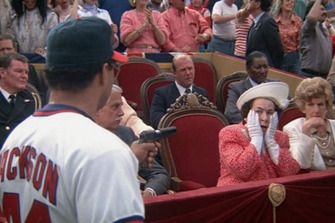 photo courtesy of totalprosports.com
Once again, Jackson shows up on the list as the man clearly loves the camera both on and off the field. The exact clip couldn't be found, but all you need to know is that the man becomes a robotic killing machine muttering "I must kill...I must kill...the queen."
Don't worry, though. He gets his own (spoiler alert!).
Seinfeld is probably the best show in the history of television, and this episode is probably the best of the series. Watching this scene, all you can do is feel sorry for former New York Mets great Keith Hernandez. I mean, come on. Nobody should have to deal with the craziness of Kramer and Newman without some sort of warning!.
Oh well. At least he got to kiss Elaine.
If you grew up in the '90s and love The Simpsons, then chances are you've seen this episode multiple times. If you're a baseball nut, it may very well be your favorite episode of the series.
Long story short, Mr. Burns, head of the Springfield Nuclear Power Plant, has to field a team to play another power-plant squad from the neighboring town of Shelbyville. To give himself an advantage, Burns has his employees on the team, but also hires professional baseball players.
Subsequently, all hell breaks loose as follows: Roger Clemens undergoes hypnosis and suddenly thinks he's a chicken, Wade Boggs gets knocked out during a bar fight, Ken Griffey Jr. overdoses on an old-timey miracle medicine and is overcome with gigantism, Steve Sax gets arrested, Ozzie Smith flat-out disappears, Jose Canseco gets distracted saving a woman from a fire, Don Mattingly is fired for supposedly having sideburns that are too big and Mike Scioscia is hospitalized with radiation poisoning. This leaves Darryl Strawberry as the sole MLBer on the Springfield roster.
Needless to say, it's a great episode that's full of laughs and one amazing song.