5 Strategic Changes Dallas Mavericks Need to Make in 2012-13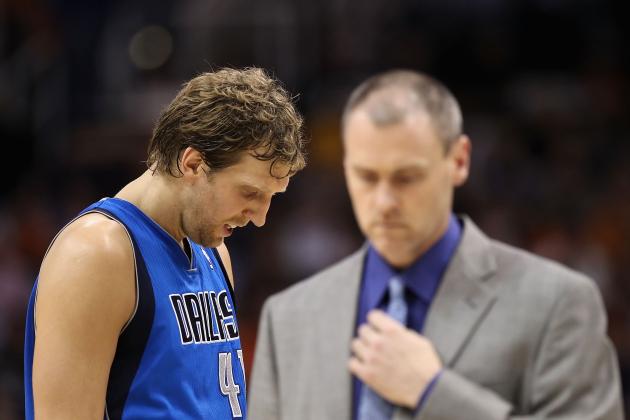 Christian Petersen/Getty Images

Despite being a playoff team and boasting two future Hall of Famers during the 2011-12 season, the Dallas Mavericks were not a very good basketball team. They got by on the veteran prowess of stars Dirk Nowitzki, Jason Kidd and Jason Terry, but were exposed in a playoff series sweep against Oklahoma City.
This season, Rick Carlisle's team is going to need to make some fundamental changes if it wants to compete in the Western Conference. In an offseason that included Dwight Howard and Steve Nash to L.A. and Jeremy Lin to Houston, it seems the West is tougher than ever.
Considering that the Mavericks missed out on Deron Williams, are dealing with injuries to frontcourt starters Nowitzki and Chris Kaman, and now feel their heels being clipped by up-and-comers like Golden State and Minnesota, this is a pivotal season to prove Dallas is still a year-to-year contender.
With eight new faces on the roster, Carlisle will have to mesh his returning talent and his three new starters very quickly into the season. With plenty of room for growth from last season, here are five changes the coaching staff will emphasize to try and help reestablish Dallas as a title contender in 2012-13.
Begin Slideshow

»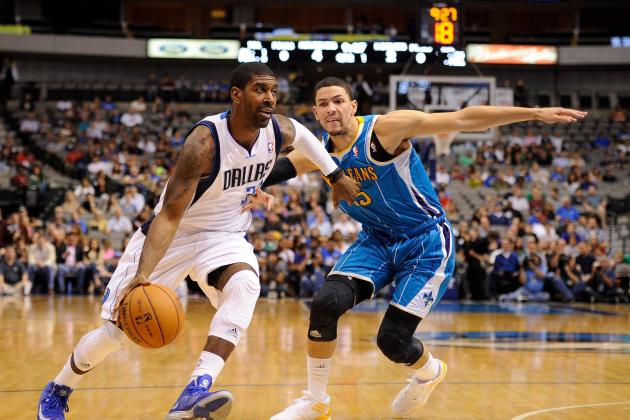 Jerome Miron-US PRESSWIRE

Last season, the Mavericks were heavily criticized for not being able to attack the basket in the flow of their offense. Finishing 26th in free-throw attempts per game, this team settled for the jump shot too often. They were ninth in free-throw shooting percentage, so it's not out of the realm of possibility to infer that when they got to the line in games, they had a better shot of winning.
From Dirk Nowitzki, a noted jump shooter, to Jason Kidd, who seems allergic to open layups, the 2011-12 team didn't even come close to attempting shots in the paint. Of their attempts, 74 percent were considered jump shots, as noted by 82games.com.
Jason Terry is a career jump shooter. Vince Carter took 78 percent of his attempts from jump-shot range, and Lamar Odom a staggering 71 percent, as he never was comfortable with his role in the offense.
This year, Darren Collison and O.J. Mayo will have to lead a renewed effort towards attacking the basket, and on occasion, getting fouled. At 71 percent for Collison and and a whopping 80 percent for Mayo, those stats are part of the reason both ended up as bench players for Indiana and Memphis.
With those two, Delonte West, Rodrigue Beaubois and rookie Jae Crowder also expected to attack off the dribble, there needs to be a fundamental change in the priorities of this offense. Dallas can't afford to watch guards settle for jump shots during entire quarters, or it's going to be a long season.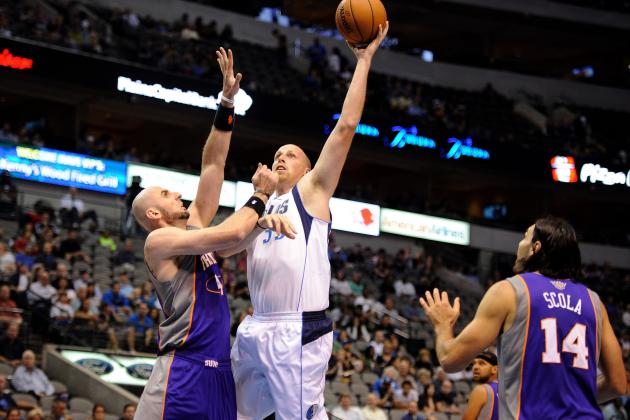 Jerome Miron-US PRESSWIRE

With the flurry of centers that have graced the floor donning a Maverick uniform over the past decade, none have really been options to score down low.
Dirk Nowitzki handles most of the scoring in the frontcourt, so adding a defensive presence that could grab a weak-side rebound was more important. Erick Dampier, Brendan Haywood and Tyson Chandler all fit that mold, and all three were wildly ineffective in post-up situations.
But Dallas has revamped this roster, and with it they've created a pro-offense environment down low. Chris Kaman is one of the toughest centers to guard in the league. Elton Brand is no slouch either, and both men will have to pick up the slack while Dirk recovers from his knee surgery.
Even when Nowitzki returns, using more post-up options will help the spacing and efficiency of this offense, especially if guys other than the big German are being isolated.
Vince Carter was effective last season against smaller guards, and I think Jae Crowder will be able to exploit mismatches when he plays small forward. There are options for scoring in the post that this team hasn't had since Nowitzki's arrival, and Rick Carlisle needs to harness them.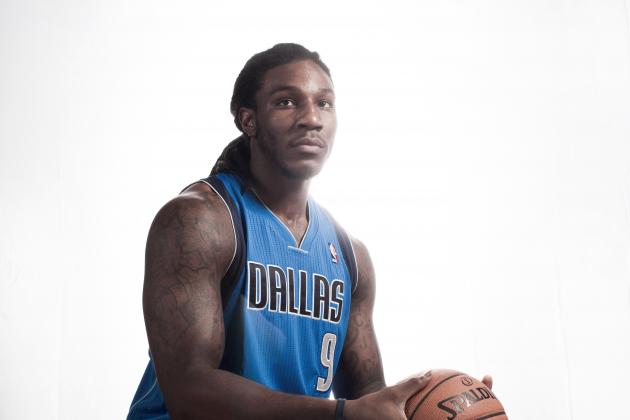 Nick Laham/Getty Images

For quite some time, the Mavericks have shown a propensity to avoid developing young talent. Before this season, only Rodrigue Beaubois and Dominique Jones were draft picks the team was still trying to develop.
Who remembers the Nick Fazekas failure? What about Shan Foster? After chasing a championship for Dirk Nowitzki and Jason Kidd, developing young talent with game experience wasn't a priority for this coaching staff.
Now thrust into a new era of Dallas basketball, they responded by making three selections in the 2012 NBA draft, all three of whom expect to make this roster and compete for playing time. It's unrealistic for all three to be big-time contributors, but all three should get playing time to further their development.
Jared Cunningham, Bernard James and Jae Crowder join Beaubois and Jones as the new future of this roster, and to determine if they have a future in the league, there has to be talent evaluation that extends past the realm of just practice.
Although completely worth it, the growth of Beaubois and Jones has certainly been stunted. To avoid a similar fate and a similar scenario in 2016, Carlisle can use his young talent to usher in a new era while also competing for a Western Conference playoff spot.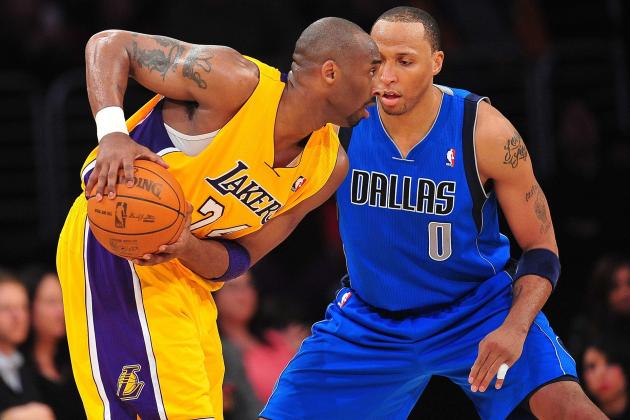 Gary A. Vasquez-US PRESSWIRE

Since being an effective tool that slowed down LeBron James and the Miami Heat in the 2011 NBA Finals, the 2-3 zone the Dallas Mavericks use hasn't been quite as effective.
For whatever reason, the gadget defense was a thorn in the team's side last season, when opposing offenses seemed to get whatever shot they wanted. Now that Dallas has athletes like Jae Crowder and O.J. Mayo, it can further distance itself from masking defensive inefficiencies by using better defensive matchups.
Shawn Marion, the defensive Swiss army knife for the team last season, guarded four different positions for this team, including point guard Chris Paul. That's great in certain stretches, but Marion was chasing around players so much that it threw off the rest of this lineup.
Since the starting guards can actually defend their position, Marion is free to roam a little bit more, unless of course an elite player like Kobe Bryant requires better defense.
In the paint, this team is considerably less aggressive in the post, as the loss of Tyson Chandler and Brendan Haywood would suggest. But underrated shot-blockers Elton Brand and Chris Kaman aren't complete throw-aways, and each will play the role of enforcer when necessary.
The big thing for Dallas is more versatility on the wings. Jason Kidd couldn't stay with opposing point guards; Darren Collison can. Jason Terry was a defensive head-scratcher at times; O.J. Mayo will be asked to guard the league's deadliest position each night.
Not having to adjust defenses by using Marion so much, this team should be better equipped to defend elite offenses like Los Angeles, Oklahoma City and Miami.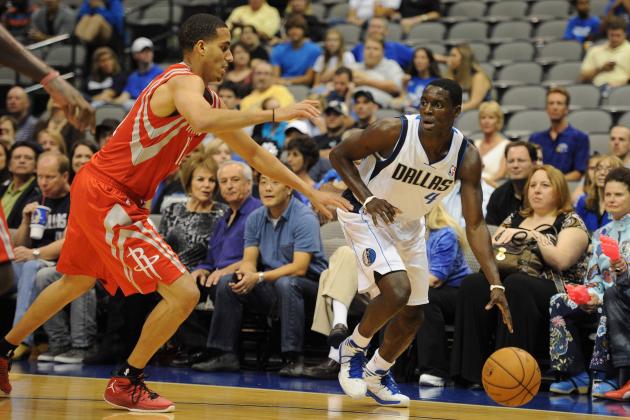 Jerome Miron-US PRESSWIRE

In 2011-12, Dallas was 21st in the league in fast-break points, averaging just 11.7 per game. Due in large part to the jump shooters the team employed, they were unable to push the pace and create easy baskets, hence the 74 percent jump-shot rate.
That number should jump at least three or four points a game with all the youth and speed the Mavs now have in the backcourt. Darren Collison and O.J. Mayo need to help turn solid defense into quick offense by getting outlet passes and catching the defense off guard.
Off the bench, Rodrigue Beaubois and Dominique Jones can do more of the same. Shawn Marion loves to get out on the break, as does leaper Brandan Wright. We all know Dirk Nowitzki loves the transition three-pointer, too.
Being able to run a "NASCAR" offense is acceptable when the level of youth and conditioning allow coaches to do so. Dallas has a much deeper bench than a year ago, and is even deeper than they were during the championship season.
Winning the transition game will be important for Dallas as Nowitzki recovers from surgery, and as they find ways to get easy baskets against good teams. Whoever is playing point guard needs to push the pace every so often, and not allow this offense to become stagnant.
When Dallas can do more of these five things this year than they did for the majority of 2012, they'll be a better basketball team, capable of competing with any team in the NBA.
Ethan Grant is a featured columnist for the Dallas Mavericks, as well as a member of Bleacher Report's Breaking News Team.