Projecting the Opening Day Miami Heat 10-Man Rotation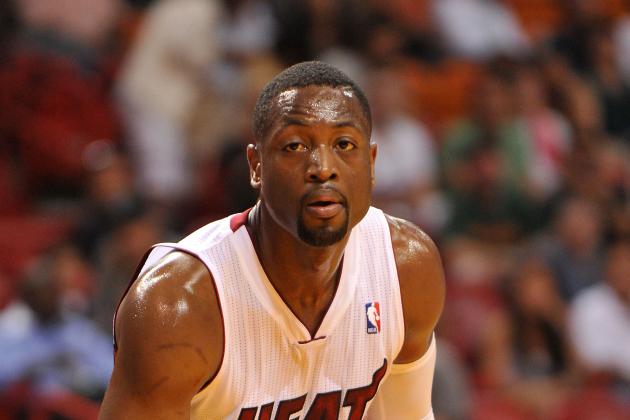 Steve Mitchell-US PRESSWIRE

Believe it or not, the Miami Heat are only one week away from the start of the 2012-2013 regular season.
The final 10-man rotation is yet to be set, as three preseason games still remain, beginning with tonight's battle against the Charlotte Bobcats.
But I'm sure Erik Spoelstra and Pat Riley are beginning to form ideas in their respective minds on how they want the rotation to turn out.
Here's my own prediction of what the 10-man rotation will look like, with specific roles and allocation of minutes.
Begin Slideshow

»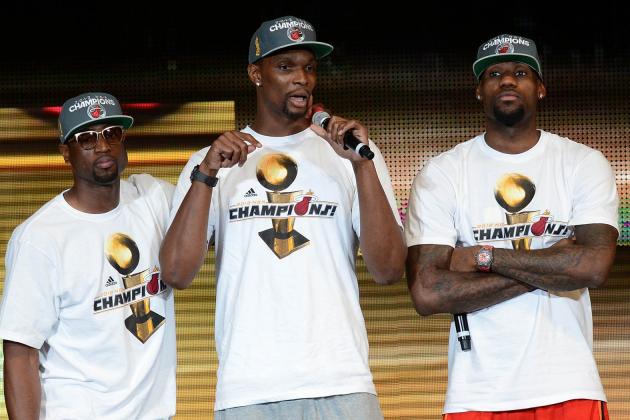 Steve Mitchell-US PRESSWIRE

The three players who wrap up this distinction are obviously LeBron James, Dwyane Wade and Chris Bosh.
Whether it's LeBron's facilitating, Wade's slashing or Bosh's jump-shooting, the entire offense starts and stops with these three.
The Big Three accounted for 68.2 percent of Miami's points last season, and don't expect that to change.
The only question surrounding these guys is whether they can gel together even more to take that next step.
They seemed to figure it out last season, especially in the playoffs, but I think they still haven't reached their full potential. Even though Miami looked unbeatable starting in Game 6 of the Eastern Conference Finals, most of that was due to LeBron's dominance. Wade wasn't fully healthy, and Bosh had just returned from his injury.
Their minutes should stay where they've always been, which is the high 30s and low 40s.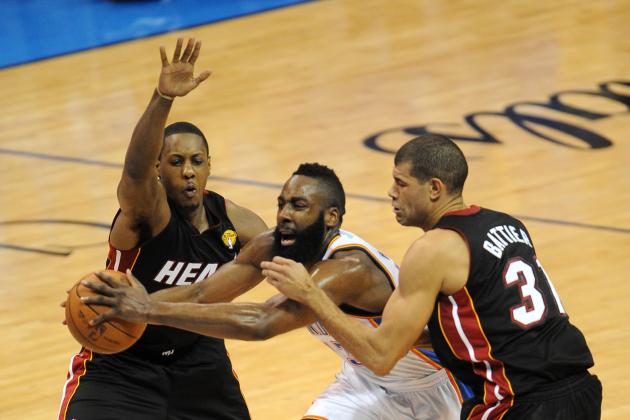 Jerome Miron-US PRESSWIRE

All signs point towards Mario Chalmers and Shane Battier starting alongside the Big Three.
Chalmers has sat out the entire preseason due to sore quadriceps, but that's mostly precautionary. It would be a great surprise if he wasn't ready for opening day.
Battier, meanwhile, has started all five preseason games so far. The only player to start that is bigger than Battier height-wise is Bosh, who has started at center every game.
It appears Spoelstra will indeed go with the small-ball starting lineup that worked so well in last year's postseason. Who can blame him? If it ain't broke, don't fix it.
Chalmers and Battier should each play somewhere between 20 and 30 minutes per game.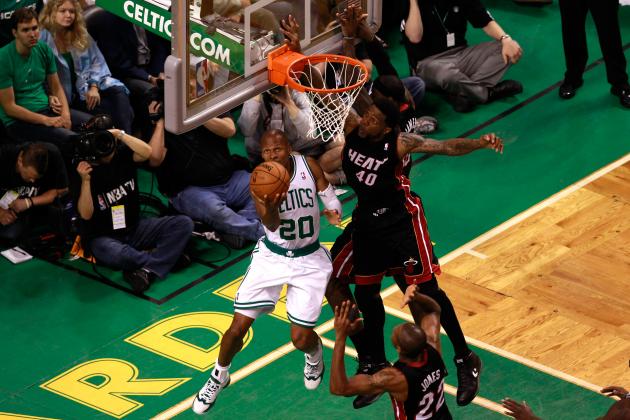 Jared Wickerham/Getty Images

Ray Allen and Udonis Haslem take the honors here. Both took less money to play in Miami with LeBron and company and either have been or will be awarded a vital role.
Allen will be the new Mike Miller but much more healthy and consistent. Allen had a career year shooting-wise last year and has been a constant thorn in Miami's side the past two seasons. Now, he'll be putting that thorn in Boston's side instead.
Haslem will keep doing what he does best, which is providing rebounds, mid-range shooting and most importantly, toughness.
These guys will also likely play 20-30 minutes, but Allen should play more. In fact, I would be surprised if he doesn't play more than Chalmers.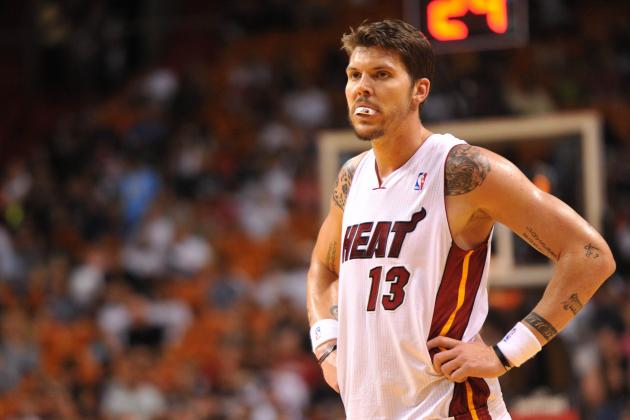 Steve Mitchell-US PRESSWIRE

Mike Miller and Norris Cole are almost mortal locks for two of these three spots.
Miller's performance in Game 5 of the 2012 NBA Finals showed the world exactly what he's capable of. His hustle and ability to play through pain are contagious attributes that also bring great value to any team.
Cole has started every preseason game in Chalmers' absence and played well. He's scored more points than anyone not named LeBron, Dwyane or Chris.
That leaves one more spot to fill. No one else has particularly stood out in the preseason, so expect to see Rashard Lewis grab this role.
Miami signed him in the offseason and likely has a specific plan in mind for him. That will mostly consist of standing in the corner and waiting to sink wide-open threes.
These guys' playing time will be limited and used mainly for quick bursts of life off the bench. Each will likely only play 10 to 15 minutes.