4 NHL Role Players That Will Break out in 2013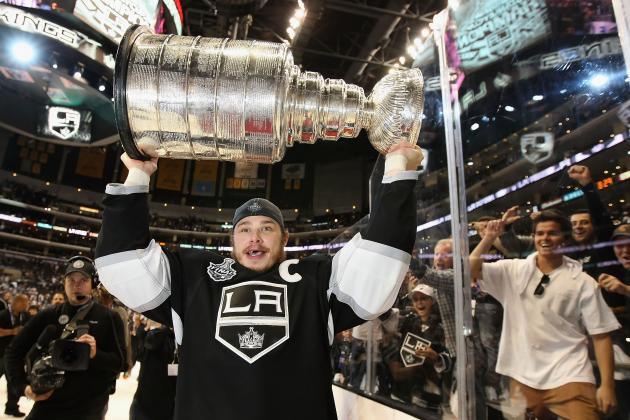 Christian Petersen/Getty Images
Dustin Brown blossomed from a role player into the best leader in hockey.
Ask any team in the NHL that's won the Stanley Cup, and they'll tell you it can't be done without quality role players. More often than not, their emergence in the playoffs is the difference between advancing and going home. So what role players are primed to break out this season?
It would be remiss of me not to mention that the lockout might prevent any of this. It's hard to look into the future with as much uncertainty as there is surrounding the league right now.
So taking the optimistic view that we, at worst, see a shortened season, the opportunity for some lesser-known players to step their game up to the next level awaits.
You need look no further than the captain of the defending Stanley Cup champions. Los Angeles Kings RW Dustin Brown had a Mark Messier-like performance in the postseason and cemented himself as one of the best two-way players in the game.
Ahead, we're going to examine four role players set to make the upcoming season their best one yet.
Begin Slideshow

»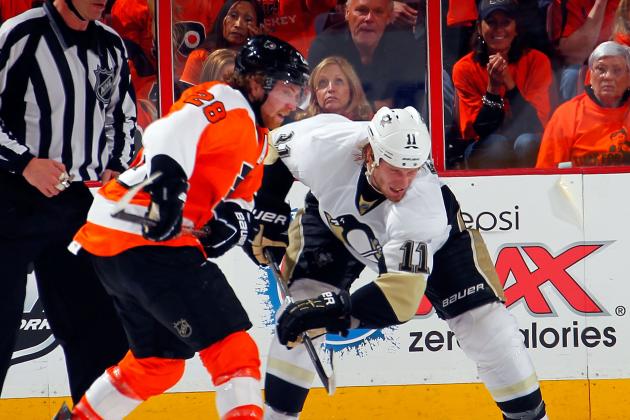 Paul Bereswill/Getty Images
One of Staal's roles has always been winning faceoffs.
Keep in mind, the term "role player" doesn't necessarily have one definition. Excelling in penalty-killing, shot-blocking, or even fighting are just some of the ways to earn that distinction.
Jordan Staal of the Carolina Hurricanes is already one of the most recognizable role players in the league.
Some would argue he's surpassed that title. Yet, offensively he hasn't.
Staal set a career-high in points (50) last year with the Pittsburgh Penguins despite missing 20 games. He still finished with 25 goals while continuing to lead the Pens' PK.
This season, he goes from being a third-line to a first-line center. Playing alongside his brother, Eric, and free-agent signee Alexander Semin should see Staal's point total skyrocket into the 70s.
Expect 30-35 goals from him, and that's all on top of what he already brings to the ice defensively. The Canes deserve high marks for acquiring the 24-year-old and then locking him up long-term.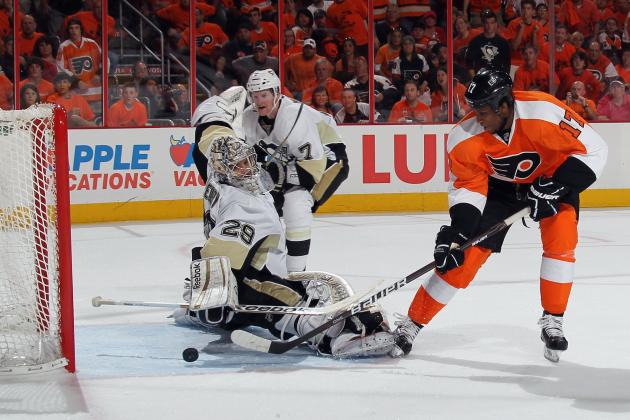 Bruce Bennett/Getty Images
Simmonds should build upon what he did in 2011-12.
The Philadelphia Flyers were more than pleased with what they got out of Wayne Simmonds last year. As part of the deal that sent former-captain Mike Richards to LA, he quickly showed Flyer fans what GM Paul Holmgren saw in him.
That's a big, strong kid with a nose for the net who won't back down to anyone.
Simmonds set career highs in goals (28) and points (49) in 2011-12. He finished third on the team with 114 PIM.
Of the four players we're going to talk about, he has the best offensive upside. A lot of that, though, may depend on the health and play of C Danny Briere.
Briere's coming off a sub-par season, but is still talented enough to help Simmonds reach the 35-40 goal plateau. The 24-year-old RW should see increased PP time, and his 6'2", 209 lb frame isn't easy to move from in front of the net.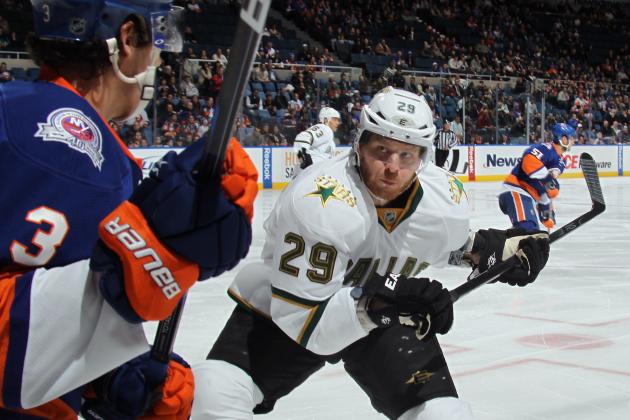 Bruce Bennett/Getty Images
Ott should bring some much-needed toughness to Buffalo.
The Buffalo Sabres were desperately in need of some tougher role players. That's exactly what they got in Steve Ott.
The bruising center was acquired from Dallas along with Adam Pardy in exchange for Derek Roy back in July. Bringing someone in with Ott's grit was key as the Sabres try to shake the "soft" label that's followed them since the last lockout.
He's also going to be playing with better players in Buffalo.
Don't be surprised if you see him with either Thomas Vanek or Jason Pominville on one of his wings. Ott should be able to take advantage of the Sabres' offensive depth to surpass his career highs in goals (22) and points (46).
Pencil him in for another 150 PIM and you have yourself the type of player all teams covet. Ott has the right intangibles to foresee him as a future captain in Buffalo.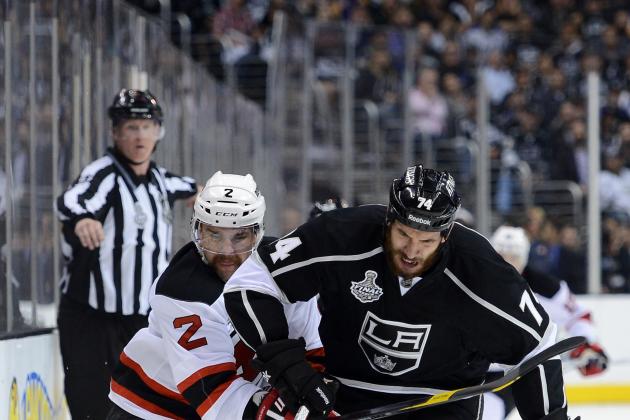 Harry How/Getty Images
King's impact on LA's playoff run was substantial.
The Kings had several role players emerge throughout the 2012 Stanley Cup playoffs.
Dwight King was one of those guys. The rookie only played 27 games during the regular season, so his play caught many by surprise.
At 6'3" and 234 lb, King used his size advantage well as the Kings steamrolled their way through the West en route to the Finals against New Jersey. He paired with fellow rookie Jordan Nolan to give LA two imposing physical presences.
The 23-year-old would certainly benefit from a full season under his belt. Seeing him in the 12-15 goal and 35-40 point range is something Kings fans should expect out of him this year.
You can't begin to explain how valuable the experience he gained in the postseason was. King's a perfect example of a relatively unknown role player stepping up to make a name for himself when it mattered most.