Ranking Every 2012-13 NBA Team by Its 12th Man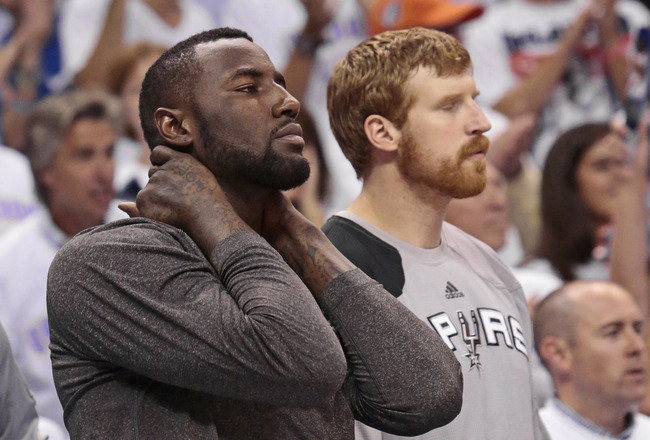 Brett Deering/Getty Images
The 2012-13 NBA champion will not be determined by the strength of its 12th man.
That being said, the future champion will rely on their depth throughout the 82-game season and the 16 necessary postseason victories.
NBA franchises typically play somewhere between an eight- and 10-man rotation.
The last rotation spots are not often set in stone, and even if they are, they cannot account for injuries, suspensions and whatever else may cost rotation members games.
This list is a collection of players young and old, some whose franchises hope they'll force their way on to the court and others whose franchises hope they can simply provide energy in practice and a presence in the locker room.
These players may not have the popularity of Brian Scalabrine, recent retiree and perhaps the most popular 12th man in NBA history, but they may build some for their talent and not their appearance.
This is far from an exact science as some of these players may end up as waiver casualties, but this is my best educated guess (along with some assistance from espn.com's projected depth charts) as to who will fill the final active spot on their team's roster.
30. Luke Walton (Cleveland Cavaliers)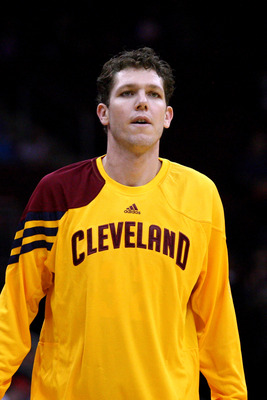 Chris Chambers/Getty Images
It seems like years ago.
Probably because it was.
After a 2006-07 season in which Luke Walton set career highs nearly across the board, the Lakers locked up the basketball legacy to what seemed a reasonable (pricey, but reasonable) six-year, $30 million contract.
His numbers dipped in 2007-08, though in what proved to be a troubling sign for his employer. That season marked the first of four consecutive years where his scoring and field goal percentages dropped, bottoming out at just 1.7 points on an atrocious 32.8 percent shooting.
His disastrous 2010-11 campaign proved to be his last full season with the Lakers, who sent him to Cleveland in the Ramon Sessions trade.
At this point, Walton's an expiring $6.09 million contract.
And since Cleveland opted to use their amnesty clause on Baron Davis in 2011-12, they're likely stuck with Walton until at least the trade deadline.
29. Cole Aldrich (Oklahoma City Thunder)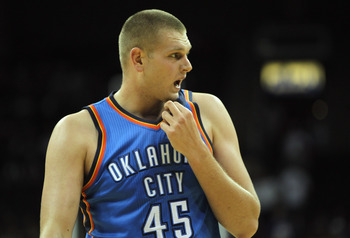 Jamie Squire/Getty Images
NBA stars might consider 75 points, 83 rebounds and 23 blocks a decent three-game stretch.
For reserve players, those numbers might constitute a good week.
For Aldrich, though, they mark the collective statistics he's compiled in two NBA seasons.
To say that the 11th pick of the 2010 draft has been a bust is an understatement. To be frank, he's lucky to still have a job.
The Thunder's confidence in Aldrich has to be questioned given the offseason contracts given to fellow former draft busts, Hasheem Thabeet and Daniel Orton.
Still, Aldrich appears the early favorite to beat out the other two. Thabeet is set to begin his fourth fresh start in four disappointing NBA seasons, and Orton wasn't all that highly regarded when he entered the NBA in 2010.
Aldrich should at least match his career numbers this season, but with Kendrick Perkins, Nick Collison and Serge Ibaka all set to see time at the center, he might be hard-pressed to much other than that.
28. Hamed Haddadi (Memphis Grizzlies)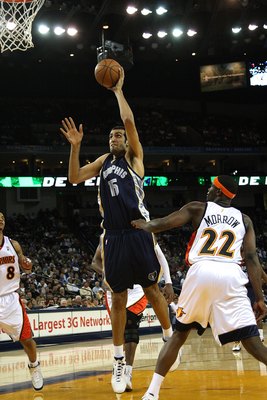 Jed Jacobsohn/Getty Images
The first Iranian to play in the NBA, Hamed Haddadi's four-year career stat line scream 12th man: 2.1 points, 2.2 rebounds, 6.1 minutes.
Somehow, though, those numbers (along with his 7'2", 254-pound frame) earned him a new two-year contract over the summer.
The biggest problem for him isn't a lack of talent but rather a numbers crunch that's not likely to change over the next few seasons.
Playing behind Marc Gasol and Marreese Speights, there simply are not a lot of minutes left over.
If Gasol or Speights are ever injured, though, Haddadi could be a capable spot reserve option for coach Lionel Hollins.
27. DeSagana Diop (Charlotte Bobcats)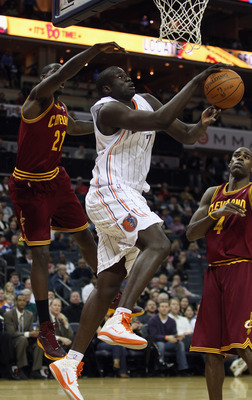 Streeter Lecka/Getty Images
Once upon a time (before NBA general managers were comfortable with eschewing the idea of a traditional center), Diop had some promise.
At least, that must have been what the Mavericks thought when they doled out a five-year, $30 million contract in 2008.
Mind you, the cash came following a season in which the big man averaged just 2.9 points, 5.0 rebounds and 1.1 blocks.
Now, he's simply an expiring $7.3 million contract, who's perhaps most famous for this awful free-throw attempt.
He appeared in 27 games for Charlotte in 2011-12, managing a measly 1.1 points and 3.1 rebounds in 12.0 minutes.
26. P.J. Tucker (Phoenix Suns)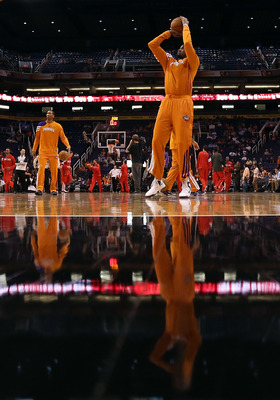 Christian Petersen/Getty Images
It's been one heck of a basketball journey for Tucker.
A former star with the Texas Longhorns, he was the 35th selection in the 2006 NBA draft.
After spending just 83 minutes (spread across 17 games) on the NBA hardwood, he was released before the end of the 2006-07 season.
Since then he has played professionally in Israel, Ukraine, Germany, Italy, Puerto Rico and Greece. The guy has certainly paid his basketball dues.
He won't have the opportunities to match his overseas accomplishments (he won a scoring title in Ukraine), but he plays with a physicality that the Suns desperately need.
Unfortunately, with Michael Beasley, Jared Dudley and Wes Johnson all vying for minutes at the small forward position, that physical play may only affect Phoenix practices.
25. Kyle Singler (Detroit Pistons)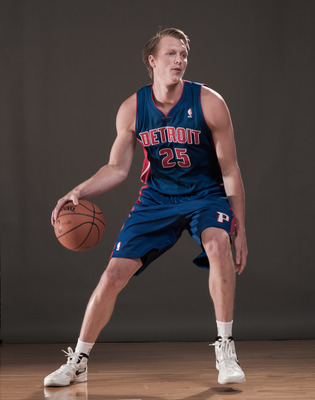 Nick Laham/Getty Images
The 33rd pick in the 2011 draft, Singler opted to wait out not only the NBA lockout in Spain, but also the entire 2011-12 NBA season.
His decision was anything but popular in Detroit, an understandable reaction considering the franchise got zero return on their early second-round investment.
Singler is set to join a crowded Detroit wing and will have to battle at least Tayshaun Prince, Corey Maggette and Austin Daye at the small forward spot.
But Singler's shooting stroke (54 percent from the field and 43 percent from deep with Real Madrid) could provide a boost for a team that finished outside of the top 10 in three-point shooting in 2011-12 (34.6 percent), then traded their best shooter (Ben Gordon) over the summer.
He may not factor heavily in Lawrence Frank's rotation, but he has a chance to impact a handful of games in the 2012-13 season.
24. Earl Clark (Los Angeles Lakers)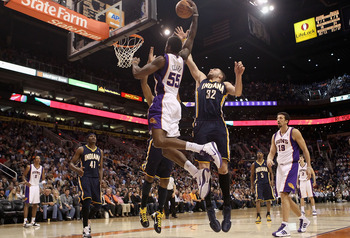 Christian Petersen/Getty Images
An afterthought in the Dwight Howard trade, Clark arrives in Los Angeles following three forgettable seasons spread across two NBA cities.
A lottery pick in 2009 (the 14th selection), Clark entered the NBA with an intriguing combination of size (6'10", 225 pounds) and athleticism.
But his raw talent has failed to carry over from his days at Louisville.
His slender frame has kept him from venturing too often in the paint, and his career field goal percentage (39.1) highlights how "effective" he's been away from the basket.
With four players (Howard, Pau Gasol, Antawn Jamison and Jordan Hill) already penciled in to Mike Brown's frontcourt, it might be time for Clark to start developing some creative sideline cheers.
23. Jimmer Fredette (Sacramento Kings)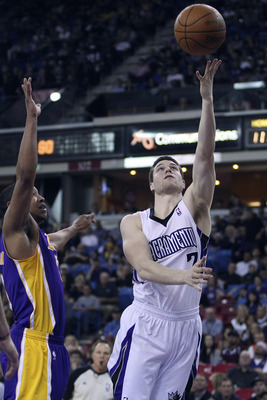 Kelley L Cox-US PRESSWIRE
From lottery pick to 12th man in a little over a calendar year?
Unfortunately for Kings fans, it could very well be the case.
The 10th pick in the 2011 draft, Fredette struggled in his rookie season.
Widely touted as the best pure shooter in his draft class (a trait he'd need to lean heavily on given his defensive limitations), he finished the season 32nd among all qualified rookies in field goal percentage (38.6).
And despite playing on one of the league's least talented clubs (Sacramento finished the season at 21-45), Fredette ranked 11th out of 15 Kings in terms of win shares (an estimate of the of the number of wins contributed by a player) and 15th in defensive win shares (number of wins contributed by a player due to his defense) according to basketball-reference.com.
With Isiah Thomas looking to improve on his successful rookie season, the offseason signing of Aaron Brooks and potentially more backcourt minutes for former lottery pick Tyreke Evans, Fredette may not even see the floor enough to hope to improve.
22. Chris Copeland (New York Knicks)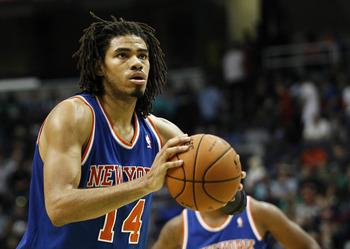 Mark L. Baer-US PRESSWIRE
Perhaps the biggest story of the NBA offseason that didn't involve either the Lakers or the Nets was the fact that the Knicks opted to let Jeremy Lin leave.
Now, in one of the more underrated stories heading into the 2012-13 season, New York has a decision to make on training camp invitee Copeland.
A basketball unknown in every sense of the word, the 28-year-old hasn't played stateside since suiting up for the D-League's Fort Worth Flyers in March 2007.
But after tallying 55 points in two games against the defending Eastern Conference runner-up Boston Celtics, Copeland has a chance to, like Lin, blossom on basketball's biggest stage.
The Knicks have other options at both forward spots, but the 6'8", 225-pound scorer should garner some consideration from coach Mike Woodson.
21. Jerry Stackhouse (Brooklyn Nets)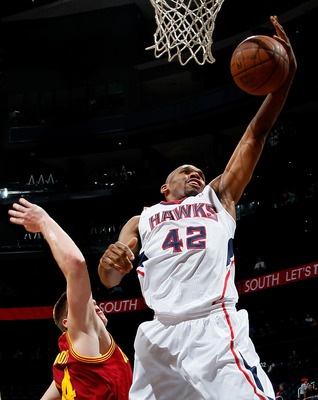 Kevin C. Cox/Getty Images
Lost in the offseason roster shuffle of the Nets was the addition of 17-year veteran Jerry Stackhouse.
The third pick in the 1995 draft, he's light years removed from playing a major role on an NBA franchise.
After averaging double figures for the first 13 years of his career, the 37-year-old has managed better than 4.2 points once in the past four seasons.
In terms of production, he may not crack Brooklyn's top 12 by season's end.
But his presence on the sidelines and in the locker room could make his $1.35 million contract appear a bargain, particularly on a franchise with hopes of ending a five-year playoff drought with a lengthy postseason stay.
20. Jarvis Varnado (Miami Heat)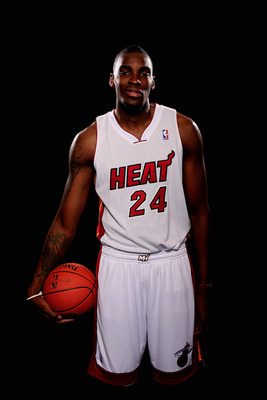 Chris Trotman/Getty Images
Miami's second-round pick (41st overall) in the 2010 NBA draft, Jarvis Varnado spent the past two seasons playing overseas.
The NCAA's all-time leader in blocked shots (he averaged 4.6 or better for three consecutive seasons at Mississippi State), Varnado's tenacity on the defensive interior seems to be a perfect fit for a team that doesn't need any offense from him.
But Miami already has a great shot-blocker on the roster, Joel Anthony. And he saw just 21.1 minutes last season.
With Erik Spoelstra opening up his power forward position to players like Shane Battier and LeBron James, Varnado may need some time to bulk up his 6'9", 230-pound frame if he opts to look for minutes at the center position.
19. Fab Melo (Boston Celtics)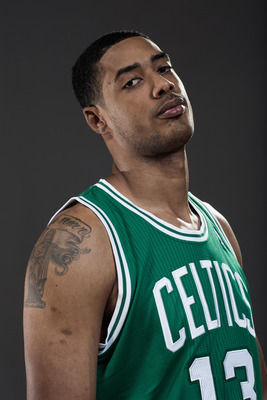 Nick Laham/Getty Images
Melo entered Syracuse a raw prospect and left after two seasons as a raw prospect.
A non-factor in his freshman season (9.9 minutes per game), Melo's improved but still disappointing (7.8 points and 5.8 rebounds) sophomore season came to a screeching halt when the Brazilian was ruled ineligible prior to the NCAA tournament.
The reigning Big East defensive player of the year (2.8 blocks per game in 2011-12), the Celtics hope Melo can provide that same protection for Boston—eventually.
He played the role of interior presence in the Orlando Summer League fairly well, but failed to stand out among the collection of young players and hangers on who populate those rosters.
Kevin Garnett, Jason Collins and Chris Wilcox should all log minutes in Doc Rivers' interior in 2012-13. Melo's chances at seeing the court outside of garbage time look limited at best.
18. Trey Thompkins (Los Angeles Clippers)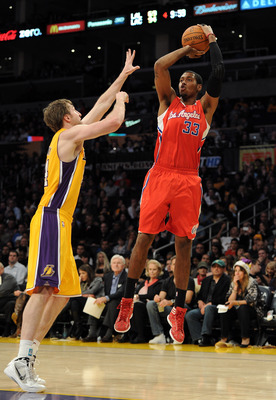 Harry How/Getty Images
The 37th pick in 2011, Thompkins failed to log significant minutes (5.0) in his rookie season.
He appeared to suffer from the shortened training camp and preseason and spent a majority of his rookie campaign learning on the job.
The return of the NBA Summer Leagues could have been a boost for Thompkins, but a hyperextended knee cost him all but two-and-a-half quarters of summer league action and has kept him out of preseason games.
Despite his 6'10", 245-pound frame, he's a perimeter-oriented forward, which is something that could help stretch the floor and leave room for Blake Griffin and DeAndre Jordan to create plays in the post.
But with Lamar Odom and either Ronny Turiaf or Ryan Hollins factoring in L.A.'s frontcourt, Thompkins could once again see little other than garbage minutes in 2012-13.
17. Brian Roberts (New Orleans Hornets)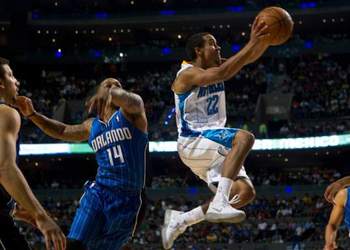 After four years of basketball overseas, Roberts fought his way on to the Hornets thanks to an impressive summer league showing, which he's built on in training camp and the preseason.
The 26-year-old former Dayton standout has averaged better than 11 points and five assists in the preseason.
Summer league stars tend to shine as bright as a free flashlight, but Roberts has actually caused some rumblings about possibly being the best point guard on Monty Williams' roster.
Unfortunately for him, though, he'll constantly need to prove that he's a better option than two-year veteran Greivis Vasquez and lottery pick Austin Rivers.
Roberts may not finish the year on the end of the bench, but he could certainly start it there.
16. Ishmael Smith (Orlando Magic)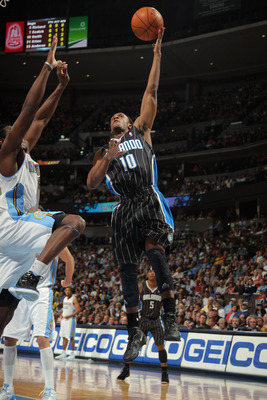 Doug Pensinger/Getty Images
Although he appeared the early favorite to backup Jameer Nelson at the point, offseason shoulder surgery derailed his training camp and may have thrust E'Twaun Moore ahead on Orlando's depth chart.
Smith has the talent to don an NBA jersey, but his game is best described as anything but consistent.
After spending the past two seasons with four different franchises, even his outfits aren't consistent.
He's a wily defender who can, at times, pour in points in bunches, largely off dribble drives.
But he's not a great decision- or shot-maker and could find himself fighting for his roster spot in 2012-13.
15. Anthony Tolliver (Atlanta Hawks)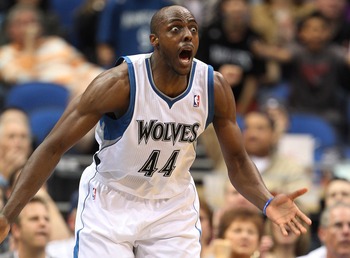 Jesse Johnson-US PRESSWIRE
Tolliver will battle Ivan Johnson and Zaza Pachulia for minutes on Atlanta's second-team frontcourt, but Tolliver's strength (shooting) may lose out to the strength of Johnson and Pachulia (toughness).
With Kyle Korver, Anthony Morrow, Lou Williams and rookie John Jenkins on the roster, Atlanta has enough shooters to stretch the floor.
And the advantages of Johnson and Pachulia stretch farther than just their toughness.
Of the three, Tolliver had the fewest rebounds per 36 minutes (7.5) and shot more than 10 percent worse (39.0) from the field than Pachulia (49.9) and Johnson (51.3).
Tolliver has the skills to impact some games for the Hawks, but those will likely come few and far between.
14. Martell Webster (Washington Wizards)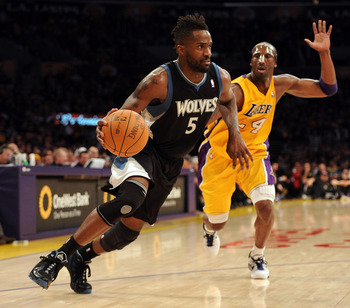 Harry How/Getty Images
A former preps-to-the-pros star, Webster has failed to live up to the hype that surrounded him when he was made the sixth overall pick in the 2005 NBA draft.
With that being said, he's always been a reliable option off the bench.
If this were 2011-12, Webster could have been looking at major minutes. Coming off a career-best 41.7 three-point percentage in 2010-11, his outside stroke could've been something that the NBA's 16th best three-point shooting club (35.0) needed.
But with Washington adding Bradley Beal (the best shooter in the 2012 draft), Webster's shooting isn't as poorly needed.
And with Webster already locked behind Beal and Jordan Crawford on the depth chart, it's probably not something that Wizards fans will get an extended look at in 2012-13.
13. John Lucas (Toronto Raptors)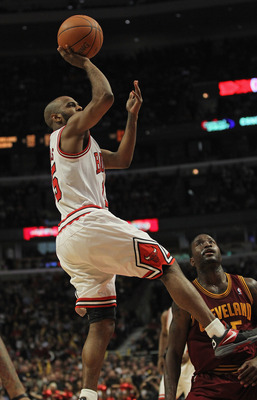 Jonathan Daniel/Getty Images
Lucas was largely an NBA afterthought prior to the 2011-12 season, logging 52 NBA games over a six-year span that included stops in the D-League, Italy, Spain and China.
But after minutes fell into his lap last season thanks to an injury to Bulls point guard Derrick Rose, Lucas responded with the hunger of a player who knew that could have been his last chance in the league.
He connected on 39.3 percent of his 140 three-point attempts in 42 games and finished the season with a respectable 7.5 points in 14.8 minutes.
He even managed to overcome being the player that LeBron James jumped over on the back end of an alley-oop. (Eat your heart out, Frederic Weis!)
But as the 2012-13 season draws near, Lucas may be on the verge of falling back into basketball oblivion. With Kyle Lowry and Jose Calderon firmly planted ahead of him on the depth chart, Lucas' best chance to impact the Raptors would come if (or when) Toronto decides to trade Calderon.
12. Draymond Green (Golden State Warriors)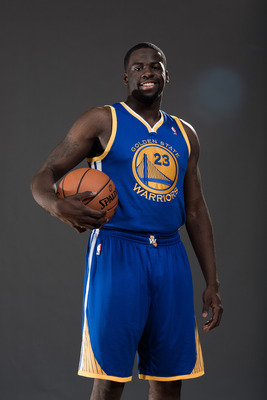 Nick Laham/Getty Images
The Warriors were thrilled to add the reigning Big Ten player of the year with the 35th pick in the 2012 draft.
But that excitement may not be enough for Draymond Green to crack Golden State's deepest roster in recent memory.
A preseason knee injury not only delayed the start of his NBA career but may have also lengthened the gap between him and the rest of the Warriors' forwards.
Harrison Barnes and Brandon Rush are engaged in a contested battle for the small forward spot, and veteran Richard Jefferson appears penciled in behind that duo.
Green has the size (6'7", 230 pound) to play the power forward position, but there he's already blocked by David Lee and Carl Landry.
11. John Henson (Milwaukee Bucks)
Nick Laham/Getty Images
With Milwaukee GM John Hammond channeling his best bizarre (Minnesota GM) David Kahn, the Bucks have amassed an impressive (in quantity if not quality) collection of bigs.
The 2012 draft gave Hammond a chance to add to that collection, and he did when he chose Henson with the 14th overall pick.
The former Tar Heels star used his 88-inch wingspan to overcompensate for his slight 220-pound frame.
That's not likely to work in the NBA paint, so Henson's first challenge will be to bulk up.
But his needed development may have taken a hit with the Bucks' official twitter feed reporting that a knee sprain and bone bruise will cost him approximately two weeks of his first NBA preseason.
That lost time will just add to the struggles he'll encounter trying to separate himself from a Milwaukee frontcourt that includes Ersan Ilyasova, Drew Gooden, Samuel Dalembert, Ekpe Udoh, Larry Sanders and Joel Przybilla.
10. Dante Cunningham (Minnesota Timberwolves)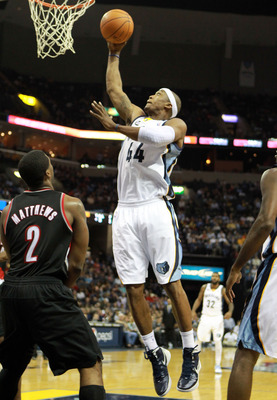 Andy Lyons/Getty Images
If there's a worse scenario for an NBA reserve than backing up his team's best player (in this case Kevin Love), it's backing up the best player and the second overall pick in last season's draft (Derrick Williams).
Granted, Williams did not impress in his rookie season (8.8 points and 4.7 rebounds).
But with Love logging the second-most minutes of any NBA player in 2011-12 (39.0), Williams had to battle to earn his 21.5 minutes.
Still, it's a little premature to say with any certainty that Dante Cunningham won't be a factor for Minnesota.
For starters, the club had to like something about his game to trade for him in July.
Also, he's enjoyed a serviceable three-year career as a reserve. His career 5.2 points and 3.3 rebounds won't wow the Timberwolves' fanbase, but it could get him off the end of Minnesota's bench.
9. Brandan Wright (Dallas Mavericks)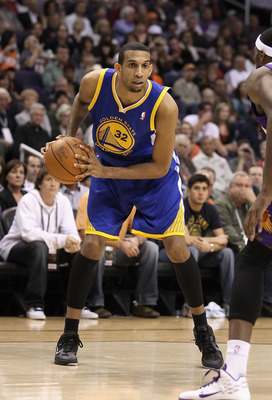 Christian Petersen/Getty Images
Brandan Wright's 6.9 points, 3.6 rebounds and 1.3 blocks were a pleasant surprise for Dallas in 2011-12.
But they may not be enough to keep Wright in a Mavericks rotation that saw a massive overhaul in the summer.
The eighth pick in 2007, Wright's four-year career can be best summed up by the fact that those aforementioned numbers may have represented his most complete NBA season to date.
After Dallas added signed Elton Brand and Chris Kaman and drafted Bernard James, Wright could struggle to match his career average of 13.7 minutes per game.
8. Arnett Moultrie (Philadelphia 76ers)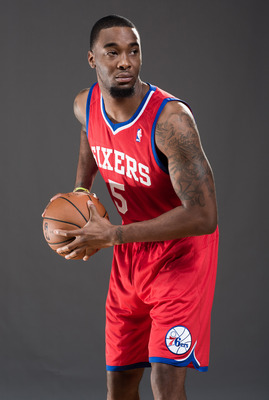 Nick Laham/Getty Images
The 21-year-old Moultrie could have been the perfect fit alongside Spencer Hawes had he joined the 76ers a season earlier.
His physical presence could have complemented the finesse-oriented Hawes, but the offseason arrival of Andrew Bynum has given coach Doug Collins a far superior option.
Moultrie's ability to play above the rim should suit Philadelphia well going forward, but he has his work cut out for him in terms of finding minutes to be effective.
Collins has options at the power forward spot with Lavoy Allen, Thaddeus Young and perhaps even Dorell Wright finding minutes depending on the situation.
Moultrie is talented enough to play in an NBA game, but for 2012-13, those minutes could come few and far between.
7. Sam Young (Indiana Pacers)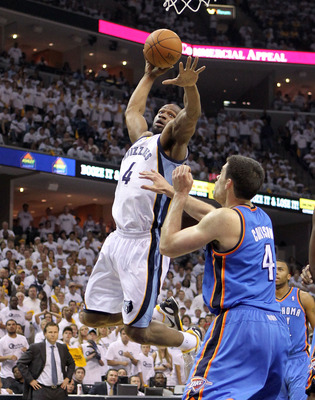 Andy Lyons/Getty Images
Sam Young's productive four-year career at Pitt showcased a well-rounded, NBA-ready game.
But after being selected as the 36th pick in 2009, he struggled to find a consistent role with the Grizzlies.
He started 46 games in 2010-11, thanks largely to Rudy Gay's season-ending shoulder surgery.
He split an injury-plagued 2011-12 season between Memphis and Philadelphia, before signing as a free agent with Indiana this summer.
His tough, physical defense should earn him a roster spot, but the opportunity for significant minutes just isn't there. With Danny Granger, Gerald Green and Paul George all factoring into the small forward rotation, Young could spend his 2013 summer looking for his fourth franchise.
6. Jeremy Evans (Utah Jazz)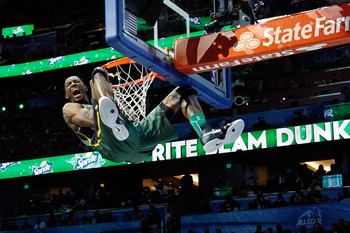 Mike Ehrmann/Getty Images
Evans is best-known among NBA fans for winning the 2012 Sprite Slam Dunk Contest.
But it will take more than just a highlight reel for Evans to fight his way into perhaps the NBA's deepest frontcourt, even if his latest display has warranted at least three separate videos on YouTube.
Whether or not his athleticism is a missing component on a Utah team with postseason hopes, he has failed to garner more than just 8.7 minutes a game over his two-year career.
With Paul Millsap and Al Jefferson both entering the season with expiring contracts and potentially stunting the development of former lottery picks Derrick Favors and Enes Kanter, there's a decent chance that at least one will not finish the year in Utah.
But until that trade happens, Evans will need some lopsided games to add to his rim-rattling portfolio.
5. DeJuan Blair (San Antonio Spurs)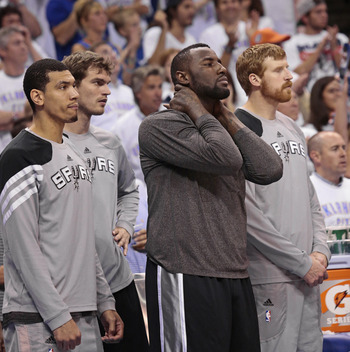 Brett Deering/Getty Images
San Antonio is one of the few NBA teams that can legitimately stretch their rotation 12 players deep.
In fact, if last year was any indication, that rotation could stretch beyond 12. In 2011-12, 16 players appeared in at least 14 games and averaged over 9.2 minutes.
So needless to say, their 12th man is going to be better than most.
Blair's inclusion has more to do with opportunity than with a lack of talent.
The 21.3 minutes he averaged last season (including 62 starts) wouldn't indicate a 12th man role, but the 7.6 minutes he averaged in 10 San Antonio post season games may suggest a further lessening of his role in the Spurs' future plans.
Blair himself confirmed to Dan Farmer of the Pittsburgh Post-Gazette that San Antonio has him on the trade market.
And should he get moved in the 2012-13 season, expect Blair to be far from the 12th man on whichever roster he ends up on.
4. Nolan Smith (Portland Trailblazers)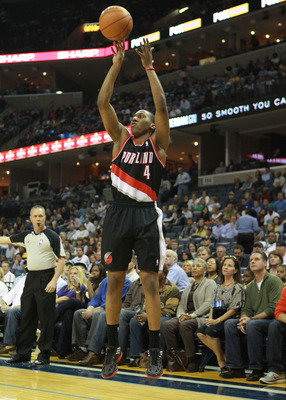 Andy Lyons/Getty Images
In terms of pure talent, Nolan Smith has no business being on this list.
A former NCAA All-American, he's more of a scoring guard than a natural point guard, but that can be said of the majority of NBA point guards.
But there are a few factors working against him heading into the 2012-13 season.
First off, he's looked awful in preseason. Granted, the preseason is always a time for rushed judgements and rash (and often incorrect) decisions, but 25.0 percent shooting and 2.2 turnovers in 21.0 minutes is still a reason for concern.
The clock is ticking on Portland's deadline to extend Smith's rookie contract, and perhaps that has the young point guard trying to do too much.
Secondly, the offseason additions of lottery pick Damian Lillard and veteran Ronnie Price may be creating some doubt about the club's faith in his development.
If Smith's struggles continue in to the season, coach Terry Stotts could give Price an extended look when he returns from an ankle injury.
3. Nate Robinson (Chicago Bulls)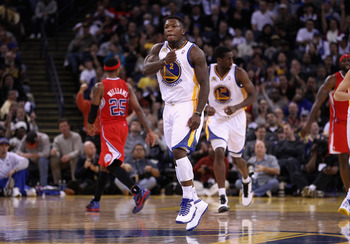 Ezra Shaw/Getty Images
Save for a past-his-prime Stackhouse, no player on this list has enjoyed a more productive career than the talented Nate Robinson.
Then again, there's not many players on this list that opened the 2011-12 season off of a basketball roster.
Talent has never been a question for the athletic point guard, but his poor decision-making and rapid-fire trigger nearly cost him his NBA career.
With Derrick Rose sidelined indefinitely rehabbing a torn ACL and the offseason departures of C.J. Watson and John Lucas, Robinson's situation is about as good as it can be.
But he's not the only point guard that the Bulls added over the summer. Chicago signed for former Bull Kirk Hinrich and drafted Marquis Teague with the 29th pick.
Chicago holds a talented roster without Rose, and coach Tom Thibodeau simply needs a game manager.
Robinson's career 2:1 assist-to-turnover ratio could be give Teague a chance to overtake the veteran in backing up Hinrich.
2. Royce White (Houston Rockets)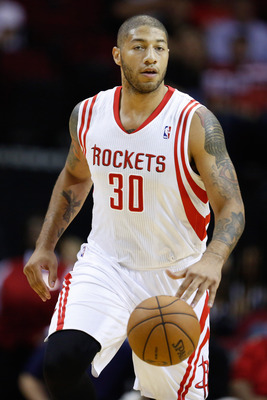 Thomas Campbell-US PRESSWIRE
If adjusting to the NBA game wasn't hard enough for the average player, consider the challenges facing White.
He's a 6'8", 260-pound point-forward on a team that just shelled out $25 million on a point guard.
He was drafted by a franchise that had spent first-round picks for players at his position in the past two drafts (Patrick Patterson in 2010 and Marcus Morris in 2011) and traded for two more this summer (JaJuan Johnson and Jon Brockman).
His documented anxiety disorder, which includes an extreme fear of flying, has led to a travel arrangement between him and the Rockets involving taking a bus or driving to a number of games, according to the Associated Press.
White was perhaps the second-most talented player in the 2012 draft class, but Houston fans shouldn't be surprised if his adjustment period takes a little longer than most.
1. Jordan Hamilton (Denver Nuggets)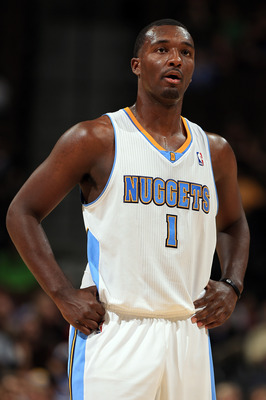 Doug Pensinger/Getty Images
The 26th pick in the 2011 NBA draft and recent recipient of an exercised team option (according to Benjamin Hochman of the Denver Post), Hamilton has the tools to greatly improve on what was a limited (but still disappointing) rookie campaign.
After appearing in just 26 games as a rookie, Hamilton told Nate Timmons of denverstiffs.com he doesn't "want to have happen what happened to me last year."
Unfortunately, he might not have a big say in this.
With Andre Iguodala, Danilo Gallinari and Wilson Chandler eating up a majority of the available minutes on Denver's wings, Hamilton may find himself in the same battle as last season with Corey Brewer.
In 2011-12, Brewer averaged 21.8 minutes per game, while Hamilton logged just 9.9.
And Brewer's averaging 17.5 points per game to Hamilton's 12.3, which could mean another year of seasoning for the former Texas Longhorn.
Keep Reading