Ohio State Basketball: 5 Burning Questions for Buckeyes Heading into the Season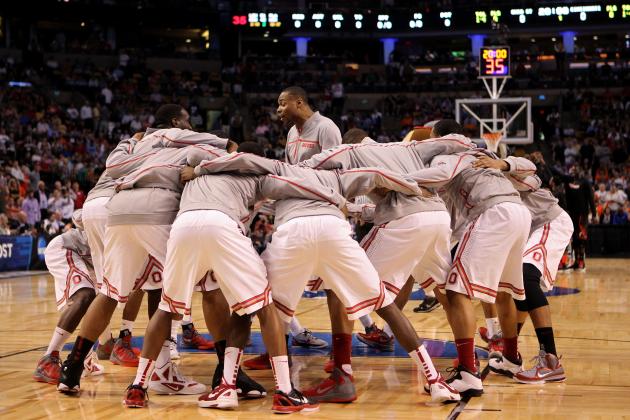 Jim Rogash/Getty Images

Ohio State is ranked No. 4 in the preseason USA Today Top 25 poll, but that doesn't mean the Buckeyes are without question marks.
In fact, the argument can be made that Thad Matta's squad has more uncertainty entering the season than any other team in the Top 10.
Many of the questions can be directly tied to the fact that Jared Sullinger and William Buford are no longer suiting up in Buckeye uniforms.
However, it's not as if Matta hasn't faced similar situations before. Counting Sullinger, the Ohio State coach has lost seven non-seniors to the NBA in his eight-year tenure in Columbus.
Remarkably, he somehow finds a way to keep his team atop the Big Ten standings and in the hunt for a Final Four almost every year.
Read on to see five burning questions that Matta and company will have to answer if they are to once again be in the thick of things by March.
Begin Slideshow

»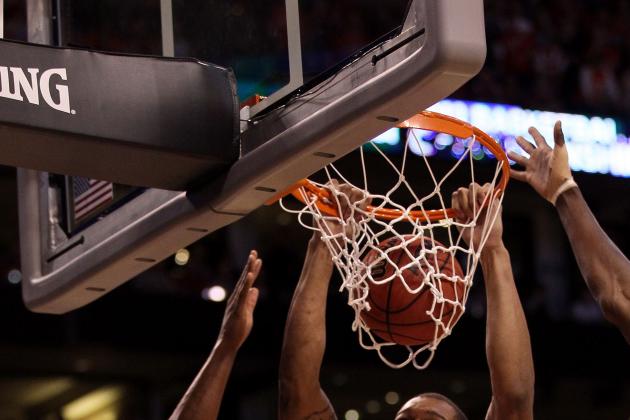 Elsa/Getty Images

If you have read any of my Ohio State articles in the past few months, you probably know that I have been working under the assumption that the starting lineup will be Aaron Craft, Lenzelle Smith Jr., LaQuinton Ross, Deshaun Thomas and Amir Williams.
And then The Ozone goes ahead and drops the line that it seems as if Sam Thompson and Evan Ravenel are in the driver's seat for starting positions.
My bad.
One thing that will undoubtedly play a role in who starts and who doesn't for a Thad Matta coached team is defensive ability. That may ultimately give Thompson, who is a much better defender than Ross, the nod at the small forward spot.
However, Williams probably gives the Buckeyes their best interior presence on the defensive side and has more athleticism than Ravenel when crashing the boards or establishing position in the paint.
While attention will certainly be paid to who gets their name called over the loud speaker during pregame introductions, it is more important to see who will be playing at the end of close games.
Again, whoever can give Matta the best defense will probably be on the court during crunch time against the likes of Indiana, Michigan and Michigan State.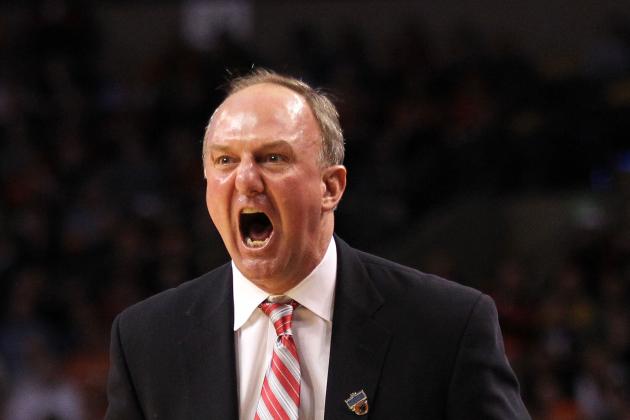 Jim Rogash/Getty Images

I can't possibly summarize the Ohio State bench situation any better than Mike DeCourcy does in this Sporting News article, so I'm not even going to try.
Saying Ohio State has a deep basketball team is a lot like saying Will Ferrell is a fine dramatic actor. What does it matter if it's almost never put to use? Ferrell makes comedies, and the Buckeyes play six guys. That is how the world works.
So true.
Ironically enough, Thad Matta says in the same article that he expects to go nine or 10 players deep this season.
I can understand any skepticism among Buckeye Nation that may emanate from reading that quote, though. After all, Matta has said he would use his bench before.
But if you look at the roster, plenty of formidable names begin to pop up. Sure, there are the staples of Aaron Craft, Deshaun Thomas and Lenzelle Smith Jr., but players such as Amir Williams, Shannon Scott, LaQuinton Ross, Sam Thompson, Evan Ravenel and maybe even Amedeo Della Valle should see meaningful action in 2012-13.
If that's the case, then Matta wouldn't be kidding about going nine or 10 deep.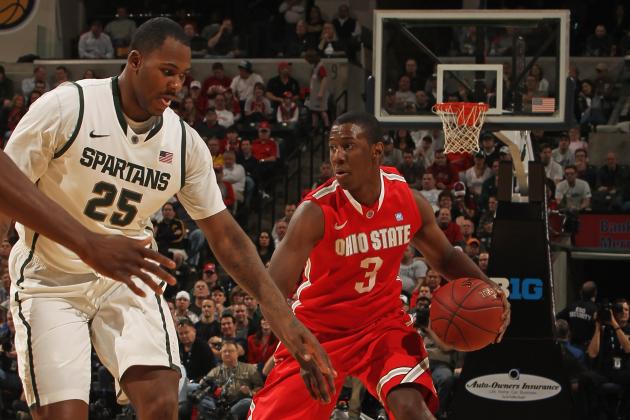 Jonathan Daniel/Getty Images

Shannon Scott has a lot of qualities that should earn him more playing time in the 2012-13 season.
He is a disruptive defender who, thanks to his athleticism, has little trouble staying in front of almost any opposing player. Furthermore, that athletic ability helps him get out in transition and set up his teammates or get to the basket.
But Scott learned that it's hard for a freshman point guard to earn minutes when he is backing up Aaron Craft. However, Matta began to experiment with Craft and Scott in the backcourt together near the end of last year, and it gradually became more successful.
Craft and Scott even got to play together in the Sweet 16 against Cincinnati, and the up-tempo attack on offense and additional pressure on defense helped the Buckeyes pull away in the second half.
If Matta utilizes this combination more in 2012-13, there will be plenty of Big Ten backcourts that will have trouble handling it.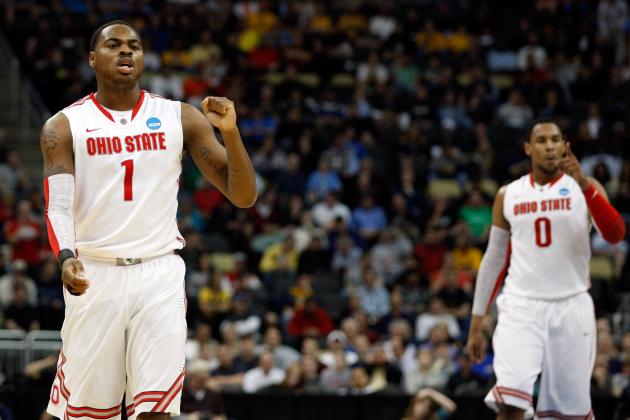 Jared Wickerham/Getty Images

The byproduct of Jared Sullinger and William Buford no longer being on the Buckeyes' roster is that someone will have to fill the role of go-to guy on the offense.
That someone will undoubtedly be Deshaun Thomas.
The nation got a taste of what Thomas can do with the ball in his hands in March Madness last season, when he used every game except the Final Four loss to Kansas as his personal coming out party.
He is 6'7", so smaller defenders struggle to contain him down low, but Thomas can also use his ball-handling skills (which could use some improvement) and mid-range game to score against larger opponents.
Furthermore, he can stretch the defense with a solid three-point shot, although it might serve Thomas well to focus on cutting down his overall attempts from downtown.
The challenge for Thomas will be responding to being the focal point for opposing defenses this time around. He definitely benefited from the double teams Sullinger garnered every night last year
If the Buckeyes have plans on playing deep into March again, this may be the most important question on the entire list.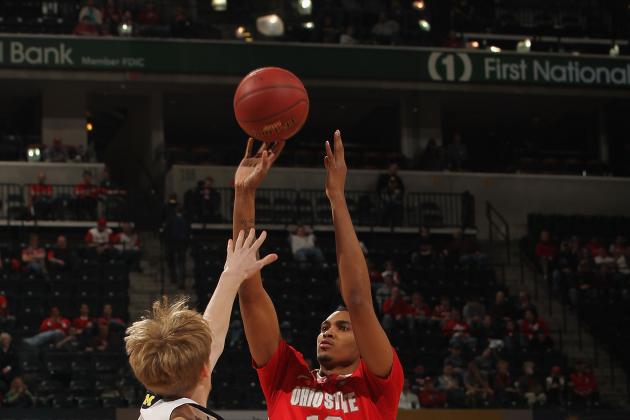 Jonathan Daniel/Getty Images

Ohio State had two major weaknesses last season on the offensive side of the ball—free-throw shooting and three-point shooting.
In fact, the Buckeyes ranked a putrid 241st in the nation from behind the three-point line in 2011-12. To make matters worse, starting center Jared Sullinger led the team's regular contributors in this statistic, and he is now wearing Celtic green.
The Scarlet and Gray were looking up at powerhouses such as Georgia Southern, Mercer and the New Jersey Institute of Technology in this category by season's end.
As for free throws, the picture wasn't much prettier. The Bucks were 146th in the nation from the charity stripe, behind the likes of Cal Poly, Sacramento State and South Dakota.
LaQuinton Ross may be the answer for both of these categories in 2012-13 if he can earn himself more playing time.
Of course, Thad Matta would probably sleep better at night if all his guards improved on their shooting touch.