On Monday, the Boston Red Sox announced that they acquired manager John Farrell from the Toronto Blue Jays.
After a month-long search for a new skipper to replace Bobby Valentine, the Red Sox ended up trading for Farrell, who was at the top of their postseason wish list. Because Farrell had one year remaining on his contract with Toronto, the Red Sox had to pay a price to acquire him. They traded shortstop Mike Aviles to the Blue Jays, and besides Farrell, they also received right-handed relief pitcher Dan Carpenter.
The club will hold a press conference announcing Farrell's hiring at noon (EST) on Tuesday.
After firing Bobby Valentine to conclude their rock-bottom-hitting regular season, Boston looked at a number of other candidates to fill their vacant manager's job. They interviewed the sport's most seasoned coaches, including Tony Pena and Gene Lamont, as well as hot young managerial prospects DeMarlo Hale and Brad Ausmus.
Widely considered one of the smartest players to have ever played the game, Ausmus is only a few seasons removed from the diamond. And, as a New England native, Dartmouth grad and a former top-shelf defensive catcher, he appeared to be a tailor-made fit for the Red Sox. Ultimately however, Ausmus didn't measure up to Farrell in the experience department, as he'd never managed professionally.
The Red Sox are also expected to hire Torey Lovullo, a former PawSox manager and Farrell's first base coach last season. Lovullo was a candidate for the manager's job last year, but decided to join Farrell in Toronto when Bobby V got the gig.
Tom Szczerbowski/Getty Images
Farrell is a great fit for the Red Sox. First of all, he's already put together a successful career in Boston. Between from 2006 to 2010, he was Terry Francona's pitching coach, and he helped the club win their second World Series in four years.
When Farrell replaced Dave Wallace before the start of the '07 season, the Red Sox pitching staff was a shell of the squad that won the organization's first World Series in a century. In 2004, Red Sox pitchers totalled a 4.18 ERA, struck out the second-most batters in the AL and allowed the fewest hits in the league. Over the next two seasons however, their performance declined sharply. The team's ERA shot up to 4.78 ERA and they allowed nearly 10 hits per nine innings, ranking them at the bottom of the MLB.
Farrell managed to turn the Red Sox pitching staff around. He took the team's crumbling bullpen and rebuilt it in to a strength. Hideki Okajima emerged as an All-Star set-up man, and Farrell converted Papelbon from a top starting pitching prospect in to one of the elite closers in the game.
He also helped the rotation regain it's step. Under Farrell, Beckett's dominance returned, and young guns like Clay Buchholz and John Lester developed in to top-shelf starters.
In his first season with Boston, Farrell helped lower the staff ERA by over half a run, from (4.78 to 4.18). He helped develop a number of young arms in to star-level big leaguers, and pitchers like Beckett, Papelbon, Buchholz, Daisuke Matsuzaka and Manny Delcarmen put together their best years when he was coaching.
The Red Sox made the playoffs in three of Farrell's four seasons in Boston. During that span, the club's hurlers combined for a 4.11 ERA, ranking them third in the American League behind Toronto (4.05) and Oakland (4.03). The pitching staff's sustained success was even more impressive considering the AL East's heavy hitting competition and Fenway Park's hitter-friendly confines.
Of the candidates who didn't get the job, who would've made the best Red Sox manager?
Before he took his post in Terry Francona's regime, Farrell had spent the last four seasons as the Cleveland Indians' director of player development. He was remarkably successful in that role too, helping Cleveland build a foundation rich in young talent.
His farm system produced scads of top prospects, including future stars like Grady Sizemore, Brandon Phillips, Franklin Gutierrez and Jeremy Guthrie. During his four-year stint, Sports Weekly recognized the Indians farm system as the best in baseball twice (2003, 2004), and Baseball America named them organization of the year in 2003.
Farrell represents a sharp departure from the short Bobby V era. While the Red Sox hired Valentine to help right a sinking ship of veteran stars, their agenda for Farrell is much more tempered.
A young manager who's skilled in player development, Farrell will be asked to take a young clubhouse and give it some direction. The Red Sox are in the midst of a halfhearted rebuilding phase, and they've stripped their club of a dozen Gold Gloves and Silver Sluggers throughout the past couple of years.
The team won't close their wallets to the free agent market, but the front office is focused on the long hall. That means Farrell is tasked with rebuilding their foundation, starting with blue-chip young guns like Will Middlebrooks, Jackie Bradley Jr. and Matt Barnes.
The second area that Farrell will try to fix is the club's pitching.
From top to bottom, Boston's pitching staff was a mess last season, with injuries ravaging the rotation and underachievers like Daniel Bard and Jon Lester folding in key roles. The Red Sox team ERA was 4.72 last season, the highest it's been since 2006 (4.83)—the last time Farrell was asked to fix the team's arms.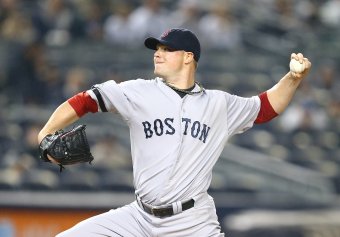 Al Bello/Getty Images
Farrell didn't need a lot of time to fix the team's pitching woes last time around, and luckily, he'll be working with many of the same players. Clay Buchholz, Daniel Bard and Jon Lester will be three of his bigger projects, and each of the pitchers has already found plenty of success on his watch.
With John Farrell as their pitching coach, Daniel Bard, Lester and Buchholz developed in to first-rate big leaguers. Bard posted a 2.61 ERA and a 2.67 K/BB ratio in his first two big league seasons under Farrell, while Lester average a 3.40 ERA and a 2.7 K/BB ratio and Buchholz a 3.68 ERA and a 1.83 K/BB mark.
In the two years since he departed, each pitcher has seen a net decrease in their performance. despite entering their prime years. Lester's ERA jumped up to 4.17 over the past two seasons, and his K/BB dropped to 2.43. Buchholz has been worse off, managing just 43 starts of 4.24 ERA baseball—though his K/BB has increased slightly. Bard has fallen off completely, totaling a 4.62 ERA and a 1.62 K/BB ratio overall after struggling in the rotation last season.
When Lester heard of Farrell's hiring, he gave a glowing endorsement of the move:
It helps having (Farrell) back. It helps you feel comfortable...I think the biggest thing with John was that I always knew, if I needed anything as far as getting questions answered and guidance, I could go to John and get a no-BS answer. I knew I was getting the truth and that he had my best interest. That's hard to find sometimes in the game. Sometimes, people give you (the answer) that you want to hear....We had some times when we butted heads, when he told me that I was wrong. But we worked it out. That's what I respect and like about him. And that's what I'm expecting (now that Farrell is the manager). It's one of those traits that will carry on, regardless of his new position.
As a new manager, Farrell enters a difficult atmosphere in Boston, but he's more than equipped for the job. He's already familiar with the organization and his low-key demeanor should help the team's tumultuous clubhouse atmosphere. More importantly, his resume's strengths in player development and pitching fit the club's needs perfectly.
Overall, a great addition for the Red Sox.