How to Create the Perfect Sports Costumes
Image via Deadspin
It's that time of year, again. The leaves are turning, football is well underway and retail stores are pushing a tidal wave of useless holiday season products toward weary parents and revelers.

First up, Halloween—when gangs of children roam the streets looking for that sugar fix from willing enablers like you an me, and adults eagerly wear full body unitards and dance—badly—to thriller in front of strangers. Every October, you see one too many Jokers, Scream masks and other tired facades like the "sexy devil."
Well, I've got a fresh set of costume ideas; costumes that draw from one of the greatest inventions of mankind...sports.
Begin Slideshow

»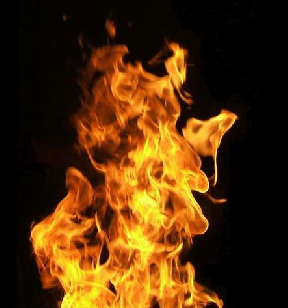 The Costume:
*One crisp, clean and rarely used New York Yankees Uniform
*A steel bucket
*$114 million dollars, any denomination
*Lighter fluid and matches
How to Wear It:
Dressing up as New York Yankees human albatross Alex Rodriguez doesn't require much effort. Just keep an eye on your flaming bucket of money you're carrying around—and your uniform spotless—as you ride out most of Halloween night on the pine.
If you don't have $114 million to burn, and let's face it, if you did you wouldn't be wearing an A-Rod costume, you would just be A-Rod, any amount will do—as long as it's reduced to ashes.
Image via Oli Scarff/Getty Images
The Costume:
*Long, black hooded robe
*Large scythe (presumably fake)
*Rolled up sheet of papyrus; when unfurled reveals this list of names: Romeo Crennel (scratched out), Eric Mangini (scratched out), Josh McDaniels (scratched out) and Romeo Crennel (underlined and circled many times)
How to Wear It:
You are the Grim Reaper of NFL head coaching jobs, and when you enter the room, all will tremble when you mutter words which amount to a career death sentence:
"I have been named the starting quarterback, because I give you the best chance to win."
The Brady Quinn costume is a little abstract, but once it all comes together for the revelers at your Halloween Party, it will be well worth it.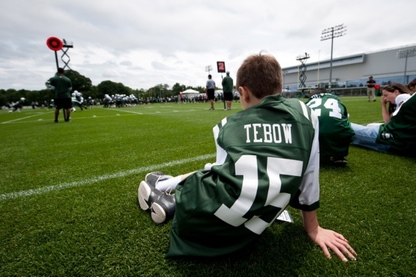 Image via Ron Antonelli/New York Daily News
The Costume:
*One Tim Tebow New York Jets Jersey
*A giant, fake tire (assuming you can't roll a real one around all night)
*10-20 acquaintances dressed up as sports media
*One good friend willing to wear a Mark Sanchez jersey and be part of the spectacle
How to Wear It:
Now this costume requires teamwork and a well-orchestrated effort—it's not for someone who doesn't want to win.
Have your friend walk about 20 feet ahead of you, while you carefully and deliberately follow his every move—flanked by your media posse—sporting a huge, menacing grin.
Image via OaklandNorth.net
The Costume:
*One vintage U.S. Cycling uniform
*A garbage bag filled with ready-to-use syringes
*A large piece of wool cloth
How to Wear It:
The Lance Armstrong get-up is one of the easier costumes to assemble, but the tricky part is having the cojones to bully your friends into taking hand-fulls of syringes.
And if anyone is watching you? Just pull the wool over their eyes.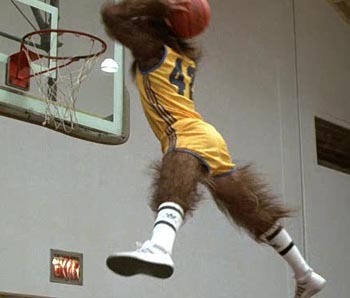 Image via The Schleicher Spin
The Costume:
*One Teen Wolf Mask (yes, it exists)
*A Blake Griffin Los Angeles Clippers Jersey
*A child-sized basketball you can grip like a ripe peach
*A portable toy basketball hoop you can roll around easily
How to Wear It:
Teen Wolf was pure fantasy until Blake Griffin stormed into the NBA—vicious superhuman dunks, attitude and kind of wolf-like reddish hair.
Roll the hoop by the unsuspecting victim, charge toward him or her—roaring—leap into the air, slam the ball and crush your crotch into their face.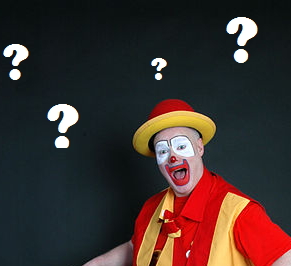 Image via WikiMedia Commons
The Costume:
*Clown wig, make-up and accessories.
*Riddler costume, or just a nasty white t-shirt with a big, black question mark painted on it.
*Bike horn
How to Wear It:
Put this monstrosity together and if you manage to walk out in public without getting tackled by a police officer, seek out the nearest Washington Nationals fan in a Bryce Harper jersey.
When they ask you who, or what, you are, respond by honking the horn.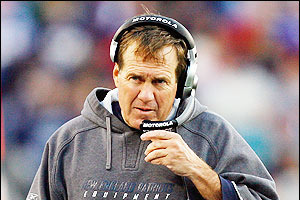 Image via Getty
The Costume:
*Yourself
*An old sweatshirt, sleeves optional.
*Sweat pants
*Grim expression
How to Wear It:
This is the ideal costume for those people who don't like dressing up at all. You know, that guy who ties a pillow case filled with dirty socks to the end of broom handle and calls it a "costume."

The Bill Belichick is especially convenient for those ladies who have a husband or significant other who hates Halloween parties.
Throw on those ragged threads and look bored.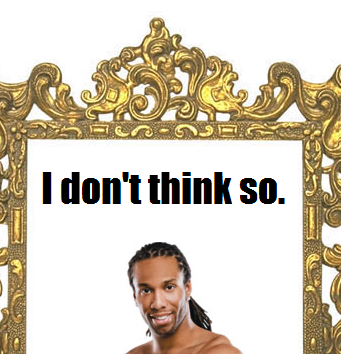 Image via The Celebrity Workout
The Costume:
*One Mike Wallace Steelers jersey
*A 12" x 14" photo of Larry Fitzgerald inside an ornate, gold frame; with the words "I don't think so," emblazoned across the top.
*A worn, crumpled copy of the last contract offer from the Steelers, which was clearly dug up out of the trash and carefully smoothed out.
How to Wear It:
When you walk around the neighborhood, moaning and carrying the Fitz' photo in one hand and the contract offer in the other, just channel the image of a mourning widow in a war-torn village.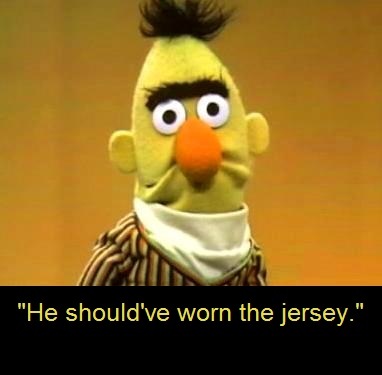 Image via MuppetWikia
The Costume:
*Large black Sharpie
*Anthony Davis Jersey, Kentucky Wildcats or New Orleans Hornets (Optional)
How to Wear It:
This is another pick for the lazy or just uninspired. Take the Sharpie and draw a thick bar joining your two eyebrows.

Anthony Davis has a prominent unibrow, get it?
If you don't wear the jersey, you risk being labeled "Creepy Bert."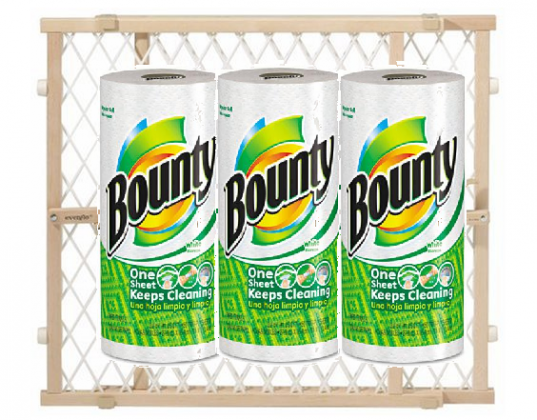 The Costume:
*One light weight baby gate
*A few rolls of Bounty brand paper towels, still in the plastic.
*Tape
*Rope, strap or something else to hang the gate from your neck
How to Wear It:
Sure to elicit more groans than actual laughs, don't be fooled, the crowd will begrudgingly appreciate your snarky prop comedy.

Whether you're a masochistic/ironic New Orleans Saints fan, or perhaps a particularly smug Rodger Goodell looking to make a splash at the company Halloween party, you'll need to make sure the items are firmly secured to each other—lest you want the entire setup to be flimsy.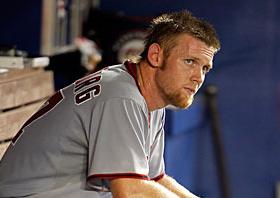 Image via Tom DiPace
The Costume:
*Stephen Strasburg Washington Nationals Jersey and hat
*Large On/Off switch attached to your back
How to Wear It:
Poor you..
Shutdown before the MLB post-season and forced to watch your team get eliminated by the St. Louis Cardinals. Hey, gotta save that arm!
This costume is worth the effort if for nothing more than being able to break the ice with, "Could you turn me on?"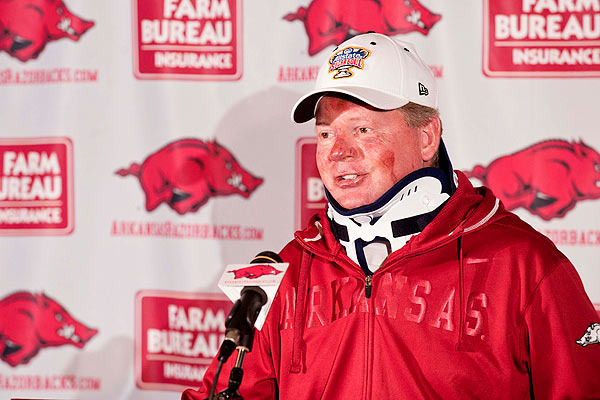 Image via Beth Hall/US Presswire
The Costume:
*Neck brace
*Fake blood
*White Hat
*Red windbreaker
*Contrite attitude
How to Wear It:
Finally, a costume with a little blood and gore.
Drawing from the shocking press conference before the storm, you will stumble around as a freshly wrecked, and exposed, Bobby Petrino a few days before he was fired as head coach for the Arkansas Razorbacks.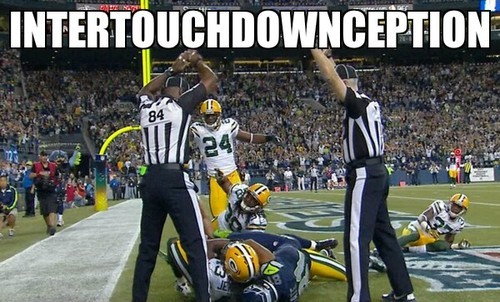 Image via Tumblr
The Costume:
*Three pairs of black pin-striped shirts and black fitted pants
*Two black hats and one white
How to Wear It:
Everybody likes a coordinated, group costume. And everybody loves a costume that pokes fun at a person, or group of people, who are much maligned.
You and two of your friends will dress up as replacement referees, but once you're out in public, you'll look like referees, but behave like near-sighted buffoons. Think, the Three Stooges meet Leslie Nielsen.
Nyuck, nyuck, nyuck!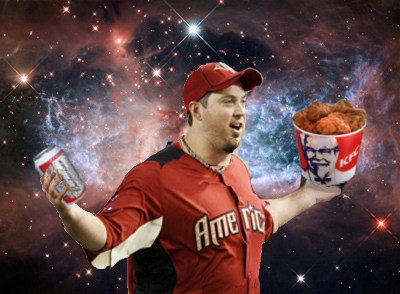 Image via Tumblr
The Costume:
*Josh Beckett Boston Red Sox Jersey and hat
*Cooler of cold brews
*Bucket of fried chicken
*Goatee, in original or patchy "Van Dyke" style
How to Wear It:
You'll be a mobile partying unit when you strut around town as former Red Sox pitcher Josh Beckett. I mean you've got beer and fried chicken.
Actually, you don't even have to go out at all.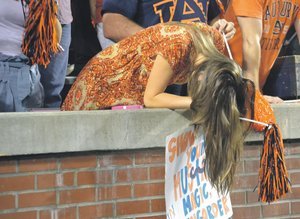 Image via Rebecca Croomes
The Costume:
*Auburn Tigers gear
*Large brown paper bag
How to Wear It:
I imagine this would be most popular with Alabama Crimson Tide fans, but there have been few things more horrific than the free fall of the Auburn Tigers since Cam Newton ended his cameo with the program.
This is something you wear knowing that it could elicit either sympathy or violent rage, depending on the mood of the Auburn fan you come across.
If you come across someone in this costume, don't be too surprised if you peak under that bag and see head coach Gene Chizik.