World Series 2012: Breaking Down the Pitching Matchups for All 7 Games
Gregory Shamus/Getty Images
Coming off an improbable, historic comeback from a 3-1 series deficit, we now know that it will be the San Francisco Giants taking on the Detroit Tigers in the World Series, beginning Wednesday night, Oct. 24.
Detroit will have been off for six days when the World Series begins, having swept the Yankees last Thursday evening, allowing their pitching staff time to rest.
Although Jim Leyland could have swapped the order of his pitchers given the added time off, he chose to leave his rotation in the same postseason order: Justin Verlander, Doug Fister, Anibal Sanchez, Max Scherzer.
San Francisco will not have such a luxury. Both of its postseason series were taken to the brink of elimination before fighting back to win-or-go-home series finales.
Bruce Bochy has not yet announced his World Series rotation, although speculation widely has Barry Zito getting the assignment for Game 1.
After Zito, it becomes a toss-up between Madison Bumgarner, who has struggled throughout the postseason, and Tim Lincecum, who struggled during the regular season and his one playoff start but has been solid out of the bullpen this October.
Ryan Vogelsong and Matt Cain will likely get the assignments for Games 3 and 4.
Ahead, we'll preview each of these matchups.
Game 1: Justin Verlander vs. Barry Zito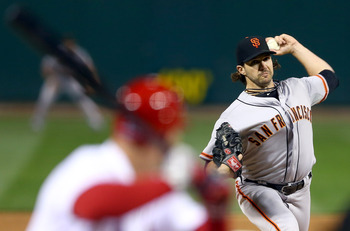 Elsa/Getty Images
This pitching matchup could not possibly feature two pitchers who are more polar opposites.
Justin Verlander, the 100-mph throwing ace of the Tigers, versus Barry Zito, the soft-tossing, enigmatic left-hander for the Giants.
Both are former Cy Young Award winners, although Zito's award came a decade ago in 2002. Verlander, on the other hand, is the reigning AL MVP and likely to win his second straight Cy Young Award this season.
At home this season, Zito compiled an 8-5 record and 4.00 ERA. For his career, Zito is 8-6 with a 2.91 ERA against the Tigers. He last faced them in 2011, earning the win behind six solid innings of shutout ball in which he allowed just five hits.
Verlander was not as good on the road as he was at home during the regular season, going 8-6 in away games with a 3.57 ERA compared to 9-2 with a 1.65 ERA at home.
He has dominated the playoffs though, going 3-0 so far this postseason.
Verlander last faced the Giants in 2008. He did not receive a decision in his six innings of work, giving up two earned runs on five hits while striking out seven.
Game 2: Doug Fister vs. Madison Bumgarner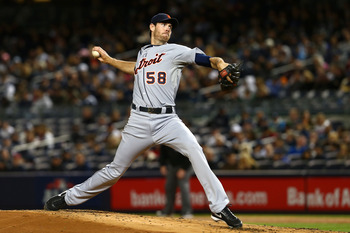 Elsa/Getty Images
Doug Fister will get the ball for Detroit in Game 2 to take on the red hot San Francisco Giants.
Fister went 10-10 in 2012 with a 3.45 ERA. On the road, he was 4-7 with a 3.70 ERA. He has never pitched against the Giants in his career.
He has yet to earn a decision in either of his appearances this postseason, though he was stellar in both outings. He's allowed just two runs on 12 hits over 13.1 innings. Jose Valverde's blown save cost him a win in the ALCS opener after Fister pitched seven shutout innings against the Yankees.
San Francisco has just announced its starting pitcher for Game 2, and Madison Bumgarner has beaten out Tim Lincecum to get that huge opportunity.
BREAKING: @sfgiants manager Bruce Bochy announces Madison Bumgarner will start #WorldSeries Game 2. Vogelsong, Cain to follow in Detroit.

— MLB (@MLB) October 24, 2012
Bumgarner went 16-11 with a 3.37 ERA during the regular season, but he struggled in both of his postseason starts this year. At home this season, Bumgarner went 10-3 with a 2.38 ERA. He has made only one start against the Tigers in his career, earning a no-decision behind 7.1 innings pitched. He gave up just a single run on five hits and struck out nine.
Game 3: Ryan Vogelsong vs. Anibal Sanchez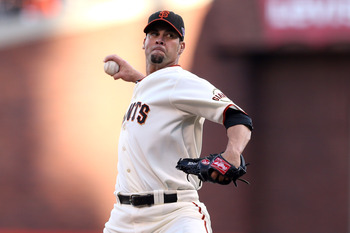 Ezra Shaw/Getty Images
Ryan Vogelsong has flat-out dominated this postseason, going 2-0 with a 1.42 ERA in three games. During the season, he went 14-9 with a 3.37 ERA.
On the road, Vogelsong was 7-5 with a 3.87 ERA in 2012. Like many of the Giants starters, he has just one career start against Detroit, which came in 2011. He received a no-decision in that start, pitching 6.1 innings and giving up two earned runs while striking out five batters.
For Detroit, it will be Anibal Sanchez on the hill.
Sanchez was 4-6 with a 3.74 ERA after coming to Detroit from the Miami Marlins in a midseason trade. A former National League pitcher, Sanchez has more experience against the Giants than the rest of the Tigers staff. Of course, that also is true of the Giants batters against Sanchez.
Sanchez has a career record of 3-1 with a 1.98 ERA against San Francisco, although he was 1-1 with a 4.38 ERA in two starts against the Giants this season.
Game 4: Matt Cain vs. Max Scherzer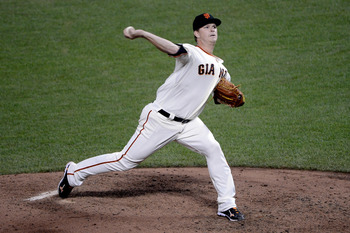 Thearon W. Henderson/Getty Images
Coming off a Game 7 victory against the Cardinals, Matt Cain gets the ball for San Francisco in Game 4.
Cain went 16-5 with a 2.79 ERA during the regular season and added a perfect game to his resume against the Houston Astros early in the season. He is 2-2 so far this postseason.
On the road, Cain went 8-2 with a 3.56 ERA this season. He has never faced the Detroit Tigers in his career.
Max Scherzer will oppose Cain for the Tigers in Game 4.
Scherzer was second in the American League in strikeouts, behind Verlander, in 2012. He went 16-7 with a 3.74 ERA and led the American League with a strikeout ratio of 11.1 K/9. At home he was 7-3 with a 3.51 ERA.
Having played part of his career for the Arizona Diamondbacks, Scherzer has four career starts against San Francisco. He is 1-3 with a 5.12 ERA in those matchups. His last start against the Giants came in 2011. He lasted just two innings, allowing six earned runs (nine total runs) and taking the loss.
Game 5 (If Necessary): Barry Zito vs. Justin Verlander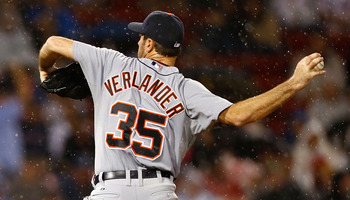 Jared Wickerham/Getty Images
Unless either team sweeps, Justin Verlander will go again in Game 5 for the Tigers.
Verlander was dominant at home this season, going 9-2 with a 1.65 ERA.
Unless the Giants swap up their rotation, which is a possibility with either Tim Lincecum or Madison Bumgarner pitching out of the bullpen, Barry Zito will oppose him again.
Zito was 7-3 with a 4.34 ERA on the road this season. He is 5-2 with a 1.67 ERA for his career at Comerica Park in Detroit, though.
Game 6 (If Necessary): Doug Fister vs. Tim Lincecum / Madison Bumgarner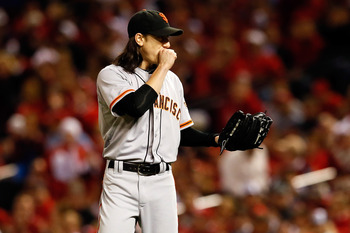 Kevin C. Cox/Getty Images
Not much to change from the Game 2 matchup here.
Doug Fister is still 4-7 with a 3.70 ERA on the road this season. The only difference is that by the time this game is played, he will have had his first career start against the Giants as well as his first career start inside AT&T Park.
The real question here is how the Giants starter from Game 2 will have fared and if that same pitcher will match up against Fister.
In reality, the starter for San Francisco could be either Lincecum, Bumgarner or Zito for this game, although given his career numbers in Detroit, it makes sense that Zito will get the Game 5 start.
Game 7 (if Necessary): Anibal Sanchez vs. Ryan Vogelsong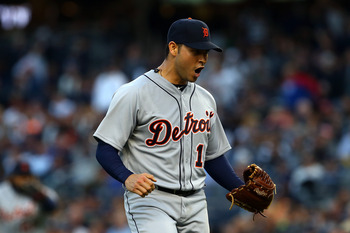 Alex Trautwig/Getty Images
In a Game 7, all bets are out the window.
The rotation would have Anibal Sanchez squaring off against Ryan Vogelsong. If either Sanchez or Vogelsong get rocked in their first starts though, we very easily could see both managers bring back their aces on short rest.
Sanchez has been very good at AT&T Park throughout his career though, boasting a 3-0 record and a microscopic 0.36 ERA, including two complete-game shutouts against the Giants.
It would be hard to argue in favor of taking the ball out of his hands given that track record, but I think few would second guess the decision to bring back Justin Verlander on three days rest for a World Series Game 7.
The same can be said if Bochy decides to bring Matt Cain back on four days rest rather than giving the ball to Vogelsong. Vogelsong has been dominant this postseason, but Cain is a proven horse with World Series experience from the Giants' 2010 championship season.
Keep Reading