LeBron James and the NBA's 10 Toughest Stars to Guard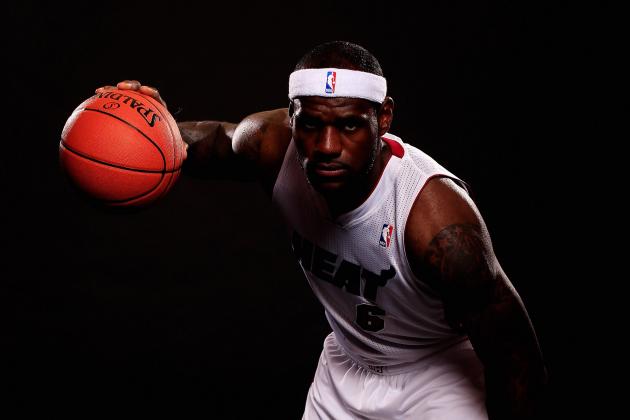 Chris Trotman/Getty Images

When determining the toughest players to guard in the NBA, a few factors have to be taken into consideration.
Scoring should obviously be noted, but isn't necessarily the tell-all sign of a great offensive player.
Shooting percentages, offensive rating, determining how a player scores and efficiency rating all help break down who are really the best in the NBA when it comes to putting the ball in the basket.
For shooting percentages, the statistic "true shooting percentage" will be used. This is combination of two-point shots, three-point shots and free throws with weighted efficiency.
Offensive rating is an estimate of how many points a player scores per 100 possessions.
Matched up one-on-one, these next 10 players are truly a nightmare to guard.
Stats used were found on sites Basketball-Reference.com and HoopData.com.
Begin Slideshow

»
Debby Wong-US PRESSWIRE

These are the honorable mentions, the players that nearly made the list but ultimately couldn't crack the top 10.
-Kobe Bryant, SG, Los Angeles Lakers
Scoring numbers are still high, and so are shot attempts. Posted 43.0 field goal and 30.3 three-point percentage field goals, lowest he's had since the '90s. At 34, is still elite but no longer top 10.
-Deron Williams, PG, Brooklyn Nets
-Rudy Gay, SF, Memphis Grizzlies
-James Harden, SG, Oklahoma City Thunder
Will be top 10 within two years. Maybe not even that long.
-Kyrie Irving, PG, Cleveland Cavaliers
Shooting percentages during his rookie year (.470/.400/870) better than some of NBA's best already.
-Monta Ellis, SG, Milwaukee Bucks
-John Wall, PG, Washington Wizards
Beats you with amazing speed, outside shooting still needs a lot of work.
-LaMarcus Aldridge, PF, Portland Trail Blazers

-Blake Griffin, PF, Los Angeles Clippers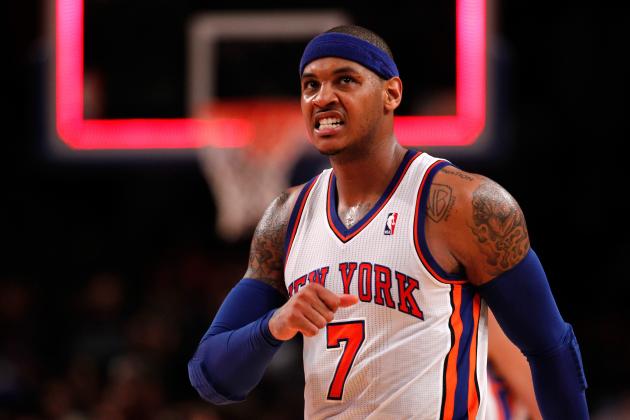 Jeff Zelevansky/Getty Images

2011-2012 PPG: 22.6

True Shooting %: .525

Offensive Rating: 106

PER: 21.1
Never meeting a shot he didn't like, Anthony has been one of the premier offensive talents in the game for nine seasons now.
Anthony is a talented shooter from all areas of the court and can post up smaller forwards when called upon.
Seven times Anthony has finished in the top 10 in the NBA in scoring, with his career mark of 24.7 points per game placing him 14th in NBA history.
Possessing a great mixture of upper body strength and quickness, smaller forwards are often pushed around guarding Anthony while larger ones are left in the dust while Melo drives by them.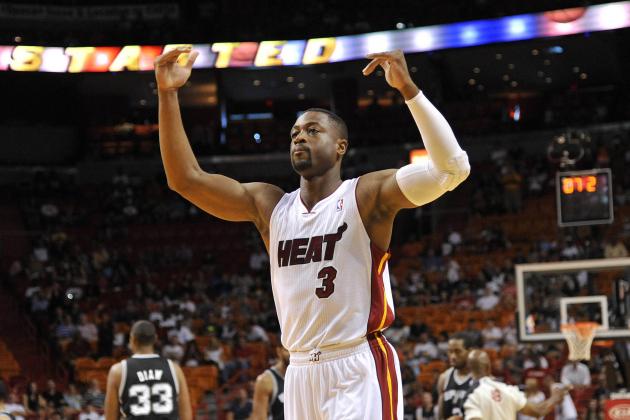 Steve Mitchell-US PRESSWIRE

2011-2012 PPG: 22.1

True Shooting %: .559

Offensive Rating: 112

PER: 26.3
Age and injuries may be creeping up with Wade, but that doesn't mean the now 30-year-old isn't still one of the toughest guards in the league.
Wade has always had an excellent crossover and can seemingly get to the basket whenever he so chooses.
His career scoring mark of 25.2 points per game is good for third among all active NBA players. His PER of 26.3 in 2011-2012 was good for third overall in the league behind Chris Paul and teammate LeBron James.
The estimated 8.1 wins he contributed to the Heat in 2011-2012 based on offense alone was good for seventh overall in the NBA.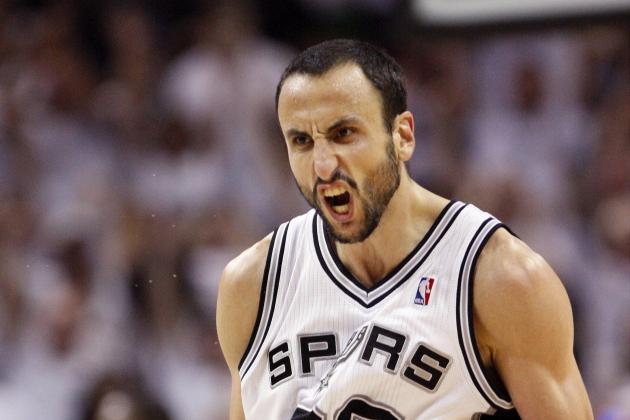 Soobum Im-US PRESSWIRE

2011-2012 PPG: 12.9

True Shooting %: .668

Offensive Rating: 125

PER: 24.1
The lowest scorer and likely biggest surprise on the list, Ginobili has numbers that don't lie.
His true shooting percentage was second overall in the NBA next to center Tyson Chandler. Ginobili's offensive rating was also off the charts, coming in fourth in the NBA ahead of players like Kobe Bryant, Dwyane Wade and LeBron James.
Crafty may be the word best used to describe his offensive game, but it's no doubt an effective one. While he only scored 12.9 points per game last season, this was done in 23.3 minutes per game primarily as a sixth man.
Given starters minutes of 36 per game, that number averages out to be 20 points per game to go along with 5.3 rebounds and 6.9 assists.
Overlooked as one of the game's true stars for years now, Ginobili has and continues to be one of the toughest players to guard.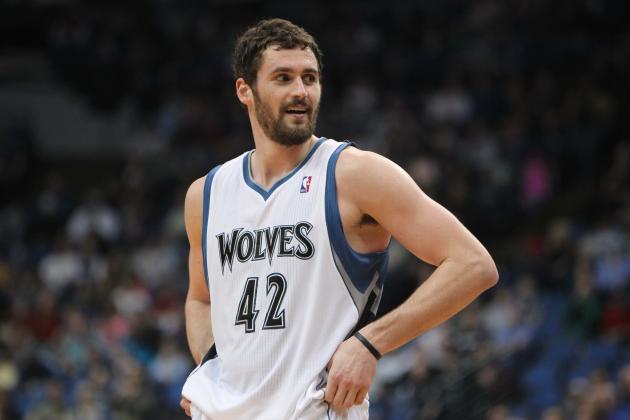 Brace Hemmelgarn-US PRESSWIRE

2011-2012 PPG: 26.0

True Shooting %: .568

Offensive Rating: 117

PER: 25.4
There isn't a spot on the court that Love can't score him.
In addition to leading the NBA in rebounding in 2010-2011, Love also made 1.2 three-pointers a game at a 41.7 percent clip.
A great rebounder since he entered the league, it's Love's offense that's really taken off in his four-year career.
Only scoring 11.1 points with 0.2 three-point shot attempts per game during his rookie campaign, Love increased these numbers to 26.0 and 5.1 during 2011-2012.
The added range helped improve his overall scoring and made opponents leave the post to come out to guard Love, where he's quick enough to drive by most bigs to the basket.
Christian Petersen/Getty Images

2011-2012 PPG: 23.6

True Shooting %: .538

Offensive Rating: 108

PER: 22.9
2011-2012 was a breakout year for Westbrook.
The former UCLA star set career highs in points, field goals made, field goals attempted and field-goal percentage.
Among all NBA players, Westbrook fell in the top 10 in minutes played (7th), field goals made (3rd), field goals attempted (3rd), free throws made (5th), free throws attempted (7th), total points, (4th), PER (9th) and offensive win shares (10th).
To say Westbrook was busy on the offensive end would be a gross understatement.
Westbrook excels with his elite athleticism and speed. His shooting has gotten better each year, but it's when he's in attack mode is when Westbrook is truly at his best.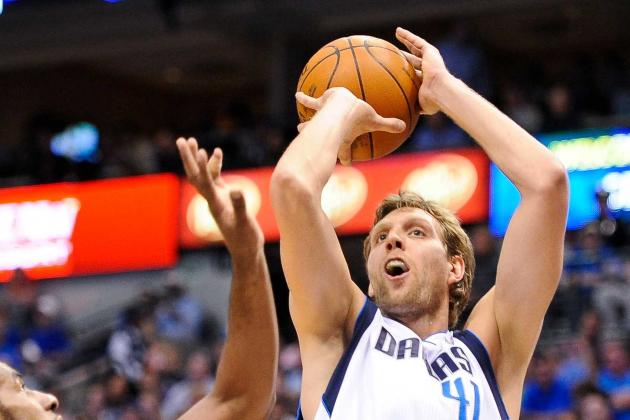 Jerome Miron-US PRESSWIRE

2011-2012 PPG: 21.6

True Shooting %: .564

Offensive Rating: 110

PER: 21.7

Dirk actually saw his stats drop a little in 2011-2012 and is now entering his 15th professional season.
That being said, Nowitzki is still a nightmare for defenders.
Quite possibly the worst big man in the NBA to try to match-up against, HoopsHype.com has this to say about Nowitzki:
The best European player in history... One of the most versatile guys in the league... Puts the ball on the floor and dribbles like a playmaker, shoots like an off guard and rebounds like a center... His shooting mechanic is almost perfect... Can easily shoot over his defender... Will kill you from the three-point line or driving to the basket.
Ohhh that fadeaway....nearly as unstoppable in real life as it is in NBA 2K.
At 6'10" and leaning back, no wonder Dirk only sees 2.9 percent of all of his shots get blocked.
Age may be catching up, but there are simply no players in the entire NBA quite like Dirk.
David Banks-US PRESSWIRE

2011-2012 PPG: 21.8

True Shooting %: .532

Offensive Rating: 112

PER: 23.0
Next to LeBron James, perhaps no one in the NBA is as talented at attacking the basket as Rose.
The best scoring point guard in the game today, Rose is a career 21.0-point-per-game scorer in his four professional seasons. One to rise to the occasion, Rose has raised his scoring to 25.1 points a contest in 29 career playoff games.
Not much of a jump-shooter coming into the NBA, Rose has raised his game every season and has seen his three point percentage jump from 22.2 percent his rookie year to 31.2 percent last season.
One of the bigger point guards in the league at 6'3", Rose is surprisingly fast for his size and can change directions on a dime.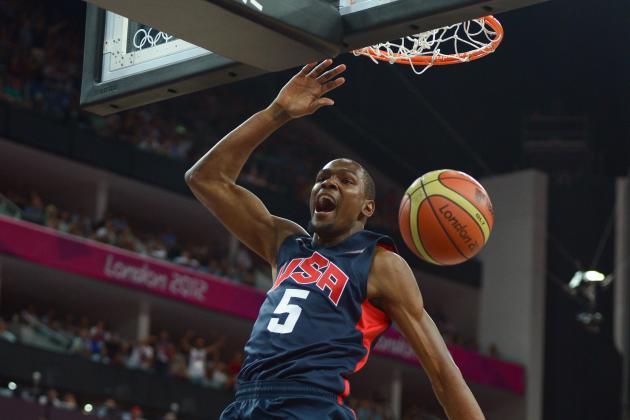 Lars Baron/Getty Images

2011-2012 PPG: 28.0

True Shooting %: .610

Offensive Rating: 114

PER: 26.2
Just 24 years of age, Durant already has three scoring titles to his name in his five professional seasons.
A career 24.8-point-per-game scorer, Durant has unlimited range on the court, rare for someone of his size.
At 6'9", Durant has a remarkable standing reach of 9'2" which allows to him release his shots higher than most, thus avoiding a defender's reach. According to HoopsData, only 3.2 percent of all of Durant's shots get blocked by an opponent, one of the lowest marks in the league.
Anyone who watched last summer's Olympic Games knows that Durant is almost impossible to stop when he gets into a rhythm, something he tends to do quite often.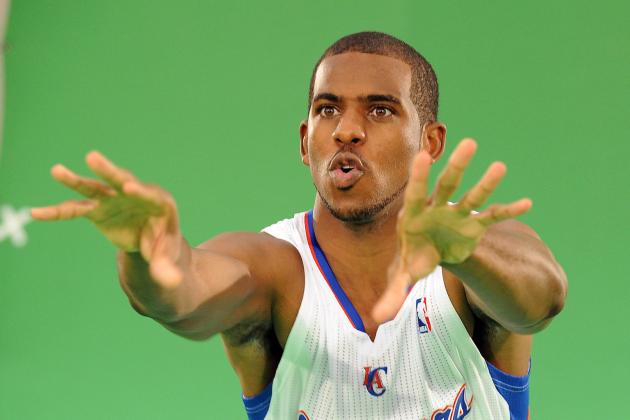 Jayne Kamin-Oncea-US PRESSWIRE

2011-2012 PPG: 19.8

True Shooting %: .581

Offensive Rating: 126

PER: 27.0
Don't let the scoring total fool you; Paul is one of the most dangerous offensive players in the game.
One of the better three-point shooters in the league, Paul has also shown the ability to consistently shoot from anywhere on the court. In 2011-2012, Paul converted 66.3 percent of his shots at the rim, 49.7 percent from 3-9 feet, 44.4 percent from 10-15 feet and 44.0 percent from 16-23 feet.
The best pure point guard in the NBA, Paul has been putting up some historically significant numbers.
Per 100 possessions, Paul is generating 121.6 points per game for his career, first overall in the history of the NBA.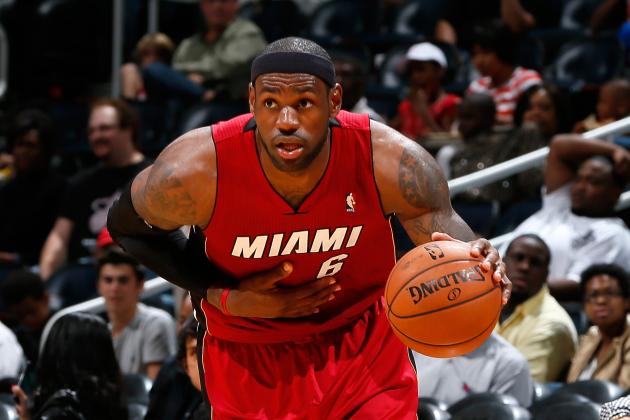 Kevin C. Cox/Getty Images

2011-2012 PPG: 27.1

True Shooting %: .605

Offensive Rating: 118

PER: 30.7
James is the most complete basketball player on the planet, terrorizing opposing teams with his offensive and defensive repertoire.
Does he really need a skyhook?
James has improved every aspect of his offensive game since he came into the league in 2003. Whether it be jump shots, free throws, three-pointers or post moves, James can score on anybody, anytime.
Doing the majority of his damage in the post, James converts an astonishing 75.4 percent of his shots near the rim. His jump shot must also be heavily respected, as last season James shot 47.1 percent on shots from 3-15 feet.
Likely playing power forward for large portions this season, look for James to use his post game more and take higher percentage shots. At 6'9" and 250 pounds, James is the most complete athlete, and scorer, in the game today.