2013 NFL Draft: The Top 20 Redshirt Sophomore Prospects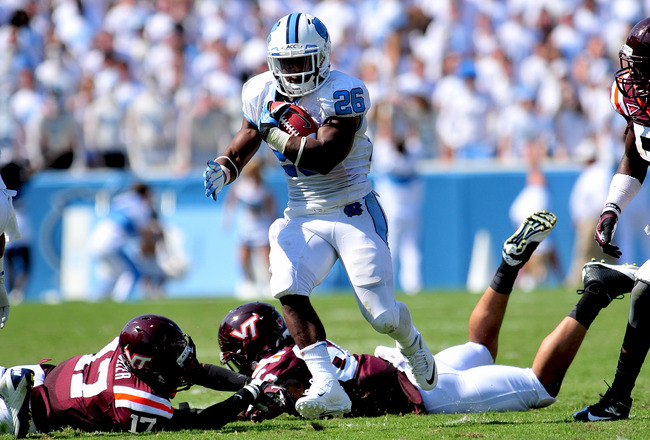 North Carolina RB Giovani Bernard is an explosive playmaker
Lance King/Getty Images
It's not very often that redshirt sophomores enter the NFL draft.
Every now and then, however, there are a few special sophomores who are ready to make the leap.

Michael Brockers, Aldon Smith, Earl Thomas, Jeremy Maclin, Ryan Williams and LeSean McCoy are some of the recent notable examples of redshirt sophomores who decided to declare and were ultimately selected early in their respective drafts.

This year, there is one redshirt sophomore, North Carolina RB Giovani Bernard, who stands out above the rest and has the look of a potential first-round draft pick.
Bernard is clearly the best eligible redshirt sophomore in the country, but there are some other talented young prospects to keep an eye on as well.

Here's a look at the top 20 redshirt sophomore prospects for the 2013 NFL draft.
1. RB Giovani Bernard, North Carolina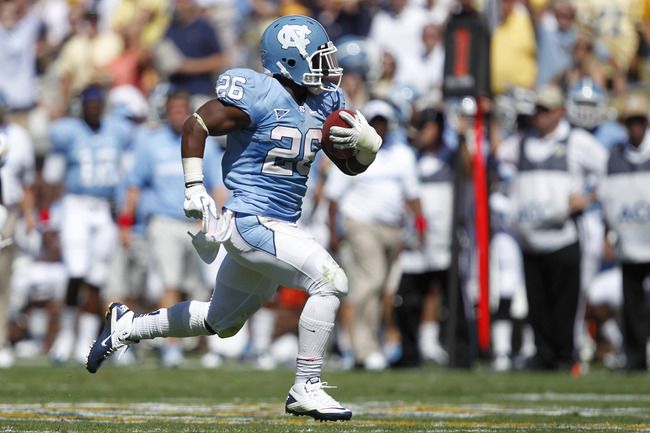 Giovani Bernard
Josh D. Weiss-US PRESSWIRE
Giovani Bernard arrived at North Carolina as one of the top-rated running back prospects of the 2010 recruiting class, after a tremendous career at Florida's St. Thomas Aquinas High School.
Bernard was expected to become an instant contributor for the Tar Heels offense as a true freshman, but a knee injury ended up keeping him sidelined for his entire first season.
He didn't seem to show any rust in 2011, however, as he put together a breakout campaign, totaling 1,615 yards and scoring 14 touchdowns.
The versatile and dynamic offensive weapon proved that he was an all-around threat who could be used in a variety of different ways—as a runner, a receiver and returner.
The 5'10'', 205-pound sophomore was slowed by a knee injury earlier this season, which kept him out for two games, but he's come back and looked better than ever over the last few weeks.
Bernard is currently averaging a whopping 7.7 yards per carry, and he's already totaled 12 touchdowns in just six games.
The explosive rusher is absolute dynamite any time he has the ball in his hands.
Ultimately, Bernard has the chance to become a similar type of player in the NFL as Kansas City's Jamaal Charles.
2. CB Bradley Roby, Ohio State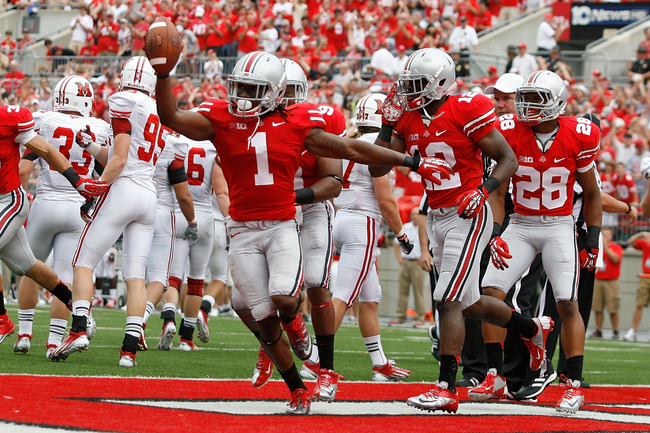 Bradley Roby
Kirk Irwin/Getty Images
Ohio State has produced plenty of notable defensive-back prospects in recent years, such as Malcolm Jenkins, Donte Whitner, Ashton Youboty, Chris Gamble and Nate Clements.
Now, the Buckeyes have another player in their secondary with whom NFL scouts are going to be enamored.
The new star defensive back in Columbus is Bradley Roby.
After showing some glimpses of his enormous potential as a freshman last year, Roby has taken his game to the next level in 2012.
The 5'11'', 190-pound sophomore hasn't received the same type of fanfare and hype that former LSU cornerback Tyrann Mathieu did during his All-American campaign last season. But he's been the same caliber of overall defensive difference-maker that Mathieu was in 2011.
Roby has totaled 38 tackles and a sack, picked off two passes, broken up another 12 throws and scored three touchdowns in three different ways—fumble return, interception return and a blocked-punt return.
The young Buckeye has displayed tremendous playmaking ability, toughness and ball skills, and he's about as solid a cover corner as you're going to find in college football.
Alabama's Dee Milliner, Mississippi State's Johnthan Banks and N.C. State's David Amerson may be the top eligible cornerback prospects for the 2013 draft.
But Roby isn't too far behind.
3. LB Yawin Smallwood, Connecticut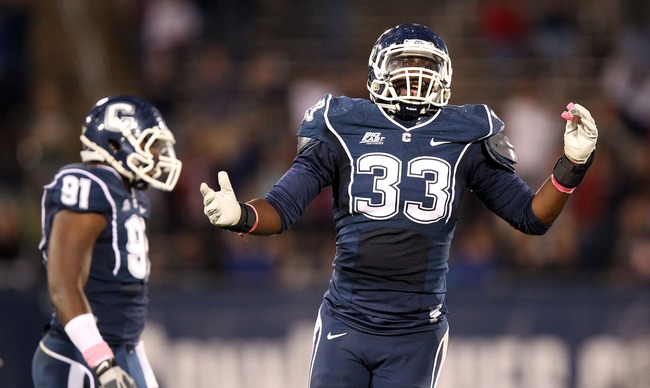 Yawin Smallwood
Danny Wild-US PRESSWIRE
Since Connecticut has struggled to a 3-5 record this season, not many people have talked about just how good the Huskies' linebacker corps really is.
Yawin Smallwood, Sio Moore and Jory Johnson form one of the strongest linebacker trios in college football.
Smallwood has been the most impressive member of the group in 2012. If it wasn't for Rutgers LB Khaseem Greene, he would be the clear-cut favorite to win the Big East Defensive Player of the Year award this year.
After finishing second on the team with 94 tackles in his first season as a starter last year, the 6'3'', 235-pound middle linebacker has become the true leader of the Connecticut defense in 2012.
Smallwood currently leads the team and ranks third in the nation with a whopping 85 tackles, which includes 13 tackles for loss and 3.5 sacks.
The athletic and instinctive inside linebacker has a remarkable radar for the football that you just don't see very often from college defenders.
4. DE Kony Ealy, Missouri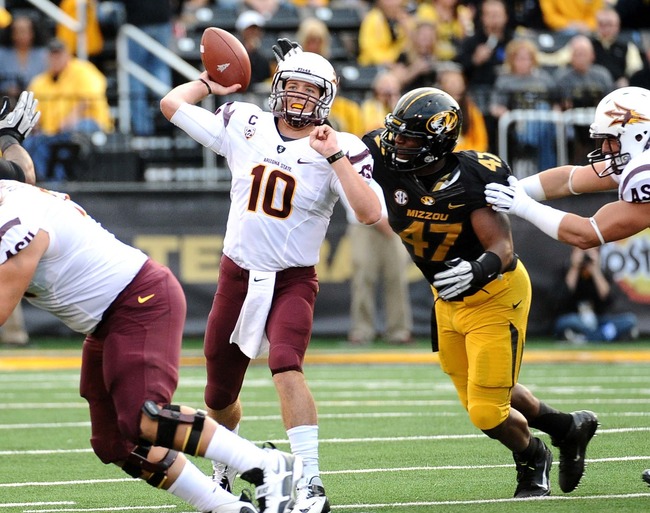 Kony Ealy
Dak Dillon-US PRESSWIRE
Before the season started, I wrote an article asking if Missouri DE Kony Ealy was destined to become the next Aldon Smith.
While Ealy has yet to truly dominate the way Smith did during his short but successful stint with the Tigers, he has shown some of the same types of flashes of explosive athleticism and natural pass-rushing ability that helped Smith become a standout NFL prospect just a few years ago.
The 6'5'', 265-pound sophomore has already totaled 6.5 tackles for loss, 3.5 sacks, four pass deflections, two quarterback hurries and a forced fumble in just seven games this season.
Ealy has shown that he's one of the few Missouri players who is actually ready to handle SEC-caliber competition this season.
At this point in his development, Ealy isn't the same type of impact defender that Smith was at Missouri, but he definitely has the potential to become a star pass-rusher just like his predecessor.
5. RB Jawan Jamison, Rutgers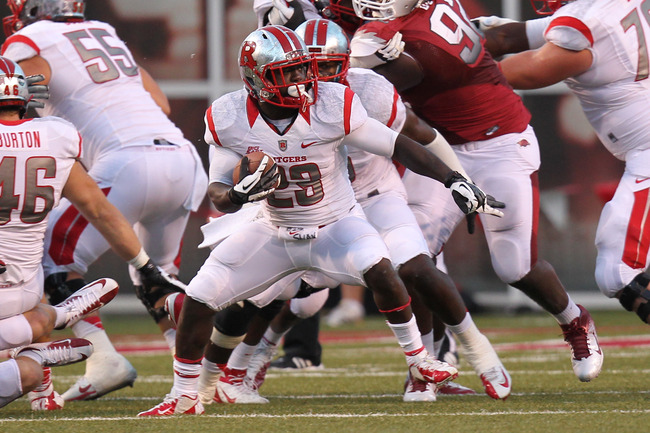 Jawan Jamison
Nelson Chenault-US PRESSWIRE
Jawan Jamison has been one of the big keys to Rutgers' successful 7-0 start to the season.
Jamison has helped the Scarlet Knights establish a consistent and potent ground game in 2012, as he's stepped up and been a bell-cow back, carrying the ball 177 times for 779 yards and scoring five total touchdowns.
The 5'8'', 200-pound junior has displayed an outstanding combination of burst, power, vision, balance, toughness, and oh yeah, he's got some pretty shifty moves.
Since he plays for Rutgers, everyone immediately wants to compare him to former Knight Ray Rice, which is certainly a complimentary comparison.
Like Rice, Jamison packs a lot of speed and power into his short, yet sturdy and compact frame.
6. LB Jake Ryan, Michigan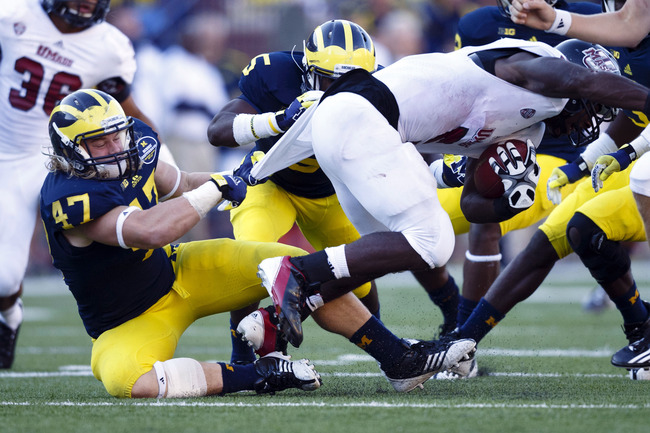 Jake Ryan
Rick Osentoski-US PRESSWIRE
After putting together a very encouraging debut performance in 2011, Jake Ryan has taken his game to the next level this season and become the true heart and soul of Michigan's defense.
Ryan currently leads the Wolverines with 52 total tackles, including 34 solo stops and 8.5 tackles for loss. He's also notched 3.5 sacks and broken up three passes.
The 6'3'', 242-pound sophomore is already one of the premier linebackers in the Big Ten conference, which is no easy feat considering how stacked the league is with stars at the position.
The big, tough and instinctive strong-side 'backer still has to work on his flaws in pass coverage before he gets to the NFL.
Still, it's hard not to be impressed with what he's already accomplished in Ann Arbor, and it's hard not to get excited about the potential he possesses.
7. CB Terrance Mitchell, Oregon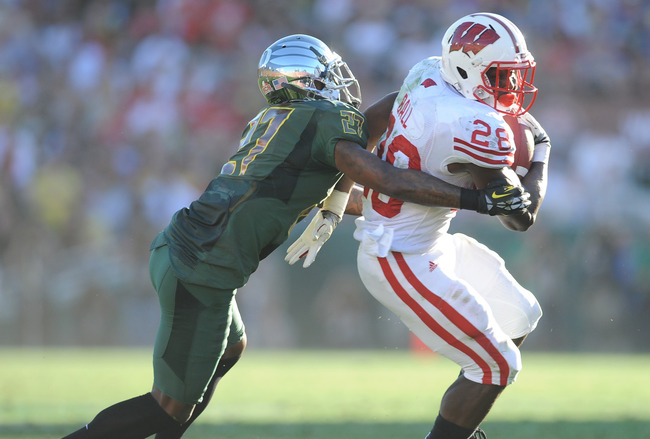 Terrance Mitchell
Kelvin Kuo-US PRESSWIRE
Everyone loves to talk about Oregon's high-powered offensive attack. But what makes the Ducks truly so dangerous this season is the fact that their defense is loaded with playmakers as well.
One of the unit's top performers this season has been cornerback Terrance Mitchell.
Mitchell hasn't picked off a pass or made a bunch of tackles in 2012, but that's because he's done such a great job of shutting down receivers and forcing quarterbacks to throw elsewhere.
The athletic 6'0'', 189-pound sophomore has displayed top-notch coverage ability this season to go along with the terrific ball skills he showed as a freshman in 2011 when he picked off two passes and broke up another 12 throws.
8. DT Kelcy Quarles, South Carolina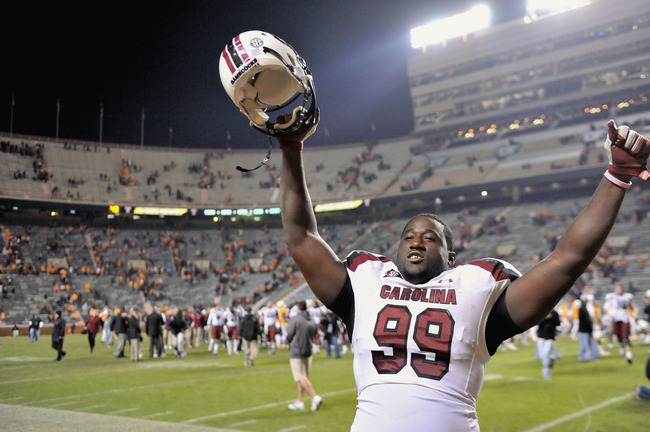 Kelcy Quarles
Jim Brown-US PRESSWIRE
Kelcy Quarles is considered to be just a true sophomore, but since he spent a year at Fork Union Military Academy after high school, he's still technically eligible for the 2013 draft.
Even though he was recently suspended for the Florida game for a punch he threw at LSU's P.J. Lonergan in Week 7, Quarles has really had a solid overall sophomore campaign in 2012.
Jadeveon Clowney and Devin Taylor have received most of the attention and accolades for South Carolina's success upfront. However, Quarles has also played a key role as well.
The 6'4'', 286-pound sophomore has totaled 30 tackles, including six tackles for loss and 2.5 sacks in just eight games this season.
Quarles possesses impressive quickness and agility for his size, and he's shown that he's physical and tough enough to handle himself in the SEC trenches.
While he's still a very raw and unrefined prospect at this stage, there's no doubt that Quarles has the potential to one day be a starting defensive tackle at the NFL level.
9. LB Hayes Pullard, USC
Hayes Pullard
Kirby Lee-US PRESSWIRE
USC's defense is allowing just 16 points and 334 yards per game this season. One of the unit's key players this year has been LB Hayes Pullard.
Pullard has already racked up 45 tackles, including 25 solo stops. He's been a key impact player for the Trojans defense once again, just like he was during his outstanding debut campaign in 2011.
The 6'1'', 235-pound outside linebacker is a well-built, athletic and intelligent defender who looks like he should develop into a standout 4-3 weak side linebacker prospect.
While he may not belong in the same conversation as former USC star 'backers such as Brian Cushing, Clay Matthews, Rey Maualuga and Keith Rivers just yet, Pullard definitely looks like he has a bright future ahead of him if he chooses to stay in Los Angeles for another season.
10. DE Scott Crichton, Oregon State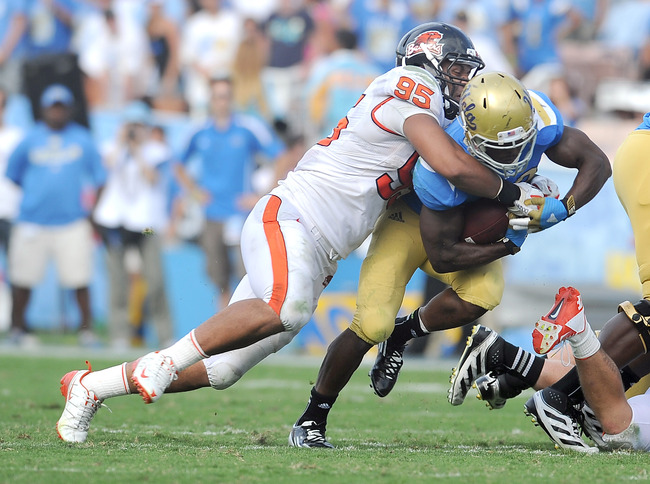 Scott Crichton
Jayne Kamin-Oncea-US PRESSWIRE
Last year, Scott Crichton led Oregon State with six sacks,14.5 tackles for loss and six forced fumbles. This season, he's well on his way to repeating that feat, as he's already racked up eight sacks and 12.5 tackles for loss in just seven games.
The 6'3'', 263-pound sophomore is an agile, powerful and tenacious pass-rusher who shows great burst and acceleration to get up the field.
Crichton is a valuable defender on the edge, who is capable of consistently beating offensive tackles, collapsing the pocket and making a quarterback feel uneasy.
11. Punter Brad Wing, LSU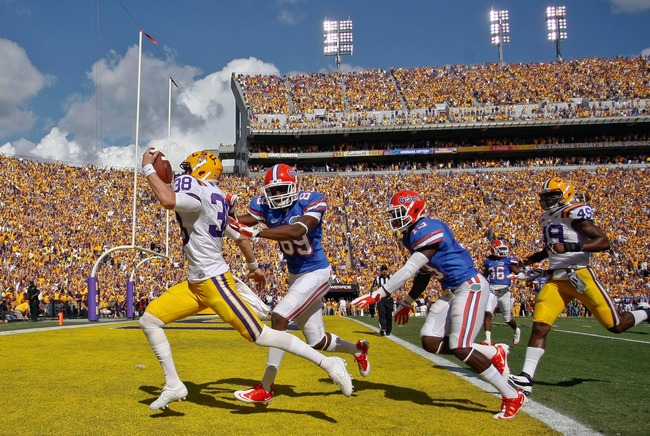 Brad Wing
Derick E. Hingle-US PRESSWIRE
It's not very often that you see an underclassmen specialist declare for the NFL draft.
However, LSU's Brad Wing might just be one of the rare ones who would be wise to come out early.
Wing had an outstanding freshman campaign in 2011. He averaged 44 yards per punt and he made one of the most crucial plays of LSU's season, when he bombed a 72-yard punt late in the "Game of the Century" against Alabama that completely altered the field-position battle.
Since LSU's offense has been struggling to consistently move the ball this season, Wing has had the opportunity to punt much more often in 2012.
He's still been just as impressive, averaging 44 yards per punt once again this season.
The Australian native has to be considered one of the favorites for the Ray Guy Award, and he looks like he might just be the top overall punting prospect in all of college football.
12. TE Jake McGee, Virginia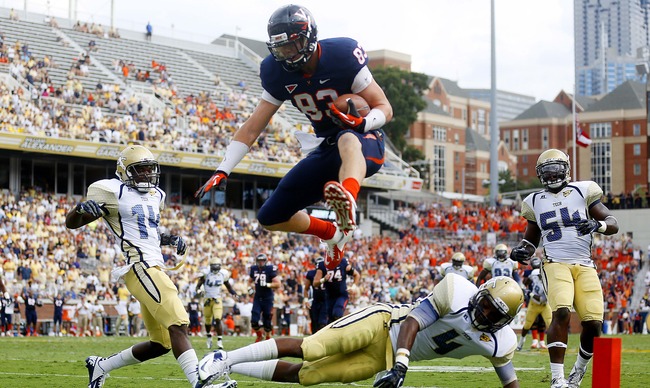 Jake McGee
Josh D. Weiss-US PRESSWIRE
Since he was primarily just a special teams player and didn't register a catch in 2011, Virginia's Jake McGee didn't receive any attention in the offseason when the conversation about college football's top tight ends came up.
Nevertheless, McGee has certainly proved that he belongs in the discussion with the other elite players at the position with his performance this season.
While Virginia's offense as a whole has struggled mightily in 2012, McGee has managed to flourish and excel. He's hauled in 20 passes for 294 yards and four touchdowns.
McGee's breakout performance came back in Week 2 against Penn State, when he made a few highlight-reel catches and ultimately caught the game-winning touchdown that gave the Cavaliers a 17-16 victory.
The big, athletic 6'5'', 235-pound sophomore compares favorably to another tight end who used to play ball in Charlottesville: Heath Miller of the Steelers.
13. QB Sean Mannion, Oregon State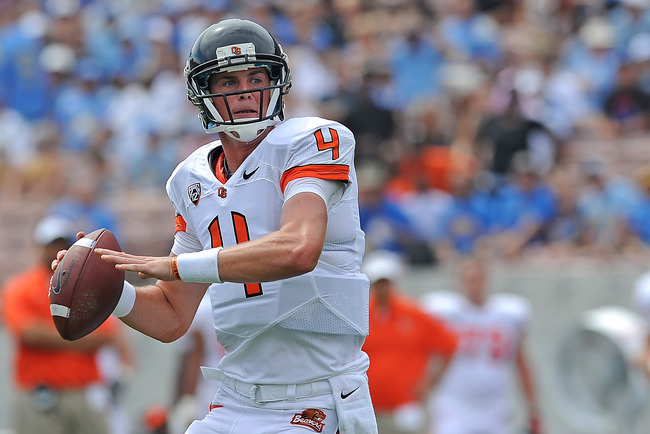 Sean Mannion
Jayne Kamin-Oncea-US PRESSWIRE
After an up-and-down first year as a starter in 2011, Oregon State's Sean Mannion began to put it all together early on this season. He looked like he was on his way to becoming a breakout star signal-caller.
Mannion helped lead the Beavers to a 3-0 start and he showed off all the skills that you look for in a potential NFL quarterback.
Unfortunately, a knee injury he experienced in the fourth game of the season has kept him sidelined for the past two games.
According to an Associated Press report, however, he's expected to start this weekend against Washington.
Before the injury, the 6'5'', 212-pound sophomore had completed 63 percent of his passes for over 1,300 yards and thrown seven touchdowns.
The tall, prototypical pro-style passer still has a lot of room to grow, but he clearly has the size, arm strength, accuracy and intangibles to develop into a highly-coveted NFL quarterback prospect.
14. CB Merrill Noel, Wake Forest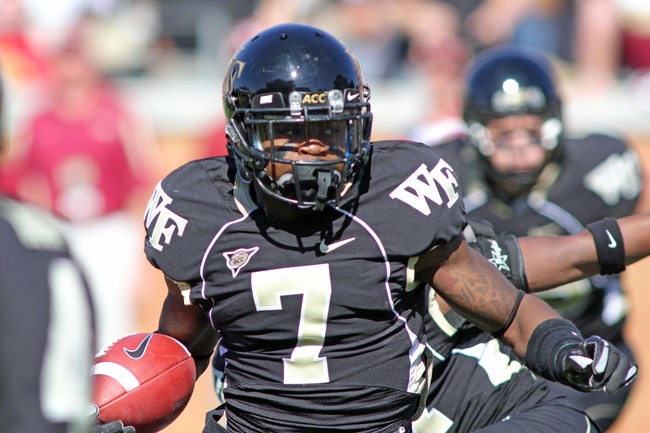 Merrill Noel
Jeremy Brevard-US PRESSWIRE
Merrill Noel had a fantastic freshman season in 2011. Noel finished the year with 60 tackles, including 54 solo stops, two interceptions and 19 pass breakups, which helped him earn numerous postseason accolades, including Freshman All-American honors.
Unfortunately, Noel has failed to make the same type of impact as a sophomore, and he was recently suspended against Maryland for a violation of team rules.
Noel has the talent to develop into a starting cornerback in the NFL one day.
However, given his sub-par season so far, the 5'10'', 180-pound sophomore would be wise to return to Wake Forest for another year to repair his damaged draft stock.
15. DT George Uko, USC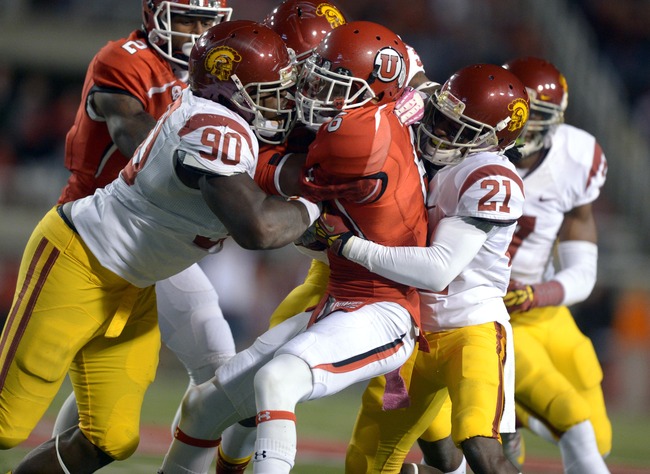 George Uko
Kirby Lee-US PRESSWIRE
USC lost both of its starting defensive tackles from 2011, but luckily the Trojans have gotten some quality play in the interior this season from their young tackle tandem, comprised of George Uko and Leonard Williams.
Uko has been an active and disruptive force in the middle of the field, and he's displayed some very intriguing flashes of rare physical ability.
The 6'3'', 285-pound sophomore has totaled three sacks and five tackles for loss and a forced fumble in USC's first seven games.
The explosive young tackle has shown that he can shed blocks and penetrate into the backfield on a consistent basis. However, it's clear that Uko still has to get bigger and stronger before he can be a featured player in the trenches for an NFL defense.
Still, he's clearly got a sky-high ceiling, and he's only going to continue to improve and mature into a dominant defensive tackle as he gains more experience.
16. WR Kenny Bell, Nebraska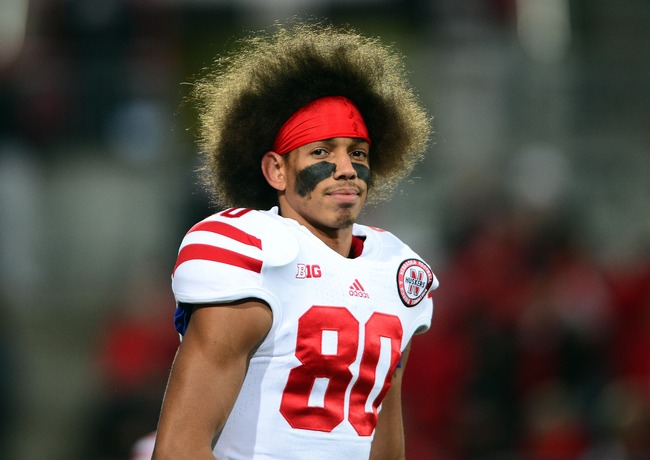 Kenny Bell
Andrew Weber-US PRESSWIRE
The player that has really benefited the most from Nebraska QB Taylor Martinez's development as a passer this season is the Cornhuskers' top receiver Kenny Bell.
Now that Martinez is getting the ball down the field with more consistency, Bell has been able to stretch the field and show off his big-play ability more often in 2012.
Last year, the 6'1'', 185-pound sophomore led the team with 32 catches for 461 yards and three touchdowns.
This season, he's on pace to have a much more productive campaign, as he's already hauled in 26 passes for 540 yards and five touchdowns in just seven games.
Bell still needs to polish up his route-running and add some more bulk to his lanky frame in order to compete at the NFL level.
But his size, speed and playmaking ability after the catch are all definitely intriguing.
17. FS Tevin McDonald, UCLA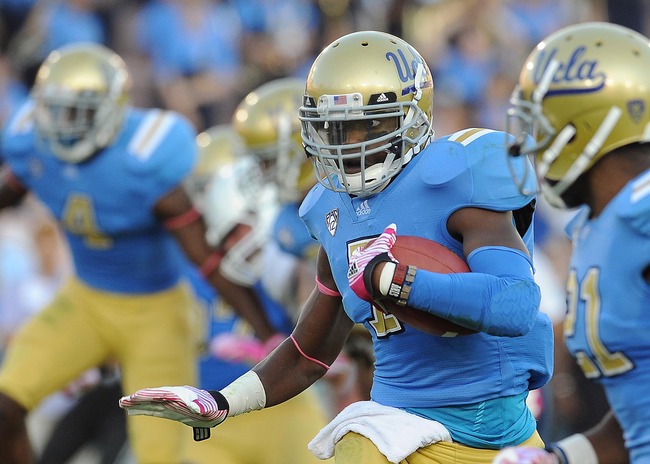 Tevin McDonald
Jayne Kamin-Oncea-US PRESSWIRE
UCLA has plenty of solid veterans on its defense such as defensive ends Datone Jones and Cassius Marsh and cornerbacks Sheldon Price and Aaron Hester.
However, the most impressive player on the Bruins defense this year has been safety Tevin McDonald.
McDonald has developed into a true centerpiece in the secondary this season, as he's racked up 47 tackles, including 36 solo stops, broken up four throws, picked off a pass and forced a fumble.
The 5'11'', 185-pound sophomore has developed into a similar type of playmaker as former Bruins safety Rahim Moore, who is currently starting for the Denver Broncos.
18. OT Cameron Fleming, Stanford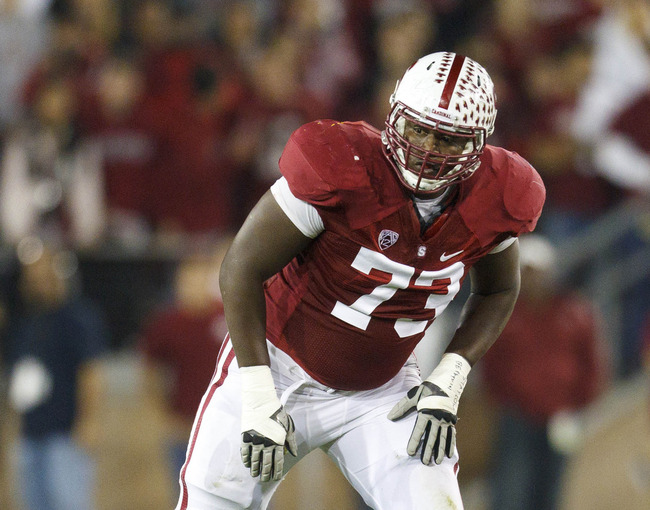 Cameron Fleming
Jason O. Watson-US PRESSWIRE
This offseason, Stanford had to replace its two most valuable offensive linemen from 2011, left tackle Jonathan Martin and guard David DeCastro.
Luckily for the Cardinal, two redshirt sophomores, Cameron Fleming and David Yankey, have stepped up and become the new leaders in the trenches in 2012.
Fleming, who mans the right-tackle spot, looks like he has the chance to follow in DeCastro and Martin's footsteps and eventually become Stanford's next big offensive line prospect.
The 6'6'', 314-pound sophomore has the size and agility that scouts are looking for, and he's also shown that he likes to mix it up in the run game, as he's helped open up some big holes for RB Stepfan Taylor to plow through.
19. LB Adrian Hubbard, Alabama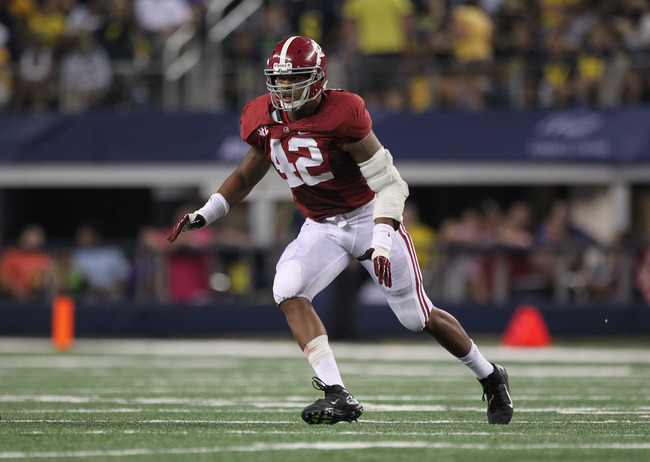 Adrian Hubbard
Matthew Emmons-US PRESSWIRE
C.J. Mosley has been Alabama's best linebacker this season, but Adrian Hubbard has also looked very impressive on the outside of the Tide's 3-4 defense.
Hubbard has really started to step up in recent weeks, as he's shown that he can control the edge and rush the passer.
The 6'6'', 248-pound has notched 14 solo stops, 5.5 tackles for loss and 3.5 sacks this season.
While there are still questions about his pass-coverage ability, Hubbard has shown that he has the strength to hold his ground in the running game and he's also absolutely relentless as a pass-rusher.
Ultimately, considering Nico Johnson and most likely C.J. Mosley will both be leaving Tuscaloosa after this season, Hubbard would be wise to return for another season and become the leader of the linebacker corps in 2013.
20. LB Dion Bailey, USC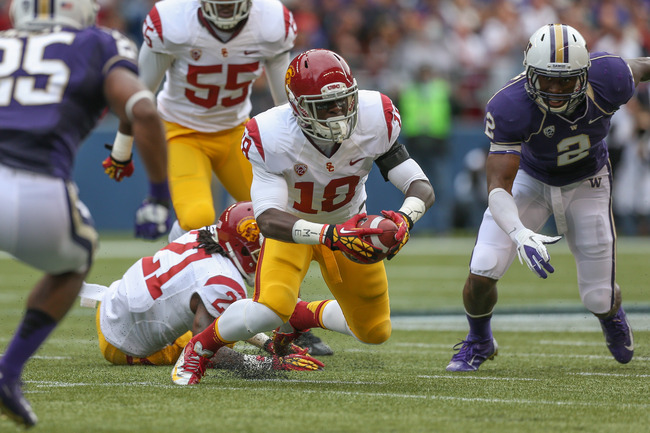 Dion Bailey
Otto Greule Jr/Getty Images
Hayes Pullard and George Uko aren't the only redshirt sophomores on USC's defense that will be playing on Sundays someday.
LB Dion Bailey is another young Trojan defender who's got NFL potential as well.
The former safety has made a huge impact after making the switch to strong-side linebacker before the start of the 2011 season.
Last year, Bailey tied for the team lead with 81 tackles, which included 48 solo stops, and he also picked off two passes and notched two sacks.
The 6'0'', 210-pound sophomore may be undersized, but he makes up for it with his relentless playing style, his instincts and his tremendous lateral speed.
It will be very interesting to see if Bailey ends up being valued more as a safety or a 4-3 weak-side linebacker by NFL scouts, whenever he eventually does decide to enter the draft.
Honorable Mention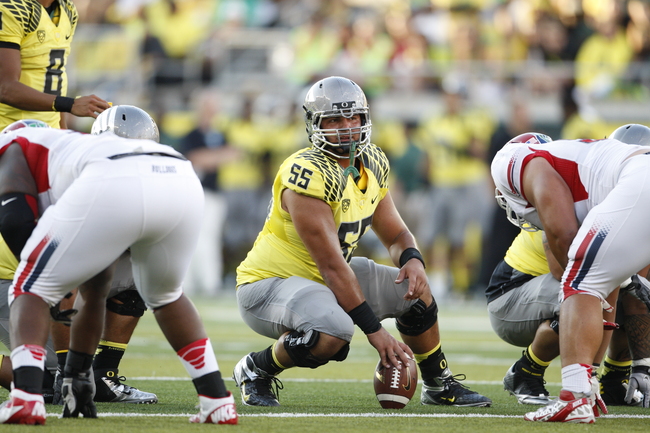 Hroniss Grasu
Kevin Casey/Getty Images
RB Lyle McCombs, Connecticut

WR Brandon Coleman, Rutgers

WR Matt Miller, Boise State

TE Randall Telfer, USC

TE Xavier Grimble, USC

OT Brandon Scherff, Iowa

OT Chaz Green, Florida
OT David Yankey, Stanford

OT Malcolm Bunche, Miami

OT Rob Havenstein, Wisconsin

OC Brandon Vitabile, Northwestern

OC Hroniss Grasu, Oregon

DT Louis Nix, Notre Dame
DE Josh Shirley, Washington

DE Kaleb Eulls, Mississippi State
LB Eric Kendricks, UCLA

LB Jeremy Grove, East Carolina

FS Ed Reynolds, Stanford
FS Ibraheim Campbell, Northwestern
Keep Reading