As the Jacksonville Jaguars are showing us, it is never too early to start thinking NFL draft.
The Jags will be leading off this mock draft because, with Maurice Jones-Drew ailing and possibly missing some serious time, it is hard to see any reason to think they'll turn it around.
That said, there was not a deep amount of inner inspection regarding the order of the teams. That is not the point here. This is about holes a team will look to fill and the prospects teams will draft to fill them.
Below, is my first 2013 mock draft that will discuss each pick, while giving special attention to the teams who desperately need a defensive playmaker.
Langford's 2013 First-Round Mock Draft
No. 1. Jacksonville Jaguars: Geno Smith, QB, West Virginia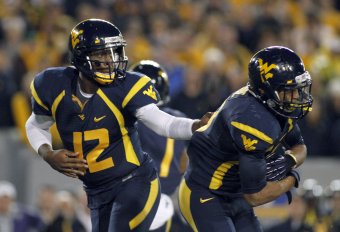 Justin K. Aller/Getty Images
Blaine Gabbert is not the answer. He looks gun shy, has bad footwork, reads defenses way too slowly and his accuracy is awful. It is already time to move on.
Geno Smith has fallen off the pace of his torrid start, but this multi-talented QB is still a rare talent and worthy of the No. 1 overall selection.
No. 2. Kansas City Chiefs: Matt Barkley, QB, USC
Matt Cassel or Brady Quinn, it doesn't matter. The Chiefs are battling the Jaguars for worst QB play in the league.
They need a signal-caller to build around, and the poised and accurate Barkley will be an upgrade from Day 1.
No. 3. Cleveland Browns: Jarvis Jones, DE/OLB, Georgia
The Browns need to improve the pass rush. They are 19th in sack percentage and they have no one player they can count on to consistently get pressure.
Jarvis Jones would change that. He is the best pass-rusher in this class and he has the athleticism to play OLB on non-passing downs.
No. 4. Carolina Panthers: Star Lotulelei, DT, Utah
The Panthers' defense is playing better than last season, but they still need to add some muscle in the trenches to improve on their 19th-ranked rush defense.
Lotulelei will certainly do that. He is a strong individual who can clog up running lanes with ease all while having the explosiveness to get to the passer.
No. 5. Tampa Bay Buccaneers: Luke Joeckel, OT, Texas A&M
This is not a particularly good draft for offensive tackles, but the athletic Joeckel has a chance to be great. He is also a nice fit for the Bucs.
With Joeckel, Tampa could move current starting left tackle Donald Penn to the right side where his mauling ways will have more value.
No. 6. Oakland Raiders: Barkevious Mingo, OLB, LSU
The Raiders' defense is making big strides under first-year coach Dennis Allen—especially in the run game. However, the pass defense needs some serious help.
This team is 22nd in passing yards allowed, and while Oakland lacks a true No. 1 corner, it is the lack of a pass rush that is really killing the pass defense. The Raiders have just seven sacks through six games and they are doing very little to make opposing QBs uncomfortable.
They do not have a true pass-rusher on the line or at linebacker. Mingo would alleviate that. He is a touch raw, but his athleticism and ceiling is off the charts.
It would also allow the Raiders to sneak some different looks and 3-4 sets into the game plan.
No. 7. New Orleans Saints: Bjoern Werner, DE, Florida State
The Saints' defense is atrocious. They rank at or near the bottom in almost every category you'd care to look at.
This team desperately needs a playmaker on defense, and starting at the defensive end position to pair someone with, and eventually replace, the aging Will Smith is a good start.
With the departure of Gregg Williams and his wild and plentiful blitzes, this defense has lost its pass rush. They need a player that can generate some pressure up front for this more laid back defense to work.
Werner has been living in the opposition's backfield to be a force in both the run and pass game. The 6'5", 256-pound lineman will be a cornerstone DE for years to come.
No. 8. Detroit Lions: Dee Milliner, CB, Alabama
The Lions need help on all levels of the defense, but corner is a good place to start as this team has to deal with the explosive offenses of the Packers and Bears twice a year.
Milliner is the best CB in this class. He has a great combination of size and athleticism, and he is a solid value at No. 8.
No. 9. Tennessee Titans: Damontre Moore, DE, Texas A&M
This explosive pass-rusher has to be flying up draft boards as he picks up sack after sack in the SEC. He is playing with his hand in the dirt right now, but he has also spent time at outside linebacker, and he could easily play either position at the next level.
The Titans need to increase their pass rush, and they won't do any better than Moore at No. 9.
No. 10. St. Louis Rams: Taylor Lewan, OT, Michigan
Lewan is still too raw at the tackle position to be generating much buzz, but he is improving and has an excellent combination of size and quickness. He will move up draft boards after the combine.
And that will be too much for the Rams to pass on, as they continue to struggle to build any continuity or consistency up front.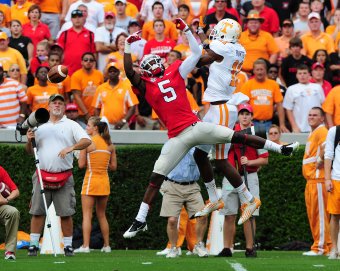 Scott Cunningham/Getty Images
No. 11. Miami Dolphins: Justin Hunter, WR, Tennessee
The Dolphins must find a legitimate No. 1 receiver for rookie QB Ryan Tannehill to grow with.
Justin Hunter is still moving past an ACL injury he suffered last year, but the 6'4", 200-pound receiver is a rare talent, and he won't be on the board for long come draft day.
No. 12. Indianapolis Colts: Jackson Jeffcoat, DE/OLB, Texas
The Colts have done an amazing job in their switch from the 4-3 to a 3-4 this season, but they will undoubtedly look for pieces that are a better fit for that system in this draft.
And there is no better place to start than with an OLB that can rush the passer.
Jeffcoat recently suffered a torn pec, but that will not keep teams from coveting this talented pass-rusher.
No. 13. Cincinnati Bengals: Corey Lemonier, DE/OLB, Auburn
The Bengals have a talented but thin defensive front, and both Michael Johnson and Robert Geathers will be free agents at the end of the year.
Lemonier would give the Bengals a long-term and athletic answer at end to pair with Carlos Dunlap.
No. 14. Buffalo Bills: Tyler Wilson, QB, Arkansas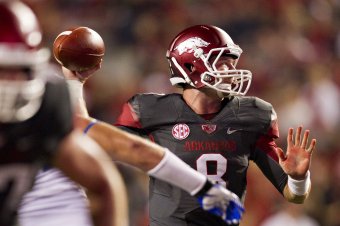 Wesley Hitt/Getty Images
I'm not convinced the Bills will go this way, but if current QB Ryan Fitzpatrick continues his erratic play, this pick will get a lot more appealing.
So while this team needs defensive help, it is a greater priority to find a quarterback the franchise can build around.
Wilson is a classic pocket passer and he would be an instant upgrade over Fitz.
No. 15. San Diego Chargers: Keenan Allen, WR, California
The Chargers have a patchwork receiving corp. I like Malcom Floyd, but he shouldn't be a No. 1 receiver, and there is a lack of quality depth behind him.
Allen is the complete package. There is not a route he can't or won't run, and his instincts for the ball in-flight are top notch.
No. 16. New York Jets: Johnathan Hankins, NT, Ohio State
When he talks on the subject, you can feel the inner pain that the Jets' poor rush defense is causing Rex Ryan. They will address that woeful run D in the draft.
And the Jets will be thrilled if they have a chance to take this dominant, run-clogging nose tackle.
No. 17. Philadelphia Eagles: Johnthan Banks, CB, Mississippi State
The high-priced Eagles corner corps is going to need a makeover. Dominique Rodgers-Cromartie is a free agent at the end of the year, and at 31, while already showing signs of slipping, Nnamdi Asomugha's massive contract is looking worse and worse.
Banks has the talent to be a legitimate No. 1 corner.
No. 18. St. Louis Rams via Redskins: Robert Woods, WR, USC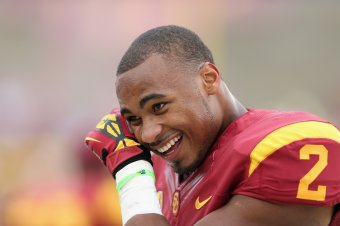 Jeff Gross/Getty Images
One of these drafts, the Rams will spend a premium pick on an elite talent at wide receiver for Sam Bradford to connect with on big plays.
So why not this draft? The talented Woods is a complete receiver and a good value at No. 18.
No. 19. Pittsburgh Steelers: Kawann Short, DT, Purdue
The Steelers have to get younger on defense. Short will be a nice fit at end in a 3-4, and this will give Pittsburgh a solid foundation in its front three as he is paired with Ziggy Hood.
No. 20. Denver Broncos: Xavier Rhodes, CB, Florida State
Champ Bailey continues to defy age, but the 34-year-old can't play forever. Rhodes is a talented corner with a similar skill set to Bailey.
He would be able to play alongside, and learn from, Bailey while improving the Broncos' defense in the process.
No. 21. Dallas Cowboys: Sam Montgomery, DE/OLB, LSU
With DeMarcus Ware and Anthony Spencer at linebacker, the Cowboys have little need at the moment for linebacker help.
However, Spencer is playing under the franchise tag. Drafting the talented Montgomery would free them up from negotiations with Spencer and allow them to spend that money elsewhere.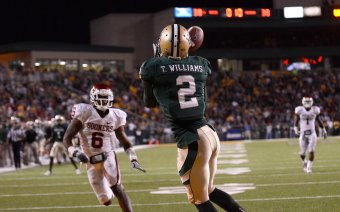 Sarah Glenn/Getty Images
No. 22. Seattle Seahawks: Terrance Williams, WR, Baylor
I don't know what it is, but the Seahawks cannot seem to land a legitimate No. 1 receiver, and it is hurting this team.
It is time for them to once again turn to the draft to address this need, and Williams, who is an athletic 6'3", has everything he needs to be a No. 1.
No. 23. New England Patriots: Chance Warmack, OG, Alabama
New England must get better on the offensive line, especially on the interior. The 6'3", 320-pound Warmack would be a perfect fit.
He has the ability to handle either the guard or center position, and he would be an instant upgrade for the Pats.
No. 24. Green Bay Packers: Eric Reid, FS, LSU
The Packers would undoubtedly like to add Eric Reid right now, as Charles Woodson is set to miss time with a collarbone injury (via NFL.com).
While they can't do that, they can add Reid in the draft while Woodson, 36, nears the end. Reid certainly won't bring the versatility that Woodson brings, but he has the same instincts for making plays.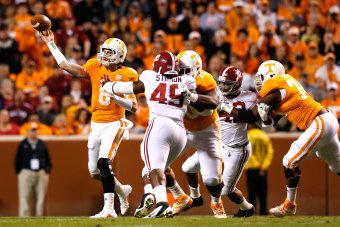 Kevin C. Cox/Getty Images
No. 25. Arizona Cardinals: Tyler Bray, QB, Tennessee
The two-headed quarterback monster of Kevin Kolb and John Skelton is less than ideal. An upgrade is in order and should not be that difficult to accomplish.
Bray will definitely be an upgrade. This 6'6", 220-pound QB will fall a bit in the draft due to a weird release, but the guy can sling the rock.
No. 26. San Francisco 49ers: Eric Fisher, OT, Central Michigan
Left tackle Joe Staley has struggled mightily at times this season and Anthony Davis is not progressing on the right side. This team is 31st in sacks allowed percentage, and they have to get better.
Fisher is flying a bit under the radar playing in the MAC, but he is a talented lineman who has the potential to be a great left tackle, and also the versatility to play on the right side.
No. 27. New York Giants: Jonathan Cooper, G, North Carolina
Kevin Boothe is having a subpar year at left guard, and at 29, it is unlikely he is going to improve.
New York will do itself a favor if it drafts Cooper. This is a sound lineman who is well equipped to handle guard or center.
No. 28. Minnesota Vikings: Sheldon Richardson, DT, Missouri
The Vikings need a boost to their defensive tackle position. Their one legitimate starter is Kevin Williams and he is 32.
Richardson is an imposing presence who is a beast against the run and solid rushing the passer.
No. 29. Baltimore Ravens: Alec Ogletree, ILB, Georgia
The Ravens are in the process of losing their identity. This franchise has become synonymous with defense, but it is being led by its offense this year as an aging D is starting to show signs of wearing down.
This defense could stand to get younger on all levels, but the Ravens should at least make an upgrade at ILB a priority.
Ray Lewis may or may not return next year after landing on IR this season, but either way, adding someone who can competently take the torch from the legend would be huge.
Ogletree is the best pure inside linebacker in this class. He is strong at the point of attack, good in coverage and he can even occasionally put pressure on the quarterback.
No. 30. Chicago Bears: Manti Te'o, ILB, Notre Dame
Brian Urlacher is clearly nearing the end of a fantastic career. He is a shell of his former self, and if he isn't contemplating retirement, he should be.
While I just got done saying Ogletree is the best ILB in this class, Te'o is not far behind, and he is a fantastic player with no real flaws.
No. 31. Houston Texans: Jake Matthews, OT, Texas A&M
This pick almost makes too much sense. The Texans have been struggling to replace the departed Eric Winston at right tackle, and they could be in a position to grab the mauling Jake Matthews, who is the son of NFL legend Bruce Matthews.
No. 32. Atlanta Falcons: Alex Okafor, DE, Texas
Ray Edwards has been a disappointment this season and John Abraham, at 34, does not have much longer to go in a fine career.
Okafor is an athletic lineman with a big motor. He would be a nice value and fit here.