Ranking the NBA's Finest Eurosteppers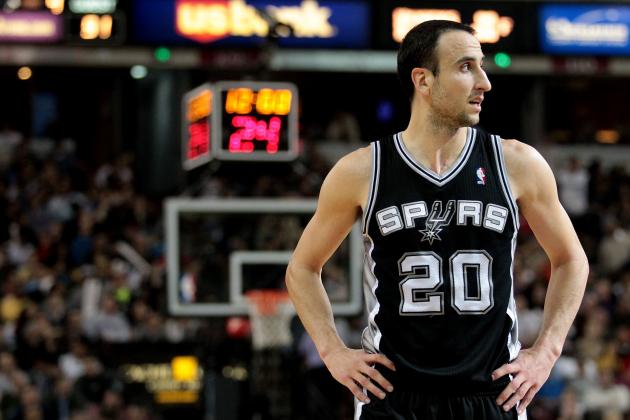 Cary Emondson-US PRESSWIRE

Ever since Sarunas Marciulionis brought the Eurostep to the NBA in the 1990s, the move has gained steam and developed into one of the more famous flashy techniques employed by professional basketball players.
Commonly used in the open court by players separated from the basket by a single defender, the Eurostep involves planting a foot to one side, faking hard in that direction and then exploding to the other side of the court. It's a quick move, and it's one that's nearly impossible to stay in front of when executed correctly.
Quite a few young guards are starting to use the move, although they still can't touch the five players in these rankings. Norris Cole, James Harden, Austin Rivers, Derrick Rose, Ricky Rubio and John Wall (listed in alphabetical order) might work their way into the top five in the near future, but they aren't there yet.
Fear not, however, because John Calipari will continue to churn out talented guards with Eurosteps in their arsenals.
This move isn't going to just die away.
Begin Slideshow

»
Chris Paul's Eurostep might not be as flashy as the ones used by the other four players featured in these rankings, but it's still effective because of his technical brilliance with the ball in his hands and the smoothness with which he pulls it off.
The seamless two-step is by no means the only move in CP3's arsenal, which makes it catch defenders by surprise when he does choose it as his weapon du jour. You know, not that it wouldn't have caught them unawares otherwise.
When you see Paul use the Eurostep, you'll notice that he doesn't have the same lateral quickness or range of motion on his move as some of the other players ranked above him. He's given a ton of space by defenders out of respect for what he can do to them.
Rajon Rondo's Eurostep is special because of how he tends to finish the play.
No one dunks after this move, but two-handed shots from close range and normal layups are fairly typical. That's not the case for the Boston Celtics point guard.
As you can see in this clip, Rondo loves finishing his Eurostep with a right-handed layup on the left side of the basket. Most guards would roll with the more traditional left-handed finish since the shot Rondo likes can be easier for the defender to block, but Rondo's Eurostep is so solid that the big man is almost always out of position.
If Rondo doesn't go with the wrong-handed layup though, then he'll finish with a floater instead. He's been honing that floater through the years, and it's developing into one of the more deadly, but tricky, shots from close range in the NBA.
Tyreke Evans is one of the best finishers in all of basketball. During the 2011-12 season, the Sacramento Kings point guard/shooting guard/small forward made a career-high 64.6 percent of his shots around the rim (according to Hoopdata.com), thanks in part to his proficiency with the Eurostep.
Evans utilized this move quite often in transition, particularly when a single big man or relatively unathletic forward was the only thing keeping him from the basket. Such was the case with Paul Pierce in the embedded video.
The former Memphis standout is huge for a player with his ball skills, which enables him to take massive strides and create a large distance between his faked-to side and the area of the court he actually ends up going to.
Evans isn't the quickest Eurostepper in the league, nor does he sell it better than everyone else. However, the sheer amount of space that he covers makes the move impossible to stop.
Manu Ginobili may not have invented the Eurostep or brought it to the NBA (hint: It's called the Eurostep and not the Argentinostep), but it was this longtime San Antonio Spur who popularized the move.
His patented move might be most commonly associated with him, but that doesn't mean that the shooting guard is the best at using it anymore. One player—and only one player—has managed to move past him in the rankings.
Although Ginobili sells his fakes well and covers a lot of ground, he simply isn't quick and athletic enough to truly explode past his man even when he doesn't completely sell the fake.
Don't get me wrong. I mean no disrespect to the surrogate father of the Eurostep. Coming in at No. 2 isn't exactly something to be embarrassed by.
Manu Ginobili isn't willing to admit that Dwyane Wade now has the best Eurostep in the NBA, although he wouldn't explicitly say that his own was the best in a 2011 interview with ESPN's Sebastian Martinez Christensen:
I think Wade is more explosive than I am. He is very tough to cover with his explosiveness, but I started doing the Eurostep before he did.
The shooting guard for the San Antonio Spurs was exactly right about his Miami Heat counterpart. Wade's move isn't as technically sound as Ginobili's, and it doesn't always appear to be as smooth, but he's so unbelievably quick with it.
When Wade Eurosteps, he's already on his second foot and past his defender before most players would have finished planting on the initial foot. The league's premier slasher, Wade, can split through double teams and get around just about anyone when he uses the two-step.
Consider him more of a 1a. to Ginobili's 1b. in these rankings, but make sure you have him at the top of your personal list.