New York Knicks: Projecting the Opening Day 10-Man Rotation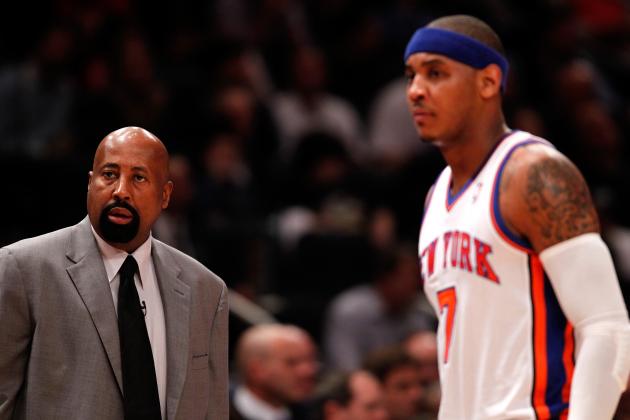 Jeff Zelevansky/Getty Images
Mike Woodson and Carmelo Anthony
On November 1, the New York Knicks will start their season against the New Jersey Nets, and Coach Mike Woodson has some decisions to make.
According to ESPN, starting power forward and superstar Amar'e Stoudemire will miss two to three weeks due to a ruptured cyst behind his left knee. This means New York will be opening their season without STAT and, hence, with a revamped starting lineup.
On top of that, facing their new crosstown rival makes the game a crucial one for both fans and players attempting to get the rivalry and season off on the right foot.
For Mike Woodson, that means decisions lie ahead. Does he put forth a small lineup with multiple guards, or does he go for size? Who gets the slots, and who gets the minutes?
Here is our game plan.
Begin Slideshow

»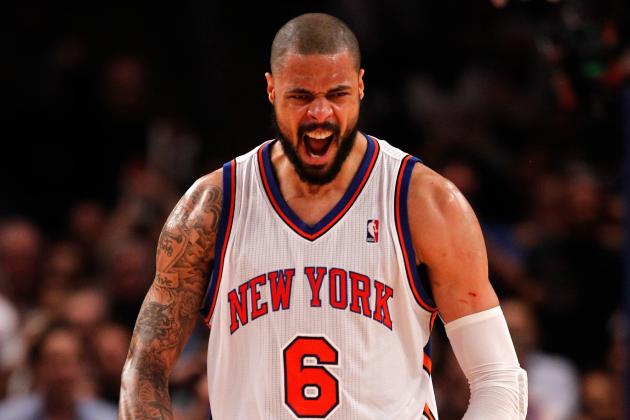 Jeff Zelevansky/Getty Images
Tyson Chandler, a vocal leader of the Knicks
In terms of position and role, Tyson Chandler is likely the most stable and sure player on this roster. This is true to such an extent that this slide barely needs to be written.
Chandler is the reigning NBA Defensive Player of the Year, was a leader both vocally and in execution last season and is the unquestionable starter at center. Chandler is crucial to what the team wants to do defensively, but he is also very important on the offensive boards and is offensively adept enough to help with stretching the defense.
Prediction: 35 minutes, 12 points, 10 rebounds, 2 blocks, 1 assist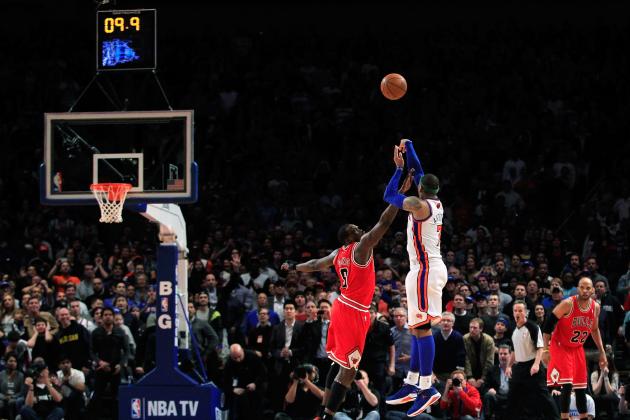 Chris Trotman/Getty Images
Carmelo Anthony firing a three against Chicago
Due to the injury to Stoudemire, Carmelo Anthony's exact role is uncertain; what is certain is that he will remain the face of this team.
Anthony has been the leader, both offensively and in heart, of the Knicks since his arrival at MSG. In that time, his best stretch was likely the 13 games he played at power forward last season with Stoudemire out.
He scored 30 points per 36 minutes on 50.5 shooting percentage, and the Knicks averaged 8.5 more points per 100 possessions through that timeframe. Melo is clearly capable, and maybe even more effective, playing at the 4 and the Knicks need him. So far, the Knicks needing him has meant he will show up.
On opening day, Melo will come out and show why he is perhaps the most dangerous offensive player in the game at power forward.
Prediction: 36 minutes, 32 points, 8 rebounds, 6 assists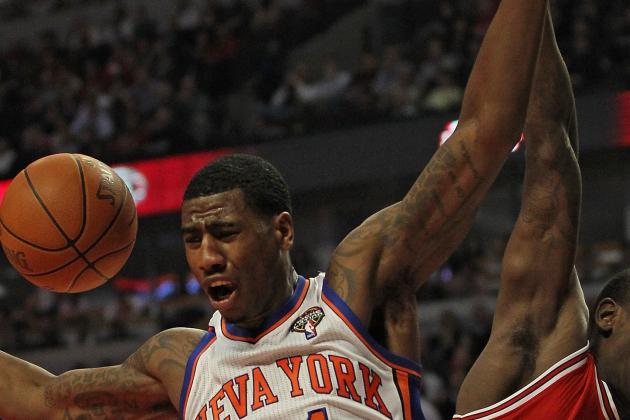 Jonathan Daniel/Getty Images
Ronnie Brewer battling Iman Shumpert
Ronnie Brewer is a new addition to the Knicks roster, but he will need to get acclimated to his new surroundings real quick.
Brewer is a superb perimeter defender and will use those skills to try and keep Iman Shumpert off of Woodson's mind. Although his defending will be pivotal, he will also need to contribute offensively. If he is able to spread the field by moving inside, he will open room for Smith to use his athleticism.
Ultimately, Brewer should be used as a shooting guard, but his 6'7" frame pushes him to the 3 in a small starting lineup and he should be fine.
Prediction: 23 minutes, 6 points, 3 rebounds, 2 steals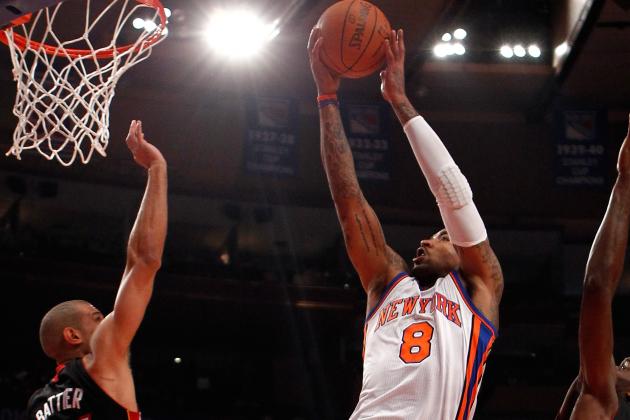 Jeff Zelevansky/Getty Images
J.R. Smith making an acrobatic attack to the basket
Were it not for Stoudemire going down, Smith would likely be starting this game on the bench. However, Smith will instead be returning to the starting squad and will need to show why.
That starts with learning to be more selective with the looks he takes. Smith made only 4.7 of the 11.5 shots he took per game last season, and every fan remembers watching him try to shoot his struggles away.
Smith is incredibly athletic, makes pivotal plays and is a Woodson favorite so you can count on noticing him on November 1, but it needs to be be for the right reasons if the Knicks want to win.
Prediction: 27 minutes, 17 points, 3 assists, 4 rebounds, 3 steals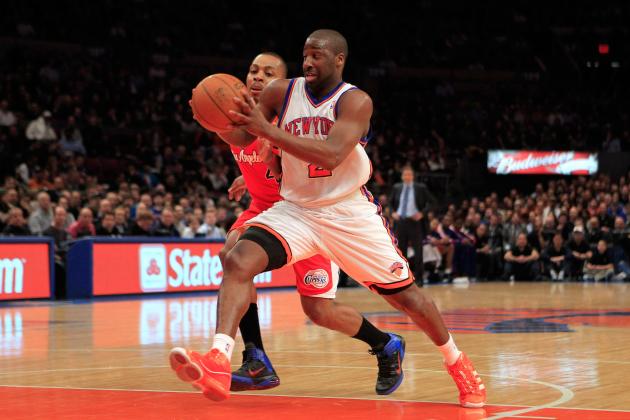 Chris Trotman/Getty Images
Raymond Felton driving to the hoop
The last time Raymond Felton faced the harsh lights of New York City in the regular season, Stoudemire was the star and Carmelo was in Denver. Times have changed.
Knicks fans are hoping Felton hasn't changed too much, though. In his last stint at MSG, Felton was superb with the pick-and-roll and executed from downtown. His chemistry was with STAT, but if he is able to mesh with Melo and knock down the occasional jumper he should be just fine.
In the end, the Knicks need Felton to be a consistent and strong leader. A tall task indeed, but not an impossible one for Ray.
Prediction: 30 minutes, 14 points, 9 assists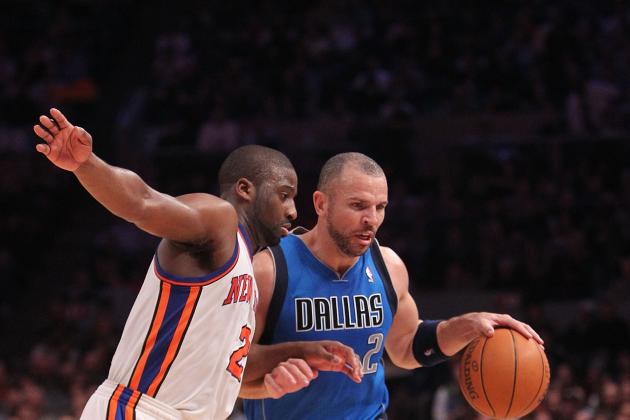 Nick Laham/Getty Images
Jason Kidd and Raymond Felton fight for possession
The role of sixth man was promised to J.R. Smith, but with Smith starting, the role falls onto the capable shoulders of Jason Kidd.
Kidd won't be starting, but New York will still be relying on his experience to balance the offense and control the tempo. Kidd will be asked to knock down the occasional three and dish out the necessary assists. Both are necessary for a win, but both are well within the realm of Kidd's potential.
Kidd will likely play at both guard spots, and hence get more minutes than he would otherwise.
Prediction: 20 minutes, 7 points, 4 assist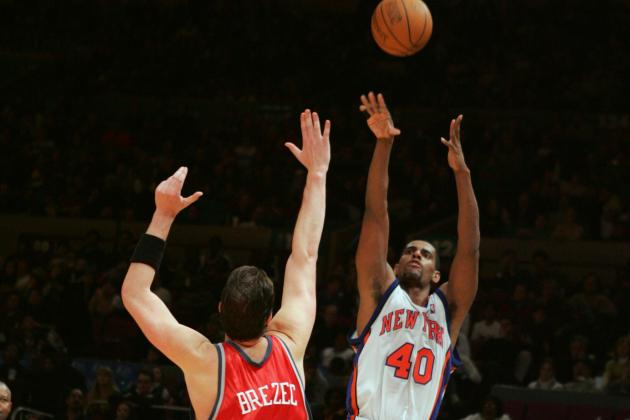 Jim McIsaac/Getty Images
Kurt Thomas taking a jumper
Kurt Thomas is getting up there in terms of age, but in this one he will be called upon to show he has still got it.
Thomas may even get the start, but in all likelihood will be backing up the big men. As naturally follows, that job entails cleaning the glass on both ends, which will be his primary function. His wealth of experience, especially defensively, will also be crucial to getting the win.
Prediction: 19 minutes, 2 points, 6 rebounds, 1 block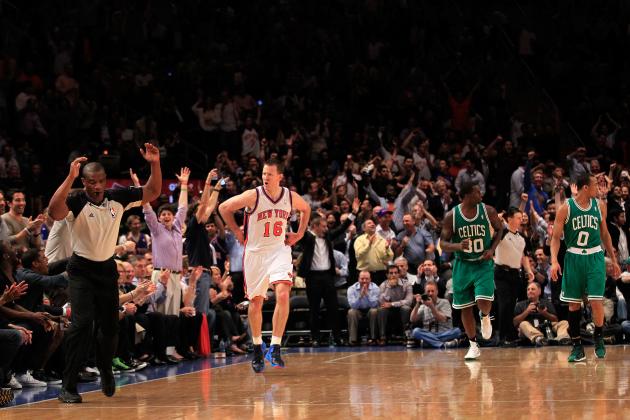 Chris Trotman/Getty Images
Steve Novak celebrating a three
Is there really a need to go over what Steve Novak does for New York? He rains threes and is a fan favorite but is a significant defensive liability.
Novak was statistically the best three-point shooter in the league last year, but he did fade against Miami in the playoffs. New York needs him to learn to move around more in order to create separation.
His preseason outings have hinted at improved interior defense and rebounding, but that is all added bonus. When Steve Novak is on the court, it's to light up the crowd.
Prediction: 20 minutes, 12 points, 2 rebounds
Al Bello/Getty Images
Marcus Camby the last time he wore a Knicks jersey
According to Newsday, it is uncertain whether or not Marcus Camby will be available for opening day. If he isn't, this slot will shift to Chris Copeland and experienced guard Pablo Prigioni will fill in at the tenth spot in the rotation.
If he is able to suit up, however, he will fill in the same role as the other big men on this team. He will be a defensive anchor and in charge of rebounding the ball on both ends of the court. His injury will likely slow him down a tad, but his experience will keep him useful nonetheless.
Prediction: 19 minutes, 2 points, 6 rebounds, 1 block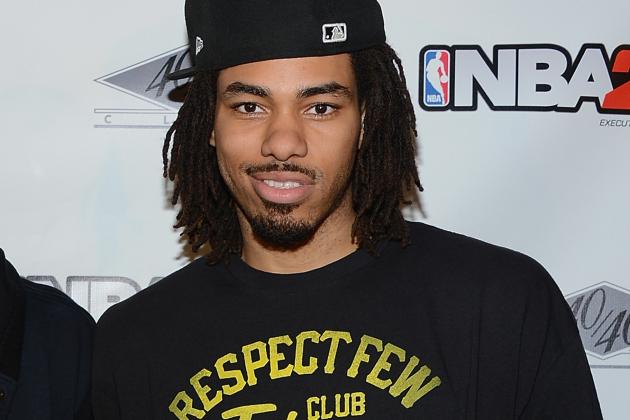 Dimitrios Kambouris/Getty Images

Chris Copeland is not a known name amongst NBA fans, but he may just find himself in the spotlight in the near future.
Facing the Boston Celtics in the preseason, Copeland led the team with 34 points—including three shots from downtown—and added six rebounds. He clearly is a superior athlete and has earned his shot to highlight those skills.
Prediction: 11 minutes, 1 point, 3 rebounds,