BYU Football: Winners & Losers from the Week 8 Game vs. Notre Dame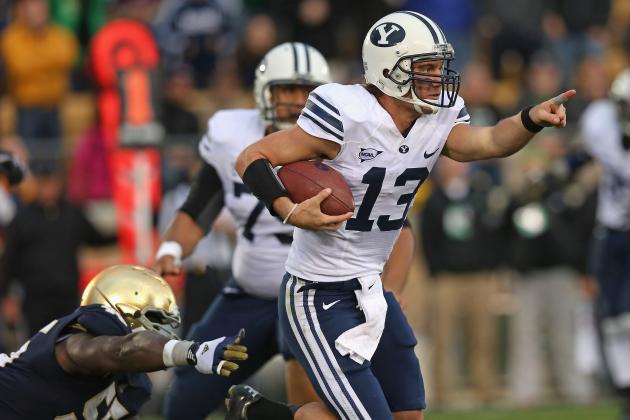 Jonathan Daniel/Getty Images

BYU fell just short of pulling off the greatest upset in the history of the program on Saturday, when they lost 17-14 to undefeated Notre Dame. The Irish are now fifth in the nation, while BYU remains unranked.
In a close game like that against a great team, some players had to have played extremely well. That was the case for both the Cougs and the Irish, while other athletes fell short of expectations.
So, here are six players or units that excelled or disappointed.
Begin Slideshow

»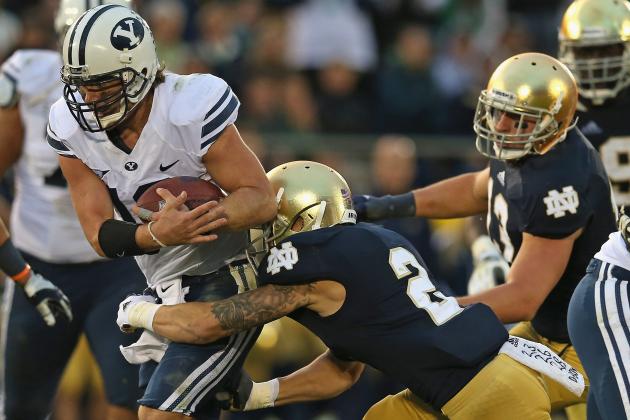 Jonathan Daniel/Getty Images

Riley Nelson may have thrown two interceptions, put don't be fooled; he played the best game I've seen since the Washington State opener. He completed 23-of-36 passes and found the end zone twice in two straight drives (the first time anyone has done that this season against Notre Dame).
Although his passes added up to only 177 yards, he made plays on his feet. Statistically, he ran for minus-seven yards (he was sacked on multiple occasions), but had a key, 13-yard run on third down to keep one of their scoring drives alive. Nelson played with the grit and determination that he became popular for, but we haven't seen enough of this season.
If Riley Nelson plays like this for the rest of the year, I doubt the rest of BYU's games will be close.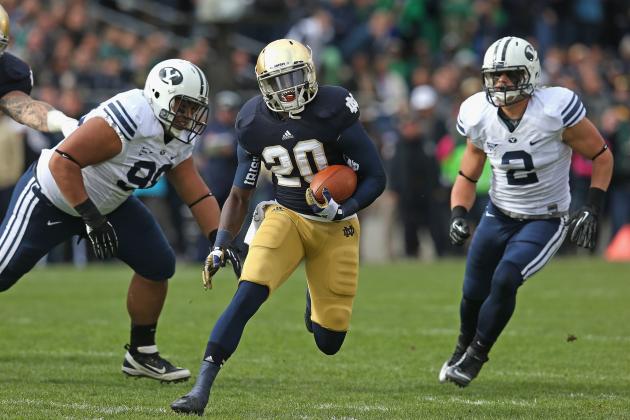 Jonathan Daniel/Getty Images

BYU's rushing defense was once the staple of the team.
But Notre Dame found a way to tear it up. They had two rushers go over 100 yards, and made big play after big play on the ground. Heck, two weeks ago the Cougar rushing D was first in the country, and now it's eighth.
BYU needs to figure out what's going on and fix it, or else they will have a tough time next week at Georgia Tech.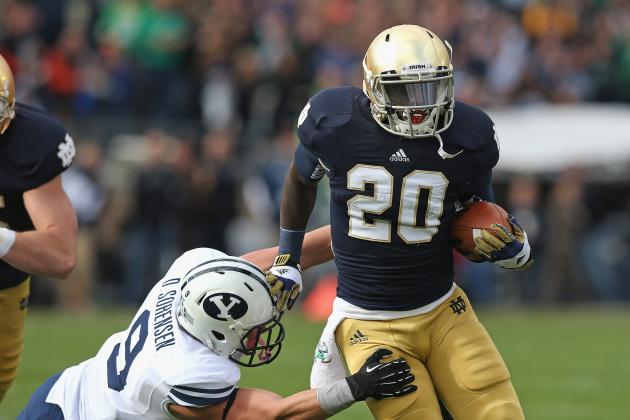 Jonathan Daniel/Getty Images
Cierre Wood
As mentioned before, Notre Dame shredded BYU's defense on the ground. In fact, their 270 rushing yards is nearly 100 more than their average this season.
Theo Riddick ran for 144 yards off of 15 carries while Cierre Wood picked up 114. Neither of them found the end zone, but they were both critical in setting up Irish touchdowns. If they both can perform like that against Oklahoma and USC later on in the season, we may see the Fighting Irish in the national championship.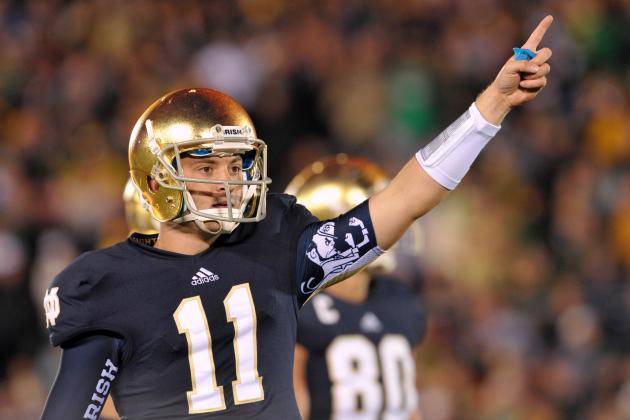 Matt Cashore-US PRESSWIRE

Tommy Rees started as hot as most Irish fans have ever seen him, completing six of seven passes and a touchdown early on.
But then he threw seven-straight incomplete passes, and only attempted three more in the second half. Finishing 7-for-16 with one touchdown and an interception, Rees will need to step up his game against Oklahoma. The Irish found most of their success while sticking to the ground, and they should do the same this week.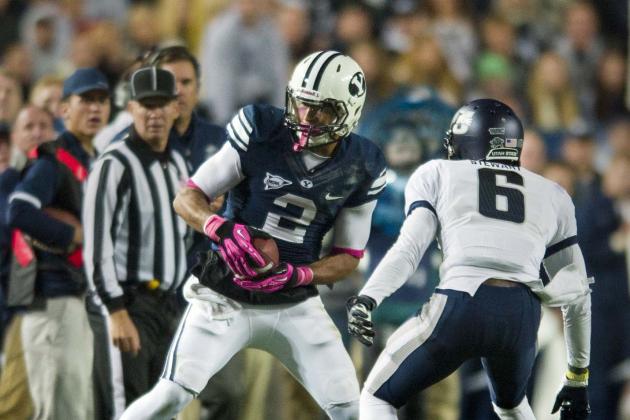 Douglas C. Pizac-US PRESSWIRE

Entering last week's game, Cody Hoffman was in a "slump" of sorts, as he didn't find the end zone in four straight games.
That streak came to an abrupt end against Notre Dame, as Riley Nelson was able to find Hoffman wide open in the back of the end zone for an early seven-point lead.
Cody Hoffman finished with 86 yards off of eight receptions.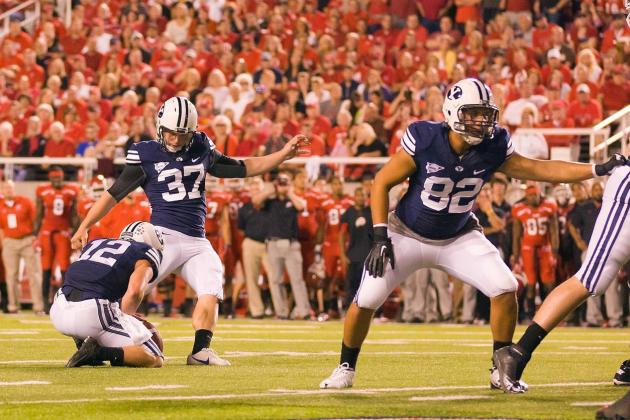 Russ Isabella-US PRESSWIRE

Should have. Would have. Could have.
In every BYU loss this season, one or two plays could have changed the entire game. In fact, a made field goal in all of those (except the OSU contest) games would have either clinched the win or forced an overtime.
This was the case for the Cougs against Notre Dame, as Justin Sorensen missed a field goal in the third quarter, which turned out to be the last scoring opportunity for BYU. If the Cougs want to be successful in the long term, they need to find a consistent place kicker that can nail big kicks under pressure.