St Louis Cardinals vs San Francisco Giants: NLCS Game 7 Live Scores and Analysis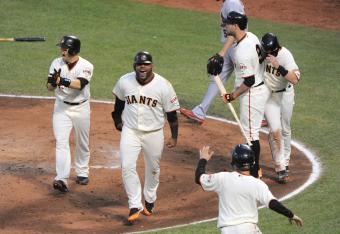 The National League Championship Series will be decided tonight—if the rain holds off—in San Francisco as the Giants will host the St. Louis Cardinals in a decisive Game 7.
Matt Cain goes for the Giants while the Cardinals counter with Kyle Lohse.
SCORE UPDATE:
FINAL: Giants 9 - 0 Cardinals
W: Cain
L: Lohse
Giants win series 4-3
Giants win first deciding Game 7
Giants clinch first pennant at San Francisco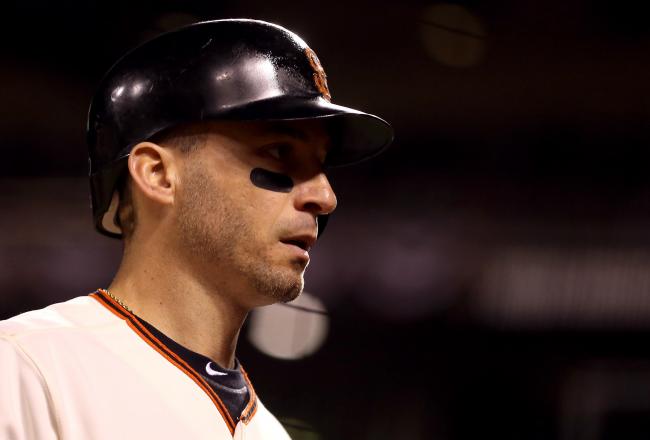 Two quick strikes on Holliday!
A wild pitch moves the runners up 90 feet.
HE POPS UP TO SCUTARO AND THE GIANTS WIN THE PENNANT TAKING GAME 7 9-0!
Matt Holliday is the batter.
They have put some of that drying sand on the mound as grip is starting to be a problem.
There is almost standing water now on the infield.
Carlos Beltran is the last Cardinal hope.
He was the last out the last time the NLCS went the distance in 2006.
This time he walks and Sergio Romo will come on to close it.
It is now coming down in buckets.
No way they would still be playing if this was in doubt.
Jay strikes out and they are one out away.
Schumaker hits a high grounder to second and that is where the only play is.
One out now with Schumaker on for Jay.
As it pours, Lopez stays in to face Kozma.
Kozma walks and the crowd gets soaked.
Blanco grounds out to the left side of the mound and that is it.
A nine-run lead as we head to the ninth.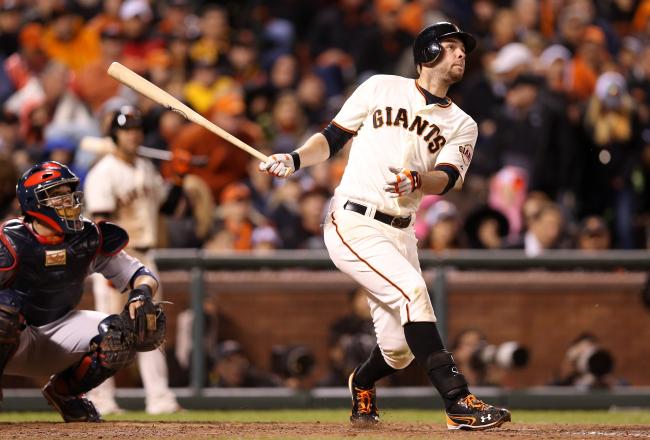 Belt just hammers one to right just short of the cove and No. 9 makes it a perfect 9.
The Giants are cruising.
Jason Motte gets his last work of 2012 as Posey grounds out to short.
Skip Schumaker comes in to play second.
Do Tiger fans think the Giants are still the easier team?
Javier Lopez strikes out the pinch-hitter Tony Cruz as it starts to rain.
The Giants are three outs away now.
After a wild pitch, Freese bounces one by the mound and Casilla throws him out at first.
With the lefty Descalso coming up, we have a pitching change.
FOX shows a graphic that shows the Giants have outscored St. Louis 19-1 the last three games.
It may sound simple, but it is the absolute truth that teams that cannot hit with runners in scoring position will lose and that is the Cardinals' story.
Molina singles and the Cards have something going with Freese at the plate.
Santiago Casilla comes in to face Matt Holliday.
Pablo Sandoval has been lifted from third as Joaquin Arias comes in.
It is a double switch as Arias will bat ninth and the pitcher's spot moves to third.
Holliday reaches on an infield single as Arias made a great play on the grass to knock down a grounder, but the throw was a hair late.
Kozma boots another grounder, but throws out Pagan at the plate.
Still, they get another run on the board and now lead by eight.
Scutaro singles and that chases Boggs.
Not a good outing for Mitchell.
Fernando Salas is next for the Cardinals on the mound.
Cain would be the winner and Lohse the loser if the Giants win.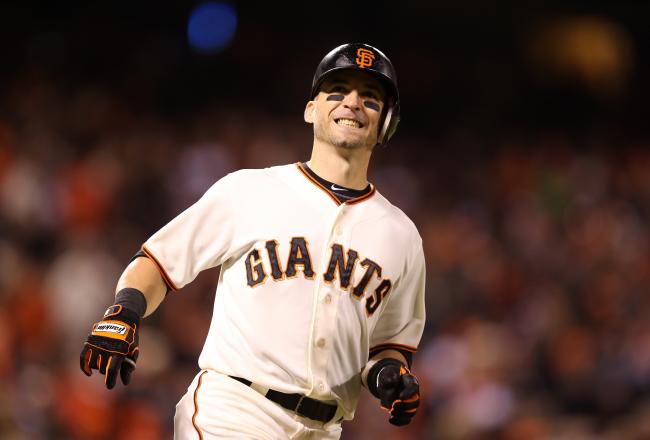 Huff grounds into a 4-6-3 double play as Blanco scores from third.
Pagan singles over second base and it is all San Francisco right now as Scutaro comes up.
You would have to think Marco is the MVP, wouldn't you?
Crawford singles into the hole between first and second as Blanco was on the move and Blanco stands on third.
Aubrey Huff pinch-hits for Affeldt and Boggs cannot find the strike zone.
Mitchell Boggs comes into pitch and Blanco will greet him.
Brian McKnight performed God Bless America and the crowd is just in a very happy mood.
Blanco draws the walk.
Jay draws a full-count walk, but Beltran grounds out to short.
Giant fans can see the finish line now, needing just six outs.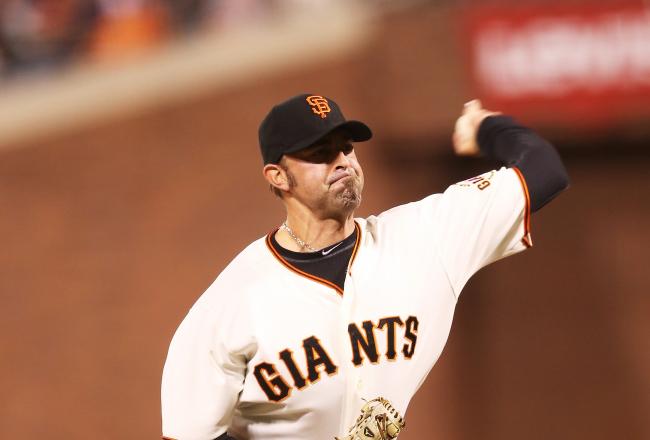 Jeremy Affeldt returns to start the seventh and strikes out Kozma to start.
The Giants have never won a deciding Game 7.
Shane Robinson pinch-hits for Rosenthal and strikes out swinging himself.
Posey single means every Giant has a hit.

— Ray Ratto (@RattoCSN) October 23, 2012
After Pence strikes out, Belt grounds out to second.
Rosenthal pitches two very solid innings.
Posey hits a lob wedge over the bag at second and the Giants are in business again.
All the air out of the Cardinal balloon came out in the third inning when Lohse got rocked.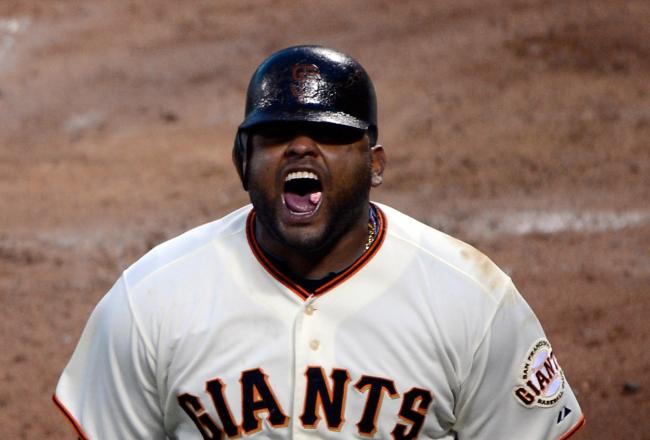 Sandoval draws a full-count walk and is the first to reach tonight on Rosenthal.
Rosenthal stays into to pitch the sixth and Scutaro is finally retired with a fly out to left.
This article is
What is the duplicate article?
Why is this article offensive?
Where is this article plagiarized from?
Why is this article poorly edited?