The Washington Redskins looked like they had the New York Giants right where they wanted them. As road underdogs, they had secured a three-point lead late thanks to another magical performance from their new franchise quarterback.
They had left the defending Super Bowl champions only 1:27 on the clock to make an attempt at securing what many assumed in the worst-case scenario would be a game-tying field goal. After all, the defense had done a decent job, giving up just 20 points and only two plays of over 20 yards on the day.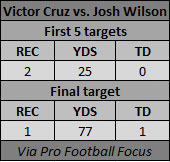 Defensive coordinator Jim Haslett doesn't love this phrase, but they'd again been bending but not breaking all day.
Unfortunately, they picked a very bad time to break in sudden and tragic fashion. Eli Manning, Victor Cruz, 77 yards to paydirt. The Redskins would get one last shot, but that monster touchdown would be the difference.
Kudos to Manning and the Giants for making the play happen. Eli still had to make the throw and Cruz still had to catch the ball and take it to the house. And Cruz did quite well considering it was double coverage.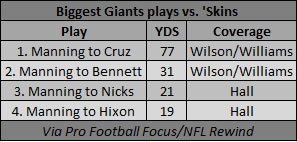 But the brunt of the reaction to the game's biggest play has instead come in the form of criticism directed toward Washington's defense. Who screwed up, and how was New York's most dangerous offensive weapon able to break free for a 77-yard touchdown in such a crucial moment?
Let's take an in-depth look at what went down.
Cruz was, as usual, in the slot, to the right of Eli Manning and with the Redskins' top corner, Josh Wilson, facing him. To this point, Cruz had been targeted five times against Wilson, but had only caught two of those passes for 25 yards (according to Pro Football Focus). On this particular play, Haslett had the team's best safety, Madieu Williams, waiting to provide help over the top.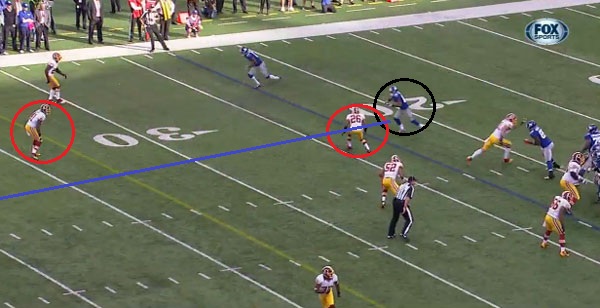 The problem is that Williams isn't the quickest defensive back out there. And by that I mean he's one of the slowest. So you could argue that Wilson should have done a better job sticking with Cruz, but it appears he was simply trusting Williams to be in position and not be flat-footed. As you can see one second into the play, Wilson was positioned to push Cruz outside, where Williams is floating.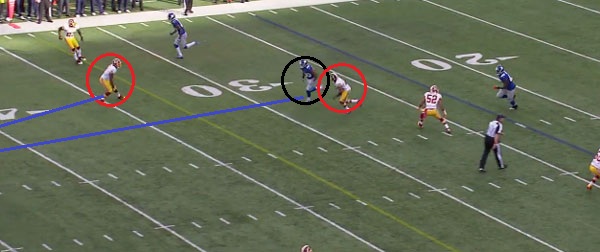 The problem is that Wilson either wasn't expecting a go route or was just beaten badly, or both. He was already well out of position 10 yards into Cruz's route. And Williams—who may or may not have been concerning himself with the DeAngelo Hall/Domenik Hixon matchup on the outside—was completely flat-footed by the time he was supposed to pick up the coverage on Cruz's go route. I've marked the spot where Cruz passed Williams.
It was at that very moment that Manning had decided he was throwing to Cruz. He had released the ball before Cruz got to that spot marked with the X. That's Manning having confidence in his top receiver, but it's also him recognizing that Williams and Wilson couldn't recover from such a poor start to the play.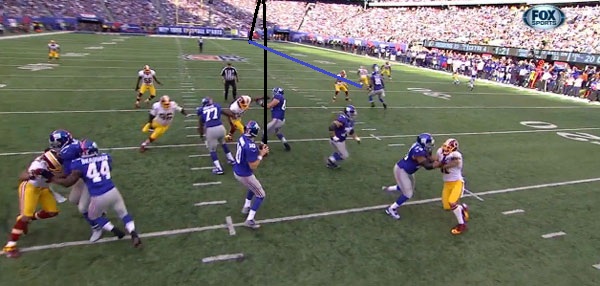 By the time the pass arrived, Cruz had two steps on both defensive backs and merely needed to catch a perfectly thrown ball in stride and run 44 yards into the end zone.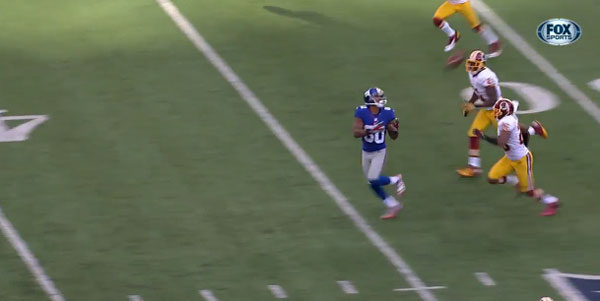 Again, perfect throw, perfect route.
As I wrote Sunday
, it's about exploitation. They found a spot to exploit and delivered. Good offenses make those plays in crucial moments, and the Giants deserve full credit for coming through.
But the Redskins have to be disappointed by the timing. They had gone 59 minutes without giving up any plays beyond 31 yards and only had to hold up for a few more snaps. Haslett couldn't have given his defense any more help against Cruz without sacrificing so much elsewhere that Hakeem Nicks, Martellus Bennett or Hixon would have made them pay.
He was doing the best with what he had to work with, and his personnel let him down with a perfect storm of sloppy coverage against one very dangerous receiver.
Who do you blame most for Victor Cruz's 77-yard TD score?
Wilson's still a very good cornerback, but he didn't play Cruz too well there. He would have gotten away with it if Williams had been better prepared over the top. And to take things a little bit further and regain a broad perspective, Wilson might have been saved had Reed Doughty or Jordan Pugh been there instead of Williams, who had the worst PFF pass coverage rating on the team Sunday. Or what if Brandon Meriweather wasn't hurt or Tanard Jackson wasn't suspended?
We'll never know. But there's a chance that under one of those hypothetical circumstances, they would have bent there with a 20-yard completion or an underneath throw on Manning's second read, rather than completely breaking with a 77-yard bomb. And that might have been the difference between winning and losing the most important game of the Mike Shanahan era (thus far, anyway).
Unfortunately for the 'Skins, there isn't a lot to learn from that. Until the secondary can improve from a personnel standpoint—and that might not happen any time soon—they simply have to perform more consistently. Not an easy fix.