7 Reasons R.A. Dickey Can Repeat Amazing 2012 Performance Next Year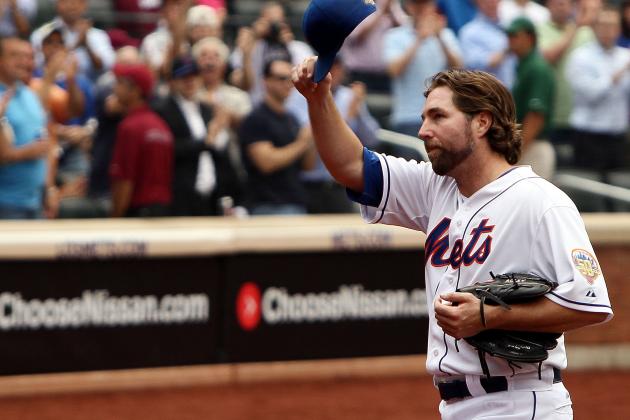 Alex Trautwig/Getty Images

R.A. Dickey won 20 games this season. He posted a 2.73 ERA, led the National League in strikeouts with 230 and spent 233.2 innings on the mound for the New York Mets.
There's no way that he can repeat his inspiring 2012 season in 2013, right? A journeyman knuckleballer who didn't even know he was a knuckleballer until a few years ago can't string together consecutive Cy Young-caliber seasons, right?
No way.
It won't be another year until that question is answered, but Dickey will has established himself as an upper-echelon starting pitcher in this league. And it doesn't look like he's going anywhere.
Here are seven reasons why Dickey can give Major League Baseball an encore in 2013.
Begin Slideshow

»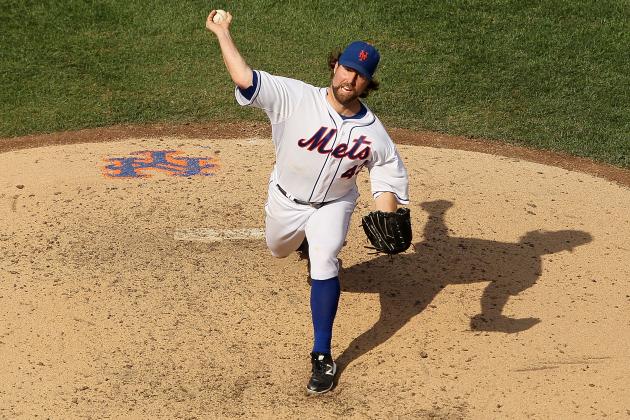 Alex Trautwig/Getty Images

The knuckleball may not be the most fearsome pitch in the game, but R.A. Dickey knows how to use it.
Dickey unleashed his knuckleball on opposing hitters 83.5 percent of the time, according to fangraphs.com.
You would think that hitters would have figured it out a little bit by now, but that's not the case. It's hard for the guy at the plate to determine where the pitch is going to cross the plate when Dickey sometimes isn't completely sure about where it will end up.
This knuckler isn't your average run-of-the-mill butterfly. It has all the movement and cartoon-like dips and dives, but his average knuckleball velocity was 77.2.
Dickey is in for another great campaign in 2013 if he can keep the velocity remotely close to that.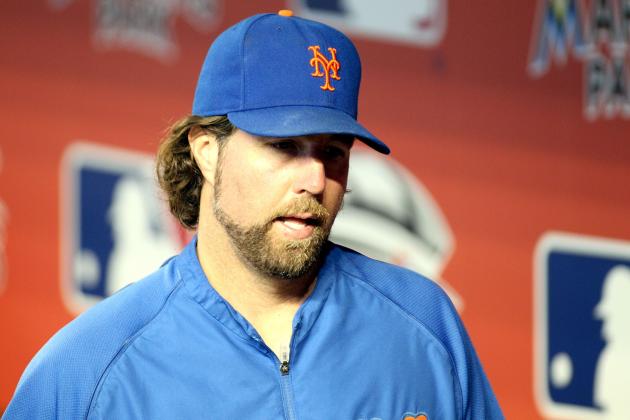 Marc Serota/Getty Images

Not only does R.A. Dickey have a wicked knuckleball at his disposal, he has no problem breaking out his fastball to paint the corners at any time in the count.
His fastball doesn't blow anybody away, but it has respectable velocity on it especially when you consider that he's 37 years old. Combine that with his pinpoint control, and it's a nightmare for the opposition.
Dickey's knuckleball is the best in baseball—and one of the best of all time—but it's hard for a pitcher of any caliber to get by on just one pitch.
Realistically, his fastball is average at best on its own, but when he precede's the heater with his knuckleball, it looks like its heading to the plate at about 115 mph.
Marc Serota/Getty Images

A pitcher doesn't just rack up over 230 innings pitched, 230 strikeouts, 20 wins, firmly insert himself as a leading candidate for the National League Cy Young then just fizzle out the season after.
Yes, he's 37. And yes, he was a bottom of the barrel pitcher before he came to the New York Mets, but R.A. Dickey has put together three superb and unexpected seasons at Citi Field.
Since making his first appearance with the ballclub in May 2010, Dickey has accumulated a 2.95 ERA, 468 strikeouts in 616.2 innings pitched and a .582 winning percentage.
It's not easy to make some of the best hitters in the league look foolish on a daily basis unless you have the requisite skills.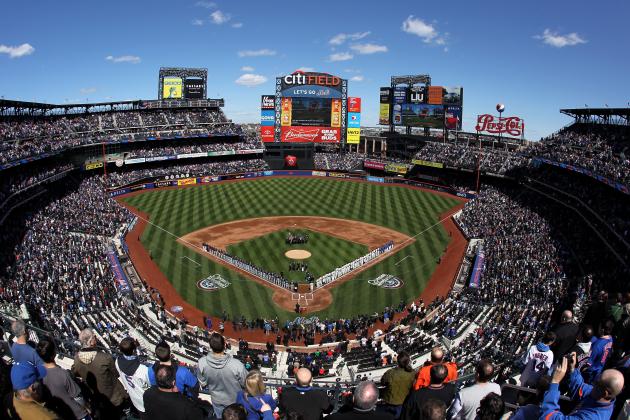 Nick Laham/Getty Images

As demoralizing as it must be for the New York Mets hitters to have to stare out from the plate at cavernous Citi Field, R.A. Dickey has no problem with it.
Dickey finished the season with a stingy 2.59 ERA in Flushing, despite giving up 12 homers in a ballpark that doesn't see very many of them. That seems like a statistical anomaly, as Dickey gave up eight long balls in 2011 and just three in 2010.
The Nashville native has seen plenty of would-be home runs fall victim to the 21st century Polo Grounds (sans the reigned in walls down the line), and he should be able to hover around single digits next season.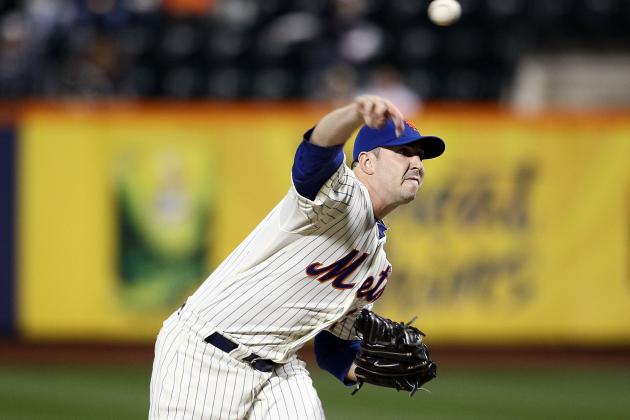 Alex Trautwig/Getty Images

The New York Mets starting pitchers were better than anyone could have asked for prior to the All-Star Break, but then Johan Santana and Dillon Gee found themselves on the disabled list and it got ugly from there.
That forced Terry Collins and Sandy Alderson to look to Chris Young, Jeremy Hefner, Miguel Batista and a slew of other liabilities as replacements.
Santana should be able to get healthy by the time pitchers and catchers report in a few months, but don't fool yourself into thinking that he'll be the No. 1 starter he once was.
Cautious optimism, as well as multiple serious injuries since 2009, has led me to hope for his return as a middle of the rotation guy who shows flashes of his youth on occasion.
As for Gee, blood clots are never a good thing, but he's young and has been healthy since tearing his labrum with the Buffalo Bisons in 2009.
Jon Niese proved to Mets faithful that he is adept enough to fend off Matt Harvey at the front of the rotation for now, but the latter was particularly impressive in his 10 starts.
Five reliable pitchers are hard to come by in the major leagues, and Dickey will benefit from being in the rotation with the other four.
Dickey, Niese, Santana, Harvey and Gee doesn't sound like a quintet of dominance, but there aren't any gimmes if those are the guys who start the first five games of the 2013 season.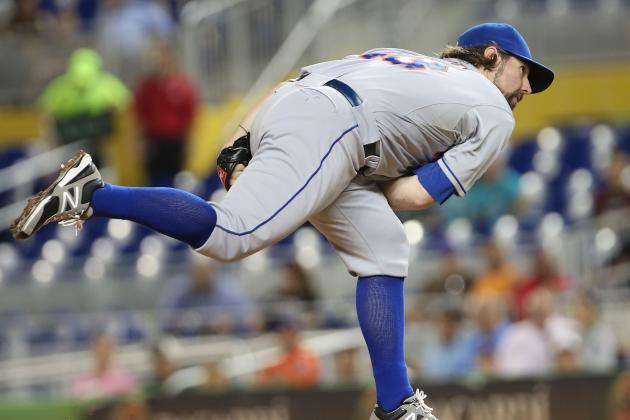 Marc Serota/Getty Images

If you haven't heard by now, R.A. Dickey played virtually the entire 2012 season with a torn abdominal muscle suffered against the Philadelphia Phillies in just his second outing of the year (per ESPN's Adam Rubin).
Fortunately, all went well, and it looks like Dickey shouldn't have a problem readying himself for spring training with taking some well-deserved rest and relaxation with his family this winter.
Dickey had the best statistical season of his career—one of the best that doesn't belong to a man by the name of Seaver or Gooden.
And he did it all with a torn stomach muscle.
His wind-up isn't violent or jerky, which helped his cause, but there's no way a pitcher can completely ignore a torn muscle of any kind.
With surgery out of the way before the calendar turns to November, Dickey has put himself in perfect position to lead a bright crop of rookies in April.
Whatever the "it" factor is, Robert Allen Dickey has a whole lot of it.
He's New York's Eli Manning of baseball. Not through championships or clutch performances (his current team hasn't given him the opportunity to take a shot at the former), but by the way that his persona doesn't agree with his superstar status.
His mannerisms give him the "normal-guy-just-trying-to-have-some-fun-playing-baseball" label instead of the obnoxious, gaudy athlete—a personality that has run rampant on the sports world in recent times.
He has the "it" factor on the bump also.
Not since Dwight Gooden had there been a pitcher that New York Mets fans eagerly waited for every fifth day as they did during his late-May/early-June crusade on the league.
Charisma, talent and off-field character are hard things to come by in professional athletes, but Dickey has them all.