Ivy League Football: Week 7 Conference Power Rankings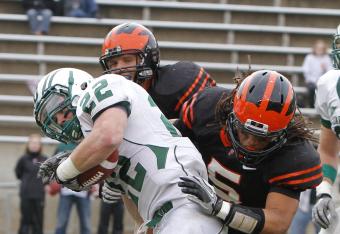 Jim O'Connor-US PRESSWIRE
In an absolute thriller of a weekend in Ivy League football, this week's power rankings have been absolutely shaken up. With Princeton's comeback victory over Harvard, the Tigers look on to a potential conference title on their horizon.
Here are the Week 7 Conference Power Rankings.
1. Princeton (4-2, 3-0) (Last Week's Ranking: 3)
Who could have predicted Princeton ever sitting atop the conference power rankings? Upsetting Harvard with 29 points in the fourth quarter to come back with a 39-34 win was no easy feat. Next stop for the Tigers is attempting to win a conference title.
2. Harvard (5-1, 2-1) (Last Week's Ranking: 1)
Falling to Princeton was a huge letdown for the Crimson. However, they need to stay on path to at least apply some pressure to Princeton in the next four games of conference play. All the while hoping the Tigers make a key mistake, allowing the Crimson to still make a run at the Ivy League title.
3. Brown (4-2, 1-2) (Last Week's Ranking: 4)
Stopping the likes of Jeff Matthews is no easy feat. A.J. Cruz and the Brown secondary should be incredibly happy about their performance this weekend that helped earn a 21-14 victory over Cornell and the dynamic Big Red offense.
4. Cornell (3-3, 1-2) (Last Week's Ranking: 2)
Returning from injury, Jeff Matthews did not look like the same quarterback that won Offensive Player of the Year last season. Cornell found the Brown secondary incredibly difficult to defeat last weekend, but the Big Red still remain one of the best teams in the conference.
Which team can thwart Princeton's route to an Ivy League title?
5. Penn (2-4, 2-1) (Last Week's Ranking: 5)
The loss to Yale was embarrassing for the Quakers. The Bulldogs dominated the whole afternoon and ran away with a much-deserved win. Penn will now be forced to also take on the top four teams in the conference now and have a tough road ahead if they intend to make a run at the Ivy League title.

6. Dartmouth (4-2, 2-1) (Last Week's Ranking: 6)
The Big Green have two wins under their belt and have finally got their offense clicking. However, their two victories come from the weakest two teams in the conference, Yale and Columbia. Their remaining schedule looks relatively ominous as they hope to earn victories against the top four teams in the conference.
7. Yale (2-4, 1-2) (Last Week's Ranking: 8)
Yale looked like a whole new team when they took down Penn last weekend 27-13. Now with their first conference win under their belt, the Bulldogs will look to continue in their current form and strive for a few more conference victories in what seems like a down year for the squad.
8. Columbia (1-5, 0-3) (Last Week's Ranking: 7)
Columbia, yet again, settles for the bottom of the Ivy League. The Lions have looked good at times, but have failed to capitalize on multiple occasions, which has been their downfall so far. As the season slowly approaches its end, the Lions will hope to at least secure one conference win.

This article is
What is the duplicate article?
Why is this article offensive?
Where is this article plagiarized from?
Why is this article poorly edited?