2013 NFL Draft: Video Highlights of Every First-Round Pick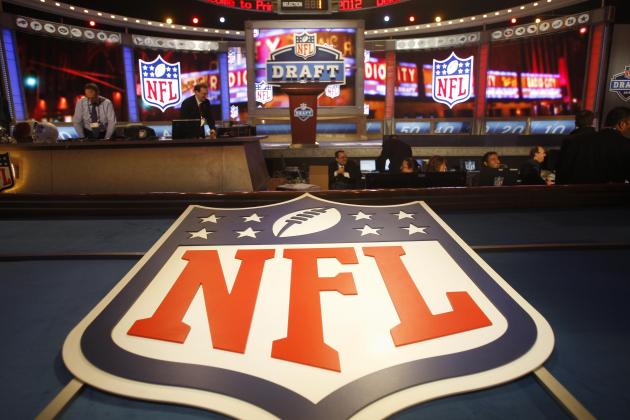 Jerry Lai-US PRESSWIRE

Just a few weeks ago we released our latest 2013 NFL Mock Draft, which you can read here. In this feature, you can do more than just read about the prospects: You can see them in action. Check out some highlights and game tapes of the top players in college football to see what the hype is all about!
Nolan Vasan: NFL Draft Geek
Begin Slideshow

»
This video highlights Matt Barkley's outstanding accuracy, timing, ability to hit receivers in stride, effective use of his eyes and put the football exactly where it needs to be—exactly when it needs to be there.
Without question, Jarvis Jones is the best pass-rusher in the 2013 NFL Draft. He is an explosive athlete whose power—combined with his athleticism—makes him difficult to block on the edge. As you can see in the video, Jones is currently used in Georgia's 3-4 defense, but he can fit in any defensive scheme.
This is Geno Smith's ridiculous 45-of-51, 8 TD, 656-yard performance. Here he plays about as close to a "Perfect Game" as you will ever see. Deep, intermediate and short, Geno placed the ball into tight windows, and no matter how bad the defense was, his play was a highlight of just how good Geno can be. As we've seen recently, there are ways to defend him, but this game left all NFL teams drooling over his potential.
Barkevious "Kiki" Mingo is a dominant force on LSU's dominant defensive line. His first step is elite, getting up-field on his blocker right off the bat. He effectively uses the spin, rip and swim moves effectively, allowing him to consistently get pressure on every pass play.
I feel that Tyler Wilson is a very underrated prospect, even though he is widely considered to be a Top 10 or Top 15 prospect. Watching the kid a lot, he's had a terrible offensive line, with play-calling which leaves him staring down hits on a regular basis. Wilson is a tough prospect, who consistently stands in the pocket and delivers the ball despite taking a hit. He's got a big-time arm and is very accurate. He's a leader, battle-tested in the SEC and ready to play in the NFL at a high level.
Probably the best way to describe Sam Montgomery would be "relentless." Besides being an elite athlete, Sam Montgomery plays with outstanding tenacity, going 100 percent on every play and never taking plays off. His size and athleticism allow him to be a great fit in a 3-4 or 4-3 Defensive Scheme.
Lotulelei has the ability to be a game changer and dominate games from the defensive tackle spot, something that is rare and invaluable. He's got the perfect size at 6'3" 325 pounds, possessing the ability to simply overpower his defenders, while also displaying uncanny quickness and explosion for a man of his size.
The above video shows you everything Manti Te'o is about. Every player we talk about in the NFL Draft is blessed with outstanding athleticism, but few have put it all together the way Manti Te'o has. He is one of the smartest, most instinctive linebackers you will ever see and you couldn't find a better leader on or off the field. You don't see too many inside linebackers go in the Top 10, but Te'o is virtually a lock to do so!
Robert Woods is a deep threat, possession receiver, YAC guy all wrapped into one. There is nothing that Woods can't do as a receiver. He has the size and speed to stretch the field, is a fine route-runner with outstanding hands and is very tough to bring down with the ball in his hands.
Last year, we were saying that Stanford guard David Decastro was the best guard we've seen since Steve Hutchinson and, this year, we're saying the same thing about Alabama guard Chance Warmack. Warmack is everything you look for in a guard—power, footwork, mean streak and ability to pull and trap. He's a dominating guard who is no stretch to go Top 10.
Johnathan Hankins is as an overpowering nose tackle at 6'3" 340 pounds, with surprising quickness and explosion. He can be dominant in any defensive scheme as a nose tackle, possessing the ability to collapse the pocket up the middle with brute strength, while also having the athleticism to get off blockers and get up the field.
Demarcus Milliner a No. 1-type cornerback with the ability to be that "shutdown corner" that all teams desire. Like all Nick Saban corners, he is big, strong and physically excelling in bump-and-run—but of course, he's an elite athlete as well. Milliner is the type of corner you can leave on an island, not requiring much safety help.
We like Bray because not only does he possess a very high upside, but he's been a three-year starter in the S.E.C and continues to improve with each year—if not each game. He's got the size and arm strength you love, is a leader and is a very smart kid who has the mental ability to play quarterback at a high level in the NFL.
Bjoern Werner is the type of defensive end who can be a dominant force on all three downs. At 6'4" 275 pounds, he is a powerful end who teams can't successfully run at. He's also proved to be a sack machine at Florida State, using his blend of power and quickness to collapse the pocket consistently.
Reid has the athletic ability of a free safety and the power of a strong safety. He flies around the field, using his range and ball skills to effectively play "center field" and make plays on the ball in the air. He also is very instinctive against the run and loves to step up into the box to put big hits on the ball carrier.
(Skip to 1:35 for the start of video highlights above.)
Kawann Short isn't a household name, but that's mainly because he plays at Purdue. Short has a very good combination of speed and power, which makes it extremely tough to deal with him. Short can play both DT spots in the 4-3 and would also be an outstanding 5 technique, making him attractive to all teams picking in Round 1.
We have a wonderful prospect here in Keenan Allen, although he doesn't put up the numbers he should or get the recognition he deserves, because of the offense he plays in. There's so much to love about Keenan Allen: He's got the elite speed and acceleration you look for—making him a threat to score every time he touches the ball—but he also plays much like a possession receiver, catching passes underneath and not afraid to go over the middle. Offensive coordinators will love this guy, as he can be used in so many different ways!
This monster junior left tackle, is anywhere from 6'7" to 6'9", depending on whom you ask. Regardless of exactly how tall he is, Lewan is extremely athletic for a guy who is as tall as he is. He can use that size to be a mauler—overwhelming his defenders—while he also has outstanding footwork, allowing him to mirror athletic speed-rushers.
Joeckel (left tackle in the above video) has all the makings of a long-time, reliable left tackle in the league. He has the ideal size, his footwork is impeccable, showing excellent technique in both run-block and in pass protection. If he comes out, he's a lock for the first round.
DJ Fluker has played RT and highlights as a power run-blocking tackle for the Crimson Tide, but he has the athletic ability and feet to play the left side. In the NFL, Fluker could start out at RT or even a guard spot to get him acclimated before eventually moving him to LT.
It's rare to see a guy like Barrett Jones, who literally could play any position on the offensive line—and pretty much has. He's started games at left tackle, guard and center—the epitome of versatility. Jones has near-perfect footwork, enabling him to guard the edge in pass protection, while also mirroring defenders. Jones also has the size, strength and mean streak to play the interior.
TJ McDonald is a physical, "in-the-box" type of safety, but unlike some of the hard hitters you see in the NCAA, TJ McDonald is an outstanding athlete who is not limited in coverage. He profiles as a "thumper" who will step up and hit you, but has great range to go sideline-to-sideline.
Aaron Murray doesn't have the star power of Matt Barkley or Geno Smith, but it is very tough to poke holes in this guy's game. He's got the arm to make all the throws, is accurate, makes good decisions and is a leader. Murray could go anywhere from Top 10 in the first round to anywhere in the second round on Draft Day.
This years' draft is especially loaded at cornerback and Xavier Rhodes is right there battling to be the No. 1 cornerback in the class. He's outstanding, possessing elite speed and leaping ability to go along with his more-than-six-foot frame and extremely fluid hips. He's got all the makings of a Pro-Bowl cornerback at the next level and could very well be a steal on Draft Day.
Amerson has not lived up to expectations so far this season: His stock has slipped and many are now questioning whether he has the athleticism to play cornerback at the next level. We still maintain Amerson can succeed at corner, but his skill set also translates very well to the safety position as well. He has good size at 6'1" with outstanding instincts and ball skills. At either spot, he will be a good one!
After starting 25 of 25 games at left tackle for Tennessee the past two years and looking extremely strong at the position, Dallas Thomas was moved to left guard this season. Whether that is a good strategy for the team is debatable, but Dallas Thomas himself has been just as dominant, looking right at home on the inside. At 6'5" 310 pounds, he has ideal size to player either position and his blend of size, power and athleticism has scouts drooling.
After suffering a torn ACL last year, Marcus Lattimore has bounced back rather quickly and doesn't show any ill effects from the injury. He's a tough runner who has the speed and explosion to make people miss and the ability to hit the home run.
Although he's No. 28 here, I see no possible way Johnthan Banks would fall past the No. 28 pick, as somebody would certainly trade up for him if he started to slip. This draft is loaded across the board and a couple guys are bound to get bumped down, due to no fault of their own. Banks is an elite cornerback prospect who is one of the Top 10 or Top 15 players in this year's draft, although not in this October Mock.
(Skip to 0:50 for the start of Video Highlights above.)
Alex Okafor profiles as a power rusher who can walk his man into the backfield, while also making him very tough to run on. Okafor has the speed to be dangerous around the edge, along with the quickness to beat his man inside or outside.
Many feel Justin Hunter could wind up being the first receiver off the board in this year's NFL Draft. We aren't that high on him, but he is certainly an outstanding prospect. As you can see in the above video, Hunter is obviously a fantastic athlete with the ability to stretch the field, break away from defenses and go up high for any reception.
Corey Lemonier is starting to get a lot of attention. He's one of the only really talented player on Auburn's defense, yet he is still able to wreak havoc. Lemonier is an excellent athlete offering a lot of versatility, so he should be able to transition to the 3-4 without much effort.
Tony Jefferson flies all over the field, playing like a missile. Jefferson also excels when he's playing center field and flying to the ball. He can match up man-to-man if needed, which only enhances his stock.