New York Jets Midseason Report Card for Every Positional Unit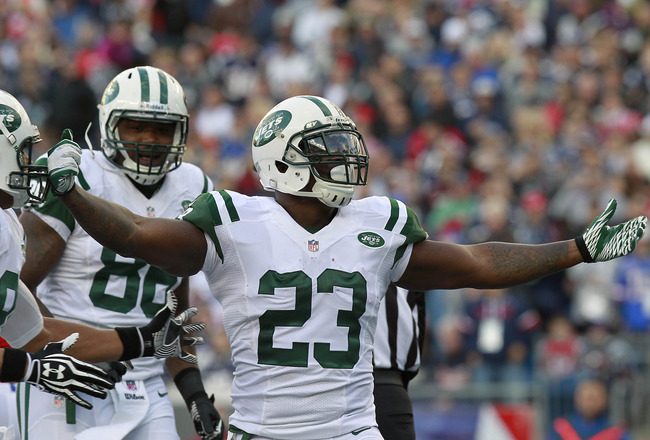 The Star-Ledger-US PRESSWIRE
With just one more game before the halfway mark of the season, it is time to take a look and see how each unit has performed thus far for the New York Jets.
This team looks massively different from the post-training camp roster thanks to a slew of injuries to key players, but the Jets have managed to stay competitive against top competition and are right in the thick of things in a close AFC playoff race.
Here is the midseason report card for each positional unit.
Quarterbacks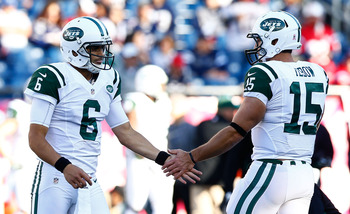 Jared Wickerham/Getty Images
This unit has been one of the hottest topics in American sports, and for really no good reason whatsoever.
Mark Sanchez has been very up-and-down through seven games, which is not unlike what the rest of his career has been in New York. After a fast start by dropping 48 points on the Bills, he took several steps back and hit rock bottom when the Jets were shut out by the 49ers.
Since then, Sanchez and the Jets have rallied to put up three solid performances in a row, despite losing two of those games. Without Santonio Holmes, the Jets are severely undermanned at the skill positions, but Sanchez has played well ever since Santonio Holmes went down.
Sanchez had a gutsy performance against the Patriots last Sunday, but those assuming that Sanchez will play that well every week will be disappointed. The Patriots defense tends to make mediocre quarterbacks look much better than they really are.
Meanwhile, Tim Tebow has made more of an impact on special teams than in any other facet of the game. His biggest play has come from a fake punt against the Colts with a long completion to linebacker Nick Bellore.
Out of the Wildcat, Tebow has not exactly broken defenses apart, but that is not all his fault. The Wildcat offense is just hard to pull off at this level of competition.
All things considered, while the Jets currently sit with a losing record, quarterback play is not the core issue.
Grade: C
Running Backs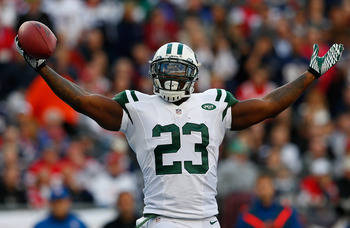 Jim Rogash/Getty Images
Once again, the Jets have massively overrated the talent they have at the running back position.
Shonn Greene had a miserable start to the season, failing to break the 100-yard mark for the first six games of the season. Talk commenced in New York of possibly replacing Greene with Bilal Powell, and he started to see his snap numbers decline.
However, he was finally able to break open against a soft Colts run defense and wear down a defense like the Jets have envisioned, running for over 100 yards in the win. While he did not have quite the same success against a better Patriots front, he looked more explosive than he did several weeks prior, and the Jets need him to keep his momentum going.
Bilal Powell has been decent as a third-down back and is able to catch the ball much better than Greene, but he does not move the pile and wear down defenses quite as well as Greene does.
When in the game, Joe McKnight has been able to do some good things with his breakaway speed, but injuries have prevented him from getting extended snaps in the backfield.
Overall, it has been a disappointing start for the backs, but they have picked up steam over the last few games.
Grade: C-
Wide Receivers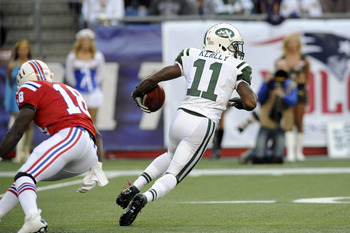 Bob DeChiara-US PRESSWIRE
This unit has been a mixed bag so far. On one hand, you have the emergence of second-year slot receiver Jeremy Kerley in Santonio Holmes' absence, but injuries and inexperience have done this under-manned group no favors.
Before a season-ending Lisfranc injury, Santonio Holmes was on pace for one of his best years as a pro as the only truly elite receiver on the roster.
Stephen Hill has been very up-and-down, which is expected for a rookie receiver who was so raw coming out of Georgia Tech. He had a monster three-touchdown debut against Buffalo but has disappeared for games at a time and missed a handful of games from a hamstring injury.
Hill has a lot of promise, but he has some growing up to do in terms of running routes and getting over drops before he becomes a complete receiver in this league.
The rest of the fill-ins, including Clyde Gates, Chaz Schilens and Jason Hill, have been very inconsistent as well. There is a lot of speed between those three players, but sloppy routes and drops have cost the Jets games.
Grade: C-
Offensive Line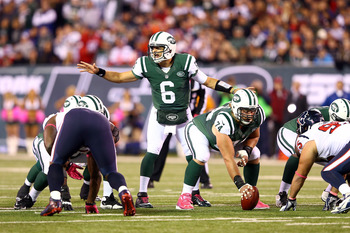 Al Bello/Getty Images
Since hitting rock bottom against the 49ers a few weeks ago, this unit has played as well as any in football.
They were absolutely dominant against the Colts and put together another solid performance against the Patriots both in terms of run-blocking and pass protection.
Austin Howard has proved to be a competent starter at right tackle in place of Wayne Hunter, even if he does surrender the occasional pressure.
D'Brickashaw Ferguson, however, has fallen far from being the elite, shutdown left tackle that he used to be. Against quicker ends, he has struggled in protection.
One thing to watch moving forward is the left guard position, where the Jets are playing Vladimir Ducasse more and more every week in favor of Matt Slauson, who was the culprit for allowing Vince Wilfork to force the fumble for a safety. Don't be surprised if Ducasse is starting after the bye week, if not sooner.
Grade: B
Tight Ends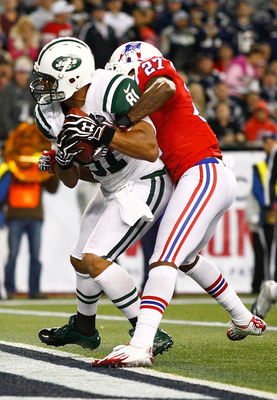 Jared Wickerham/Getty Images
This is one of the more difficult grades to give, being that Dustin Keller has only played in three games this season.
However, in the wake of Keller's absence, Jeff Cumberland and Konrad Reuland have filled Keller's shoes rather nicely. Cumberland has come a long way both in terms of a receiver and a blocker, making a beautiful long touchdown grab for the Jets' only offensive touchdown against the Texans.
Keller looked like his old self against the Patriots, catching a touchdown and appearing to run and cut like he did last year. Keller's presence will be a huge help in terms of dictating coverages and making life easier on the rest of the team moving forward.
Grade: B
Defensive Ends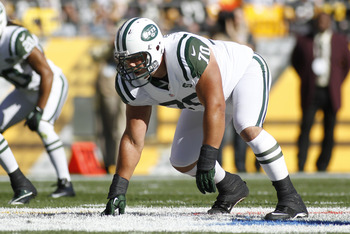 Justin K. Aller/Getty Images
While the Jets run defense numbers have been anything but satisfactory for a Rex Ryan defense, the defensive ends are not the primary culprit.
Muhammad Wilkerson is having a dominant season as a run defender that cannot be quantified into stats. His length and power are a load for any offensive lineman to deal with, both in the run game and in protection.
Quinton Coples has made an impact when he has been given a chance, with two sacks in limited action. He is the Jets' best pass-rusher which is impressive considering that he often rushes from the interior against double-teams.
Mike DeVito has been his usual, consistent self as a run stuffer, but he brings next to nothing as a pass-rusher. To be fair, he has been forced to play as a nose tackle at times because of injuries to the defensive tackles.
Grade: A-
Defensive Tackles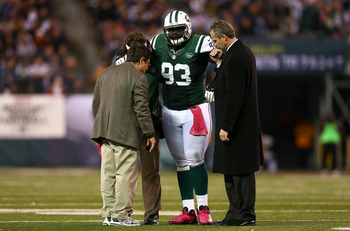 Elsa/Getty Images
The picture just about sums up this group so far, which simply has not been able to stay healthy.
Sione Pouha has been relegated to the bench after getting blown apart against the 49ers. His back issue could be something that lingers for the rest of the season.
Kenrick Ellis was playing reasonably well in his place and looked much more technically sound than he did in his rookie season, but he is still out of duty probably until the Jets return from the bye week.
Grade: C+
Inside Linebackers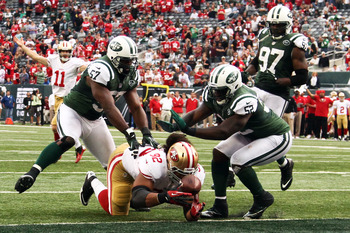 Debby Wong-US PRESSWIRE
One of the most under-reported stories from the Jets' season is the decline of play in David Harris.
Harris, who has a reputation for being a thumping run-stopper, has struggled to get off blocks and has missed far too many tackles this season. His play is one of the biggest reasons why the Jets' numbers in run defense are near the bottom of the NFL.
Meanwhile, it is becoming apparent that Bart Scott is starting to get phased out of the defense. He played only nine snaps on defense in Sunday's game, although Rex attributed his low snap count to a toe injury (h/t Rich Cimini, ESPNNewYork.com). However, he did play seven snaps on special teams, which makes it fair to question the validity of Rex's comments.
Demario Davis had a nice game in Bart Scott's place. The Jets will need him to play more and more as Scott deals with his injuries, so getting the rookie off to a nice start is huge for his confidence.
Grade: C-
Outside Linebackers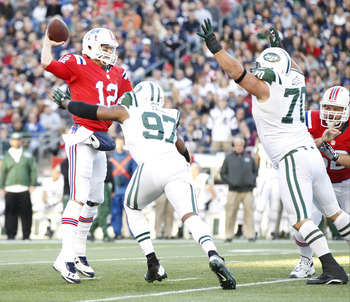 Greg M. Cooper-US PRESSWIRE
This is a position that needs a complete overhaul. Both of the incumbent starters, Calvin Pace and Bryan Thomas, are nothing more than edge-setters in the run game at this point. Neither player is able to get any pressure on quarterbacks, and the only sacks they do get are coverage sacks.
Even as edge-setters, the Jets linebackers have not been able to be as productive as they once were. The Jets gave up a ton of yards to quicker backs, such as C.J. Spiller and Reggie Bush, that have been able to beat Pace and Thomas to the edge.
Aaron Maybin has finally been able to apply some pressure on third downs over the last few games, but it is clear that he will never develop into the dominant rusher he was projected to be as a former first-round pick.
When you look at the entire Jets roster, this position may be the oldest and least talented group of them all.
Grade: D+
Cornerbacks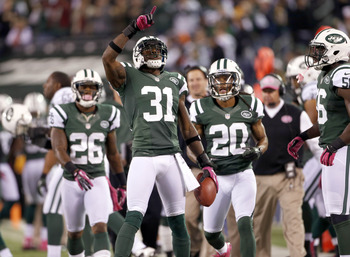 The Star-Ledger-US PRESSWIRE
Since Darrelle Revis' season-ending injury, the Jets' other cornerbacks have all elevated their game in his absence.
The most notable performance has been that of Antonio Cromartie, who is playing about as well as any corner in football right now. He shut down Andre Johnson and Reggie Wayne in consecutive weeks and is creating turnovers on a regular basis.
After some early struggles against the 49ers, Wilson has settled down and has become much more reliable with every start. He is certainly no Revis, but he has played like a solid No. 2 corner.
The nickel and dime corners in Ellis Lankster and Isaiah Trufant have played well in their increased roles as well. Ellis had an interception against the Colts last week, and Trufant did a terrific job with Wes Welker in the slot last Sunday.
Despite being without the best defensive player in the defensive backfield, the Jets secondary has played well in every game without him.
Grade: A-
Safeties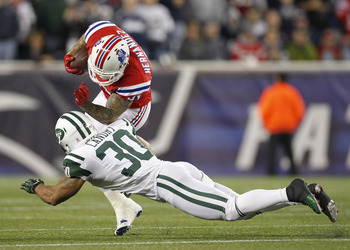 Greg M. Cooper-US PRESSWIRE
This group has been one of the few units that has played substantially better than last year's.
Mike Tannenbaum brought in LaRon Landry and Yeremiah Bell for one reason: to stop the Patriots tight ends.
While Gronkowski was able to get a pair of touchdowns in the loss, both players were able to keep both players from taking over the game like they are capable of. Both of Gronk's touchdowns were on perfectly thrown balls or against linebackers.
Landry has also brought a physical presence in the secondary, making several devastating hits to discourage opponents from coming over the middle.
Grade: A-
Special Teams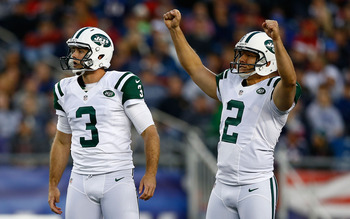 Jared Wickerham/Getty Images
The most underrated Jet of the season is none other than the kicker, Nick Folk. He is a perfect 11-of-11, including a pair of clutch field goals on Sunday night.
Meanwhile, punter Robert Malone has been a revelation at the position. Unlike T.J. Conley, Malone has been very consistent with his punts, averaging a solid 47.1 yards per attempt.
Joe McKnight has been explosive in the return game, averaging nearly 30 yards per return with a touchdown.
The coverage units have been solid, with the exception of the ugly kickoff return against the Patriots that turned out to be the difference in the game.
Grade: B+
Keep Reading

New York Jets: Like this team?