Nebraska Football's Ugly Win over Northwestern Should Unite, Not Divide Fans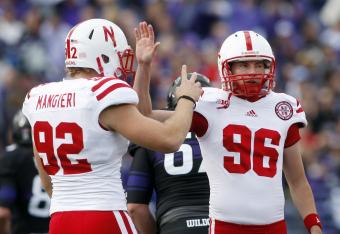 US PRESSWIRE
Taking a quick look around the social media universe, I've seen two sets of reactions in regard to the one-point Nebraska win over Northwestern on Saturday.
One of the reactions was relief. Fans are relieved to have their beloved Huskers back in the winning column and still very much in the hunt for the Legends Division title.
The other reaction is frustration. Even after a win, some diehards are frustrated with the mistakes Nebraska continues to make, namely turnover and penalties.
I fall somewhere in the middle.
I was happy to see the Huskers pull out a gutty, coming from behind to win on the road. This is something Nebraska has not done much of under Bo Pelini.
I, like others, was frustrated with the consistent miscues that seemed to keep Northwestern in the game. I knew beforehand that the Wildcats were far too good of a team led by far too good of a coach to let them hang around or even grab a lead.
In the end, however, I lean slightly to the "be happy Nebraska won the game" side. Growing up in the region of the country where you have a Penn State game on TV every weekend and long before the Big Ten Network, I watched a decent amount of Big Ten football.
To be honest, not much has changed. The conference is always tight. Rarely does a team win back-to-back conference titles, let alone run the table doing so.
Putting aside the conference's horrendous performance so far this season, the Big Ten has historically been a conference that beats up on each other and subsequently knocks itself out of national championship contention. This is why, at the beginning of each season, the primary goal of every Big Ten team is to get to and win the Rose Bowl. If they happen to do well enough to play for the BCS title, that's just gravy.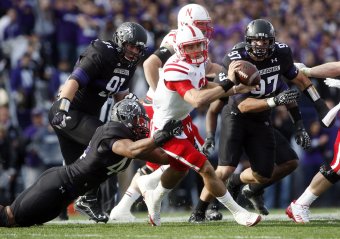 US PRESSWIRE
This is the world Nebraska lives in now. This is the Big Ten conference.
Given that information, yes, fans have a right to be upset when a team makes mental mistakes. A win, however, should trump those feelings, especially with the new divisional format of the conference. Quality of wins and position in polls have no effect on a Big Ten team's ability to get to the conference title game. Simply put, a win is a win.
This is Big Ten football. You win games you are supposed to win at home. You take wins where you can get them on the road. How it was done should not matter. Once the game is over, all that matters is learning from the mistakes made and preparing for the next opponent.
If the Huskers were to win out as Bo Pelini has said they have to, how the games were won will not matter. They'll be playing for a conference title and ten other teams who may not have played quite as sloppy football or had quite as many turnovers will be watching from home.
That alone is all that should matter in the eyes of the fans. There should be no divide in that regard.
This article is
What is the duplicate article?
Why is this article offensive?
Where is this article plagiarized from?
Why is this article poorly edited?

Nebraska Huskers Football: Like this team?