Tom Lawlor: 'Why I DON'T Use PED's'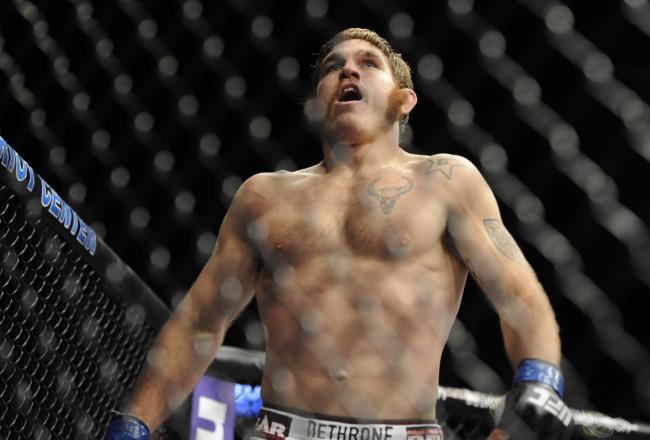 Rafael Suanes-US PRESSWIRE
UFC veteran Tom Lawlor has provided his two cents on the ongoing drama of steroid usage in MMA. Lawlor took to the online forums to outline his personal reasoning for staying away from PEDs, and explains why some others may choose to indulge.
Given Lawlor's reputation as a fun-loving jokester, you might expect citations of shrunken testicles to dominate the reasoning behind his position, but that isn't the case. The former TUF competitor kept a serious rhetoric throughout his blog post at mixedmartialarts.com.
In numerated points, Lawlor outlines the four reasons he does not use.
Lawlor first states, "I don't want to spend the rest of my life second guessing my abilities and successes, wondering if it is due to some outside advantage of factor that I didn't [intrinsically] have."
He follows up by explaining that the financial risks of being caught and suspended for 12 months are just too great. With no fight purses to claim, there is no capital to keep him going.
Then of course, there's the fear of the unknown health effects of PEDs, which Lawlor explains he is not eager to submit his body to.
Lastly, Lawlor muses that being branded a cheater is not something that is easy for any fighter to live down. "Fans are quick to forget your successes," he writes, "but very eager to bring up past failures in many cases, especially regarding the use of drugs.
But even with his personal stance laid bare, Lawlor notes his understanding of why some fighters go the route of PEDs. Especially those with significant show/bonus salaries.
Lawlor explains that when a win will net a fighter upwards an additional $40 000 dollars, the risk of a 12 month suspension is less threatening than to fighters who only stand to win an additional $8,000-$12,000 with a win.
But, as Lawlor confirms, the financial risk/reward ratio is not the decisive factor behind his own reasoning.
I'll stick with trying to win fights and get fight bonuses, while training my ass off in the gym, going home and being sore and exhausted. I'd rather be in my current position of 4-3 Tom Lawlor in the UFC than be 7-0 UberLawlor and relying on something other than my own guts, intelligence (or lack of), and hard work.
Certainly a noble sentiment. But of course, not every fighter would agree with it.
This article is
What is the duplicate article?
Why is this article offensive?
Where is this article plagiarized from?
Why is this article poorly edited?