10 Best Liverpool Twitter Accounts to Follow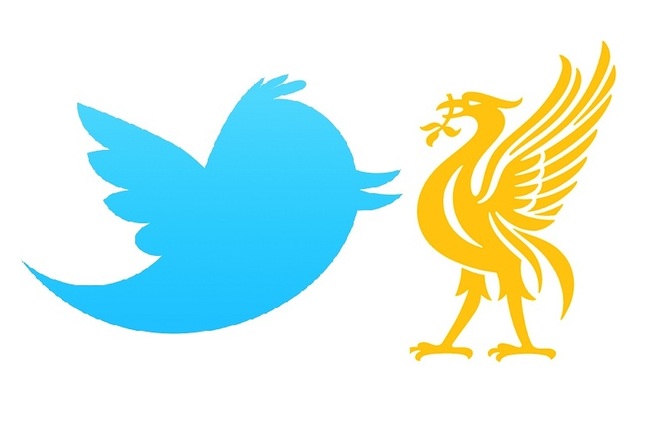 image mixed from tombaileyonline.com and photobucket.com

In a sporting world that is increasingly impatient to receive up-to-the-minute breaking news and have more contact than ever with the clubs, teams and individuals that fans love, social media is playing a big role in satisfying the needs of supporters.
Liverpool FC, as part of their drive to interact more with their fans—and no doubt gain more new ones—have identified social media as a big way to offer visual content on a regular basis without big expenditure, or without having to charge supporters money for the most part.
At the forefront of the Premier League in this particular area in terms of giving fans plenty to read, watch and enjoy, Liverpool boast over 1.4 million followers on Pinterest, more than 1.2m on Twitter and a whopping 10 million likes on Facebook.
A Tumblr gallery, Instagram accounts and even the club's own social media zone—named "The Kop"—all contribute significantly to a huge official online profile of the club.
Despite the bigger numbers on Facebook, it is arguably on Twitter where the most actual interaction takes place between the club and all it's facets, and the fans.
Players, ex-players and coaches all have their own accounts, as do various different sections of the club itself.
As an immediate, personal and tangible point of interaction, Twitter is a valuable tool for the club and the fans alike.
Here are the top 10 Liverpool-related Twitter accounts that are must-follows for supporters.
Official Club Account: @LFC
Clive Brunskill/Getty Images
The official club account is as good a place to start as any.
On Twitter, for the uninitiated, a person's (or an entity's) account is derived by the "@" symbol followed by their username.
For the Liverpool FC account, therefore, @LFC is the user to follow.
The official club account tweets links to stories on the club website as they break, local news as appropriate and publishes some of the best blogs or stories from "The Kop" social media zone.
The usual mix of offers and special features can all be found here too.
Former Boss Kenny Dalglish: @kennethdalglish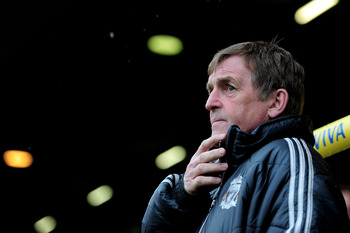 Jamie McDonald/Getty Images
@kennethdalglish was the first Premier League manager to be on, and send a message via, the social network of Twitter.
As caretaker and then full-time manager of the club he rarely tweeted much other than to thank fans for continual support and similar messages, but now back as a private citizen he and his family provide entertainment for fans with their cross-Atlantic jokes.
Dalglish remains, regardless of his final spell at the club, a much-revered figure and a knowledgeable football man.
For some fans who grew up watching him at his best on the playing field, being able to see glimpses of his everyday life must be like watching through a window into the Pantheon.
Midfielder Lucas Leiva: @LucasLeiva87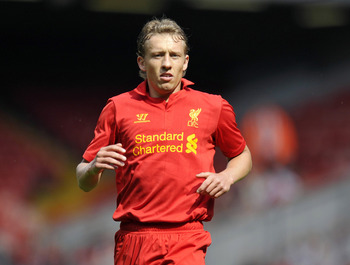 Clint Hughes/Getty Images
The first player on the list and perhaps one of the most supporter-friendly of the entire squad of players, which is quite incredible given what he has had to go through to get them on his side: defensive midfielder Lucas Leiva.
His account @LucasLeiva87 is naturally split between tweets in English and his native Portuguese, and he offers not only an insight into the lifestyle of a player but also at present enables fans to send him messages of support and well-wishes, as he recovers from another long-term injury.
Going by his replies, the wishes are warmly received and appreciated.
Wide Forward Raheem Sterling: @sterling31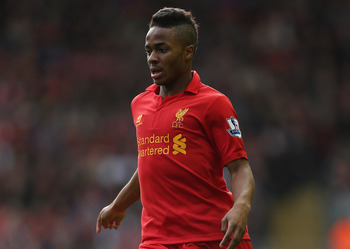 Clive Brunskill/Getty Images
Liverpool's second-youngest ever scorer, Raheem Sterling, has turned himself into one of the most important players in the team in the space of just a few weeks.
Young Reds such as Suso, Jonjo Shelvey and Martin Kelly also all have their own Twitter accounts but Sterling is perhaps the most talked-about teenage superstar at present.
Sterling tends to tweet mainly about football, but of course there is so much going on in the life of any talented, rich, young, headline-maker that some of it is bound to seep through as well...
Champions League Winner Dietmar Hamann: @DietmarHamann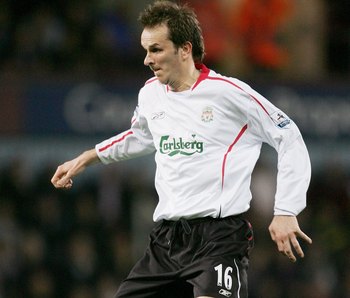 Christopher Lee/Getty Images
There are many former Liverpool footballers who have their own accounts on Twitter, with Real Madrid midfielder Xabi Alonso and former Kop favourite Luis Garcia amongst them.
In terms of retired players, however, it appears they have less of a restriction on what they can say, naturally, as they are no longer tied to or representing any one organisation.
The Kaiser, as he was known, has strong opinions on everything from the current Reds set-up to the world of cricket and is a great follow.
He can be found at @DietmarHamann.
Legendary Forward Robbie Fowler: @Robbie9Fowler
Phil Cole/Getty Images
Along the same lines as Didi Hamann is Scouse legend Robbie Fowler.
"God" is a regular tweeter, and indulges in conversations and friendly arguments with fans almost as often as he tweets his own views.
@Robbie9Fowler has himself not far off 400,000 followers.
Football Commentator John Bradley: @JBcommentator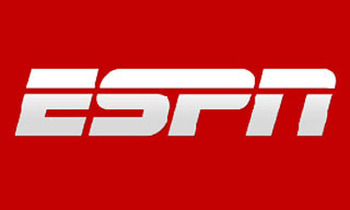 logo from simplyzesty.com
Onto other areas of the club now and LFC TV's resident commentator John Bradley.
@JBcommentator also works for ESPN and covers many major football matches, giving him extensive knowledge of the game around Europe and he is a big Liverpool supporter.
There are a huge number of non-players on Twitter who nonetheless work within football, and sport in general, on a day-to-day basis and they can provide fascinating insights and points of view on the game that others either cannot speak of or do not possess.
John Bradley is the first of two such individuals who Kopites should be following...
Tony Barrett, The Times Journalist: @TonyBaretTimes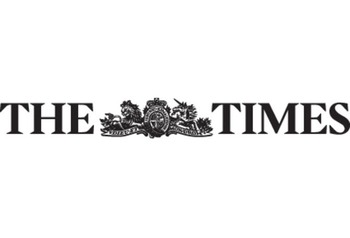 logo from aca-demy.co.uk
...and for the second, we'll go for Tony Barrett of The Times newspaper.
In truth there are many very good journalists who also happen to tweet prolifically, but as Barrett is from Merseyside, covers both Liverpool and Everton (particularly noteworthy as the derby match approaches) and speaks with authority, his is a good account to head the list.
@TonyBarretTimes is on the social media site at one point or another almost every day, whether to offer links to his latest piece of work (or colleagues'), comment on topical news or supporting the ongoing fight for justice in the aftermath of this year's Hillsborough revelations.
Videos, Photos and More: @MostarLFC
Finally, we'll look at a couple of private citizens who are certainly worth following because of the work they undertake with their love of the football club in mind.
@MostarLFC creates and compiles videos, which his followers can enjoy on YouTube and similar sites, such as the one profiled here.
Some are goals compilations, others take a look at one specific player.
This latter is a great way to look at the individual actions of a single player who may not have hit the headlines or the highlights reels for any particular game, but nonetheless had a good impact on the match should you look closely at their touches and movement.
LFC Statistics: @AnfieldIndex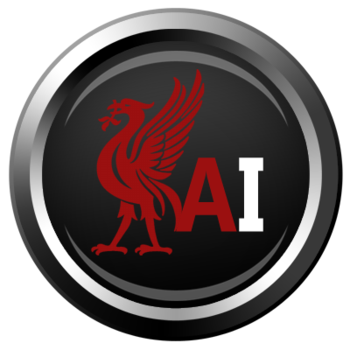 logo from anfieldindex.com
Directly viewing players or games is one way to analyse performances—and interpreting the cold, hard numbers of statistics is another.
@AnfieldIndex is a Twitter account that provides a multitude of stats and figures from every Liverpool match directly from Opta, the daddy of all football statistics collectors.
Whether it is passes forward made by a certain player, the number of touches the collective team has had or how many shots on target Luis Suarez needs to take to score a goal, AI knows that knowledge is key.
The website offers a platform for statistics-based articles on the club to be written and provides a great insight into the game for those who like to look beyond the green turf of the pitch for answers and inspiration.
Fanzines and Websites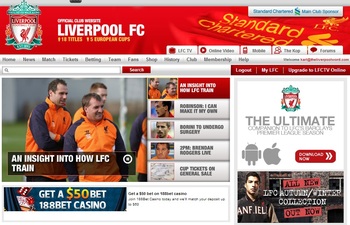 screenshot from liverpoolfc.com
Keep Reading

Liverpool: Like this team?