Week 7 Rookie QB Recap: Rookies Go 1-3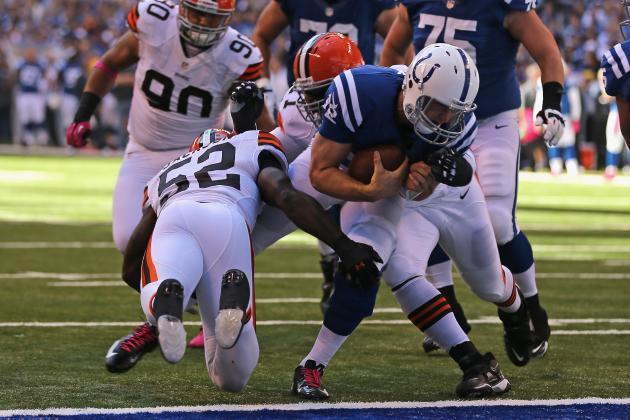 Jonathan Daniel/Getty Images
Luck gave his team another win, bringing them to 3-3
Andrew Luck and Brandon Weeden faced off in the first matchup of the season between two rookie quarterbacks. It was a close game, but Luck led the Colts to a 13-17 win.
Robert Griffin III played in his first NFC East divisional game. Unfortunately, the Redskins lost in the final minutes, 27-23.
Russell Wilson played on Thursday, losing to divisional rival San Fransisco.
There were some mixed performances by the rookie class this week. Here is a closer look at how each did.
(NOTE: Ryan Tannehill was on bye)
Begin Slideshow

»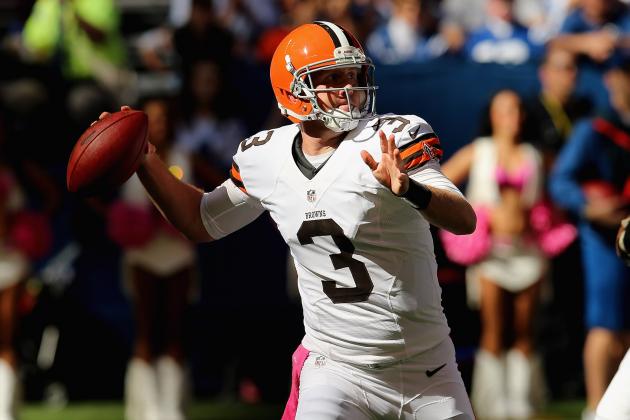 Jonathan Daniel/Getty Images
Weeden is finding receivers deep down field
(25-of-41 264 yds 2 TD)
Brandon Weeden lost a close game to the Colts this week, only losing by four points. This brings his team to a 1-6 record, which isn't what he was hoping for at the start of the season. It is still last place in the AFC North, and in that division, it is unlikely it will move out of last this season.
Weeden made some good plays this week and managed to not throw an interception for only the second time this season. Weeden found Josh Gordon for yet another big play, hitting him on a 33-yard touchdown. It appears that both have found a solid connection and are finding ways to burn the opposing teams' secondaries.
Weeden is proving that he can be an NFL quarterback, improving week by week. This week, he showed everyone that he is capable of not turning the ball over. The Browns have a tough next four games, and this stretch will be a good test for Weeden.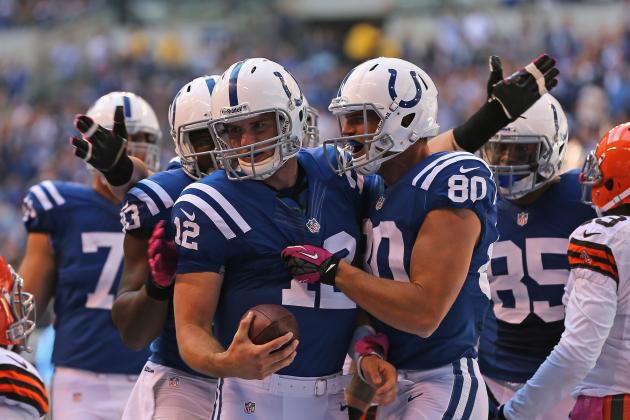 Jonathan Daniel/Getty Images
Luck and the Colts celebrating after a touchdown
(16-of-29 186 yds 2 rush TD)
Luck was able to bring his team back to .500 with the win against Cleveland. The Colts have already passed last year's win total, where they went 2-14.
Luck showed everyone his mobility this game, running in for two scores. While he didn't score through the air, he didn't throw any interceptions either.
Luck was expected to perform better against a poor team. He hasn't thrown a passing touchdown in the past two weeks, which is not expected of the top overall draft pick. What matters to the Colts is that they got the win, but Luck will need to play better in order to ensure more wins.
People will keep questioning whether the Colts made the right decision in taking Luck over Griffin, but halfway through the season is not the time to analyze that.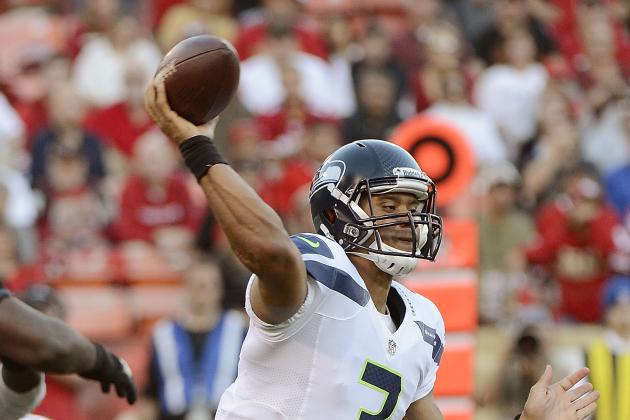 Thearon W. Henderson/Getty Images
Wilson struggled against the 49ers
(9-of-23 122 yds INT)
Seattle's offense failed to get much done this week against San Francisco, unable to get the ball in the end zone. Part of this was due to Russell Wilson's performance.
Wilson only completed nine passes this week for a completion percentage of 39.1. Wilson looked uncomfortable, missing pretty badly on some deep throws. It was a tough game to watch him play in.
This was a big reversal from Wilson's performance last week, where he threw for three scores and led his team to a win against the Patriots. The 49ers are a tough defensive team, however, and this probably explains the poor performance of this week.
Wilson will need to show everyone that he is still improving next week, when the Seahawks face the Lions in Detroit. If he can have a big game there, perhaps people will forget how he played this week.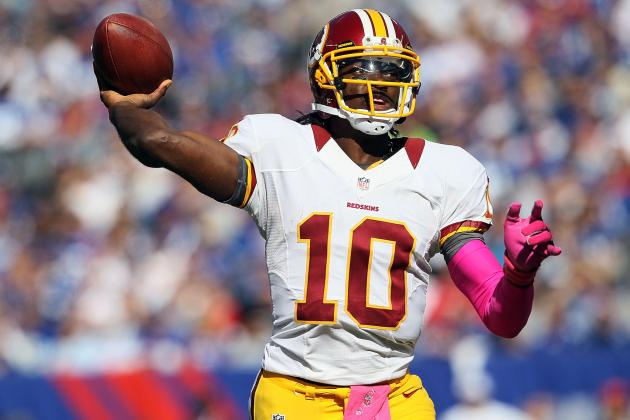 Alex Trautwig/Getty Images
Griffin had another good game against New York
(20-of-28 258 yds 2 TD INT 89 rush yds)
Even though the Redskins lost this week, they showed everyone that they can play with the NFL's elite teams. They were able to go up 23-20 with 1:32 left in the game, only to lose the lead a few seconds later.
Robert Griffin III played well once again. He was also able to show of his speed, running for 89 yards on only nine carries. Griffin found Santana Moss twice on scores, including the score that put Washington up with just over a minute left.
Griffin is the clear front-runner for the Rookie of the Year award at this point in the season. He is making big plays against good teams and doing it consistently. The only problem that everyone is worried about is his health. Most mobile quarterbacks get hit a lot, and thoughts of Michael Vick come to mind. If he can stay healthy, he will have a big season.