Pittsburgh Steelers: 5 Lessons from the Bengals Win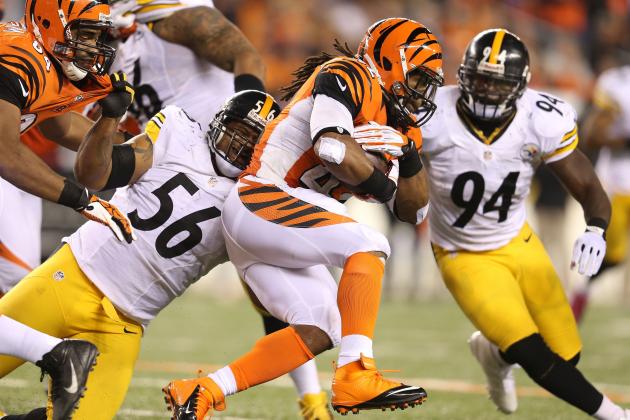 Andy Lyons/Getty Images

It wasn't pretty at times and there were a couple mistakes that could have been very costly, but overall, the Steelers played well and managed to climb back to a .500 record on Sunday night after winning in Cincinnati 24-17.
With the win over the division rival Bengals, the Steelers took over second place behind the Baltimore Ravens.
The Ravens did the Steelers a solid favor by getting hosed in Houston earlier in the day in a game that wasn't nearly as close as the 43-13 score would suggest. (As an aside, one has to wonder if the Ravens are in the process of falling apart. Their offense struggles on the road and their defense seems to get weaker every week. Their bye certainly came at a very good time for them.)
A win over the Washington Redskins next week will pull the Steelers to within a game of the idle Ravens, who don't play again until November.
Before we get to next week, though, let's look at what bits of information we can glean from last night's big win.
Begin Slideshow

»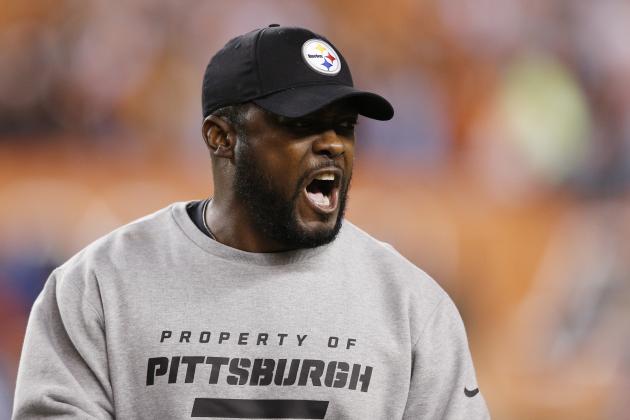 Joe Robbins/Getty Images

While Sunday night's game was hardly the "festival of penalties" we have grown accustomed to over this season, there were still plenty of mistakes to go around.
The Steelers had four penalties on special teams, and TE Heath Miller even got called for holding once.
Ben Roethlisberger made a terrible decision when he threw his third interception of the year. He tried to force the ball to Miller, who was double covered over and under. If Miller is double covered, you have to think someone is in man-to-man coverage.
Mike Wallace, who can outrun just about anyone whose last name is not Bolt, dropped four passes that should have been easy catches. (This from the guy who held out in the preseason looking for a new contract.)
What's amazing is that none of these things ended up costing the Steelers the win. Against any other team (the Texans, the Patriots, the entire NFC North), these kinds of mistakes could easily have spelled disaster.
It was nice to see the penalties decrease, but the Steelers must play a cleaner brand of football if they are to be counted among the elite in the NFL.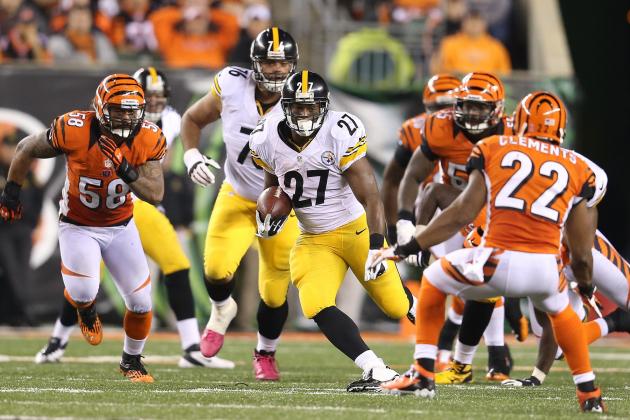 Andy Lyons/Getty Images

At 5'11" and weighing 235 pounds, Jonathan Dwyer showed why he may well be the next Jerome Bettis (who had almost the same physical dimensions).
Dwyer ran for 122 on 17 carries against the Bengals. That's an almost obscene 7.2 yards per carry. He looked just like Bettis used to look, blasting through holes in the line and punishing anyone who got in his way.
It could have been more. For a large chunk of the second half, Dwyer wasn't even on the field.
As it was, he had runs of 15, 14 and 32 yards.
His replacements, Chris Rainey and Baron Batch, were nowhere nearly as effective, especially on runs in between the tackles, where Dwyer excels.
Credit should be given to the offensive line for opening those holes, but it has to be said that the offensive line didn't probably didn't play any differently for Rainey and Batch than they did for Dwyer.
The difference was Dwyer's explosiveness through the hole and his ability to shed arm tackles.
This is the kind of running game Steelers fans have enjoyed for years, and it was good to see it return.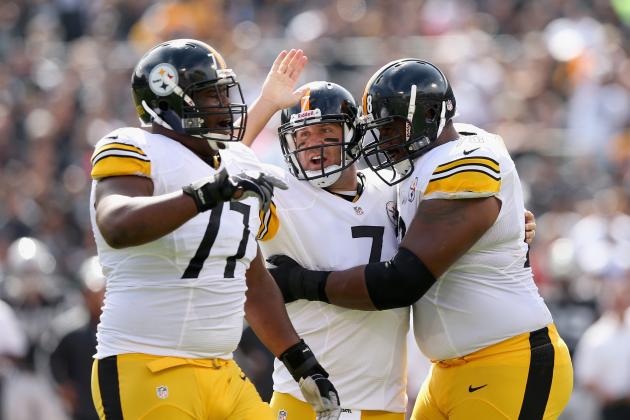 Ezra Shaw/Getty Images

I could say the same old thing about injuries here (David DeCastro, Maurkice Pouncey), and give you that old tired song about "next man up," blah, blah, blah.
I'm not going to that, but I will say this: This offensive line is actually playing very well despite the injuries.
As a unit, it has given up sacks at a lower rate than last year. This year, it has given up sacks on 5.2 percent of pass plays, while last year, the number was 7.5 percent.
I'll be the first to admit I have been critical of his unit, but last night, against the team currently leading the NFL in sack percentage (9.5 percent), the Steelers gave up only three sacks. Based on that percentage, they should have given up at least one more sack. That doesn't sound like a lot, but what if one of those sacks pushes the Steelers out of field goal range and they are forced to punt? The result of the game could be very different.
Some of the credit must go to Roethlisberger, who time and time again demonstrates his unswerving ability to escape pressure and make plays down the field, although his receivers did not always catch the ball.
Even running the ball, they played over their heads last night. For the season, the Steelers are averaging 90.2 yards per game on the ground, and that includes the 167 they put up last night.
You have to admit that this unit is playing far beyond what anyone thought, especially when you consider the injuries they have suffered.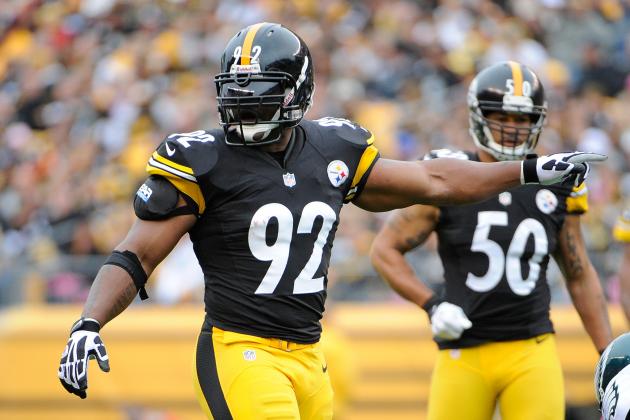 Joe Sargent/Getty Images

The old saying goes, "Father Time is undefeated."
Surely, the Steelers have shown that age can certainly catch up with a football team in a hurry.
James Harrison is not the dominant player he was a mere two or three years ago. Neither is Troy Polamalu. They have both spent significant time in the trainer's room in recent years.
Despite the appearances on the field, this defense is not playing badly. It seems to just give up big plays or have crippling penalties at the very worst times.
If I asked you where you think the Steelers rank in the NFL in passing yards allowed per game, what would you guess? 20th? 15th? How about second?
That's right. The Black and Gold are second in the NFL in passing yards allowed per game.
How about rushing yards allowed? Would you guess ninth? I wouldn't have either, but that's where they are.
They are second behind only San Francisco in opponent yards per game, and 12th in scoring.
That is not bad defense, friends. In fact, the next closest to us in the division in yards allowed is Cincinnati at 18th, and the Steelers just put 431 yards of offense up against them. That's more than 70 yards over their average.
It's the penalties and the big plays at inopportune times that are allowing teams to score on them.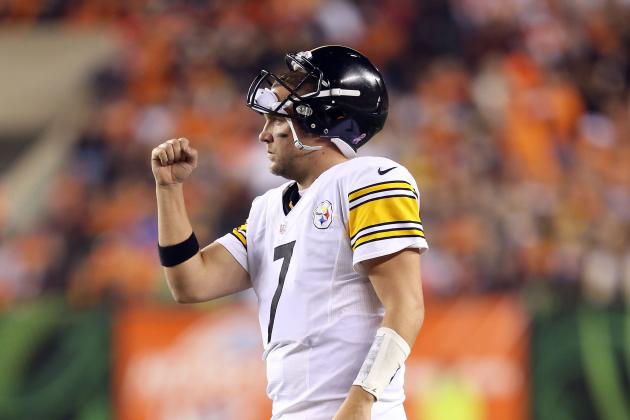 Andy Lyons/Getty Images

I know what you're thinking, "The best 3-3 team in the league? That's like being valedictorian at summer school."
Hear me out.
The Steelers' only loss by more than three points was in Week 1 at Denver. Let's face it, Peyton Manning was going to win that game against anyone. After all, he is Peyton Manning, and that was his triumphant return to football.
The other two losses, both on the road, at Oakland and Tennessee were more Steelers' losses than opponent wins. The Steelers beat themselves in those games.
In those two games, the Steelers had 15 penalties for 131 yards, and they lost the turnover battle for those games, 3-2.
Where the games are won—turnovers, penalties and red-zone scoring—the Steelers are struggling, which is why their record is only 3-3.
If they eliminate the mental mistakes and play better both offensively and defensively in the red zone, I think they can make a run at the playoffs, and maybe even the division crown.
Let's face it, the AFC is wide-open. Aside from the Texans, there is no team that scares me, nor should there be.
The Ravens and Cincinnati are both playing poorly and can be beaten.
It's not going to be easy. Three of the next six games on the Steelers' schedule are against division opponents, including two games against Baltimore. Also, the next two games are against the Redskins and the Giants.
The Ravens and Bengals will not have it easy either. After they both take their off weeks, the Ravens will be in Cleveland and then host Oakland. The Bengals will host Denver and then host the Giants after their bye.
It's not ideal, but a 3-3 start and playing better is much better than a 2-4 start.