Los Angeles Lakers: Winners and Losers from Week 3 of the Preseason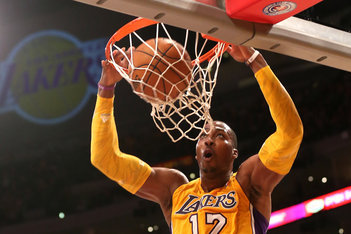 Dwight Howard had his first action in preseason Sunday night.
The third week of the 2012-13 preseason is now in the books for the Los Angeles Lakers, as the team now switches gears to make its final roster adjustments for the regular season.
The Lakers continued their losing ways last night in preseason, falling to the Kings 99-92. For what it's worth, the Lakers are now a winless 0-6 in preseason.
Laker land got a glimpse of what to expect during the regular season as Dwight Howard made his debut in the purple and gold and impressed both offensively and defensively; the big man registered 19 points on 8-of-12 shooting while pulling down 12 rebounds and notching 4 blocks.
While Dwight Howard stole the attention of Lakers fans in attendance, the coaching staff had their eyes on the Lakers' second-unit. They have the tough decision of deciding who could possibly end up with one of the Lakers' final roster spots for the regular season.

Week 3 showed one forward making a strong case for why he should make the final cut, while other Lakers are left in limbo after displaying less-than-stellar play. There is also an injury to report on one of the Lakers' starting five, which could become an issue for the start of the regular season.

With all of this in mind, let's examine the three winners and losers for Week 3 of the Lakers' preseason.
Which players have the most to prove entering the final week of preseason?
Begin Slideshow

»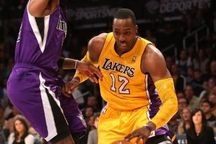 Dwight Howard had 19 points, 12 rebounds, and 4 blocks in his preseason debut.
Whether it was passing the ball out of a double team, catching a lob for an alley-oop, drawing a foul, pulling down rebounds or defending the post, Dwight Howard impressed Lakers coaches, players and fans alike in last night's loss to the Kings.

For critics who had been hammering the big man as not being an elite offensive center, Howard's 19 points on 8-of-12 shooting can silence them, at least momentarily.
Howard is the crucial piece in the Lakers' title hopes this season, and the big man did not disappoint in his first game since April.
The Lakers' pick-and-roll is going to be hard to stop with arguably the best point guard to ever run the play in Steve Nash and two of the most menacing post players in the league in Dwight Howard and Pau Gasol.
Howard and Gasol both took advantage of the opportunities they were given by the Kings and showed the beginnings of what to expect of the duo in the regular season.
The defensive intimidation that Howard gives to the Lakers in the post is his strongest attribute.
With 12 rebounds, 4 blocks and altering many other shots, Dwight Howard hasn't lost a step defensively. He was able to give center Robert Sacre, who had been filling in for Howard up to this point, some much needed rest as well.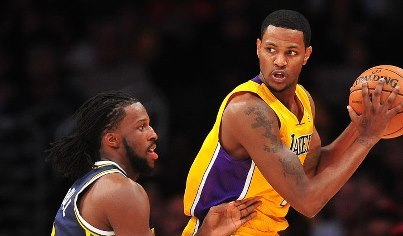 Devin Ebanks scored 20 points against the Kings in last Friday's loss.
In Friday's 103-98 loss to the Kings, Devin Ebanks pretty much solidified his roster spot with the Lakers.
Ebanks notched 20 points off the bench on 7-of-10 shooting, going 4-5 from three-point range. The Lakers are going to need guys who can contribute offensively when Kobe Bryant or Pau Gasol need a breather, and Ebanks proved he can be that guy when needed.

Ebanks throughout preseason and training camp has shown the ability to hit the open jumper, and as a wing who can play both the guard and forward positions, he is an attractive pick to make the final 12.
Guards Andrew Goudelock and Jodie Meeks, who are also known as quality shooters, haven't found nearly as much success as Ebanks has, especially in Week 3.
At this point, Ebanks is a near-lock to make the Lakers' final roster.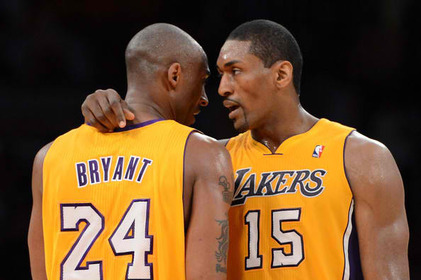 Metta World Peace (right) dislocated the middle finger of his right hand Sunday night.
In terms of his play, Lakers forward Metta World Peace should be part of the winning category this preseason.
However, after suffering a dislocated middle finger on his right hand in last night's loss to the Kings, World Peace now becomes a loser.

World Peace injured his finger when trying to strip the ball from the Kings' DeMarcus Cousins with just over three minutes remaining in the fourth quarter. World Peace did endure through the pain however, as just a possession after the injury occurred he hit a three-pointer to give the Lakers a one-point lead with 2:57 left to play.
He played the rest of the fourth and got his finger taped up after the game.

Hand injuries are never a good thing in basketball. When it comes to shooting, passing or dribbling, you're constantly using your hands to make plays.
Although many players decide to play through hand injuries, it's not an ideal injury to have.
Especially being the physical player that World Peace is, it's an injury that will linger with him through the start of the regular season.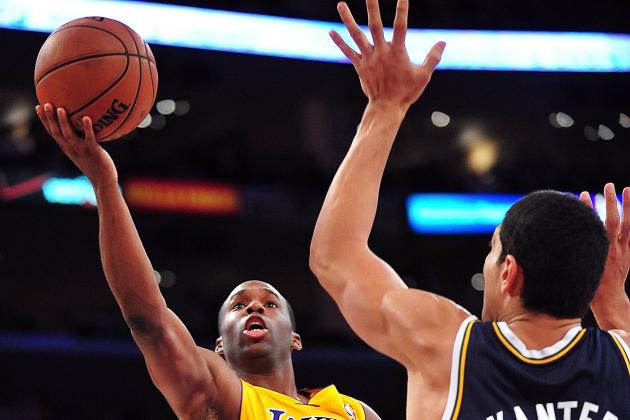 Gary A. Vasquez-US PRESSWIRE
Jodie Meeks (left) is having trouble finding his stroke in the preseason.
"Captain Streaky," as he was called in Philadelphia, has now made his mark on the Lakers bench.
After having a solid game in last Tuesday's 114-80 blowout loss to the Jazz, Meeks has now disappeared in the Lakers' last two preseason games.

Against the Jazz, Meeks scored 12 points on 4-of-9 shooting and was 4-of-6 from beyond the arc. However, in the Lakers' last two losses to the Kings, Meeks has disappeared, shooting a combined 2-of-8 for 6 points, while doing very little on the defensive end.

There's a reason why the Sixers replaced Meeks with shooters Nick Young and Dorell Wright in the offseason, and the Lakers coaching staff has now seen just about enough to part ways with Meeks by the end of the week.
Meeks' role off the Lakers bench is to shoot at a high percentage, and when that's not happening, there's nothing else left to evaluate.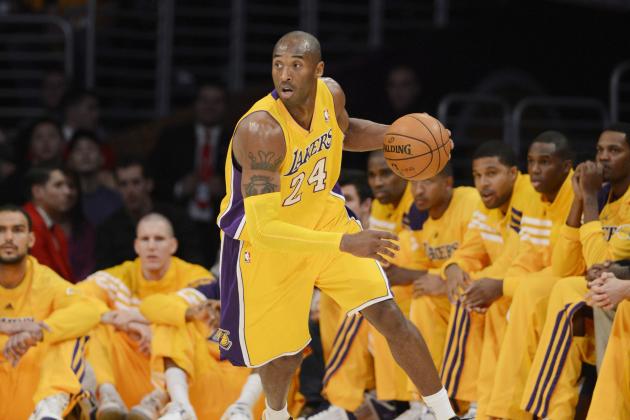 Richard Mackson-US PRESSWIRE
Kobe Bryant looked fantastic in Week 3. Having games of 31, 22 and 21 points.
If you're a Lakers fan then nothing should excite you more than having a determined and producing Kobe Bryant to start the season.
If Week 3 was any indicator, the man has found his old self and has given the Lakers' title hopes this season that much more of an edge over its opponents.

He started off the week on Tuesday against the Jazz with a 31-point effort, which included a 23-point third quarter, despite coming away with the loss. What was also good to see was that Kobe was able to hit from both the perimeter, shooting 4-of-6 from beyond the arc, and the free-throw line, going 7-8 from the stripe.

He continued his inspired play in the following two games against the Kings, scoring 22 points on Friday and 21 points last night.
In every game, Bryant has taken at least eight free throws, grabbed five or more rebounds and had two or more assists. On top of that, he has played some solid defense and had a couple highlight reel dunks as well.
The Lakers will desperately need this Kobe Bryant in the regular season, and for the moment it seems like he has found his groove.
Cary Edmondson-US PRESSWIRE
Steve Blake (left) didn't see much success in Week 3. His minutes plummeted from 19 to 7 by week's end.
At 38 years old, Steve Nash will need more than a few breathers during the regular season, to say the least.
What's most troubling, however, has been the play of his backups at point guard, especially Steve Blake. Blake is the guy who seemed to be the chosen man for that job coming into training camp, but has done nothing to prove himself worthy of the job since.

After lackluster Weeks 1 and 2, Blake has made the Lakers' coaching staff even less confident that he can get the job done after his performances in Week 3.
Blake saw an extensive 19 minutes of action in last Tuesday's loss to the Jazz and despite notching four assists, did next-to-nothing offensively or defensively to warrant more playing time.
He scored just 1 point, shooting 0-of-3, and had the worst +/- out of any player coming off the bench with -18.
In Friday's game against the Kings, Blake saw his minutes dip from 19 to 12. He had just 4 points on 2-of-6 shooting and just 1 assist.
Last night, Blake saw just seven minutes of action, scoring 3 points and dishing 1 assist.
The only thing saving Blake is the play of both Andrew Goudelock and Chris Duhon. As bad as Blake has been, neither Goudelock nor Duhon have done much better during their run at point guard.
An NBA team generally keeps two point guards in the fold, and it should be an interesting battle in Los Angeles between these three entering the final week of preseason.
Unfortunately for the Lakers Blake is due $4 million each of the next two seasons, while Duhon is owed $3,680,000 in 2012-13 and $3,920,000 next season.