FC Barcelona: 3 Ways David Villa Will Impact Barca in 2012-13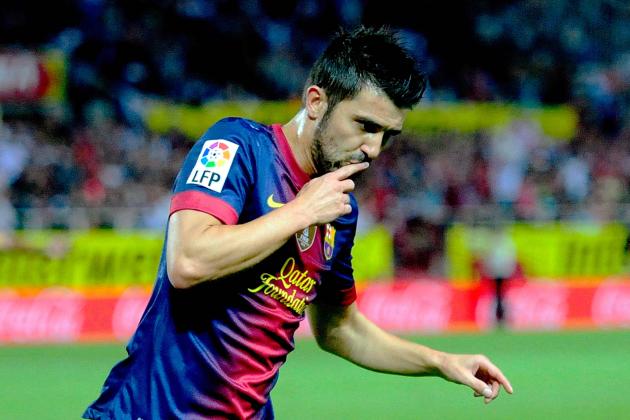 Gonzalo Arroyo Moreno/Getty Images
Transfer speculation has started around David Villa, but he remains integral to Barcelona's success.
Whatever the situation with David Villa and his Barcelona future, he still has a role to play this year. A player of his quality and professionalism does not simply sit on the bench and wait out his contract; he needs to be on the field and in front of goal to live up to the standard he sets himself.
Tito Vilanova has been reluctant to use Villa as much more than a role player since his return from injury. This can be read either as a calculated move to phase Villa out of the team, or simply a reluctance on Vilanova's part to risk further injury by expecting too much, too soon.
I happen to believe the latter, as Villa's role was diminishing under Pep Guardiola anyway, leading him to become part of the rotation instead of a fixture in the side. Despite Lionel Messi providing more than adequate cover, Barcelona still missed Villa during his injury-related absence.
His role for 2012-13 is therefore unclear. After being given a start for the 5-4 victory over Deportivo La Coruna, Villa was then substituted in the 53rd minute to make way for Adriano, and the Spaniard's performance was solid rather than spectacular.
So where does that leave the Asturian for this season? His record and reputation ensure that he will remain a factor for La Blaugrana, and the following pages outline the effect that he will have.
Begin Slideshow

»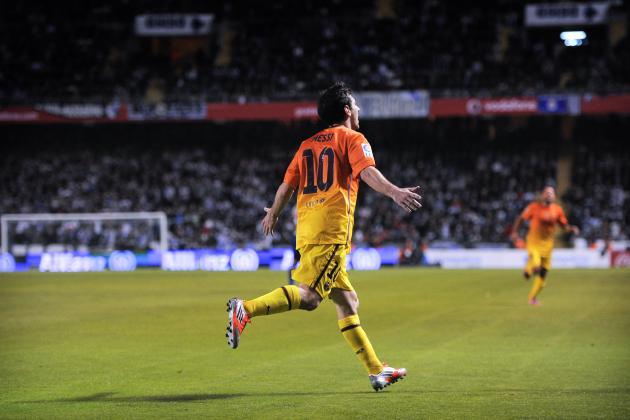 David Ramos/Getty Images
Lionel Messi was forced to do a lot last year, but Villa can remove some of that pressure.
Lionel Messi is arguably the best player in the world, so his ability to handle pressure is not questionable. However, relying on him to win every game for the team is not only inadvisable, it's predictable.
Messi deservedly took a lot of plaudits for his hat trick against Depor, but Villa was an active presence for the near-hour that he was on the pitch. Villa resolutely worked the wing and provided an additional threat that the home team couldn't ignore.
His goal scoring record means that teams have to give him their attention, which in turn opens up the pitch for players such as Messi and Pedro, who would otherwise be the focus of the opposition.
Because of this, Villa must be accounted for, even when he isn't on the ball. He gives the Barca attack an extra level of unpredictability, something lacking last year as Messi was forced to take control of every game.
It's impossible to say whether Villa's absence cost Barcelona the league title last year, but it has to be a contributing factor. Alexis Sanchez displayed a tendency to sometimes drift inside, crowding Messi and bringing further defenders around him.
Messi was unable to penetrate through the middle, which meant teams could adopt a Barcelona-specific plan of defending deep and in numbers, knowing that the width offered by Villa—and Pedro, who was also absent—was no longer a threat.
Villa's presence this year will not only relieve the pressure on Messi to be the difference-maker; it will also open space through the middle and allow the Argentinian to exploit it.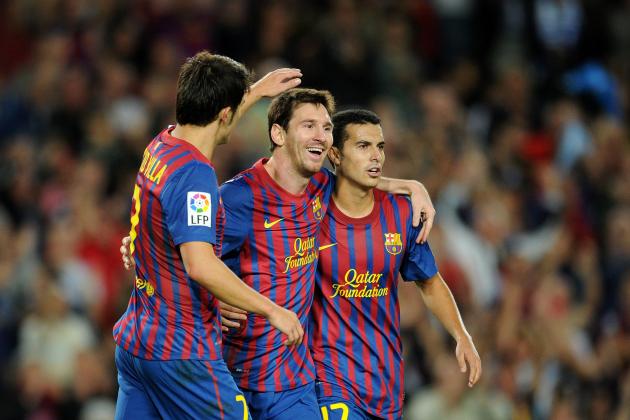 Jasper Juinen/Getty Images
Messi, Villa and Pedro formed a formidable parternship in 2010/11.
The emergence of Alexis and Cristian Tello under Vilanova shows that times are changing at Camp Nou, but the "MAT" setup is less proven compared to "MVP" and it will be a comfort to Vilanova that such a successful strike partnership is available.
Even if Villa moves on at the end of this season—which looks increasingly likely—the luxury of having him available this year means that he can resume his collaboration with Messi and Pedro, should Alexis and Tello not develop the same connection.
When Villa returned from injury in September, he understood that he would not have an instant path back to the starting lineup:
I need more time. I've been recovering for months, almost eight months without competing, getting back to form requires time. I have to be patient, because I won't be able help anyone if I rush things now. Everything I've lost so far [in reference to last season] won't be won back no matter how hard I work. (Via FCBarcelona.com).
That remains the case, but the limited action he has seen this season doesn't necessarily foreshadow his departure in January. Villa is a consummate professional and will likely do whatever the team needs him to do in order to get results.
This sort of attitude is reflected over the course of his career, with Villa playing as a classic striker and as a winger, all with the same results: goals.
Tello and Alexis are both players of whom big things are expected, and it's easy to see that they are the future of the Barca strikeforce. Villa hasn't been at the club for very long himself, but isn't likely to be there much longer, either.
In order to get the best out of Villa, it seems that the most effective option would be to reinstate the system that was so successful in 2010/11. This ensures the highest possible success for Barca, as well as keeping Villa's transfer value high, should another team decide to come in for him in the summer.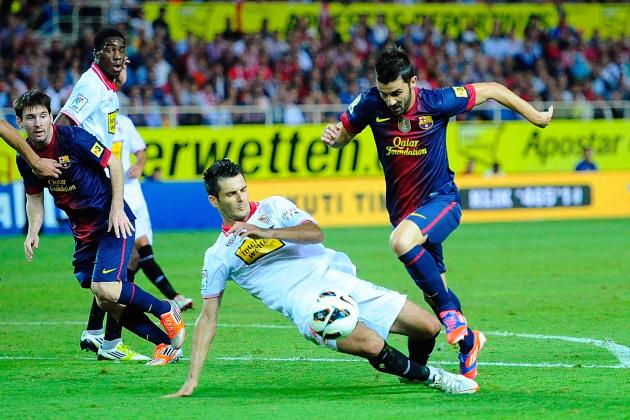 Gonzalo Arroyo Moreno/Getty Images
Villa has the experience needed to keep a cool head in tense situations.
At 30, Villa is the oldest forward on the Barcelona squad, but this is of benefit to the team as his contract nears its end. It's unlikely that Barca will opt to extend his stay—especially as rumours of Neymar's arrival refuse to die down—which means he'll depart Camp Nou in 2014 at the latest.
Barcelona are not invincible, so there will be odd games where they do not perform to the lofty expectations of the world. This is where Villa comes in, as he can use his excellent knowledge of the game to make the most of any opportunities.
This has already been proven during Villa's limited action this year, when he got up from the bench and scored late to take Barca to victory over Sevilla.
Prior to Villa's entrance, the team lacked focus and were not playing with the intensity that usually comes so naturally. Sevilla were content to adopt the tactic outlined earlier, soaking up the pressure in defence while remaining alert to hit Barcelona on the break.
There are defensive issues that Barcelona had to deal with that day—which continue to frustrate— as well as losing control of the midfield, but the fact that Villa was available meant that the game was never out of reach at 2-2. Vilanova left it late before bringing him on—the 78th minute—but the decision to do so was the correct one.
There have been reports of Villa's deteriorating relationship with Messi, which Messi has vehemently denied, but Villa remains a striker on whom Barcelona can depend. Whether it's in limited action as part of a larger squad rotation, or as a full-time starter, Villa's record speaks for itself.
Despite the wealth of talent in the attacking positions, it's clear that Barcelona still need the experience of David Villa to bring them success. At least for this year, anyway.