Malaga vs. AC Milan: Everything You Need to Know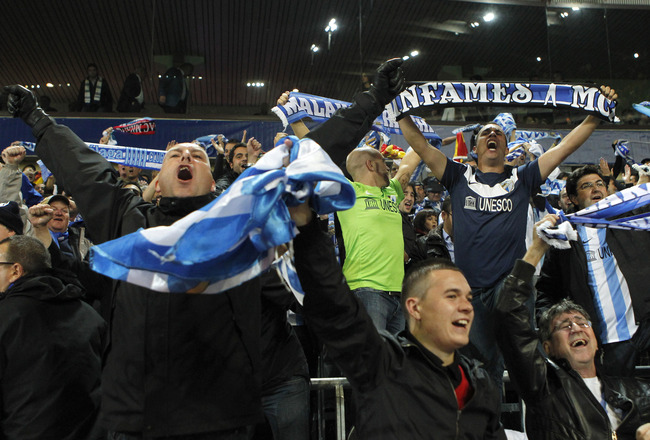 EuroFootball/Getty Images
This week's Champions League will see the first of the double-headers that may define many of this year's groups. As I spoke about when I predicted all the likely qualifiers, the order of fixtures will, as always, play a major role in who gets through to the next round.
This is as true in Group C as anywhere else, with the two teams who have so far established themselves at the top of the group—Malaga and AC Milan—clashing in successive games.
The contrasting fortunes of the two teams this year is really quite intriguing, with both having experienced similar summer exoduses but with completely differing results.
With this in mind, we go through everything you need to know ahead of this crunch tie.
Milan in Freefall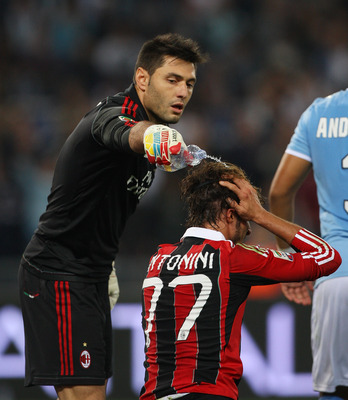 Early bath for AC Milan
Paolo Bruno/Getty Images
No matter how many straws Milan fans have clutched at this year, there's no disguising the fact that their team's results have been atrocious.
Indeed, after another loss this weekend against Lazio, it is their worst start for 60 years.
Languishing down in 15th in Serie A—coincidentally also 15 points behind leaders Juventus—with only two wins in eight games, the Rossoneri's numerous summer departures have left them looking a shadow of the side that were champions and runners-up in the past two campaigns.
Many will not be surprised that a team that lost the likes of Zlatan Ibrahimovic, Thiago Silva, Alessandro Nesta, Clarence Seedorf, Gennaro Gattuso and Fillipo Inzaghi would be struggling this year, but with Giampaolo Pazzini and Nigel de Jong having arrived, there was some hope that a new Diavolo would emerge.
Not so far, however, and Milan's Champions League form has also lacked conviction: a toothless 0-0 home draw with Anderlecht followed up by a game against Zenit where they nearly let a 2-0 lead slip.
They will at least be buoyed by having prevailed 3-2 against the Russians, even if it took an own goal to do so.
Malaga on the Up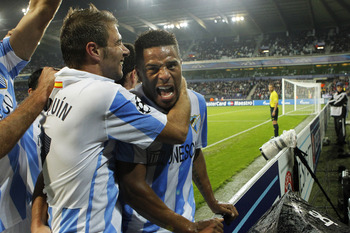 Celebrations during Malaga's demolition of Anderlecht
EuroFootball/Getty Images
Malaga, on the other hand, have started 2012/13 brilliantly. Up to third in La Liga and with two comprehensive 3-0 Champions League to their name already.
Few would have predicted this during a summer that saw them labelled "Another La Liga Club On The Cusp Of Destruction" (via hardtackle.com).
Having lost the likes of Santi Cazorla, and with the previously profligate owners looking to re-balance the books, it seemed as if Malaga's foray into the Champions League might be an isolated one.
Now, with only Barcelona and Atletico Madrid ahead of them, Los Boquerones are on course to do it again. They are three points ahead of Real Madrid in the league and their only loss all season has come in the form of a 2-1 defeat to current European sweethearts Atletico.
It's been a wonderful turnaround by manager Manuel Pellegrini. The form book would suggest that this is a clear victory for the Spaniards, and this writer would be loathed to rule out another 3-0 triumph for the home team.
Men to Watch: El-Shaarawy

New kid on the block: Stephan El-Shaarawy

The one bright spark in an otherwise miserable season for AC Milan has been the emergence of Stephan El Shaarawy as a real star of the future. If he was an undeniable talent last year, he is now the focal point behind which Milan will start to build.
It seemed as if, with Ibrahimovic gone, this season would be the time for Alexandre Pato to finally claim the spotlight as his own. But whereas the all too common injury problems for the Brazilian have seen his season stutter to start, Milan's other prodigy is grabbing his opportunity with both hands.
The 19-year-old's pace, determination and, tellingly, coolness in front of goal has seen him notch up six goals in only 10 games so far this season. His mazy runs have been terrorising defences both in Serie A and the Champions League, as the Italian seems to have the ability to ally close ball control to his prodigious speed.
If Milan are to be successful in Spain this week, it will likely be because of El-Shaarawy.
Men to Watch: Eliseu

Eliseu's rocket against Anderlecht

Because of their relative success, it is more difficult to pick one of Malaga's players to highlight. But Eliseu has been a revelation on the left wing and there is no one more deserving than the Portuguese.
It also gives us the chance to relive his thunderous drive in their last Champions League game against Anderlecht. It was one of two goals he scored that night and it's difficult to know whether his delicate second-half lob was even finer.
There has been a recent tradition of Portuguese wingers and while Eliseu, at 29, is not a newcomer on the scene, he seems to have come into his own this year. Having lost some players in the summer, Malaga's squad has revealed hidden depths, and Eliseu is one of those who is revelling in a more prominent—and in his case more attacking—role this year.
Eliseu does have competition in his position in the form of Francisco Portillo, and he is far from the only threat that Milan will face. But if he can carry the form of his previous Champions League through to this one, Milan's Ignazio Abate will be given a torrid time.
Fixture List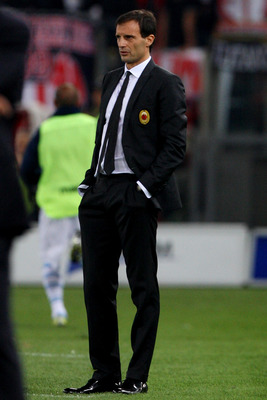 Allegri is coming under increasing pressure
Paolo Bruno/Getty Images
For so many of the Champions League groups, the outcome of the next two fixtures is vital. In most cases, it sees the top two teams go head-to-head in consecutive games, and if one team loses both games they could slip back into the pack.
It's much the same here and Milan, in particular, cannot afford for that to happen. If they lose twice against Malaga, either Zenit or Anderlecht has the potential to overhaul them, leaving the seven-times champions needing wins in their last games in order to progress. A draw in Spain would be a good result for the Rossoneri.
Malaga, on the other hand, will be looking to capitalise on their current form and will fancy their chances against the wounded Italian giants. A win this week would see them on the maximum nine points from three games and allow them to ease into the second round at a canter.
Keep Reading