European Power Rankings: The Continent's 30 Best Footballers Right Now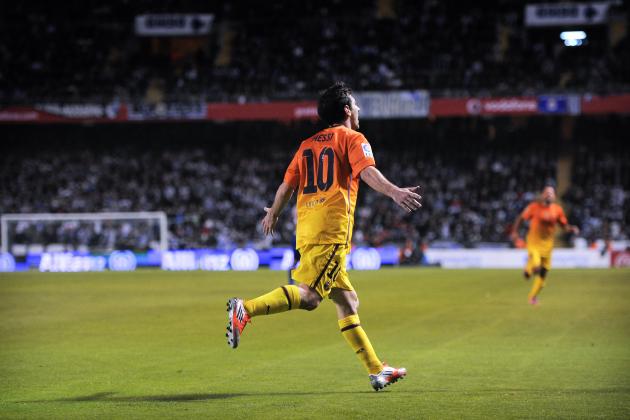 David Ramos/Getty Images

Bleacher Report brings you Europe's 30 best footballers right now—but with a twist.
This article will not select multiple players from the same club.
Let's use the Arsenal Invincibles squad to illustrate this point.
If Thierry Henry is chosen, then the likes of Robert Pirès, Patrick Vieira, Sol Campbell and Jens Lehmann can't be selected.
Why are we using this prerequisite for the article? Well, during the drafting process, 32 percent of the players selected were Bayern Munich footballers.
I want the article to reflect talent across Europe not just pick 30 players from five super clubs.
This article will judge a player on his form throughout this season, not his reputation.
Begin Slideshow

»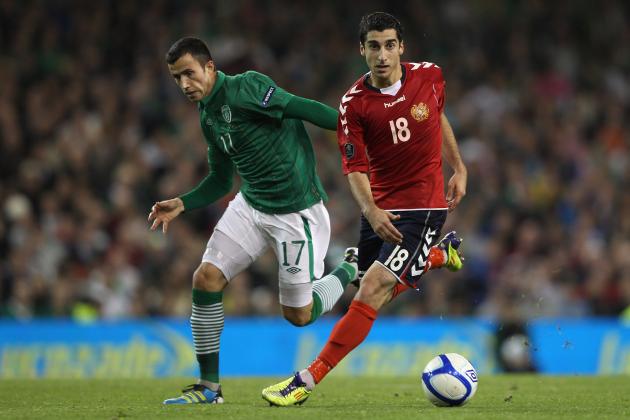 Michael Steele/Getty Images

Europe's elite clubs will be asking their scouting departments: "Is Henrikh Mkhitaryan fool's gold?"
Artem Milevskiy could walk past opponents, and, because he played the game with such panache, many pundits wrongly assumed he could make the step up.
Brandão scored goals with ease during his time with Shakhtar Donetsk. However, he was just another forward in Ligue 1.
Henrikh Mkhitaryan's 16 goals in 16 games this season is eye-catching, but so was Marc Janko's 40 goals in 36 games for Red Bull Salzburg during the 2008-09 season.
Janko wasn't so superhuman for Twente or Porto.
Mkhitaryan was always a tidy player, but now that he's scoring goals at a sensational rate, he'll become fodder for transfer rumours.
He was quite impressive against Italy when he caused Andrea Barzagli all sorts of problems.
Another test of Mkhitaryan's goal-scoring credentials is when Shakhtar face Chelsea in the UEFA Champions League on Wednesday.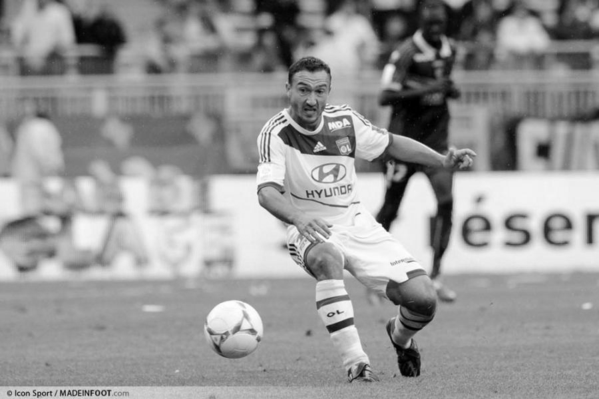 Photo via madeingones.com
After playing, reading and analysing football at a high level since he was 15, Steed Malbranque cancelled his contract with Saint-Étienne and took a sabbatical during the 2011-12 European season.
Instead of calling it quits, he wanted to make a comeback, and he received a lifeline after impressing Rémi Garde's staff during the 2012 preseason.
Since being given a chance by Lyon, Malbranque has dribbled his way out of tight situations, played audacious through balls to Bafétimbi Gomis and lofted accurate long passes to the likes of Alexandre Lacazette and Lisandro López.
When you add in Malbranque's defensive contributions, 3.2 tackles and 1.7 interceptions per game, you begin to see how influential he is to Olympique Lyonnais.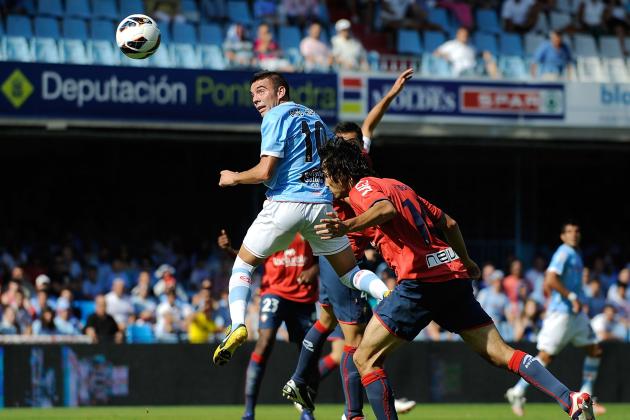 Denis Doyle/Getty Images

Stop Iago Aspas and you'll stop Celta Vigo.
Pepe and Raphael Varane easily dealt with Aspas, who struggled to influence the game with his creativity.
This season, he's created 25 shots for his teammates, yet he's only registered one assist.
Meanwhile, Cesc Fábregas has provided 13 key passes and registered five assists.
Aspas has the ability, but he doesn't have the supporting cast to highlight what a special player he is.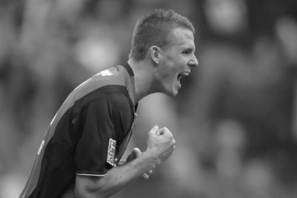 Photo via getty images
Alexander Meier is a bulkier version of Peter Crouch.
Meier is an absolute menace for defenders, especially short ones, when the long ball is incorporated.
Like Crouch, Meier is more comfortable with the ball at his feet because the German can score outrageous goals like the Englishman.
You wonder whether Meier has reached the highest point of his career. If he does have a few years left of playing at the same standard, he could be worth a punt for mid-tier Premier League teams.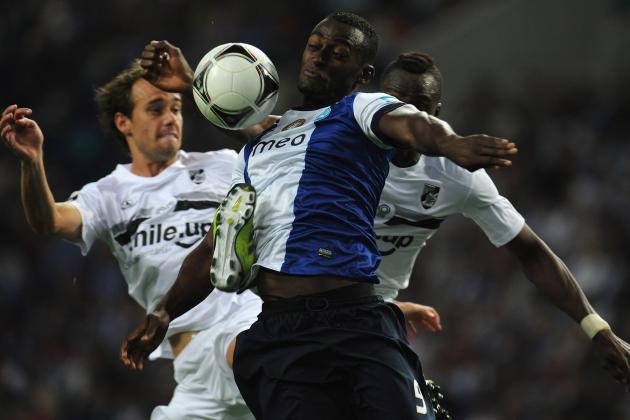 Valerio Pennicino/Getty Images

Porto have signed another relatively unknown forward who'll score goals for fun, enabling the Portuguese club to hype up the player leading to him being sold at an inflated transfer fee.
Lisandro López, Falcao, Hulk and now Jackson Martínez.
Whoever heads their scouting department certainly has an eye for talent. Quick, someone tell Fenway Sports Group to sign that person.
I had no idea who Jackson Martínez was before he joined Porto, but he looks like a world-class forward in the Portuguese Primeira Liga.
In a 2-0 win over Sporting Lisbon, he had an extra gear he could go into, which persistently caused problems for Khalid Boulahrouz and Marcos Rojo.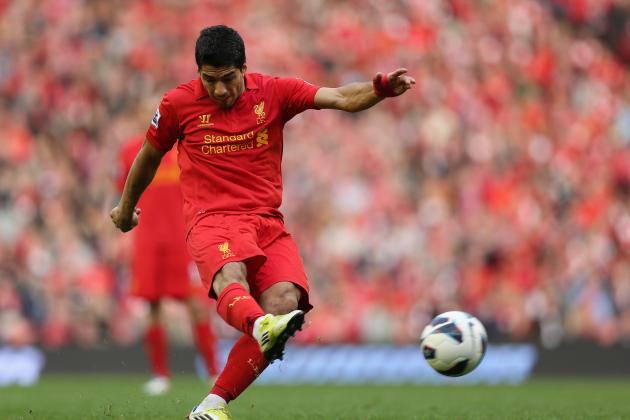 Clive Brunskill/Getty Images

| | | |
| --- | --- | --- |
| League Only | Luis Suárez | Fernando Torres |
| Goals | 5 | 4 |
| Shots Per Goal | 10 | 4.3 |
| Shots Per Game | 6.3 | 2.1 |
| Assists | 2 | 0 |
| Shots Created Per Game | 2.9 | 1.6 |
| Dribbles Per Game | 3.5 | 1.6 |
What is stopping Luis Suárez from being mentioned as a world-class forward is his dreadful shooting.
There were glimpses of the Ajax Suárez against Norwich City, but the Uruguayan's shooting has been more of a miss than a hit during his time at Anfield.
That being said, his detractors need to understand that he shoots, he creates, he takes opposing players out of their comfort zone and he presses.
He's not a one-dimensional No. 9 like Óscar Cardozo. Suárez can do so much more, which is why he is Liverpool's most important player.
You look at Fernando Torres: His problem this season isn't shooting efficiency; it's the fact that he doesn't shoot enough.
He has frozen several times in front of goals this season, and he has a bad habit of being dragged out wide during meaningful Chelsea attacks.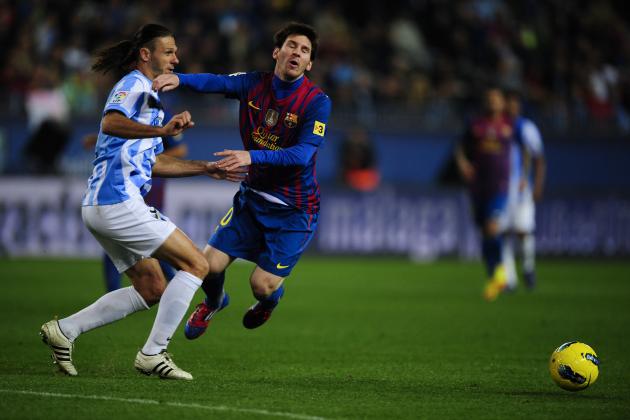 David Ramos/Getty Images

Martín Demichelis may never live down his awful performance during the 2010 UEFA Champions League final against Inter Milan.
He has been rock solid at the back for Málaga, a club besieged with questions over its long-term future.
Unlike that night in Madrid when his compatriot Diego Milito consistently found space, Demichelis kept the prolific Aleksandr Kerzhakov at bay when Málaga beat Zenit St. Petersburg 3-0 on September 18.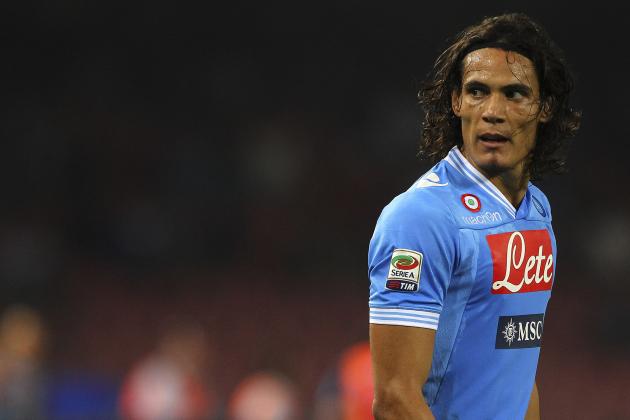 Marco Luzzani/Getty Images

Edinson Cavani struggles with the same demons Michael Owen had during his Liverpool days from 12 yards out.
The Uruguayan could have scored four more goals this year if he hadn't choked from the penalty spot.
He is still an elite forward, having netted six goals from eight league games. He was world-class against Lazio as he took André Dias and Michaël Ciani to the cleaners with a memorable hat trick.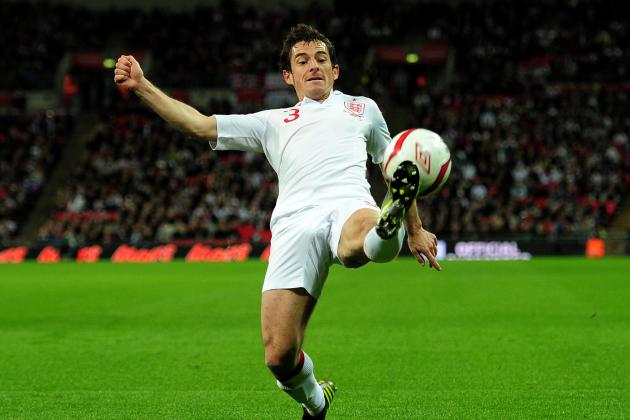 Shaun Botterill/Getty Images

| | | |
| --- | --- | --- |
| League Only | Leighton Baines | Ashley Cole |
| Tackles Per Game | 1.6 | 3.3 |
| Tackles Per Foul | 2.6 | 5.2 |
| Interceptions Per Game | 1.4 | 1.6 |
| Shots Created Per Game | 4.1 | 0.9 |
| Crossing % | 40 | 11.8 |
Leighton Baines isn't your stereotypical marauding left-back who can't defend.
He has solid positional awareness, and he's a clean tackler. From an attacking perspective, Baines is extremely efficient.
He leads Europe's elite leagues in crosses per game.
He has a higher shots created per game average from left-back than Lionel Messi and Cristiano Ronaldo.
Baines or Ashley Cole? Baines because he isn't a liability at the back, and he adds that extra attacking dimension that could decide tight games.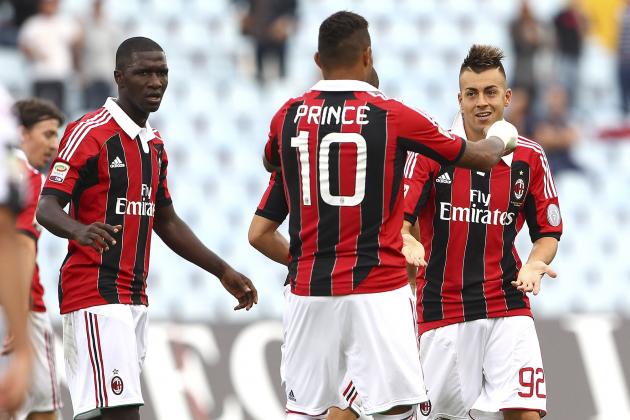 Marco Luzzani/Getty Images

How Stephan El Shaarawy has registered five goals in Serie A is beyond me.
AC Milan are essentially playing with eight men because Antonio Nocerino is useless. Kevin-Prince Boateng thinks he's Cristiano Ronaldo. Giampaolo Pazzini had one good game and has been utter garbage since.
For the suffering Rossoneri supporters, don't worry; at least you guys have two youngsters with world-class upside in El Shaarawy and Mattia De Sciglio.
It's so frustrating to watch El Shaarawy get into an advantageous goal-scoring position and call for the ball, only to watch Boateng ping the ball into row Z.
KPB is 0-28 and counting in Serie A this season. His shooting is as pitiful as New York Yankee Alex Rodriguez's postseason at-bats.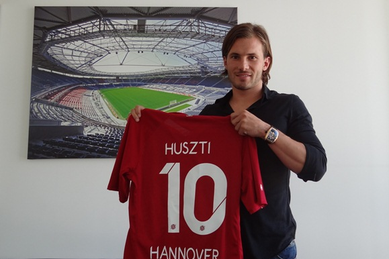 Photo via hannover96.de
Sometimes, you get the feeling that Szabolcs Huszti is making passes with his vision being impeded.
He takes so many unnecessary risks that consistently put his back four under duress from counter attacks.
He is a high-risk, high-reward type of footballer in a similar vein to Nancy's Yohan Mollo.
Mercurial would be the perfect word to describe Huszti. When everything is falling his way, he conjures up four assists in the span of 56 minutes.
When it's a bad day, he turns over possession 44 percent of the time, which should only happen when you're hoofing the ball like Stoke City.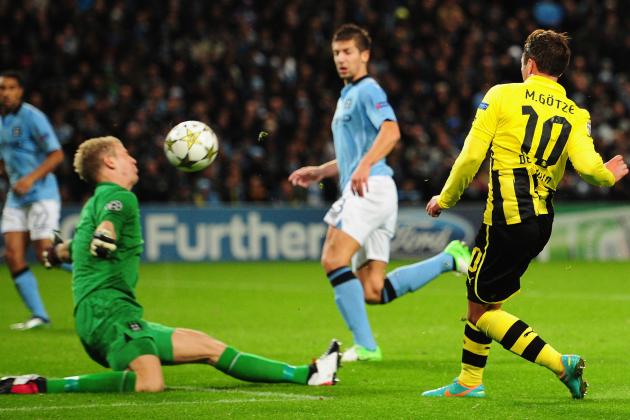 Stu Forster/Getty Images

Manchester City are ironically playing like vintage Manchester United—accumulating points when they deserve to lose.
Joe Hart is the main reason why Roberto Mancini isn't facing calls to be fired in Steve Kean style.
Prior to Edin Džeko's winner (talk about a big-game player), Hart made a good save to deny West Bromwich Albion striker Romelu Lukaku's overhead kick.
However, like Robert Lewandowski, Lukaku also passed up a clear goal-scoring opportunity.
Against Borussia Dortmund, Hart was in the zone, making saves left, right and centre.
To think Sir Alex Ferguson could have signed Hart for £100,000.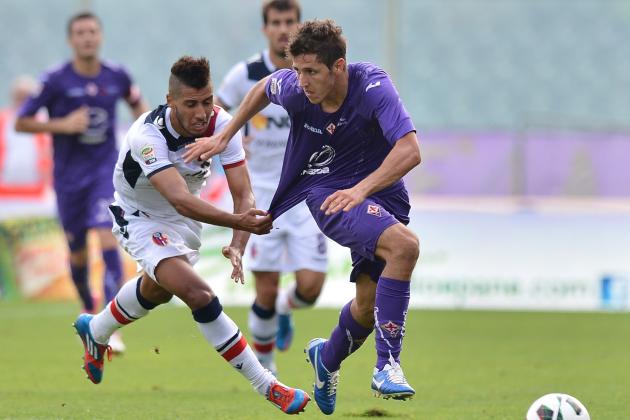 Tullio M. Puglia/Getty Images

Stevan Jovetić, Borja Valero, David Pizarro and eight others.
The problem with Valero and Pizarro is that they are pass-first players. Jovetić needs a strike partner who can divert attention away from him.
It's a comical gimmick to play Adem Ljajić as a No. 9. It's like France playing Stéphane Guivarc'h during the 1998 FIFA World Cup.
Jovetić has to deal with players hacking him, being marked by two or even three players and looking up to see nobody competent enough to consistently score goals.
Does he really want to toil like this week in, week out?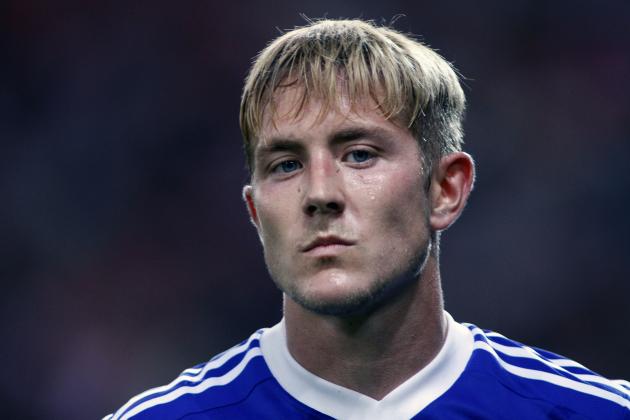 EuroFootball/Getty Images

Last season, Lewis Holtby was quite good as a defensive midfielder, considering it was his first professional season in that role. However, his inclination to roam meant he was caught out of position many times.
With the signing of Roman Neustädter, Holtby moved into his natural No. 10 role, where he has pressed high up and heavily contributed to Schalke's attacks.
Holtby could be something special. Watch his space.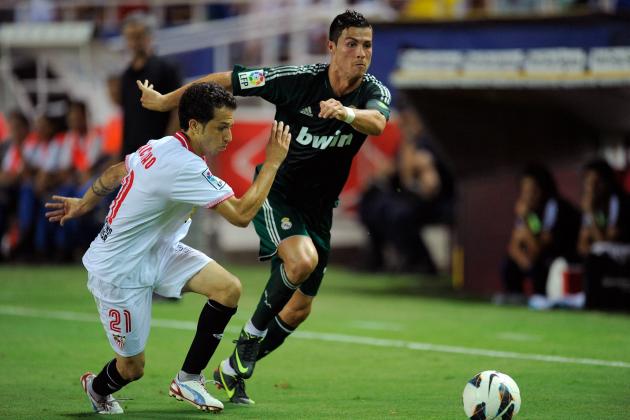 Denis Doyle/Getty Images

Cicinho announced himself to the world with an outstanding performance against Real Madrid on September 15.
With Cristiano Ronaldo on the same flank, Cicinho made seven tackles and cut off three passes as Sevilla won 1-0.
He's an elite defender with high-energy levels.
If a major team is looking for a right-back, Cicinho is your man.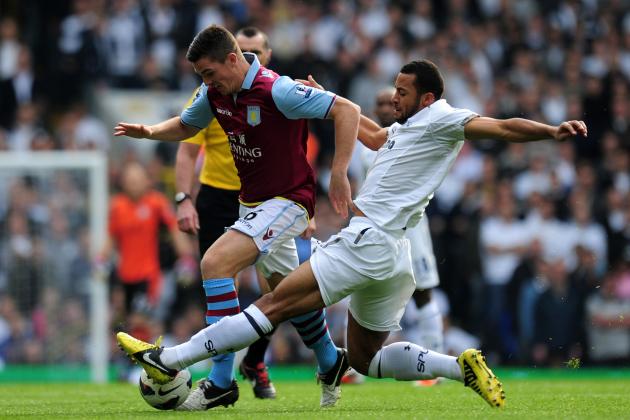 Shaun Botterill/Getty Images

| | | |
| --- | --- | --- |
| League Only | Moussa Dembélé (12-13) | Scott Parker (11-12) |
| Tackles Per Game | 3.8 | 3.7 |
| Tackles Per Foul | 2.4 | 2.3 |
| Interceptions Per Game | 2 | 3.1 |
| Shots Created Per Game | 1.6 | 0.8 |
| Dribbles Per Game | 2.2 | 0.4 |
Unless Moussa Dembélé or Sandro succumb to long-term injuries, Scott Parker should spend his time in rehabilitation looking for potential London clubs to join.
The partnership between Dembélé and Sandro is crucial to André Villas-Boas' plan for Tottenham Hotspur to become one of Europe's elite clubs.
Dembélé can drag opposing players out of position with a barnstorming run like Yaya Touré. The Belgian is a midfield enforcer like Patrick Vieira and can produce incredible through balls like Bryan Ruiz.
Dembélé is a world-class midfielder, and he epitomises everything Villas-Boas wants in a player—a complete footballer.
There's a reason why AVB was so desperate to sign João Moutinho.
Is there another Dembélé out there?
Yep. His name is Roberto Firmino. He's a 21-year-old Brazilian attacking midfielder for Hoffenheim.
Firmino is so inefficient in the attacking third like Dembélé. But, because the Brazilian is such a good tackler, he could make a transition into a more defensive role.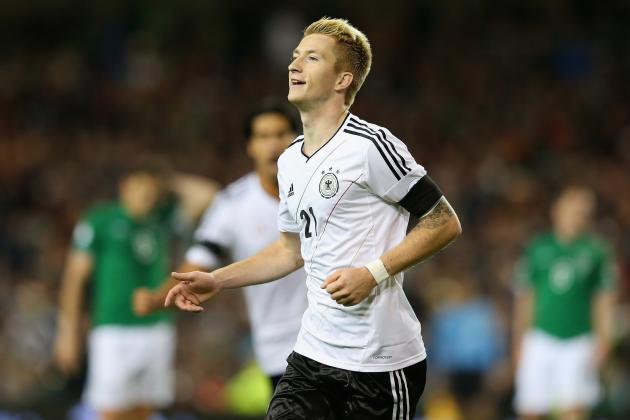 Alex Livesey/Getty Images

Deadly finisher. Great balance to evade tackles. Incisive passer. Works hard without the ball.
Marco Reus went from a mazey dribbler to a more all-round footballer.
With Borussia Dortmund going through a rough patch, Jürgen Klopp needs Reus to produce the goods like a superstar.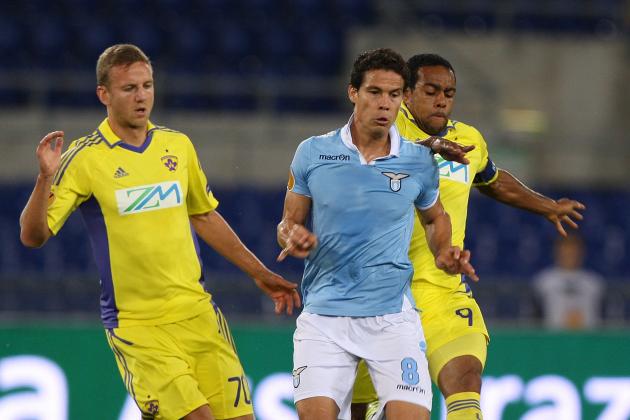 Paolo Bruno/Getty Images

Hernanes is one of most naturally gifted footballers I've ever seen.
He glides past opposing defenders with such ease.
He scored twice against Chievo on September 16.
Toyed with Pescara's defence on October 7.
In a big game against AC Milan on October 20, he not only scored but was a pivotal reason why Lazio won.
Dennis Diekmeier has a tendency to pass the ball to the wrong team. Michael Mancienne is a liability. The less said about Marcell Jansen's defending, the better. Heiko Westermann is the only defender who can actually defend.
This is the back four protecting goalkeeper René Adler.
It has forced the 27-year-old to make some astonishing saves.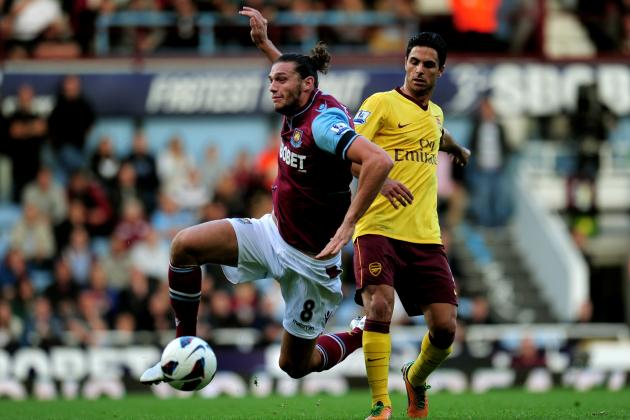 Shaun Botterill/Getty Images

Bleacher Report's Sam Tighe made a compelling case for Mikel Arteta being the best defensive midfielder right now.
Let's compare Arteta to the hyped-up Yann M'Vila from Rennes.
| | | |
| --- | --- | --- |
| League Only | Arteta | M'Vila |
| Tackles Per Game | 4.3 | 1.6 |
| Tackles Per Foul | 2.1 | 6.5* |
| Interceptions Per Game | 2.3 | 1.4 |
| Pass % | 93.7 | 85.6 |
| Long Pass % | 91 | 70.1 |
| Shots Created Per Game | 1.4 | 0.4 |
* The reason his tackles per foul is abnormally high is because he has only committed two fouls the entire season. Yes, just two. So whenever he plays this season, it's the classic case of "he's there, but he's not really there."
This song applies perfectly to M'Vila's situation.
If you're not aware of the context, the Frenchman has gone off the rails because Rennes didn't sell him during the summer.
M'Vila or Arteta?
Arteta, because he isn't a drama queen, and he's a significantly better passer.
The Frenchman's upside is just too hard to ignore, however, so don't be surprised if Arsène Wenger signed M'Vila for basically nothing.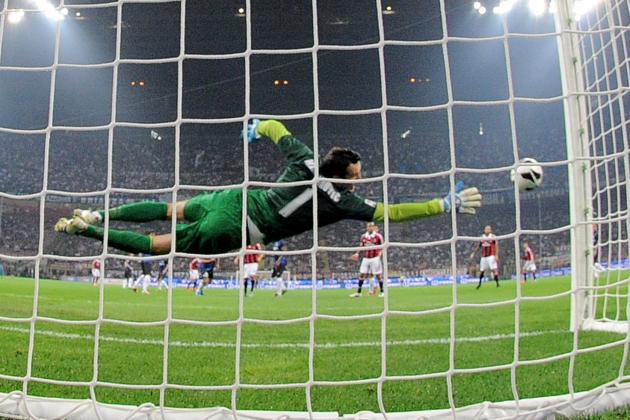 Dino Panato/Getty Images

Last week, WhoScored revealed that Samir Handanović not only was their top rated keeper, but he also had an incredible 90-percent save ratio.
Having Andrea Ranocchia and Juan Jesus playing the best football of their lives certainly helps Handanović.
I watch a lot of football, but I cannot think of a player who has scored more outrageous long-range goals than Alain Traoré in recent times.
He has scored four Ligue 1 goals this season, none of them inside the box.
If you want a reason to watch Lorient, do it because of Traoré.
Claudio Villa/Getty Images

When Antonio Nocerino was playing at an elite standard, it kind of softened the blow of Andrea Pirlo being world-class for Juventus.
Now that Nocerino is terrible and Pirlo is still same old Pirlo, AC Milan now know the sickening feeling Inter Milan management felt for years when they sold the genius to the Rossoneri.
Pirlo runs the show for Juve and because he can create shots from a deep-lying position, it makes him so noticeable.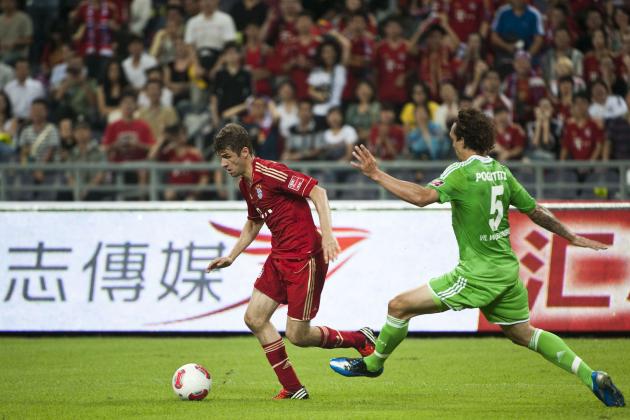 Victor Fraile/Getty Images

Thomas Müller, Franck Ribéry, Toni Kroos and Mario Mandzukic have been world-class this season.
Luiz Gustavo has been spurred on by the presence of Javi Martínez.
The swashbuckling displays of Bastian Schweinsteiger will improve any midfield in the world.
Philipp Lahm is Mr. Consistent.
Manuel Neuer has made some good saves and hasn't made mistakes like he did last season.
Bayern Munich have been so dominant even without a left-back (amazing that Holger Badstuber hasn't been exploited yet).
Bayern's only slip up came against a surprisingly good BATE Borisov, who had a goalkeeper that played one of the best games you'll ever see.
They're a squad with high chemistry levels. Evidently, they are well-coached because they have smartly designed counter attacks. BATE are a legitimate dark horse.
Since this slide is about Müller, perhaps the only explanation for his outstanding form is to prove his critics wrong. He was awful for parts of last season.
He has started this Bundesliga season with six goals and five assists in seven games.
In Juan Mata's last five games for Chelsea, he has scored five goals and provided five assists.
He inspired the Blues to a derby win over Tottenham Hotspur on Saturday.
Chelsea have constructed a world-class triumvirate with Mata, Oscar and Eden Hazard. The creativity, the talent and the goals are there.
The question is: "Will the No. 9 start taking more shots?"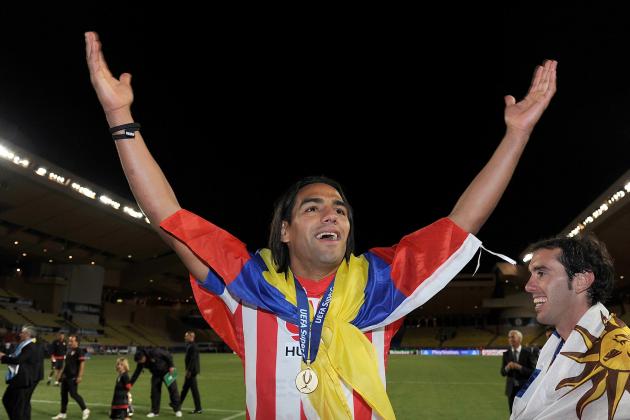 Chris Brunskill/Getty Images

When Asier Illarramendi conceded the free kick on Sunday, you couldn't help but notice the trepidation in the Real Sociedad players as Falcao stepped up to take the free kick.
They had defended quite valiantly for 90 minutes and were about to claim a well-earned point.
That was until Falcao curled the free kick past Eñaut Zubikarai.
What a player.
The Colombian has no fear. As long as he keeps scoring goals at this rate and doesn't suffer a long-term injury, I hope Chelsea sign him.
If there is a realistic transfer option Roman Abramovich should go for, it has to be Falcao.
He has the confidence, the belief in himself and the ability to create something out of nothing that the current version of Fernando Torres doesn't have.
Consecutive hat tricks against Athletic Bilbao and Chelsea illustrate how unstoppable Falcao is.
No surprise that Porto were the ones that launched his European career.
The Blues could take a risk and sign Jackson Martínez, who would be a lot cheaper than Falcao.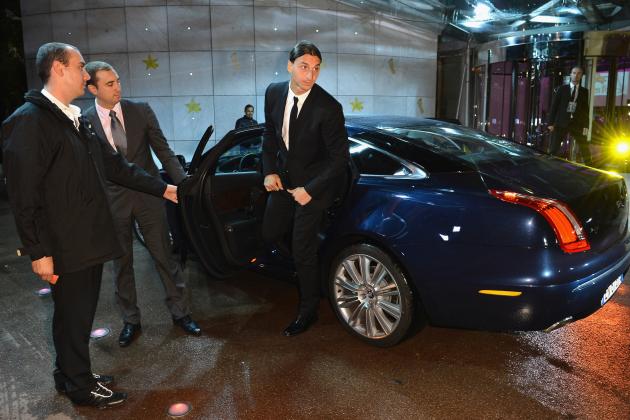 Tullio M. Puglia/Getty Images

Bastia resorted to the uncommon tactic of playing five at the back. It didn't stop Zlatan Ibrahimović from scoring twice and creating another shot against them on September 22.
Marseille have a underrated holding midfield partnership in Benoit Cheyrou and Charles Kaboré. They have one of Ligue 1's best centre-backs in Nicolas N'Koulou.
None of the aforementioned players could stop Ibrahimović from dominating the game from the get-go on October 7.
He's such a unique player, in that he is much more superior from a physical and technical perspective than the large majority of defenders he'll face.
The only person who can stop him is himself.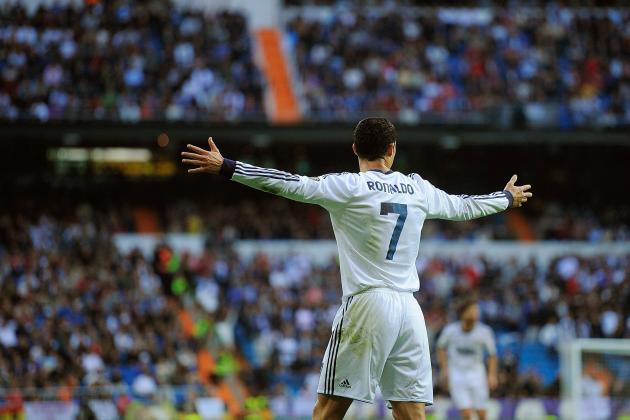 Gonzalo Arroyo Moreno/Getty Images

When Real Madrid, who have one of the best squads in the world, have to play Michael Essien at left-back, you know they're ravaged by injuries.
Sergio Ramos has conceded so many fouls. Iker Casillas hasn't been Iker Casillas. Mesut Özil's confidence has been shattered by the Special One. Ángel Di María has suddenly turned into Gervinho. Gonzalo Higuaín keeps missing one-on-one opportunities.
Cristiano Ronaldo's goals have kept Real Madrid alive.
He's finally not afraid of the big moment, which is why he has scored in six consecutive El Clásicos.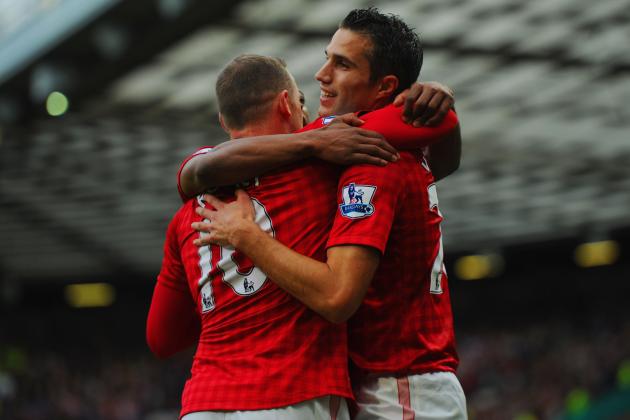 Michael Regan/Getty Images

| | | |
| --- | --- | --- |
| League Only | RVP | CR7 |
| Goals | 6 | 9 |
| Shots Per Goal | 3.3 | 6 |
| Assists | 3 | 0 |
| Shots Created Per Game | 1.8 | 1.4 |
| Dribbles Per Game | - | 1 |
Whenever Robin van Persie touches the ball, it seems like he'll score. He has been ruthlessly efficient in front of goals, and he has built up a telepathic relationship with Wayne Rooney.
| | | |
| --- | --- | --- |
| League Only | LM10 | CR7 |
| Goals | 11 | 9 |
| Shots Per Goal | 4 | 6 |
| Assists | 4 | 0 |
| Shots Created Per Game | 1.4 | 1.4 |
| Dribbles Per Game | 4 | 1 |
Lionel Messi continues to dribble past several opposing players in every game.
The Argentine has a more expansive passing range, and he's a better finisher and a more efficient set-piece specialist than Ronaldo.
The main advantage Ronaldo has over Messi is physique, but this isn't a Mr. Olympia competition.
Just wait until Andrés Iniesta starts playing every week.
Messi is on pace to surpass 73 goals. Do you think he can score 100 this season?
Please read Gunners Loanee Joel Campbell Struggling at Betis
Statistics courtesy of WhoScored.com
Follow @allanjiangLIVE

Connect with +allanjiang