Michigan Football: Winners and Losers from the Week 8 Game vs. Michigan State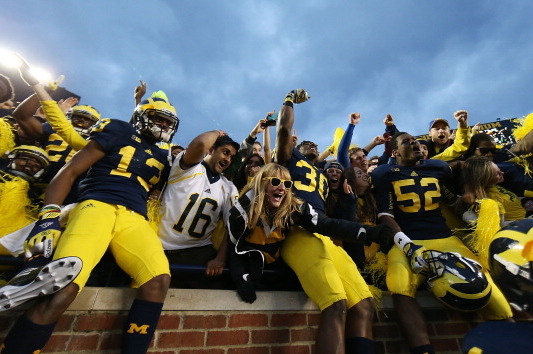 Leon Halip/Getty Images

After the cheers subsided from Brendan Gibbons' game-winning field goal, there was a collective sigh of relief from Michigan coaches, players and fans, alike.
The 12-10 victory had just ended Michigan State's four-game winning streak over the Wolverines, something that's been a thorn in Michigan's side since 2007.
Whether it's been at the water cooler, the local grocery store or at a favorite saloon, Spartans followers have been reveling in their fortune for far too long.
Ever since athletic director Dave Brandon hired Brady Hoke, most Wolverine fans have hoped that it was just a matter of time before the Spartans' dominance would end.
Michigan finally regained the Paul Bunyan Trophy Saturday, thanks to the thrilling conclusion of a hard-fought Big Ten football game. For their efforts, the Wolverines (5-2, 3-0) are now atop the Legends Division Standings, plus they're ranked No. 22 in this week's BCS Poll.
The winners by far outnumbered the losers at the Big House. Let's check out a few of them.
Begin Slideshow

»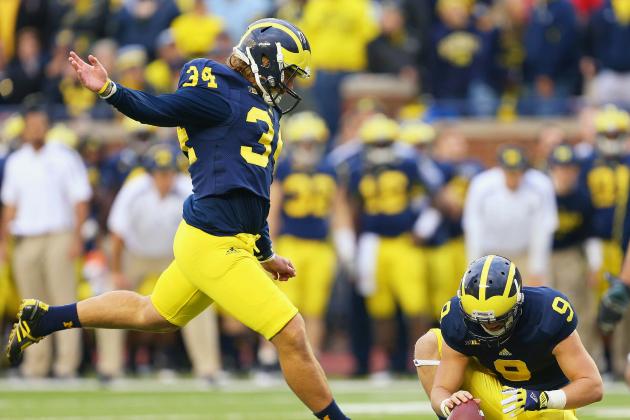 Mike Carter-US PRESSWIRE
Brendan Gibbons and Drew Dileo
In 2010, Brendan Gibbons was the backup kicker behind Seth Broekhuizen, who hit only three of nine attempts during the entire season, while Gibbons could manage only one of five.
The Michigan fan base was relieved when Brady Hoke recruited Matt Wile from San Diego. It was assumed that Wile would take over all the kicking chores.
But Gibbons hung in there, and the rest has been well documented..
In the last two seasons, Gibbons has made 23 of 29 attempts, including game-winners over Virginia Tech in the Sugar Bowl and over Michigan State on Saturday.
One good thing about this Michigan team that is most of the players were together during the adversity of the Rodriguez regime.
"I said it at Virginia Tech at the Sugar Bowl, Brendan's freshman year wasn't what he wanted," Taylor Lewan told mgoblue.com. He did a complete zero-to-hero turnaround and I think everyone that watches Michigan football or is a fan of Michigan football can really appreciate Brendan Gibbons for what he's done for this university.
"Overall, he's overcome so many things and I'm so proud of him as a friend and as a teammate. I can't say anything bad about Brendan."
Kudos should also go to Drew Dileo for his job as Michigan's holder, and for his key pass receptions during the game. Let's also not forget Wile's 48-yard field goal, the first of his career.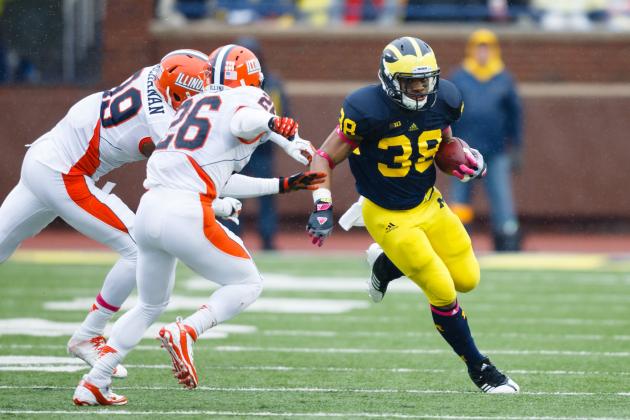 Rick Osentoski-US PRESSWIRE
Thomas Rawls (38)
With the emergence of Thomas Rawls in recent weeks, one would have thought the powerful tailback might have seen some action against the rough-and-tough Spartans.
But the conservative-in-nature coaching staff elected to primarily go with Fitz Toussaint and occasionally with Vincent Smith, who had been fighting a hamstring injury.
Other than a 38-yard run in the second quarter, Toussaint has continued to struggle.
After rushing for more than 1,000 yards a season ago, Toussaint has just 283 yards on 81 carries for a 3.5-per-carry average this fall.
Smith, however, had a key 12-yard run to start the game winning drive.
Rawls, who has rushed for 174 yards on 24 attempts this fall, must wait for his opportunity.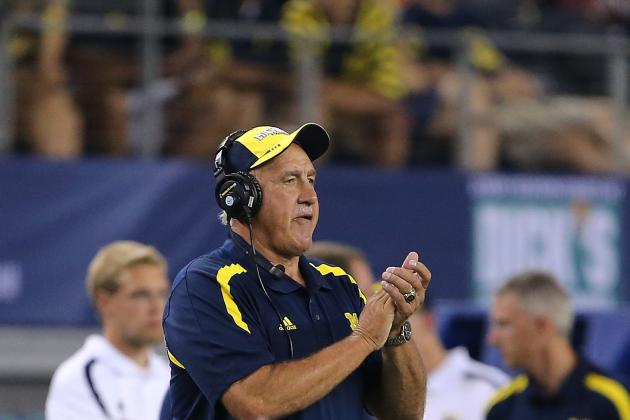 Leon Halip/Getty Images
Defensive Coordinator Greg Mattison
In the 20 games since Greg Mattison joined the Wolverine staff, the defense has been very impressive.
Mattison took the defensive coordinator job last year, after spending the previous three seasons with the NFL's Baltimore Ravens.
Since he came aboard, Michigan has allowed just 17.1 points per game. This year's defense has been extremely effective since struggling with the Air Force triple-option back in September. In the Wolverines' last five contests, Michigan has surrendered just 49 points.
The Wolverines have done it without cornerback Blake Countess, who was lost for the season in the Alabama opener. Michigan also lost cornerback Raymon Taylor during Saturday's game to an elbow injury, but the sophomore should be sufficiently recovered to play next weekend at Nebraska.
Plus, Mattison was forced to rebuild the entire defensive line this fall, as seniors Mike Martin, Ryan Van Bergen and Will Heininger departed.
Many of the Wolverine veterans stepped up: Jordan Kovacs, Jake Ryan, Desmond Morgan, Kenny Demens and Courtney Avery to name a few. Youngsters such as Mario Ojemudia, Brennen Beyer, Joe Bolden, Jarrod Wilson and Taylor made contributions.
With the younger players getting so much playing time, and with a few solid recruiting classes under their belts, Michigan's disappointing defensive campaigns under Rich Rodriguez will be a thing of the past.
No less than a dozen recruits were at the Big House Saturday to see the Spartans and Wolverines do battle.
Despite Michigan State coming into the game with a four-game winning streak over Michigan, it's been the Wolverines who have held the recruiting advantage of late.
In his first season, Brady Hoke delivered scout.com's No. 4 recruiting class, and this year it's No. 2 in the nation. Far down the list is Michigan State, which has ranked No. 32 and No. 38, respectively.
Now with the Spartan streak in the past, the Wolverines should do even better on the recruiting trail.
Montae Nicholson, a 2014 safety from Gateway HS in Monroeville, PA, was impressed with Saturday's big stage. "I got a lot of love from the fans when I was walking up and down the tunnel," Nicholson told scout.com. "It was very impressive. The atmosphere was amazing. I've never been in anything like it before."
Michigan fans were hoping that 2013 recruit Derrick Green might commit after the game, but the powerful running back has said all along that he's not in any hurry. "It's going to be all five (visits)," he told the Detroit News. "I'm definitely going to take all five. I'm going to all five, no question.
"I don't know right now if I'm going to (commit) at the Army game or on National Signing Day. I really don't know right now. I just know when the time is right the world will know. That's where I'm at with it right now."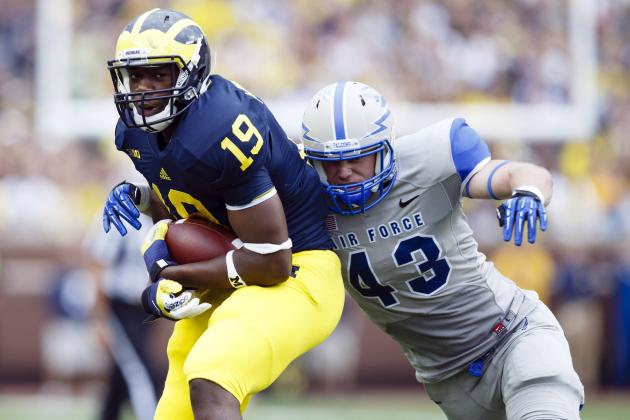 Rick Osentoski-US PRESSWIRE
Farmington Harrison's Devin Funchess (19)
Last fall, there was quite a recruiting battle over three high-school kids from Harrison HS in Farmington Hills.
At one point, the Wolverines thought they might make a clean sweep by grabbing all three: wide receiver Aaron Burbridge, defensive end Mario Ojemudia and tight end Devin Funchess.
Burbridge however, became a Spartan, while Ojemudia and Funchess became Wolverines.
It's unusual for a high school to have three of its players in the same game, let alone three freshmen, and also have them be in on much of the action.
Burbridge, who caught six passes against Michigan, has become quite an addition to the Spartan receiving corps.
Michigan's Funchess, a rangy 6'4" 229-lb tight end, only caught one pass against the Spartans, but already has 11 for the season, including three for touchdowns.
The Wolverine's Ojemudia, who splits time with Frank Clark and Brennen Beyer at weakside defensive end, has 10 tackles and a sack this season.
Let's not forget Tommy Vento, a 6'1, 192-lb redshirt freshman quarterback, who joined the Spartans from Harrison in 2011.
Detroit Cass Tech currently has five players on the Michigan roster, but none on Michigan State's. That, of course, makes sense, since Cass Tech coach Thomas Wilcher played for Michigan.
Surprisingly, that's about to change as 6'7", 290-lb offensive tackle Dennis Finley has committed to the Spartans.