5 Reasons the Tyne-Wear Derby Was a Success for Newcastle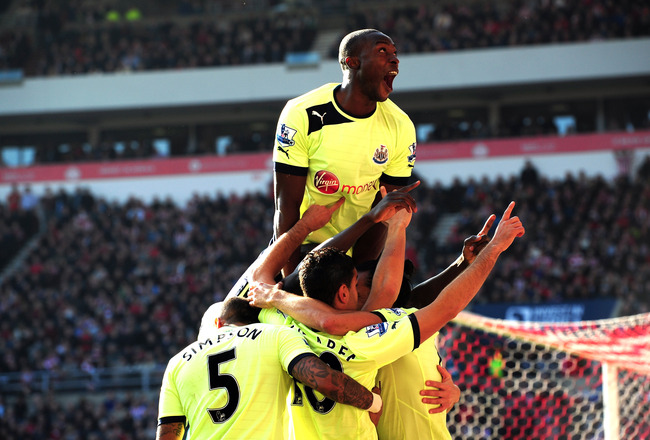 Stu Forster/Getty Images
I know it isn't easy, but forget about the questionable red card. Forget about the own goal. Forget you even watched the match.
If I told you that Newcastle would play over an hour with 10 men and still draw 1-1 with Sunderland in the Stadium of Light, how upset could you really be?
Despite taking only one point from Sunday's Tyne-Wear derby, there is much for the Toon Army to be pleased about.
Let's look at some of the positives from the match.
Welcome Back, Coloccini!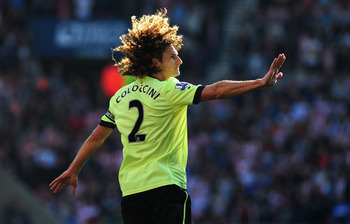 Stu Forster/Getty Images
While most Newcastle fans will be sad that James Perch and Mike Williamson will no longer be starting together at centre-back, captain Fabricio Coloccini was fantastic in his return from a hamstring injury.
The club desperately needed support at his position, and the Argentine put in a fantastic 79 minutes. He looked sharp on clearances and even took a decent shot at the other end of the pitch.
As expected, his fitness is still not at a full-match level (as was evident by his substitution), but it was clear that Coloccini will have a marked impact on the club's efforts leading into a month of winnable matches.
Man of the match honors surely go to the sorely missed captain.
Cabaye Is on the Scoreboard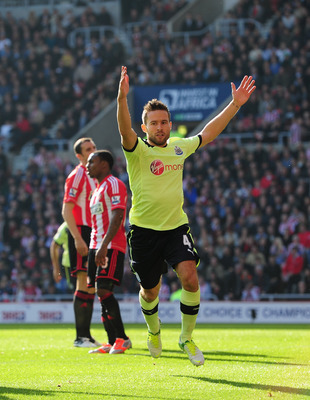 Stu Forster/Getty Images
Yohan Cabaye, who played such an important role in the success of the team last season, now has his first goal of the current campaign.
The Frenchman followed Demba Ba's blocked shot by scoring on the rebound to give Newcastle a third-minute lead, which would last almost the entire length of the match.
Like Coloccini, Cabaye was strong throughout the entire match. The majority of his corners and free kicks looked sharp.
However, what stuck out most was Cabaye's spirit.
No one wants to see a player booked, but after the red card was issued to Cheick Tiote, Yohan played aggressively. He played with an intensity that exemplified the unity and passion in the squad.
With Tiote sidelined, Cabaye must continue playing at this high level. After his derby performance, I see no reason to believe he won't.
Tiote Will Have Some Time to Reflect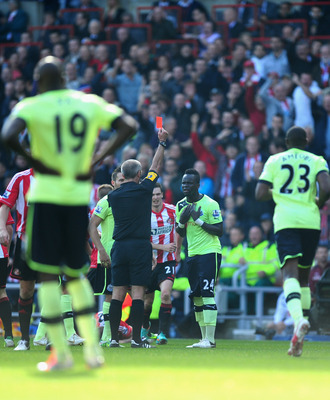 Stu Forster/Getty Images
Did Cheick Tiote deserve a red card?
I don't think so.
Should he have known better?
Absolutely.
As a man perceived by the whole football world to be a hard fouler, Tiote must play smart in a match on the road and in a contest that has seen almost as many red cards as goals in recent years. He must understand the circumstances and be able to tread the fine line between aggressiveness and foolishness.
I don't want him to make any drastic changes to his game. For the most part, this style of play is what makes him invaluable.
However, it gets dicey when his actions hurt the whole team. The red card not only put the Magpies at a one-man disadvantage, but necessitated the exit of Shola "Mackem-slayer" Ameobi for James Perch.
It would have been nice to see what Shola could do with a full 90 minutes.
Cheick is a great player, but he can only help Newcastle when he's on the field. His league-mandated holiday should give him a chance to seriously look at how he can better channel his abilities to get the Toon back to Europe next season.
The Team Kept Its Mental and Emotional Edge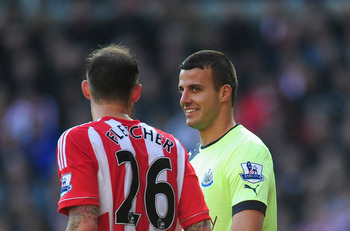 Stu Forster/Getty Images
When I first read the comments made by Steven Taylor, I wasn't upset. However, I was a little worried.
When a player openly belittles his opponent prior to a match, it can usually be used as motivation. While the Tyne-Wear derby should create enough motivation for both teams as it is, when Taylor claimed that no Sunderland player could make the Newcastle lineup (via The Mirror), it was unnerving.
Nevertheless, when it came to the game, Newcastle seemed vastly more inspired than their North-East rivals.
Maybe the team needed to prove itself after an underwhelming start to the season. Maybe it was because they were on the road. It might have even been due to the red card.
While the results aren't quite there, Alan Pardew has clearly united this team. If the Magpies fail to meet expectations, it won't be due to lack of effort.
The Streak Continues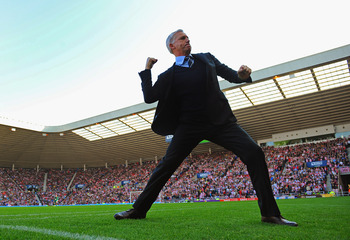 Michael Regan/Getty Images
Newcastle is now unbeaten in their last 16 appearances at the Stadium of Light.
Few things are better than beating a rival club, and nothing is better than dominating them.
The pressure is on Sunderland, not Newcastle, to reverse the trend. With a one-man advantage for much of the match, the Black Cats failed to do so yet again on Sunday.
Regardless of the Premier League, Europa League and FA Cup this season, continued success in the derby will be something for this club to be proud of.
It would just be nice to get three points once in a while.
Keep Reading

Newcastle United: Like this team?