Winners and Losers from Week 3 of the Boston Celtics Preseason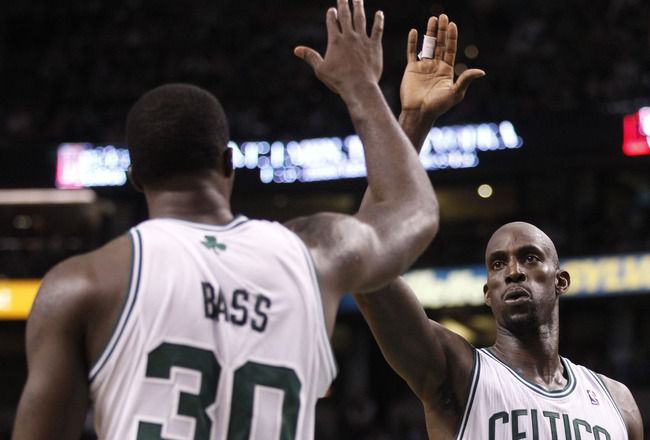 Kevin Garnett slaps some Bass.
David Butler II-US PRESSWIRE
With the season opener against the defending champion Miami Heat only eight days away, the Celtics are heading into the regular season looking like one of the elite teams in the East with their promising depth and experienced core.
Although the team's preseason record (2-4) may not give fans a lot of hope, preseason should be taken with a grain of salt, as the Celtics have been frequently resting their core of Kevin Garnett, Rajon Rondo and Paul Pierce.
The Celtics had a busy Week 3 of preseason, playing five games in one week and slightly altering their roster. Let's take a quick look at the Celtics' winners and losers of Week 3.
Loser: Dionte Christmas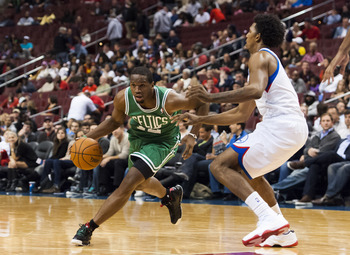 Unfortunately, Dionte Christmas couldn't last till Christmas.
Howard Smith-US PRESSWIRE
It is quite harsh to call Dionte Christmas a loser, as he is more of a disappointment. The Celtics cut him this past week after a sub-par preseason where he averaged 3.3 points and 1.8 rebounds in limited action over four games.
The Celtics awarded Christmas a partially guaranteed contract after he had an impressive summer league performance. As a 6' 5" guard, Christmas was supposed to provide back wing depth—something the Celtics are lacking.
Christmas had a number of overseas offers, but turned them down so he could follow his dream of playing in the NBA. Let's hope he can find another roster spot with another team, as he deserves another chance to realize his dream.
Winner: Jared Sullinger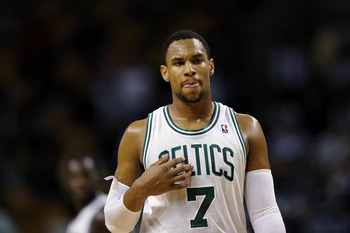 Jared Sullinger already has Celtic Pride.
Greg M. Cooper-US PRESSWIRE
After falling in the draft, Jared Sullinger is proving so far to be one of the best rookies in this year's class. Starting at the power forward slot for the majority of the preseason, Sullinger seems to have passed Brandon Bass in the depth chart.
He has even been getting rave reviews from his fellow teammates:
"Sully is a very attentive. I love his IQ and everything he's gaining as far as respect and anything else he's gaining these last few weeks, he's earned."
"He's probably the smartest rookie we've had since I've been here. He's very intelligent. High basketball IQ and he's very unselfish."
Through seven preseason games, Sullinger is averaging 2.8 offensive rebounds which, if he can keep up during the regular season, could create big dividends for the Celtics.
Loser: Darko Milicic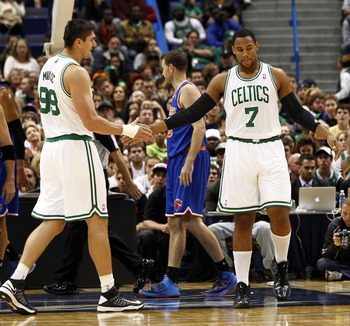 Darko hurts his wrist by giving dap to Jared Sullinger.
Mark L. Baer-US PRESSWIRE
Darko Milicic has been a disappointment so far this preseason as a wrist injury has kept him on the sidelines. The Celtics signed Darko mainly for his size, as the team is not that deep at the center position.
Milicic has had a disappointing NBA career thus far, the former No. 2 pick has never blossomed into his full potential, but the Celtics gave him an one-year deal and were hoping the coaching of Doc Rivers and the Kevin Garnett-ness of Kevin Garnett would make a difference.
His injury is not that severe, so it is only a matter of time before he is back in the lineup and using his big body to clog up the paint and rebound.
Winner: Jeff Green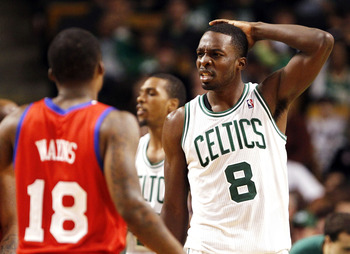 Jeff Green wonders why the Celtics never retired #8 in honor of Antoine Walker.
Mark L. Baer-US PRESSWIRE
Jeff Green signed a rather large deal in the offseason, which left many shaking their heads since he was coming off heart surgery and had not played in a year.
The Celtics signed Green as they believe he will be one of their future stars; teaming up with Rajon Rondo to carry the team into the future after Kevin Garnett and Paul Pierce have retired. This was all speculation on the Celtics' part, as Green has never shown his full potential on the court in their uniform.
But, the Celtics seem to know what they are doing as Green as been a revelation in preseason, coming off the bench and producing. Green's solid play has allowed Coach Doc Rivers to experiment with a small lineup, playing Green at the four—which has been quite effective in stretches.
Starting against the New York Knicks on Saturday night, Green helped spark a come from behind win, the Celtics were down by 20 points at one point, by shooting 10-of-16 from the field and scoring 25 points. If Green can keep up his performance in the regular season, it looks like the Celtics may have made a very wise investment in their future.
Keep Reading

Boston Celtics: Like this team?