Atlanta Braves: Grading the 2012 Season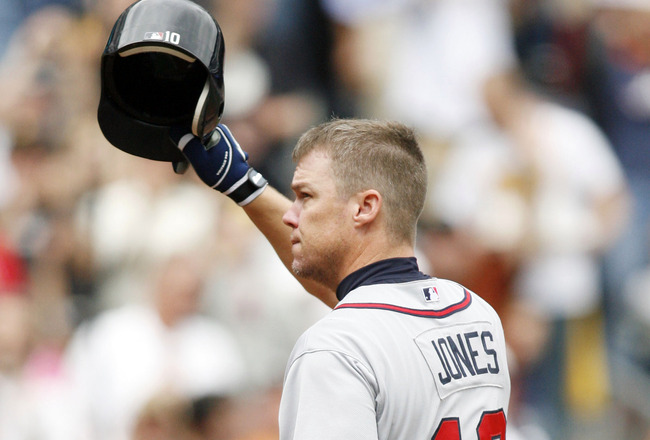 Chipper Jones' retirement was the big story of the year.
Charles LeClaire-US PRESSWIRE
With the 2012 season now in the books, this is a good time to take a look at how the season went for the Atlanta Braves. The Braves came into the year with high expectations, and although they did reach the playoffs, there are some fans disappointed with the season overall.
This article will grade every facet of the 2012 Atlanta Braves, from pitching to hitting to defense and the farm system, and will also provide an overall grade on the season.
Starting Pitching: B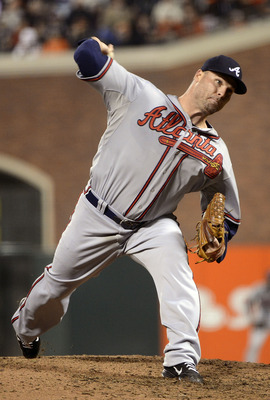 Ben Sheets helped steady the Braves rotation in July.
Thearon W. Henderson/Getty Images
One of the biggest strengths of the Braves heading into the 2012 season was the starting rotation. The team had a mix of veterans and talented youngsters that were coming off of promising 2011 seasons and were expected to keep progressing. However, things did not go as planned.
In the first quarter of the season, the starting rotation was actually one of the weak spots for the Braves, as the team struggled to get consistent performances from the back end of the rotation. The good news is that a few additions were made and one of the guys that was really struggling turned it around in a big way; the rotation really became a strength as the year went on.
The Braves Opening Day starter was Tommy Hanson, a pitcher that was among the best young pitchers in the game heading into the year in spite of his injury-plagued 2011 season. Hanson took a step back this year as he tried to change his delivery a bit to take some stress away from his shoulder, and he was merely an average pitcher this year.
Another disappointing pitcher was Jair Jurrjens, who was considered by some to be the most deserving to start the 2011 All-Star Game for the National League. Injuries from last year may have played a part in his ineffectiveness, but he went 3-4 with a 6.89 ERA in 11 games.
Mike Minor was just awful at times during the first half of the season as he was rocked often, but he was able to rebound to finish the year 11-10 with a 4.12 ERA. Rookie Randall Delgado showed flashes of his immense potential, going 4-9 with a 4.37 ERA in 18 games, but was inconsistent overall.
The big news is that a pair of the Braves' young hurlers emerged to be among the best in the game. Brandon Beachy was 5-5 with a 2.00 ERA in 13 games before requiring Tommy John surgery. Beachy had a league-leading ERA before getting hurt and was really emerging as an ace. Then as the season went on, Kris Medlen, who is recovering from Tommy John surgery himself, became a star as he went 9-0 with a 0.97 ERA in 12 starts.
Also on the positive side, the Braves were able to get Tim Hudson back to form after missing April while he recovered from offseason back surgery. Hudson still managed to win 16 games despite missing a month and battling an ankle injury during the year and posted a 3.62 ERA.
The Braves also got an impact from a pair of newcomers. Veteran Ben Sheets came in and pitched well, going 4-4 with a 3.47 ERA in nine starts, before his body broke down on him. Then deadline acquisition Paul Maholm went 4-5 with a 3.54 ERA in his 11 starts for the Braves. Maholm wasn't an ace, but he was everything the Braves had hoped for when they dealt Arodys Vizcaino for him.
I gave the unit a "B" grade due to the early struggles of the rotation as well as the fact that some of the projected key members were disappointments. Overall, the rotation ended up being very solid and there is plenty of reason to be optimistic about the future.
Bullpen: A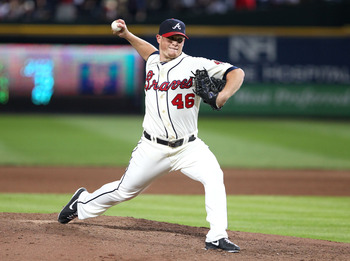 Craig Kimbrel is a Cy Young Award candidate.
Mike Zarrilli/Getty Images
Heading into the season, the biggest strength for the Braves was the bullpen. The unit was considered to be possibly the best in all of baseball after seeing young closer Craig Kimbrel dominate last year; in addition, setup men Jonny Venters and Eric O'Flaherty also emerged as some of the best in the game.
Just like the rotation, the bullpen had a disappointing start to the year. Both Venters and O'Flaherty were hittable in the first half after having huge seasons in 2011. That led to some concern that the rest of the bullpen, minus Kimbrel, would need to be upgraded.
Then both Venters and O'Flaherty turned it on and finished with strong numbers. Venters finished 5-4 with a 3.22 ERA in 66 games, and was better after spending a short time on the disabled list for an arm issue. The fact that Fredi Gonzalez had used him a bit less early in the season to prevent wear and tear on his arm may have contributed to his struggles, as sinker ball pitchers need the workload to have their best control.
O'Flaherty was dominant in the second half, as he was able to finish with a 3-0 record and 1.73 ERA in 64 games. His second-half performance really helped to stabilize the Braves bullpen. This also helped to replace Kris Medlen after Medlen moved to the rotation.
Kimbrel surprised some as he actually improved upon his dominant rookie season. In fact, Kimbrel had a historically good sophomore season, which is good enough to have him in the conversation for the Cy Young Award. Kimbrel finished 3-1 with a 1.01 ERA and a 0.65 WHIP to go with 42 saves as he struck out 116 hitters in 62.2 innings.
Another good story is midseason promotion Luis Avilan. Avilan, who was called up from Double-A, went 1-0 with a 2.00 ERA in 31 games after his promotion. He quickly emerged as one of the top relievers for the Braves, and should continue in that role going forward.
Chad Durbin, a last-minute signing before the season started, rebounded well from an awful start to the season and finished 4-1 with a 3.10 ERA in 76 games. Cristhian Martinez went 5-4 with a 3.91 ERA in 54 games. Cory Gearrin went 0-1 with a 1.80 ERA in 22 games while he was in the big leagues as well.
Before being released Livan Hernandez went 1-1 with a 4.94 ERA in 18 games as a long reliever, and he was really the only reliever that didn't do well for the Braves. That is why the unit grades out with an "A."
Lineup: B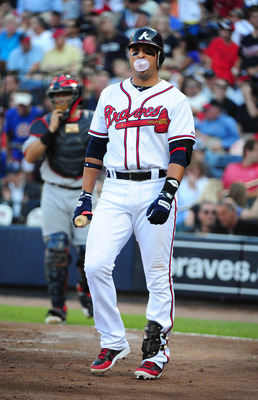 Martin Prado had a very strong season.
Scott Cunningham/Getty Images
The Braves had an up-and-down year from their lineup in 2012. The unit scored more than they had been expected to, but remained a group that could frustrate fans and management. Overall, however, the unit was solid.
Catcher Brian McCann had a career-worst year due to his shoulder injuries, but backup David Ross played like one of the best backup catchers in the game. The two combined for 29 homers and 90 RBI on the season.
At first base, Freddie Freeman showed flashes of becoming a run producer, but an eye injury suffered in May continued to bother him for the rest of the season. Still, his .259/.340/.456 line was a solid total.
Dan Uggla was disappointing at second base yet again, as he was even less consistent than last season. Overall, Uggla hit just .220 with 19 homers and 78 RBI on the season.
At shortstop, the Opening Day starter was Tyler Pastornicky, who hit an empty .243 before being replaced. His replacement was Andrelton Simmons, who was able to hit .289 with a .751 OPS, but only played in 49 games due to a hand injury. Paul Janish was a liability with the bat that got a chance to play everyday because of his glove.
At third, Chipper Jones proved that he still had something left in the tank as he hit .287 with 14 homers and 62 RBI in 112 games. Juan Francisco hit .234 with nine homers in 205 plate appearances.
In left field, Martin Prado had a huge season. He hit .301/.359/.438 with 10 homers and 70 RBI. He did a great job at the top of the lineup and also came through with numerous clutch hits for the team. Reed Johnson hit .270 off the bench after coming over at the deadline.
In center field, Michael Bourn has an All-Star because of his big first half, but he struggled a bit during the second half. Still, he managed to hit .274 with nine homers and 42 steals in his contract season, and those nine homers were a career-high.
Jason Heyward had a bounce-back season after struggling badly in 2011. Heyward hit .269/.335/.479 with 27 homers, 82 RBI and 21 steals over the course of the season.
This group had some disappointments, like Uggla, McCann and the shortstop position, but there were some positives as well. In addition to a big year from Chipper, the Braves got some quality production from the top of the order duo of Bourn and Prado, while youngsters Heyward and Freeman had strong seasons. Overall, the unit receives a "B" grade.
Defense: B
Andrelton Simmons has quickly become a top defender at short.
Scott Cunningham/Getty Images
The Braves had an up-and-down year with the glove. Similar to the rotation and the bullpen, there were some issues early on before the performance improved in the second half. That can be attributed to a change at shortstop that made a major difference.
At catcher, David Ross is an excellent defensive catcher, and was able to throw out an impressive 44 percent of opposing base runners. Brian McCann took a step back behind the plate this year, but that could partly be attributed to his shoulder injury.
Tyler Pastornicky was among the worst defensive shortstops in baseball during the first half, but when Andrelton Simmons was called up, he immediately became one of the best defensive shortstops in all of baseball. That switch at shortstop actually came at the same time as the Braves' improvement on the mound, as the ground ball pitchers suddenly had a much better defense behind them. Even when Simmons went out, Paul Janish took over the job, and although he struggled with the bat, he was an excellent defender.
Michael Bourn remained a Gold Glove-caliber defender in center field. Freddie Freeman did a solid job at first, and has room to keep growing into a better defender as he keeps improving. Even Jason Heyward and Martin Prado were solid in the corner outfield spots.
At second base, Dan Uggla is a below-average defender, which really cost the Braves in the playoffs. Chipper Jones was also a below-average defender at third base, which was to be expected at his age.
Overall, the defense grades out at a "B." If the change at shortstop was made earlier, the defense may have earned a "B+" grade.
Farm System: C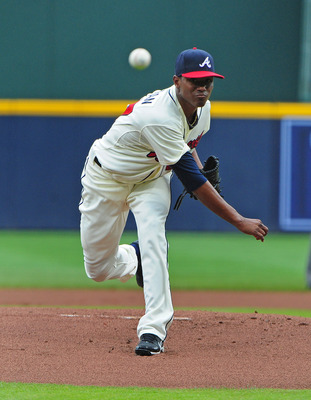 Julio Teheran saw his stock take a hit this year.
Scott Cunningham/Getty Images
With some weaker draft classes of late along with few big-money international signings in recent years, the Braves farm system came into the year lacking the depth it normally had. Instead, there were some high-ceiling prospects, but not a full crop of talent—especially in terms of position players.
Top prospect Julio Teheran took a big step back this year as he repeated Triple-A. Both his numbers and scouting reports show this, although he still has a chance to rebound in 2013. This step back from the clear top prospect is never a good sign.
Randall Delgado was the No. 2 prospect, and he was up and down in the big leagues. However, for a 22-year-old starter, his numbers were pretty solid overall.
Shortstop Andrelton Simmons was brought up to the big leagues by midseason and became an elite defender with a better than expected bat. He should become a fixture in the Braves lineup for the next decade or so after a strong rookie campaign.
Preseason No. 3 prospect Arodys Vizcaino was hurt early in the spring and required Tommy John surgery before being dealt to the Cubs at the deadline in a deal to get Paul Maholm and Reed Johnson. Top hitting prospects Christian Bethancourt and Edward Salcedo both had up-and-down seasons that leave them with questions to answer going forward.
Not everything was bad for the Braves on the farm this year, as JR Graham put himself on the prospect map after dominating his way up to Double-A in just over a year since he was drafted. International signees Jose Peraza, Mauricio Cabrera and Luis Merejo emerged in short-season ball. Then 2012 draftees Lucas Sims and Alex Wood add a pair of high-ceiling arms to the system.
The farm system added some depth this year, but with the trade of Vizcaino, promotions of Simmons and Delgado and the decline of Teheran, the top tier talent is significantly less than what it had been previously. That is why I am giving the farm system a "C" grade.
Overall: B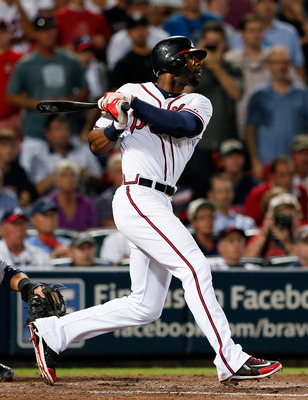 The Braves were solid, but not great in 2012.
Kevin C. Cox/Getty Images
This team is tough to grade. Heading into the year, most people expected the Braves to finish either first or second in the NL East and at least win one of the Wild Card spots. The Braves did finish second in the division and win a Wild Card spot, but there is a sense that this team was capable of more.
The way the Phillies struggled opened a window for the Braves to win the NL East, but they couldn't capitalize and finished behind the Nationals in the division. Then when the Braves reached the playoffs as a Wild Card, they lost in the play-in game to the Cardinals on a fairly controversial play.
If only the pitching, both the rotation and the bullpen, were better in the first half or if the offense was better in the second half, things could have been different. If the Braves had been able to take advantage and win the division, they could still potentially be playing right now with the way their rotation had pitched down the stretch.
I give the Braves an overall 'B" for the season, because although they did reach a spot they were predicted to, they also could have done more.
Keep Reading

Atlanta Braves: Like this team?