Bleacher Report's Week 7 NFL Highlight Tape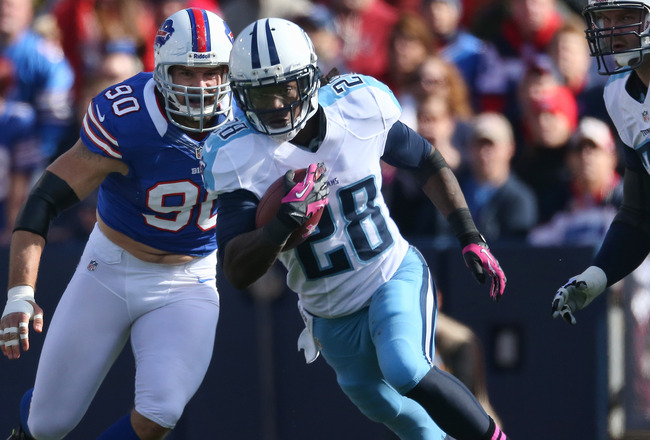 Tom Szczerbowski/Getty Images
Tennessee Titans running back Chris Johnson busted out with his biggest game in years against the Buffalo Bills, and his 83-yard touchdown run headlines Bleacher Report's Week 7 highlight reel.
Johnson's incredible burst of speed wasn't the only big-time highlight this week, though.
As it is every week, the slate of games on the NFL schedule provided us with some incredible plays to enjoy. In case you missed them, here are the top plays from around the league.
T-Sizzle's Return to the Lineup for the Ravens
Everyone thought Terrell Suggs was crazy for thinking he could return to the field of play after he injured his Achilles tendon back in early May.
I guess Suggs wasn't full of himself, because he made a positive impact on the game for the Baltimore Ravens in limited action in Week 7 against the Houston Texans, tallying four tackles, one sack and one defended pass.
One of the things many athletes typically deal with when recovering from this injury is a lack of explosion, but Suggs didn't seem to show any ill effects.
Greg Little Makes an Easy Touchdown Catch Look Complicated
Cleveland Browns wide receiver Greg Little is known for having a problem with dropping the football, so it's no surprise that he initially lost control of this pass.
The surprise is that Little regained control of the ball and got his feet inbounds for the sweet touchdown grab.
Garrett Graham's Circus Catch
Houston Texans' tight end Garrett Graham was wide open in the middle of the field when Matt Schaub's pass came in high and hot.
Graham went up like a basketball player and took a swat at the ball, grabbed his own rebound and came down for the completion—a highlight-reel-worthy play if ever there was one.
Joseph Morgan's Magical Moment
This one's worth watching more than once.
Joseph Morgan gets wide open on the right side, but Drew Brees under threw the pass causing Morgan to wait for the ball.
He then catches the ball, and it looks like Mark Barron has him down. But Morgan somehow keeps his feet under him and has enough strength, balance and awareness to make his way into the end zone for the incredible score.
It looked more like a magic act than a touchdown catch, and it's one of the best plays you'll see this year.
Miles Austin Is Double Trouble
The Dallas Cowboys were down by a score of 7-3 towards the end of the third quarter.
Then, in two successive plays, Miles Austin caught two passes from Tony Romo for a total of 62 yards and the go-ahead touchdown.
Talk about a quick turn around.
Vincent Jackson...Can't...Quite...Make...It
Vincent Jackson set the all-time record for the longest reception in Tampa Bay Buccaneers history with this 95-yard catch, but he couldn't quite make it to the end zone.
It's truly tragic, too, because the Bucs couldn't punch it in from the one-yard line—failing four times and eventually turning it over on fourth-and-goal at the one-yard line.
In the end, the Buccaneers lost by seven points, and this play represents a microcosm of this team's 2012 season—close, but oh, so far away from success.
RG3 with the Go-Ahead Touchdown Score
With less than two minutes remaining, Robert Griffin III put up a gem of a touchdown pass to Santana Moss for the go-ahead score over the New York Giants.
It was pure touch, pure clutch and it's hard to imagine any other quarterback doing a better job under the circumstances...
Then, Eli Manning with the Dagger
If Eli Manning isn't the most clutch quarterback in NFL history, then I don't know who is.
Right after RG3 threw down the gauntlet, Manning responded with this 77-yard strike to Victor Cruz.
It doesn't get more cold blooded than this, folks. Manning is the best late-game quarterback I've ever seen, and I grew up watching Joe Montana.
Chris Johnson Turns His Jets On
It only took him seven weeks to get into the swing of things, but boy, once Chris Johnson started rolling, he put on a show.
This long run demonstrates the physical traits that allowed Johnson to earn the monicker "CJ2K" a few years ago when he cracked the 2,000-yard barrier: Good vision and instincts allowed him to hit the hole hard, and then his track-star speed took care of the rest.
Brad Smith Takes It to the HOUSE
How fast can a man run across a football field?
This fast.
Brad Smith took off like he was shot out of a cannon on this spectacular kickoff return for a touchdown. Even better, this came only moments after Chris Johnson's 83-yard touchdown run.
Who needs defense and tackling, anyways?
Anything You Can Do, I Can Do Better...
As good as Brad Smith's kickoff for a touchdown was, Devin McCourty's was better.
McCourty took this kickoff from four yards behind the end zone and took it 104 yards to the house without getting touched.
In the end, it's a good thing he did, because the New England Patriots won this game in overtime by a score of 29-26, and McCourty's play turned out to be absolutely crucial.
Rob Ninkovich Strips Mark Sanchez to End the Game
The New England Patriots settled for a field goal in their first possession of overtime, allowing Mark Sanchez and the New York Jets a chance to win the game with a touchdown.
Unfortunately for Sanchez, he was sacked like the city of Rome by Rob Ninkovich, and he fumbled away his team's chance to win the game.
Follow me on Twitter @JesseReed78 and check out my weekly NFL picks at Pickfactor.com
Keep Reading