WNBA Finals 2012: Catchings and the Indiana Fever Win First Championship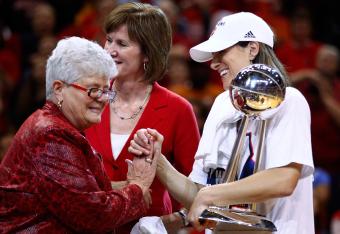 Michael Hickey/Getty Images
With only a few seconds left in Game 4 of the 2012 WNBA Finals, one of several special moments occurred. Indiana native Katie Douglas, who was sitting out the finals due to injury, trotted out onto the court to a large crowd ovation.
Shortly afterwards, the buzzer sounded and it was official. The Indiana Fever were champions for the first time in franchise history.
The veterans Douglas, Tamika Catchings and Tammy Sutton-Brown finally earned their first title, which was something Hall of Famer Reggie Miller had unsuccessfully tried to do with the Indiana Pacers.
Catchings had chances to leave the team who drafted her with the third pick in 2001. Yet she remained loyal for 10 seasons, 11 if you count the rookie season she sat out due to injury.
Catchings was named the WNBA's Rookie of the Year in 2002. She is a four-time WNBA Defensive Player of the Year and a seven-time All-Star. She also holds the league record for career steals and is the only player in WNBA history to rank among the league's top players in career points, rebounds, assists and steals.
Last year Catchings won her first WNBA MVP award.
Most of all, Catchings helped lead the Fever to eight consecutive playoff appearances. Indiana came up just short in the 2009 finals. This time around, however, she would not be denied.
The series seemed to be in the Minnesota Lynx's favor when Katie Douglas became injured. The news got worst when Jeanette Pohlen tore her ACL in Game 2 of the finals. So obviously there was no way Catchings and the Fever could overcome the odds to win without them. Or so we thought.
Then there was legendary head coach Lin Dunn and Fever team owner Herb Simon, who too finally earned their first titles.
When Herb and his brother, the late Melvin Simon, purchased the Indiana Pacers in 1983, they (like most professional team owners) envisioned one day winning a championship and perhaps more than one.
After all, the Pacers dominated as members of the American Basketball Association. Former Indiana Hoosier Bob Leonard led the team to three ABA championships in four years. They appeared in five ABA championship games total.
The Simon brothers likely never imagined their long-awaited championship would not come from the Pacers, but rather from the state's "other" professional basketball team. A team that plays in a league most feel is inferior to the men's league and lacks true appeal.
Herb Simon, like Minnesota Timberwolves owner Glen Taylor whose Minnesota Lynx won their first WNBA championship in franchise history last year, would disagree with those criticisms.
As much as I like the Pacers and as much as I would like to see Kevin Love lead the T-Wolves back to the playoffs, both teams have serious work to do to be considered a championship contender.
Tamika Catchings may not be LeBron James. Katie Douglas may not be Dewayne Wade. Tammy Sutton-Brown may not be Chris Bosh.
The league as a whole does not have as many games or teams as the NBA does, but there is true talent in the WNBA. If given a chance, people would see that.
Congrats to the Indiana Fever and the state of Indiana.
This article is
What is the duplicate article?
Why is this article offensive?
Where is this article plagiarized from?
Why is this article poorly edited?