7 Wrestlers Who Prove Ryback Could Win at WWE Hell in a Cell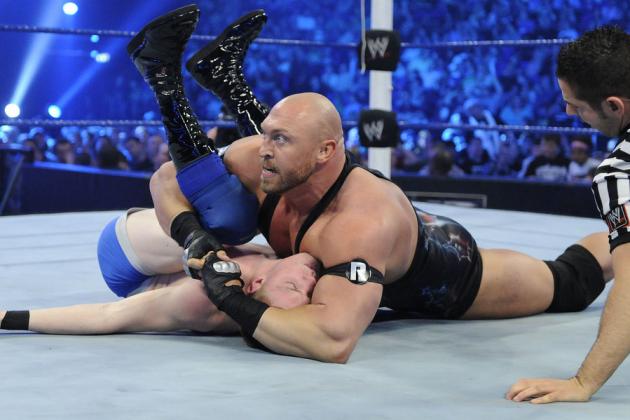 Photo by The Score on flickr
On Sunday, October 28, in Atlanta, Ga., CM Punk will defend the WWE Championship against Ryback, a man many WWE fans consider either unready for a title shot or unlikely to win. But as history shows, several wrestlers have won the big one with little ring time under their belts.
Staying within the course of the past 14 years, there have been several wrestlers who have all captured a major title within one year of debuting in WWE, WCW or ECW.
All of these men have gone on to win multiple titles.
Given that it has happened in the past, there is no reason to believe that Ryback won't win at Hell in a Cell.
Plus, he's not a green as he appears.
Ryan Reeves debuted in the WWE as Ryback on April 6, 2012, despite having been signed to a developmental deal with the WWE since 2005. He's wrestled in Deep South Wrestling and Florida Championship Wrestling.
From 2005 to 2007, he performed in Ohio Valley Wrestling before leaving for a year, and he returned in 2008 as Ryback, winning the OVW Heavyweight Championship.
Since debuting in the WWE with his Ryback gimmick, he has been on tear, destroying his opponents and staying undefeated.
The following seven men have all done what Ryback might do at Hell in a Cell.
Begin Slideshow

»
Yokozuna was a behemoth of a man, who weighed in at more than 500 pounds. Despite being from San Francisco and of Samoan heritage, he was billed as a sumo wrestler and was managed by the legendary Mr. Fuji.
Yokozuna debuted in the WWE on October 31, 1992, squashing opponents in the same easy manner as Ryback.
He entered the 1993 Royal Rumble at No. 27, winning the event and becoming the first wrestler to receive a title shot as part of the stipulation for the match.
At WrestleMania IX in April 1993, he defeated Bret "The Hitman" Hart to win his first World title, less than six months after his debut.
Back in 1992, ECW was still Eastern Championship Wrestling and was affiliated with the NWA, which is why the WWE doesn't recognize this.
The Sandman first appeared in April 1992 as Mr. Sandman. He had a surfer gimmick at first and was instantly a fan favorite.
On November 16, 1992, Sandman defeated Don Muraco for his first ECW Championship, a mere seven months after debuting.
He would go on to win five world titles and become one of the most recognized men in ECW.
Jack Swagger first signed a deal with the WWE in 2006, but he didn't make his big-league debut until late 2008, when he showed up in ECW.
With an FCW Heavyweight title under his belt, Swagger made an immediate impact, utilizing his athletic skills from playing football and being an All-American collegiate wrestler, to quickly move up the ladder.
In December 2009, he was named the No.1 contender to Matt Hardy's ECW Championship.
In January 2010, Swagger defeated Hardy for the belt, less than four months after his debut.
The man known to millions of wrestling fans as the Phenom debuted in the WWE at the 1990 Survivor Series pay-per-view, ultimately being eliminated by count out.
He went on to dominate his opponents and easily intimidated them, much the same way as Ryback.
Exactly one year after his debut, The Undertaker found himself in a world title match with WWF champion Hulk Hogan.
It was a back and forth match that really showcased the dominant force that The Undertaker would eventually become. Hogan survived a Tombstone piledriver, but he wasn't as lucky the second time when The Undertaker dropped him on a steel chair provided by Ric Flair.
A three count later and The Undertaker was the new world champion.
Back in WCW, The Big Show was known simply as The Giant and was once billed as the son of the late Andre the Giant.
The Giant's big win came at Halloween Havoc 1995, when he faced WCW World Heavyweight champion Hulk Hogan.
There was a pre-match stipulation that said the title could change hands on a disqualification. Hogan had been champion for 15 months and looked unstoppable, even bodyslamming The Giant ala Andre.
Near the end of the match, Hogan's manager Jimmy Hart turned on him and joined The Giant.
The Giant won by disqualification and captured the WCW World Championship.
What else made this match great?
It was The Giant's professional wrestling debut.
Bill Goldberg debuted in WCW on September 22, 1997, and the former NFL defensive tackle made an immediate impact.
Not only was he physically impressive, but also his moves in the ring were jarring, hard-hitting and extremely athletic, due in no small part to his powerlifting and martial arts training. He routinely performed high kicks and even backflips, much to the delight of the fans.
He quickly set off on an impressive winning streak that shot him up the ranks.
On the July 6, 1998 edition of WCW Nitro—10 months after his debut—Goldberg defeated WCW champion Hollywood Hogan for the title.
Brock Lesnar stormed onto the WWE stage on the March 18, 2002 edition of Monday Night Raw, two years after signing with the WWE and wrestling for Ohio Valley Wrestling.
The former two-time All-American and 2000 NCAA heavyweight champion made quick work of everyone he faced. He was simply stronger, quicker and more vicious than anyone else in the WWE.
By June 2002, he had won the King of the Ring tournament, destroying Rob Van Dam in the finals. His KotR victory earned him a title shot at the Undisputed Championship.
At SummerSlam of the same year, Lesnar defeated The Rock to become the youngest WWE Champion in history, and doing so six months after his debut.