Who's in the Dawg House? Cleveland Browns Week 7 Heroes and Zeros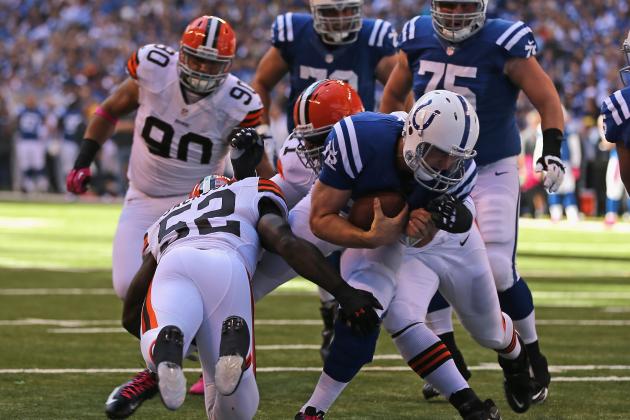 Jonathan Daniel/Getty Images

The Colts were begging the Cleveland Browns to win this Week 7 matchup in Indianapolis, but it was not meant to be for the orange and brown.
A 17-13 road loss snuffed out any momentum the Browns had coming off a victory over Cincinnati and this past Tuesday's official announcement of Cleveland's new owner Jimmy Haslam III taking control.
Lets take a look at some exceptional Browns player performances as well as the blunders that left fans scratching their heads.
Here's who earned a 'Dawg Bone' and who is in the 'Dawg House'.
Begin Slideshow

»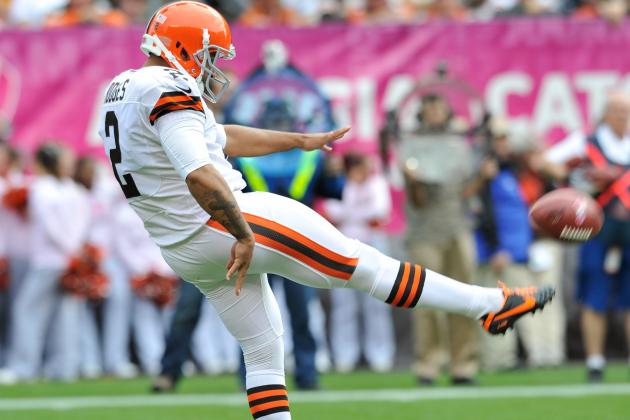 David Richard-US PRESSWIRE
Punter Reggie Hodges
The collective special teams unit will be spending tonight in the 'Dawg House'. After all, they did cost Cleveland the game.
Following a juggling reception by receiver Greg Little for a touchdown, the Browns were set to kick the extra point to even things up 7-7.
Easy right?
Not on this attempt, as the perfect snap was bobbled by punter Reggie Hodges who could not make the hold for kicker Phil Dawson. This naturally concluded with Hodges being pounced on and the Colts having a one point lead.
Now 99 times out of 100 Hodges does his job correctly, and, of course, mistakes do happen. However, with a club as young as Cleveland, any simple error can be disastrous—and it turned out to be just that.
Trailing 17-13 in the fourth quarter meant that the Browns had to go for the touchdown rather than a tying field goal. That one mishandled snap changed the entire strategy and lay out for a Browns comeback.
Hodges was also less than stellar on his punting duties, specifically when it came to pinning Indianapolis inside their 20 on fourth and one in the final frame.
Since returning from a season ending achilles injury last year, No. 2 has not been able to deliver consistent production. In several instances, including today, he has been a hindrance.
Alas, all the blame cannot fall on Reggie as the Browns kick return penalties were atrocious.
Whether you agree with the official's call or not, Ray Ventrone was singled out on two of the three infractions for holding. This either means Ventrone was caught out of position or was straight up beat. Either way, it's unacceptable.
Those penalties negated excellent returns by Josh Cribbs who was visibly frustrated on the sidelines and forced Cleveland into making long marches down the field.
All in all, it was a terrible Sunday for the special teams unit.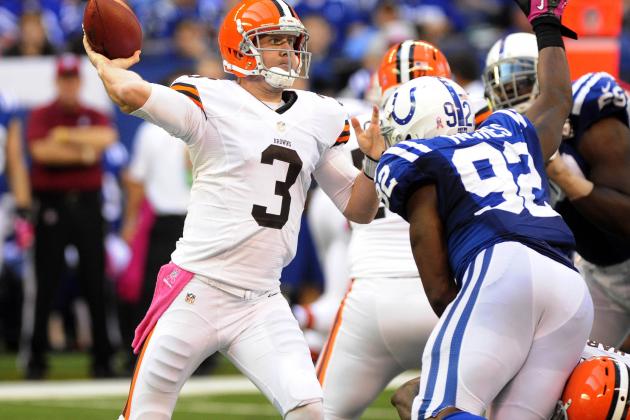 Thomas J. Russo-US PRESSWIRE
Brandon Weeden threw for another 2 TDs
The 'Dawg Bone' for offense goes to quarterback Brandon Weeden.
The freshman pivot is definitely coming into his own as he tossed for two touchdowns for the third consecutive game.
His rocket arm is for real and the brightest statistic for him is that he threw zero interceptions.
Browns fans saw a poised Weeden who wisely chose to throw the ball away at times rather than force a play that wasn't there.
The 23rd overall pick from this year's draft is certainly not becoming less aggressive as his pin point accuracy shone through again.
Weeden connected with nine different receivers, resulting in a score from Greg Little and another long bomb to Josh Gordon. His former Oklahoma wideout Josh Cooper also proved once again to be a reliable target with four catches for 53-yards.
Running into the bright Indianapolis sun, Josh Gordon dropped what would have been the go ahead touchdown in the fourth. It was a perfectly thrown ball, similar to the other four scores the duo had successfully completed recently.
Not much more Weeden could have done on a day where he ended up with a 96.0 QB rating and threw for 264 yards.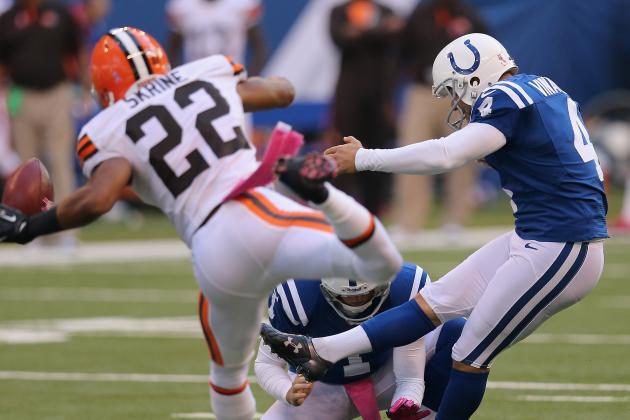 Jonathan Daniel/Getty Images
CB- Buster Skrine
If not for that blatant missed tackle, which allowed the Colts to run out the clock, Sheldon Brown would have been getting a 'Dawg Bone' to chew on this evening.
The 11-year veteran cornerback led both clubs in tackles and stripped the pigskin from Andrew Luck late in the contest that gave Cleveland a much-needed turnover.
However, he did miss the key take down and that is why Buster Skrine gets the Browns most valuable player honor on defense.
The often-exposed second year corner utilized his blazing speed in the best outing he has had as a pro.
With the return of Joe Haden a week ago, Skrine has been able to move back to his more natural slot coverage and was buzzing all day.
Eight total tackles, seven of them solo, and a growing ability to read an offense will build important confidence for No. 22 moving forward.
Kudos to Defensive Coordinator Dick Jauron for putting Skrine in situations where his quickness can take away middle field threats and limit mismatches where his 5'9" frame would be exposed.
The Cleveland Browns now look to next Sunday as they return home to host the 3-3 San Diego Chargers.
Follow Andy on Twitter: @AndyMc81
Listen to Andy's weekly NFL podcast '3rd and Long' on www.CBCSports.ca