Notre Dame Football: Winners and Losers from the Week 8 Game vs. BYU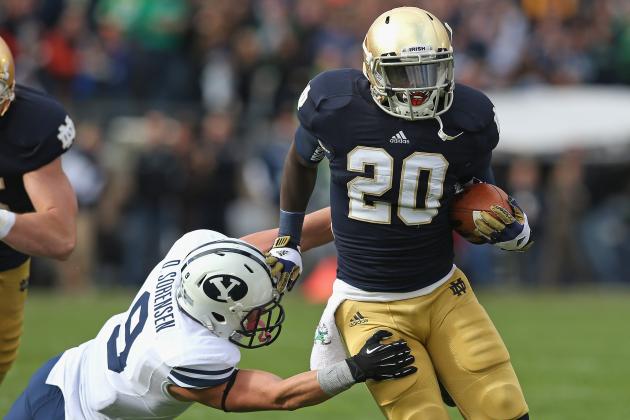 Jonathan Daniel/Getty Images

It wasn't pretty, but Notre Dame scored three more points than BYU on Saturday afternoon in Notre Dame Stadium, hanging on for a 17-14 win. When you're undefeated, that's all that matters. The Fighting Irish trailed after three quarters for the second time in as many weeks, finally regaining the lead early in the final period on George Atkinson III's touchdown run.
From there, the defense stood tall, holding the Cougars scoreless in the second half. Notre Dame has now gone five straight games without allowing a touchdown in the second half.
It was by no means a perfect Saturday for the Irish, but they survived to head into next week's showdown at Oklahoma with their record still unblemished. Before turning our collective attention to the Sooners, let's take a final look back at the win over BYU with Notre Dame's winners and losers.
Begin Slideshow

»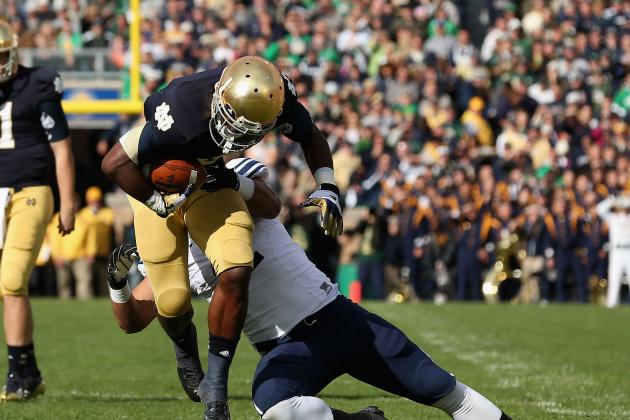 Jonathan Daniel/Getty Images

It was a career day for the senior running back, rushing for a career-high 143 yards on just 15 carries, including a defender-dragging 27-yard run in the second quarter. With Tommy Rees throwing just 16 passes, the Irish relied heavily on their running game. Even though BYU knew what was coming, it couldn't stop Riddick.
While Riddick failed to make it to the end zone, he did convert a crucial third down on the team's final drive that allowed the Irish to use almost the entire six minutes and 10 seconds with which it started the drive, giving the Cougars just 22 seconds to try and pull out a miracle rally.
For a player who's struggled to find his true position, it was a performance that can be attributed to Riddick's tenacity and team-first mentality.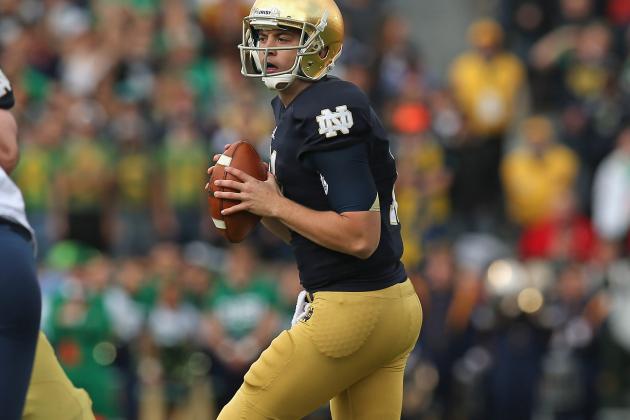 Jonathan Daniel/Getty Images

Rees was given his first start of the season on Saturday after Brian Kelly elected to hold Everett Golson out after the sophomore suffered a concussion last week against Stanford. He wasn't asked to do much through the air, but struggled for most of the day when asked to throw.
He completed just seven passes, going more than two quarters without a completion. His lone interception was deflected, so the blame can't be placed on Rees for the team's only turnover.
The Irish were able to score touchdowns just twice in five trips to the red zone, somewhat of a reflection of the playbook limitations in the short field caused by Rees' lack of mobility and arm strength. While he can still function as "the closer," Rees proved why Golson must be the starter going forward.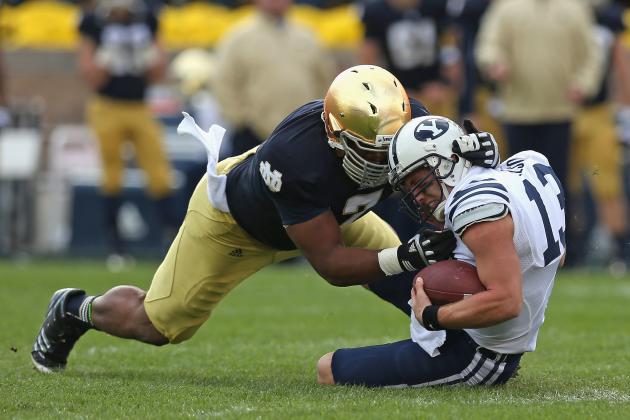 Jonathan Daniel/Getty Images

It's almost to the point with the sophomore defensive end where you just expect a dominant performance from Tuitt on a weekly basis. The star of the Fighting Irish defensive line was again disruptive all afternoon, pressuring BYU quarterback with Riley Nelson including 1.5 sacks.
Notre Dame failed to top 20 points for the fifth time in six games, showing the importance of its defense that is now mentioned amongst the best in college football. Trailing 14-7 at halftime, Tuitt and the Irish defense knew it might take a second-half shutout to get the win. That's exactly what they did.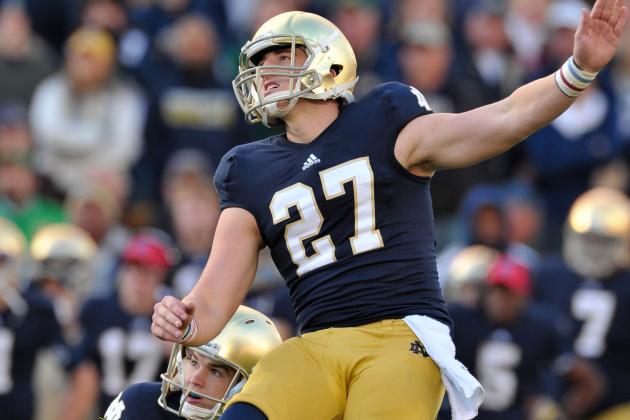 Matt Cashore-US PRESSWIRE

Brindza has been excellent all season long, but Saturday was a day to forget for the sophomore. He missed a 40-yard field goal in the first quarter, and a 28-yard chip shot just before halftime also sailed wide of the uprights.
On a positive note, his kickoffs were again solid, with two of his four going for touchbacks. The other two were returned for just 30 yards combined.
With its offense struggling to score points, Notre Dame relies heavily on its placekicker. On Saturday, the Irish were able to overcome his poor performance. Next time, they may not be so fortunate.
Jonathan Daniel/Getty Images

Wood may not have led the Irish in rushing on Saturday, but it was another strong performance for the senior who has proven to be the team's best all-around back. He ran for 114 yards on the day, including 50 in the fourth quarter, to help the Irish take and hold on to the lead.
Theo Riddick may have stolen the spotlight with his two signature runs, but Wood was equally as impressive. The Irish have to run the football to be effective, and the ground game once again got better as the game went on.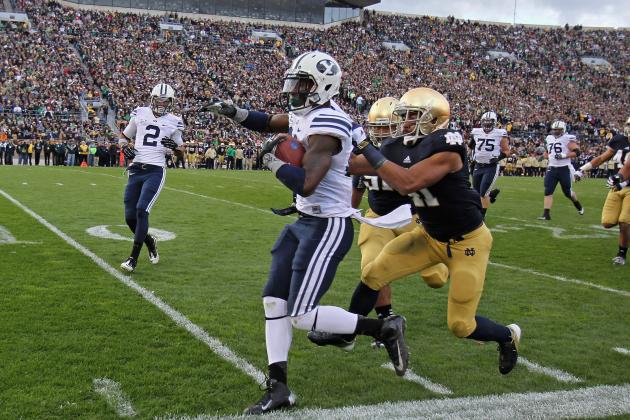 Jonathan Daniel/Getty Images

The pass defense wasn't bad on Saturday, but there were some breakdowns that proved costly. BYU's first touchdown was a completely busted coverage that allowed star receiver Cody Hoffman to get wide open in the back of the end zone.
Linebacker Carlo Calabrese, who struggles in coverage, got turned around trying to cover tight end Kaneakua Friel on Friel's go-ahead touchdown reception late in the second quarter.
Notre Dame did intercept Riley nelson twice, but both were by linebackers (Manti Te'o and Danny Spond). Tackling continued to be solid despite the up-and-down overall performance.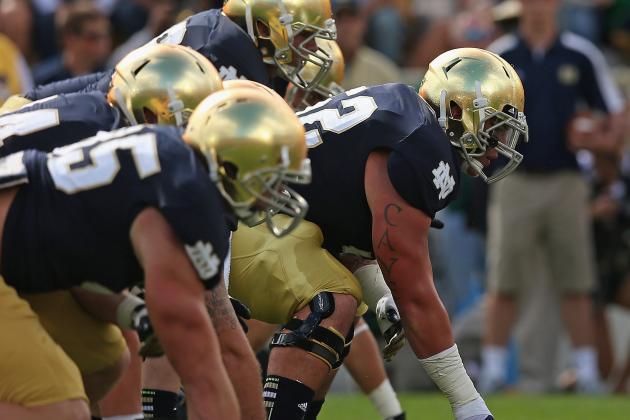 Jonathan Daniel/Getty Images

The Fighting Irish front has had their share of faults this season, but it's been at it's best when the team has needed it most. Notre Dame has needed to move the football despite being relatively one-dimensional many times this year, and has done just that to close out wins over Michigan State, Michigan and now BYU.
Penalties were a major problem a week ago against Stanford, but the offensive line was flagged just once against the Cougars, a first-quarter false start by Mike Golic, Jr., who had a much better day after a disappointing performance against the Cardinal.
The line was good enough to survive BYU, but it will have to be better for 60 minutes next week if the Irish hope to stay unbeaten when they sweep onto the plains of Oklahoma next Saturday night.