World Series 2012: 15 Bold Predictions for Tigers vs. Giants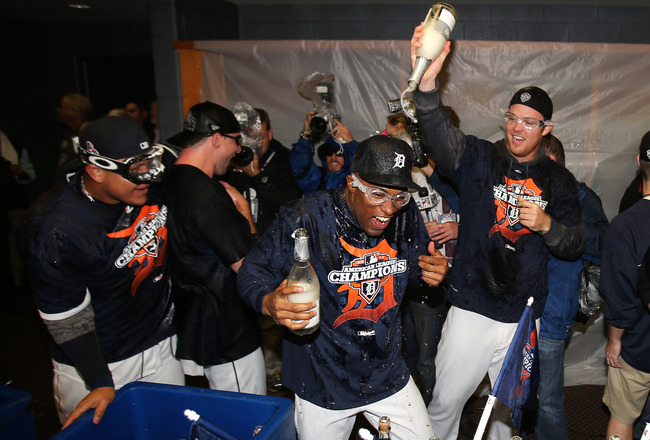 Jonathan Daniel/Getty Images
With the lineup of the 2012 fall classic finally set, two teams now have just four wins standing in their way of a World Series championship.
Baseball may be a team game, but neither the Detroit Tigers nor San Francisco Giants could have gotten there without strong individual performances along the way.
Both teams have boasted a great deal of talent that showed itself in a number of different ways so far this postseason, and with the World Series starting tomorrow, some of these noteworthy highlights just might come to fruition over the next 10 days.
Justin Verlander Goes the Distance in Game 1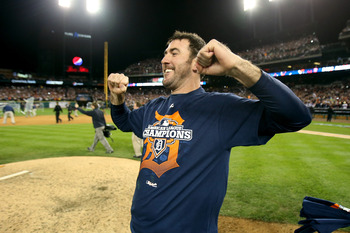 Jonathan Daniel/Getty Images
With a league leading six complete games under his belt during the 2012 regular season, it's not exactly a stretch to think Justin Verlander might be able to replicate that type of effort in game 1 of the World Series.
He nearly went the distance in game 3 of the ALCS and with plenty of rest between starts he should be primed to go deep into game 1 of the fall classic.
ALCS MVP Delmon Young Goes Cold in Fall Classic
Jonathan Daniel/Getty Images
Though it would be after game 4 that Delmon Young would hoist the ALCS MVP hardware, it was in game 1 that he got things rolling for the Detroit Tigers.
Young's 3-for-6 night that included three RBI was vital to the Tigers' win, and while he's had stretches this postseason where he's been solid, he has also shown a tendency to go cold, and facing the tough pitching of the San Francisco Giants could very well lead to problems.
Weather Plays a Big Factor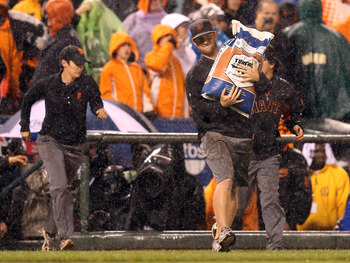 Christian Petersen/Getty Images
Given the fact that last night's game was already essentially decided when the monsoon-type conditions fell upon AT&T Park, the umpires did the right thing in letting the game finish.
Things will be taken to a much higher level in the World Series with everything on the line, and with fall weather often times showing signs of extremes, there's little doubt that at least part of the fall classic will be impacted.
Marco Scutaro's WS Performance Nets Him Nice Payday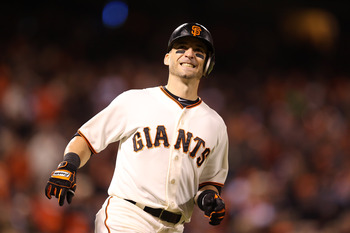 Christian Petersen/Getty Images
Of all the trades that took place this summer, the Giants' acquisition of Marco Scutaro could very well end up being the biggest.
He's batted better than .360 since coming over from Colorado and took home NLCS MVP honors with another strong postseason performance.
If he continues his hot streak into the world series, he could very well be set up for a significant payday when he hits free agency this winter, despite already being 36 years old.
Jose Valverde Blows Another Save Opportunity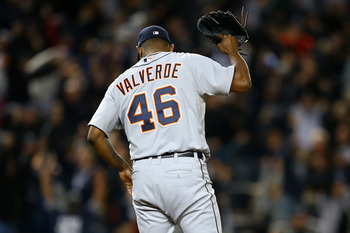 Al Bello/Getty Images
After leading the league in saves last season, Jose Valverde came back to earth a bit in 2012, but still posted 35 saves and led the league in games finished with 67.
He saved one game in the ALDS against the Oakland Athletics, but fell apart in game 1 of the ALCS, blowing the lead he was handed in the ninth inning against the New York Yankees.
It was the only ALCS appearance he would make, so it's the freshest thing that will be in his mind should he take the mound in the world series.
Matt Cain Strikes out 10 in Game 3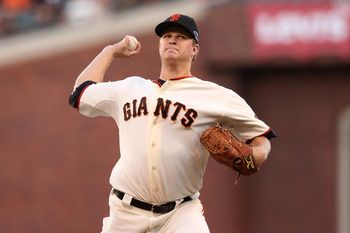 Ezra Shaw/Getty Images
Matt Cain took to the mound in game 7 of the NLCS with everything on the line, and behind his offense he delivered an outing that would help the Giants punch their ticket to the world series.
Pushing the series to the limit means he won't be able to match up against Verlander in game 1, but when he takes the mound in the middle of the series, he'll be ready to give the Giants everything he has and should be able to handle the Tigers' potent offense if he continues to build on previous starts.
Buster Posey Goes on Cano-Like Streak in WS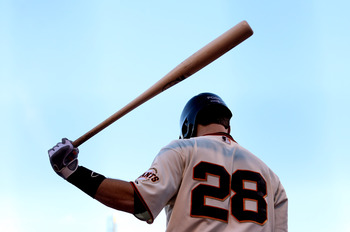 Ezra Shaw/Getty Images
A strong team effort has gotten the San Francisco Giants as far as they have, and while Buster Posey had an MVP caliber regular season, his bat has gone somewhat cold during the postseason.
Posey managed only four hits in 22 at-bats during the NLDS against the Reds, and just three hits in 25 in the NLCS.
With the Tigers' pitching staff throwing lights out this postseason, his cold streak could very well continue into the world series.
Drew Smyly Makes a Name for Himself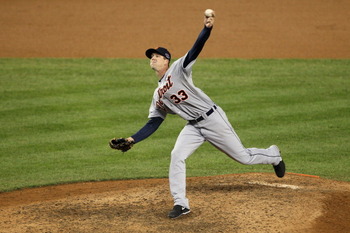 Alex Trautwig/Getty Images
After the Yankees game back from a 6-2 deficit in the ninth inning in game 1 of the ALCS, momentum could have been in New York's favor, but Drew Smyly came in for his postseason debut and pitched a clean eleventh and twelfth inning, allowing only one hit while earning the win.
The Tigers starters have been hot enough that the bullpen hasn't been needed all that much, but Smyly could continue to thrive if given opportunities.
Tim Lincecum Shows Sign of Early Season Struggles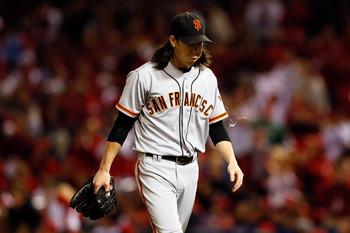 Kevin C. Cox/Getty Images
The 2012 season hasn't been overly kind to Tim Lincecum, who has posted career highs in losses (15) and ERA (5.18).
He's a dynamic enough pitcher to overcome struggles at any moment, and while it's worth giving him a shot at important innings, the Tigers offense is strong enough to take advantage of a struggling pitcher.
Miguel Cabrera Shows How He Earned His Triple Crown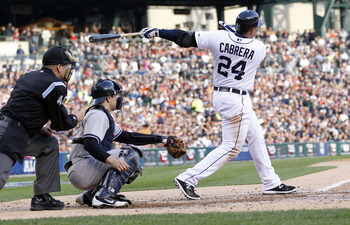 Rick Osentoski-USA TODAY Sports
As the most dangerous offensive player in the game, Miguel Cabrera will have a tough time driving in runs during the World Series.
Not because he's struggling in any way, but rather because it will be hard for him to see any pitch worth hitting from a Giants staff that won't let him beat them.
If batters in front of Cabrera can get on base to protect the plate for him, he should be able to pick up where he left off at the end of the season and propel the Tigers offense.
Different Ryan Vogelsong Shows Up in WS
Ezra Shaw/Getty Images
With no room for error in Game 6 of the NLCS, Giants starter Ryan Vogelsong had a tall order in front of him as he took the mound in front of the home fans.
His seven innings of four-hit baseball would prove to play a huge role in the Giants' move to a decisive Game 7, as he would allow only one run before turning the game over to the bullpen in a 6-1 victory.
The stakes will be raised in the World Series, and while it's not exactly a stretch to say he won't replicate the game 6 efforts, he may fall significantly short if the Tigers bats are on point.
Max Scherzer Outshines His Last Game 4 Effort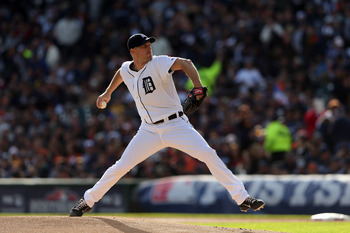 Leon Halip/Getty Images
With a chance to sweep the Yankees out of the postseason in his hands, Max Scherzer came through in a big way for the Tigers in game 4 of the ALCS.
He would only go 5.2 innings in the 8-1 victory for the Tigers, but every one of his 98 pitches was thrown with purpose as he struck out 10 Yankees and allowed only two hits.
A long layoff could prove to hamper the Tigers as they were running on all cylinders, but with two solid starts thus far in the postseason, another gem isn't out of the question.
Hunter Pence Hits Three HRs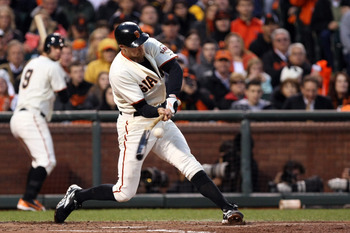 Kelley L Cox-USA TODAY Sports
In what would prove to be a deciding moment in game 7 of the NLCS, Hunter Pence's broken bat double would clear the bases and give the Giants a 5-0 lead in the third inning, something that proved to be too much to handle.
As a whole, Pence struggled in the NLCS with just three hits in 23 at-bats, but he's shown that he can be a dynamic threat on offense and that's something the Giants will need if they hope to get past the Tigers touch pitching staff.
Prince Fielder Busts His Slump to Earn WS MVP Honors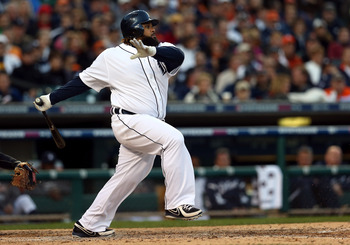 Jonathan Daniel/Getty Images
Prince Fielder was no doubt a big part of the Detroit Tigers' run through the regular season and into the playoffs as the AL Central champion.
He has struggled somewhat during the postseason, notching only three RBI in 41 plate appearances and going deep only once.
Fielder is however a .274 career hitter against the San Francisco Giants and with an on-base percentage around .400 against them, chances are that he could have enough success to warrant MVP consideration.
Tigers Win Series in 7 Games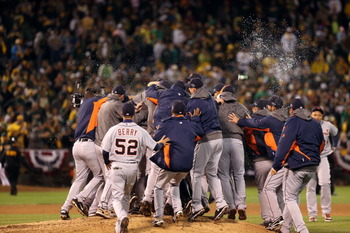 Ezra Shaw/Getty Images
Had the World Series started just a few games after the Tigers closed out the ALCS, you would have to think their hot streak could propel them to a World Series sweep no matter who the opponent might be.
A long layoff can spell trouble for teams like that, however, and with the Giants taking plenty of momentum into the fall classic, you have to believe they'll be putting up one heck of a fight.
In the end, the Tigers combination of strong pitching and a potent offense may prove to be too much to handle as Detroit should be able to take home their first World Series title since 1984.
Keep Reading