3 Ways the Atlanta Braves Can Replace Chipper Jones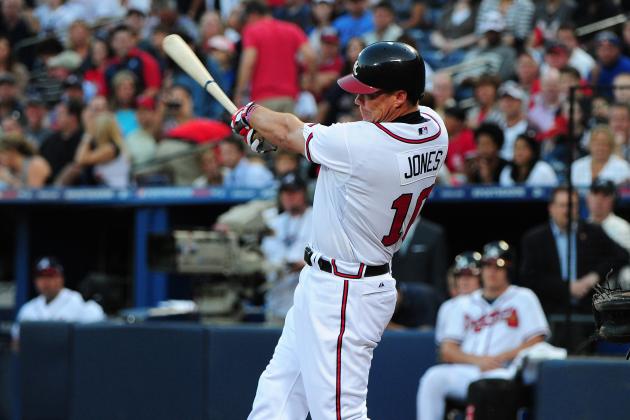 Scott Cunningham/Getty Images

The Atlanta Braves' season ended on a sour note. In the midst of a 6-3 lost in the Wild Card Game against the St. Louis Cardinals, they left 12 men on base and were a part of a controversial infield fly call.
However, the bigger storyline was the retirement of long-time Braves third baseman, Chipper Jones.
On March 22, the Braves announced Jones would retire at the end of the season after 19 seasons with the team.
Despite starting the season on the disabled list, Jones had an amazing year at the age of 40. He hit .287 with 14 home runs and 62 RBI.
Even with Jones' retirement, the Braves still have a shot to win the NL East. The Nationals were a surprise to win the division, but the Phillies, Marlins and Braves will all be competing for the division.
The Braves just need to find out how to replace Jones' bat and defense at third base for the upcoming years.
Begin Slideshow

»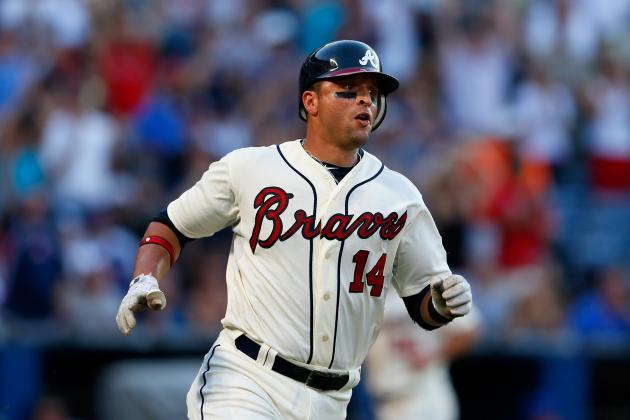 Kevin C. Cox/Getty Images

Martin Prado is the quintessential utility player for any major league team.
He became the Braves starting second baseman during the 2009 season after Kelly Johnson was placed on the disabled list. He remained the second baseman even after Johnson returned from injury.
Prado's willingness to change positions was evident when the Braves signed former Marlin's second baseman Dan Uggla. Without hesitation, Prado switched to left field and has been lights out.
In 202 games starting in left field from the beginning of 2011, Prado only had six errors. The change of positions didn't affect Prado's hitting either. Since moving, he has hit .281 with 23 home runs and 127 RBI.
Prado has played has played some third base before. Moving him will benefit the Braves as they can turn their focus to signing an outfielder.
With the upcoming free-agency class, the Braves can make a run at Nick Swisher, Shane Victorino or even Josh Hamilton.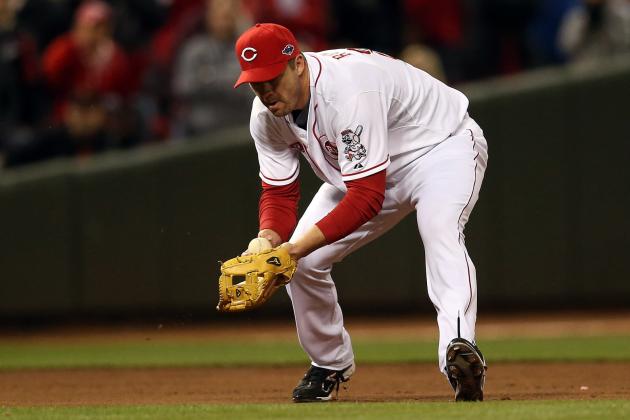 Jonathan Daniel/Getty Images

This year's free-agency class is filled with starting pitching and outfielders, led by pitcher Zack Greinke and outfielder Josh Hamilton.
However, if the Braves were to keep Martin Prado in the outfield, their options at third base are very slim. Scott Rolen leads the third baseman free-agency class. There are very few viable options after Rolen—Eric Chavez, Brandon Inge and Maicer Izturis are the next three players.
The Braves can also send offers to Kevin Youkilis and Placido Polanco if their options aren't picked up by their respective teams.
With very little depth this year, the Braves could sign a veteran player like Rolen or Chavez for the 2013 season and then take their chances with the following free-agency class.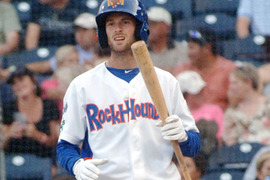 Jason Christian as a part of the Midland Rockhounds. Photo credit: Milb.com
The Atlanta Braves aren't in dire need for Jones' replacement to be a power hitter. They still have Jason Heyward, Dan Uggla, Freddie Freeman and Brian McCann.
Those four players hit a combined 89 home runs, 321 RBI and a .244 batting average.
With all their other offensive weapons, the Braves can risk calling up a rookie, Jason Christian, who is the third baseman for the Mississippi Braves, Atlanta's Double-A team.
Christian is not a power hitter by any means, but he can help the Braves by getting on base and scoring runs. In 60 games, Christians cored 22 runs and posted a .328 on-base percentage.
In 2012, Jones scored 58 runs and had an on-base percentage of .377.
Although this is an unlikely decision for the Braves, they do have options at the third-base position.
Chipper Jones is a surefire Hall of Famer, and no one can replace what he brought to Atlanta. However, the Braves are playoff contenders and need to somehow fill Jones' spot to continue their recent success.