Steelers vs. Bengals: Final Report Cards, Player Grades for Cincinnati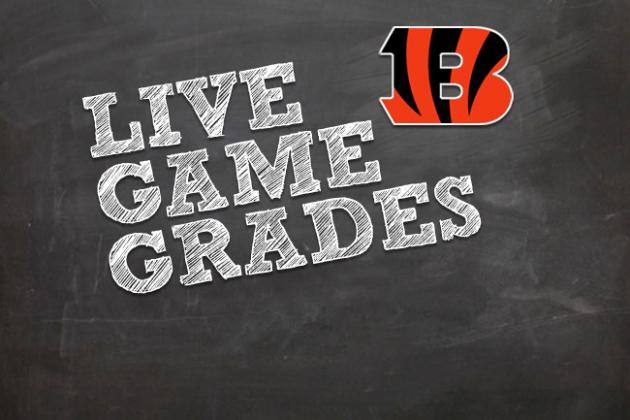 Pittsburgh Steelers 24, Cincinnati Bengals 17
The Cincinnati Bengals fell to their AFC North divisional rivals, the Pittsburgh Steelers 24-17 on Sunday Night Football. This puts the Bengals in a bit of a hole going into their bye week with a record of 3-4 after three straight losses and puts a bitter taste into the mouths of Bengals fans everywhere.
The Bengals now fall to third in the division behind the 5-2 Baltimore Ravens and the 3-3 Steelers.
The Bengals will have plenty of work to do over their bye week as they need to figure out what has gone wrong within the past few weeks and attempt to right the ship.
Let's take a look at the Bengals' final postgame grades and evaluations.
Begin Slideshow

»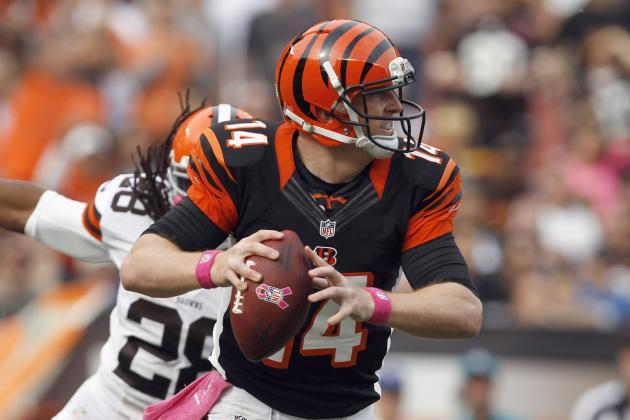 Matt Sullivan/Getty Images

Andy Dalton: D
Dalton did not have to do much in the first quarter as BenJarvus Green-Ellis handled the brunt of the work load for the Bengals. However, the throws that Dalton made were on-target. Dalton did not seem to be bothered by the Steelers pass rush and looked poised in the pocket.
After a Ben Roethlisberger fumble deep in Steelers territory, Dalton showed no arm strength issues as he threw a bullet between two defenders to A.J. Green for a touchdown and the lead.
Things changed for Dalton after that pass.
During the two-minute drill at the end of the first half, Dalton tried to pump-fake and lost the football which was intercepted by Lamar Woodley at the line of scrimmage giving Pittsburgh great field position.
Throughout the rest of the game Dalton struggled to find his targets and was very inconsistent and inaccurate with his passing. This was by far Dalton's worst performance of the season as he finished 14/28 for 105 yards along with a touchdown pass and an interception for a quarterback rating of 56.4.
Joe Robbins/Getty Images

BenJarvus Green-Ellis: C+
Green-Ellis carried the Bengals offense for the first three quarters of the game. The Bengals aerial attack simply could not get anything going so Green-Ellis was forced to be the workhorse of the offense.
He did not finish with flashy stats as he carried 18 times for 69 yards which gives him a 3.8 yard per carry average. However, Green-Ellis started to regain his old form as he churned out very tough yards behind a shaken up offensive line.
Green-Ellis was constantly seen getting his pads low and dragging defenders for extra yards after contact. He was very effective in short-yardage situations.
If the Bengals had any kind of passing game on Sunday night, Green-Ellis could have wound up with a big game. He put up a valiant effort, but will probably be an unsung hero of the game.
Cedric Peerman: A
Peerman needs a mention here simply because he scored the Bengals only rushing touchdown. Peerman's final statistics are as follows: one rush, five yards, one touchdown. He did what he needed to do when he was put into the game and made the most of his one carry.
Peerman also contributed on special teams as he recorded a tackle on a punt return.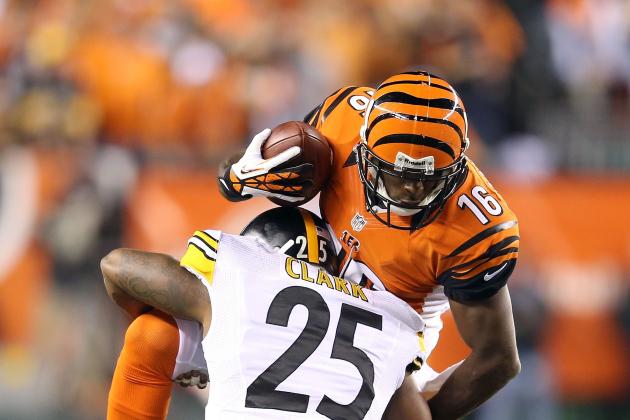 Andy Lyons/Getty Images

A.J. Green: D-
Green did score the Bengals lone receiving touchdown, but that was all he contributed. He finished with one reception for eight yards and a score.
These are simply not A.J. Green caliber numbers.
Granted, Ike Taylor played very well on Green Sunday night and he was also given safety help over the top, but Green is the type of player that needs to find ways to get open in a coverage like that.
Like the rest of the Bengals offense, Green simply came out flat today and failed to shed coverage. If the Bengals plan on contending for a playoff spot, they can not afford any more games like this from their star receiver.
Mohamed Sanu: B
Sanu, a third-round draft pick this year from Rutgers was given the most playing time he has seen all season. He was not in on many snaps, but seemed to make the most of them.
Sanu finished with three receptions for 27 yards with a long of 17 and also had one rush for seven yards.
Sanu showed toughness and the willingness to catch the tough passes over the middle and proved to be a very strong and formidable opponent for opposing defenses.
Brandon Tate: F
Tate started the game as the second wide receiver opposite Green and finished with only one reception for three yards.
Coverage was being rolled in the direction of Green all night and at that point the second receiver really needs to step up in a big way. Tate failed to do that this evening and questions his reliability as anything more than a kick returner in the future.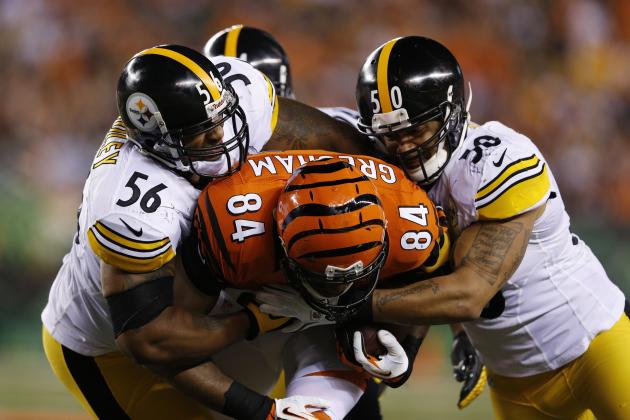 Joe Robbins/Getty Images

Jermaine Gresham: C-
Gresham did not get many opportunities on Sunday night as he spent a good portion of the evening helping the offensive line with blocking assignments.
He did record three receptions for 19 yards with a long of 14. That is not good enough for this standout tight end. With A.J. Green blanketed in coverage, Gresham should be the next in line to step up and help out quarterback Andy Dalton.
Gresham also had one crucial drop early in the game as he let one pass slide right through his hands which doomed one Cincinnati drive.
Like Green, Gresham simply can not afford to have games like this for the sake of the Bengals franchise. This Bengals team will not be taken seriously as contenders in their division until they can step up in a prime-time atmosphere and play well enough to prove that they belong.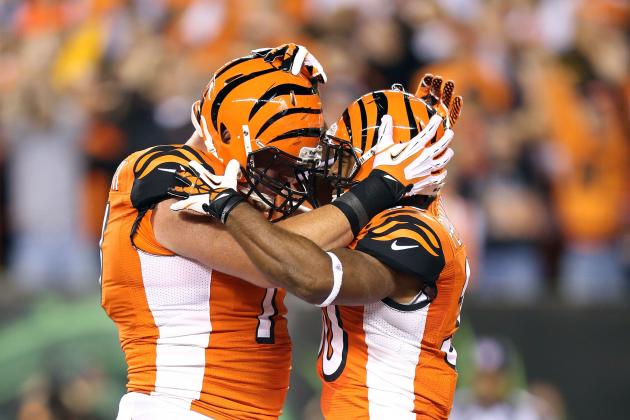 Andy Lyons/Getty Images

Andrew Whitworth: A
Whit had the best game out of any Bengal on Sunday night. He was matched up one-on-one against the always dangerous James Harrison and held strong. Harrison could not get near Andy Dalton all night due to the great blocking by Whitworth.
If Whitworth can keep up games like this, a great deal of pressure will be taken off of Dalton and the sophomore quarterback will be able to flourish.
Kevin Zeitler: B
Zeitler, the Bengals second first-round draft selection of 2012, was terrific against Pittsburgh. He was very good in pass protection as he allowed Andy Dalton's jersey to remain clean. He was better, however, in run blocking.
Running plays were called consistently to the right side of the line behind Zeitler and he showed the same dominance and push up front that he generated while at Wisconsin. If Zeitler can keep improving at his current rate, he could very well become one of the NFL's elite guards.
Andre Smith: B
Smith will be held in the exact same regard as Zeitler after Sunday's game. Both players are on the right side of the offensive line and, like Zeitler, Smith was absolutely dominant while run blocking.
Smith is finally using his size to his ability and is becoming quicker off the snap. This is yet another young player that is starting to show tremendous potential as he continues to grow.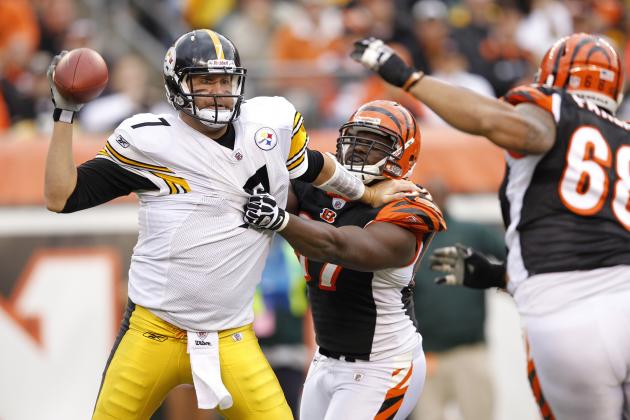 Joe Robbins/Getty Images

Michael Johnson: B+
Johnson was disruptive all night as he finished second on the team with eight tackles and he also recorded one sack of Ben Roethlisberger. Johnson is emerging into a fine pass rusher and is improving by leaps and bounds this season.
He has become a fixture on the defensive front and will continue to be a force in games to come.
Geno Atkins: C+
Atkins only had two tackles against the Steelers but he did sack Ben Roethlisberger once. Even though he did not record many tackles he was a constant disruption in the Steelers backfield. Geno went to the Pro Bowl one year ago and is making a great case for a return trip.
Carlos Dunlap: C-
Dunlap had two tackles and one quarterback hit. He did not record a sack, but was enough of a disturbance to take pressure away from other members of the defensive line. Dunlap made his tackles count as he was very stingy on the edge during consecutive Steelers rushing plays to the outside.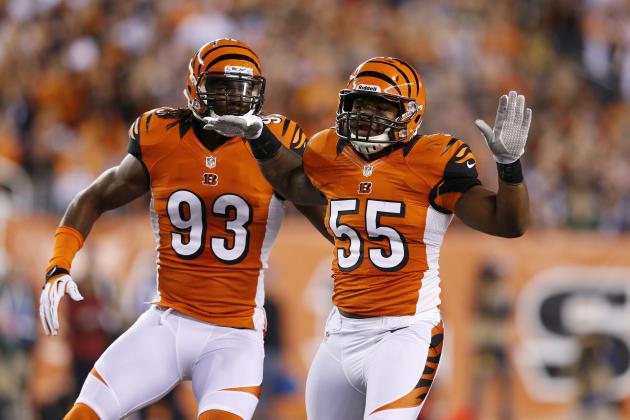 Joe Robbins/Getty Images

Vontaze Burfict: A+
Burfict has become the steal of the draft for the Cincinnati Bengals and possibly the NFL. Burfict has become a force on the Bengals defensive side of the ball and it seems at times that he is absolutely everywhere on the field.
Burfict has proven that he is a sure tackler and is generally in position to make a play. He came up huge tonight and led the Bengals with 15 total tackles. Two of those tackles were also for a loss as he was very disruptive in the backfield.
It seems as though we are looking at the linebacker of the future here for the Bengals.
Rey Maualuga: F
What can be said here that hasn't been said about Maualuga before?
He is constantly out of position by over pursuing on running plays and is unable to shed a block. Aside from that he was very lazy in coverage and was beaten a number of times by Pittsburgh tight ends and runningbacks.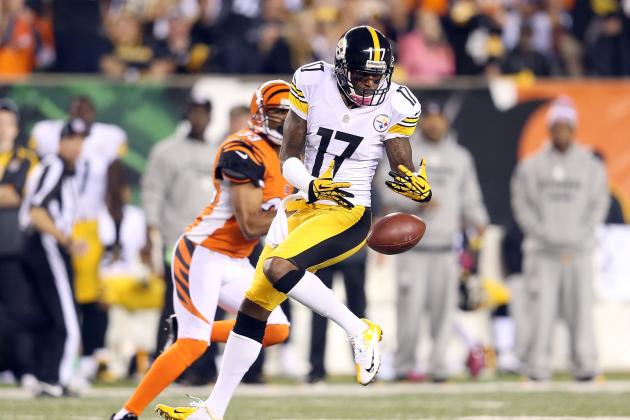 Andy Lyons/Getty Images

Leon Hall: B
Leon Hall played well despite the secondary collapse against the Steelers. Roethlisberger rarely threw his way as he decided to pick on Adam Jones and Terence Newman on Sunday.
Hall was able to hold his own against the speedy wide receivers of the Steelers and finished the game with three tackles and one pass defensed that saved a touchdown.
Terence Newman: F
Newman could not stay with any of the Steelers wide receivers whether it was Mike Wallace or Antonio Brown. He was constantly beat easily on very simple routes and provided a very easy target for the Steelers passing attack to pick on.
Adam Jones: F
Jones did not do any better than Newman. He was picked on by the Steelers as well and was easily beaten by the Steelers wide receivers. To make matters worse for Jones, he looked just as bad when trying to make a tackle. Mike Zimmer could not be pleased with Jones' play to this point.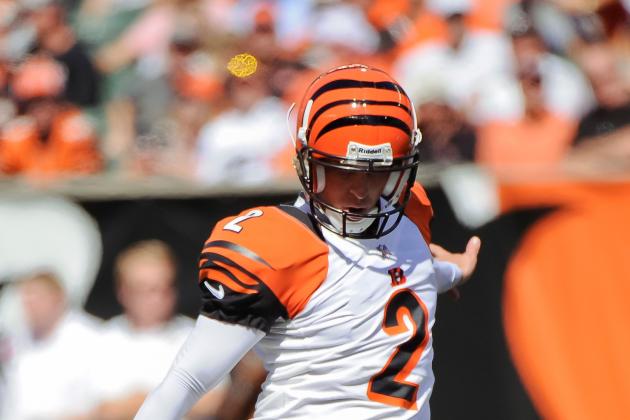 Jamie Sabau/Getty Images

Brandon Tate: D
Tate was shaky early on in the game when he kept fielding kickoffs deep inside his own end zone and taking them out for short gains. Tate needs to learn when to take a knee and start his offense at the 20-yard line. He has trouble with his decision-making and needs to improve upon it to be a suitable returner.
Mike Nugent: A
Nugent was not called upon to do much tonight but he did make a pair of extra points and bombed a beautiful 48-yard field goal that split the uprights.
Nugent continues to be a very solid kicker for Cincinnati and definitely deserves a long-term deal after this season.
Kevin Huber: B
Huber actually had a decent game on Sunday. He is known for having a big leg, but being very inconsistent. Huber averaged a very nice 51.8 yards per punt against the Steelers and greatly helped Cincinnati's struggling offense with the field position battle.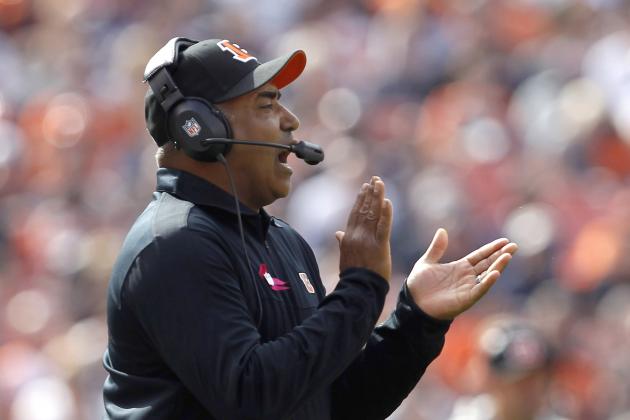 Matt Sullivan/Getty Images

Marvin Lewis: D-
The Bengals seemed very unprepared for their game against the Steelers and Lewis should be at fault for that. Aside from his inability to get his team prepared, Lewis made two very questionable challenges during the game and lost them both, costing the Bengals two very needed timeouts.
The team all around was very lethargic and Lewis did not seem to try to rally his players at all. Lewis can not remain unenthusiastic on the sidelines and instead needs to engage his players and encourage their abilities.
Jay Gruden: F
Gruden ran a very vanilla offense against Pittsburgh. He relied on the running game and passes that were 10 yards or closer from the line of scrimmage. Only twice in the game did Andy Dalton attempt passes of over 20 yards.
The Steelers had the Bengals offenses number from the beginning of the game and Gruden failed to make any sort of adjustments to counteract the Steelers defensive strategy.
Mike Zimmer: C
Granted the defense did not play very well on Sunday against the Steelers. The secondary simply could not control the Steelers passing attack.
The reason that Zimmer does not get as low of a grade as the other Bengals coaches is because it was very evident that he was attempting to make adjustments as the game went on.
Zimmer was tinkering with his defensive packages and trying to find ways to get to Roethlisberger faster to avoid big plays. He was also changing his personnel rapidly during the final quarter of the game and trying to keep his players fresh.
Zimmer made a great effort to contain the Steelers offense, but unfortunately the play of most of his defensive personnel derailed his efforts.