St. Louis Cardinals vs. San Francisco Giants Game 6: Live Score, NLCS Analysis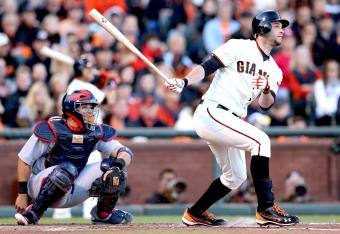 Follow along for the latest updates on Giants-Cardinals Game 6.
SCORE UPDATE:

Final score: Cardinals 1 - 6 Giants
Yes, the Giants have their ace, Matt Cain, starting in Game 7 at home. However, the Cardinals will have an ace of their own, Kyle Lohse, making the start for them.
One thing to remember: Lohse, even though he got the win in Game 3 of the series, allowed seven hits and walked five in 5.2 innings. The Giants will need capitalize on their scoring opportunities tomorrow night if they want to complete their improbable comeback.
Either way, it was inevitable that this series was going to go to Game 7. These two teams are way too evenly matched for it not to.
Just like Jack Buck said in Game 6 of the 1991 World Series, "We'll see you tomorrow night!"
Giants beat the Cardinals 6-1 to force a Game 7. Ryan Vogelsong pitched the game of this life when the Giants needed it most. Brilliant performance from the journeyman who keeps surprising everyone.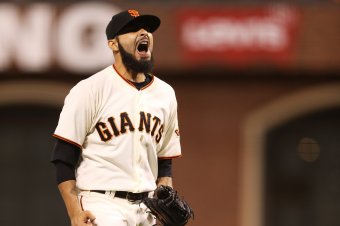 Christian Petersen/Getty Images
The Cardinals are down to their last chance. They need to score at least five runs against Sergio Romo, or face Matt Cain in Game 7 in San Francisco.
Mike Matheny has had to burn through four relievers tonight, but the good news is that Mitchell Boggs, Trevor Rosenthal and Jason Motte have been able to take the night off.
Could be a factor in the probable Game 7.
A lot happening on that play. Brandon Belt shattered his bat, Daniel Descalso took a ground ball off his cheek, then Belt almost got thrown out at first as he rounded the bag a little too hard.
Crazy sequence.
A Lil' Wayne sighting at AT&T Park as he raps, er, sings "Take Me Out to the Ballgame".
I still don't know how anyone can hit Santiago Casilla. His 2-seam fastball has nasty, late movement and he backs it up with a curveball that also has late-breaking movement out of the zone.
He truly is unhittable when he's on.
I can hear the boo birds every time Carlos Beltran comes to the plate. Giants fans, management didn't want to bring him back because they never perused him in the offseason.
No need to boo the man.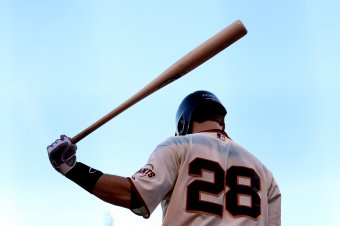 Ezra Shaw/Getty Images
It's hard to believe the Giants have been able to claw their way back into this series without Buster Posey helping them offensively. He's now 0-of-4 this game and 3-of-22 this series.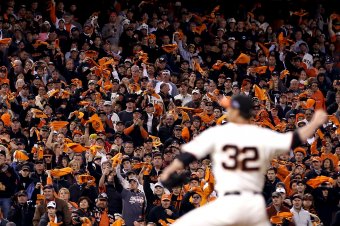 Christian Petersen/Getty Images
Ryan Vogelsong, in the biggest game of his life, has pitched the best seven innings of his career. Needless to say, that standing ovation was well deserved.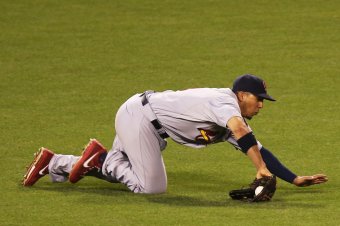 Ezra Shaw/Getty Images
I'll tell you what, Jon Jay has just as much range in center field as anyone in the game today. He really is turning into one of the better defenders in baseball.
Shelby Miller does his job and softens the blow of Chris Carpenter only pitching four innings tonight.
And the Cardinals are on the board. They desperately needed that run and Yadier Molina is looking for more.
This game is far from being over.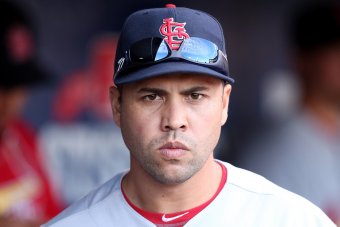 Christian Petersen/Getty Images
I know Albert Pujols was known as "The Machine" during his tenure in St. Louis, but Carlos Beltran should adopt that name for what he's done this postseason. He's unreal.
The St. Louis Cardinals have the top of the order to lead off the 6th inning. Huge part of the game right here. They need to get Ryan Vogelsong in the stretch because he has it going right now.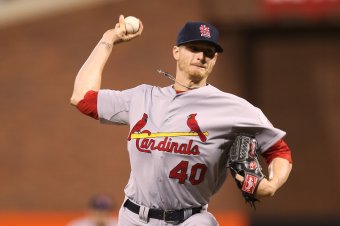 Christian Petersen/Getty Images
And here come the flamethrowers out of the St. Louis Cardinals' bullpen. Mike Matheny has to dip into his bullpen in the 5th inning, which could be a deciding factor in a potential Game 7 if the Giants hold on tonight.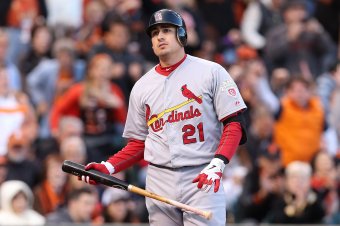 Christian Petersen/Getty Images
St. Louis Cardinals are starting to make some noise here in the 5th inning. They don't need to get all five runs back now, but it's time to start chipping away at the lead.
I knew Tim McCarver was going to mention the no-hitter. The broadcaster jinx strikes again.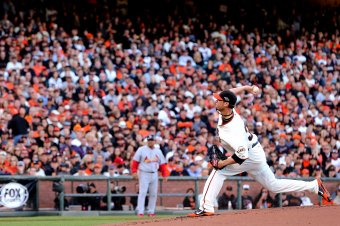 Christian Petersen/Getty Images
Paint, paint, paint. Ryan Vogelsong is throwing the ball exactly where he wants to. Truly a masterful performance thus far.
Chris Carpenter needs to pitch at least another inning to preserve the bullpen for a potential Game 7.
That was Carpenter's best inning by far. Maybe Matheny knew something... of course 5-0 Giants head start is not good.

— Tim Kawakami (@timkawakami) October 22, 2012
The ball is bouncing the Giants' way this evening. The Cardinals have bobbled the ball twice on the exchange, then Gregor Blanco's grounder bounces over Matt Carpenter at first base.
However, the other Carpenter pitches through it and comes out unscathed.
I thought Ryan Vogelsong might've been emotionally and physically drained after his performance in Game 2, but he's already squashed that theory. Six strikeouts through three innings and he's only thrown 44 pitches.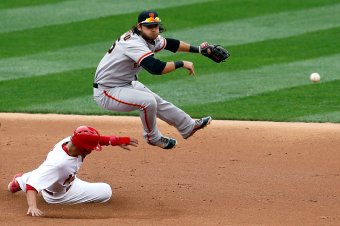 Kevin C. Cox/Getty Images
I've said before and I'll say it again: Brandon Crawford deserves to win the Gold Glove Award this year. He was easily the best defensive shortstop during the second half of the season.
This article is
What is the duplicate article?
Why is this article offensive?
Where is this article plagiarized from?
Why is this article poorly edited?