Predicting Final SEC Stat Leaders for 2012 College Football Season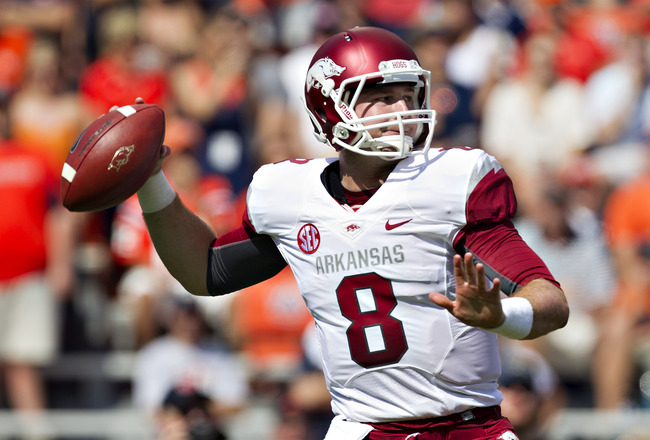 Wesley Hitt/Getty Images
Though half of the college football season is in the rear-view mirror, nearly all of the major individual statistics in the SEC are unbelievably close.
Take the passing leader for instance. Tyler Wilson leads the SEC in passing with 1,957 yards, and Johnny Manziel is a close second with 1,956.
LaDarius Perkins holds a 21-yard lead on Manziel for most rushing yards in the league, while Avery Williamson leads the SEC in tackles by having four more than A.J. Johnson.
Given how close all of these statistical categories are, it brings up an interesting debate about which SEC player will lead the league in each category. Take a peak inside for predictions.
Passing: Tyler Wilson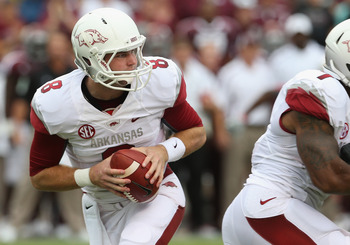 Ronald Martinez/Getty Images
Though Tyler Wilson only has a one-yard lead over Manziel for most passing yards in the league, you have to remember Wilson missed playing time with a concussion.
When you take that into account, only then can you truly appreciate what Wilson has done this season. He's averaging 326 yards per game, while Manziel is only averaging 279.
Now that Arkansas is starting to get on a roll offensively, it seems inevitable that Wilson will be the league-leading passer.
Expect Wilson to continue making big plays down the field, even with LSU, Mississippi State and South Carolina left on the schedule.
Prediction: 3,430 yards
Rushing: Zac Stacy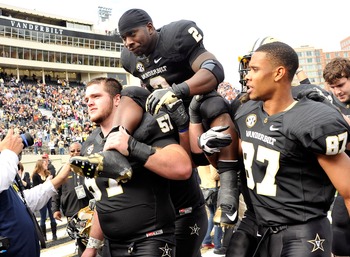 Frederick Breedon/Getty Images
At the end of 2012, Zac Stacy will be the conference's leading rusher.
Perkins has the most rushing yards with 724, and then he's followed by Manziel with 703 and Stacy with 668.
Because Perkins has to face stout defenses such as Alabama and LSU, expect his production to slow down as the season winds down. As for Manziel, LSU and Florida have laid the blueprint down for teams to stop him from scrambling.That's where Manziel slows down.
As for Stacy, he speeds up. With games against Massachusetts, Kentucky, Tennessee and Wake Forest still on the schedule, expect Stacy to rush over 1,000 yards.
Prediction: 1,236 yards
Receiving: Cobi Hamilton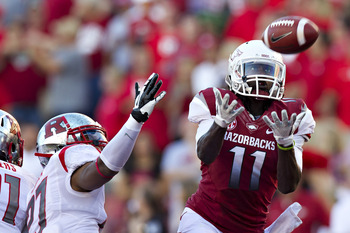 Wesley Hitt/Getty Images
Cobi Hamilton is easily the best receiver in the SEC.
If you have any doubts, just check out his league-leading 754 receiving yards. Hamilton is the only receiver in the SEC that's averaging over 100 yards receiving per game, and because of his explosive ability, he can break off a long reception one at any moment he's on the field.
Hamilton has nearly a 100-yard advantage on Jordan Matthews, who's second in the league with 663 yards.
This is the only major statistical category that's really being dominated in the conference, and with Wilson throwing to Hamilton, expect him to surpass 1,000 receiving yards easily.
Prediction: 1,079 yards
Most Touchdowns Scored: Johnny Manziel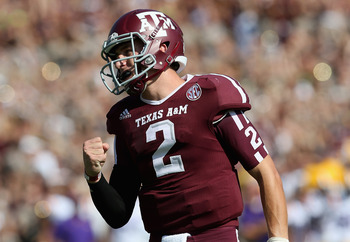 Ronald Martinez/Getty Images
Unlike the receiving race, the most touchdowns race is super close.
Johnny Manziel, Todd Gurley and Marcus Lattimore are tied in the lead with 10 touchdowns, but Manziel will be the leader at the end of the season.
With the way South Carolina's offense has been stalling out, Steve Spurrier has resorted to throwing the football more and Lattimore's carries have been reduced.
And as for Gurley, he'll still rack up rushing touchdowns, but he'll have to share with Keith Marshall. That leaves it open for Manziel. When Texas A&M gets close to the goal line, Manziel will do what he does best, and that's create plays with his feet, which will lead to rushing scores.
Prediction: 17 touchdowns
Tackles: Kevin Minter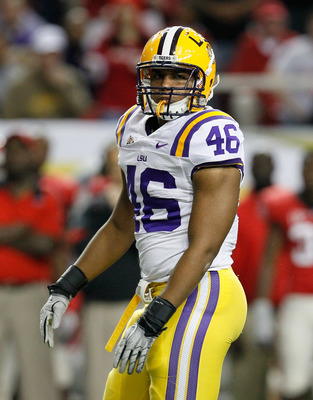 Kevin C. Cox/Getty Images
The race for most tackles in the SEC is a tight one.
As mentioned earlier, Williamson has the lead with 81 tackles, followed by Johnson with 77, and right behind them is Kevin Minter with 75.
Minter's play this year has somewhat flown under the radar, but he's been nothing short of remarkable. Then again, it's easy to fall in the shadows of Barkevious Mingo and Sam Montgomery. But Minter deserves recognition because he's the best linebacker LSU has had since Kelvin Shepherd, maybe even better.
The Tigers rely heavily on Minter to make the sure tackles in the middle, as the other linebackers are mostly used for coverage schemes. This will allow Minter to lead the league in tackles when it's all said and done.
Prediction: 126 tackles

Sacks: Damontre Moore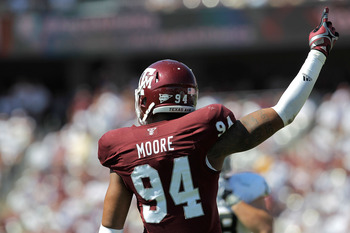 Sarah Glenn/Getty Images
Damontre Moore has been the surprise of the year on defense.
With notable defensive ends in the league like Montgomery, Mingo and Jadeveon Clowney, Moore has somehow managed to lead in sacks.
Moore has 9.5 on the season, and Clowney is right behind him with 7.5.
With Texas A&M playing five more games on the season and South Carolina only playing four, Moore is set up perfectly to lead the SEC. What an accomplishment that would be for his first season in the conference.
Prediction: 16 sacks
Interceptions: Darius Slay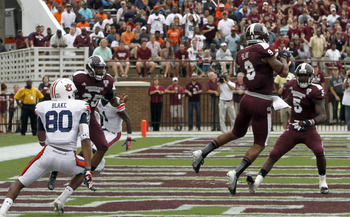 Butch Dill/Getty Images
Anyone with a brain will choose to throw opposite of Johnthan Banks.
That's going to allow his teammate, Darius Slay, to make more interceptions and hold the most when the season is all said and done.
Right now, Banks, Slay and Byron Moore lead the SEC in interceptions with four, so this is undoubtedly the closest race.
But once again, Slay will get more opportunities to pick balls off with Banks playing on the opposite side of him.
Prediction: Six interceptions
Keep Reading