Texas Football: Grading All 22 Starters from the Baylor Game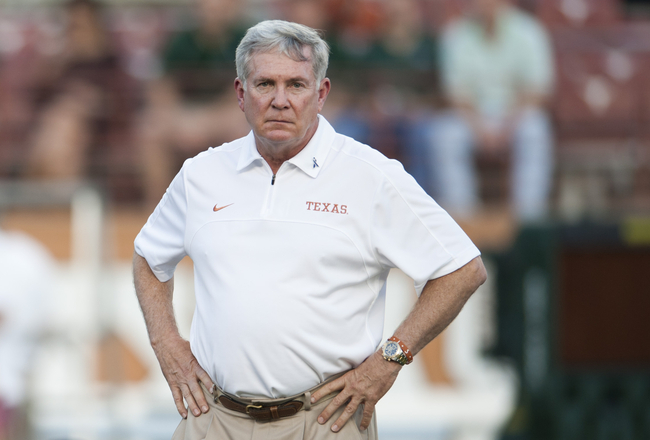 Cooper Neill/Getty Images
An ugly win is still a win, as the Texas Longhorns proved in outlasting the high-flying Baylor Bears 56-50, breaking a two-year losing streak to their Big 12 foes.
A week after getting flat-out embarrassed by the Sooners, the Longhorn offense rebounded in a big way with 525 yards of offense without a single turnover in putting up 56 on the worst defense in the country. Daje Johnson got it started with an 84-yard touchdown sprint, Johnathan Gray picked up his first touchdown as a Longhorn and Joe Bergeron rediscovered his punishing mojo with five touchdowns.
If only the same could be said for the defense. With Jordan Hicks still on the sidelines nursing a hip injury, the 'Horns defense gave up 607 yards of offense to Nick Florence and the Bears. However, Diaz's defense did generate two key turnovers that will keep the wolves at bay at least for the time being.
The win was much-needed, but this Texas team is still very much a work in progress. But with lowly Kansas looming next weekend, the 'Horns have time to pick up their confidence before heading to Lubbock to face the surging Red Raiders.
Here are the grades for all 22 starters from the Longhorns' major rebound victory over the Bears on Saturday.
Quarterback: David Ash
Brendan Maloney-US PRESSWIRE
Grade: B
A week after getting roughed up by the Sooners, sophomore quarterback David Ash rebounded on Saturday and did just enough to outdo the superb Baylor offense.
Ash finished his night going 19-of-31 for 274 yards and a touchdown, but most importantly, did not put the defense in a bind by turning the ball over. Ash's performance is especially impressive, considering he did this after sustaining one of the more gruesome wrist sprains you will ever see only a week ago at the Cotton Bowl.
While he did have a nice game for the 'Horns, Ash still displayed some of the issues that plagued him against OU. He missed a lot of open receivers and underthrew his targets a few times, most notably on a 67-yard bomb to Mike Davis that should have been a 75-yard touchdown.
Ash gets away with this against the weaker defenses in the country, but he cannot afford to do this after next week's game against the Jayhawks.
Running Back: Daje Johnson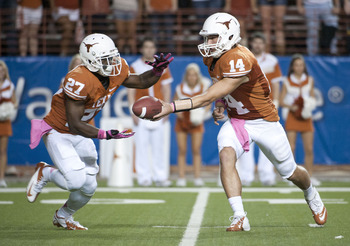 Brendan Maloney-US PRESSWIRE
Grade: A-
Electric freshman Daje Johnson made his first start for the Longhorns on Saturday against the Bears and made an immediate impact as he continues to mature into one of Bryan Harsin's most lethal weapons.
Earlier in the week, I called for Johnson to get a more featured role in the Texas offense, and he made me look smart.
The explosive hybrid player racked up 104 total yards on nine touches, including taking the opening snap 84 yards to the house to get the Texas crowd rocking from the get-go. The score was Johnson's second of the season and his third play from scrimmage of 45 yards or more.
Look to see more and more of this kid. Not only can he score anytime and from anywhere, but he puts the entire opposition on alert every time he is on the field. Any way you slice it, this budding young star needs to continue to be a major cog in this offense.
Were it not for Johnson's bad fumble on his second touch of the game, Johnson gets an "A" for his performance.
Wide Receivers: Mike Davis and Jaxon Shipley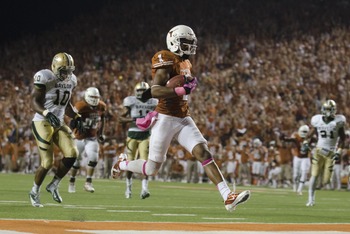 Brendan Maloney-US PRESSWIRE
Davis: A
Terrance Williams continued to prove that he is the best receiver in the conference against the Longhorns, but Texas' own Mike Davis certainly put on a show of his own.
The junior wide receiver continues to have a career season after hauling in six balls for 148 yards and a touchdown on Saturday. The touchdown pushes Davis' season total to three, which equals the amount he had through his entire first two seasons.
Davis' emergence as a bonafide deep threat is a major asset for Mack Brown and the 'Horns, especially since it looks like they will have to outscore the opposition for the rest of the season. If David Ash could stop underthrowing his top target, he could emerge as one of the conference's top wideouts by season's end.
Shipley: B
It seems strange to say, but junior wideout Jaxon Shipley was pretty much a forgotten man in Texas' offensive onslaught on Saturday.
Shipley only touched the ball three times against the Bears, running the ball twice for 13 yards and catching his only target for 15 yards. You would like to see Shipley get a little more involved in the offense, but it is hard to complain when that offense puts up 56.
Tight Ends: M.J. McFarland and D.J. Grant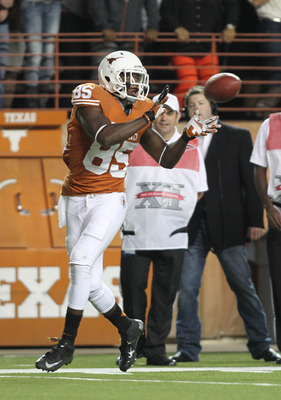 Tim Heitman-US PRESSWIRE
McFarland: B+
He may have had only one catch, but redshirt freshman tight end M.J. McFarland is starting to look very comfortable in this Texas offense and continues to emerge as a downfield threat.
McFarland had one catch for 29 yards, giving him six on the season for 105 yards at 17.5-yard average. But the most encouraging part of McFarland's night was his block on the edge that gave Daje Johnson the room to break loose for his 84-yard touchdown.
McFarland's deficiencies as a blocker kept him off the depth chart to start the season, and his progress in that department could give Texas its first complete tight end whom it has missed the past few seasons. Keep an eye on this kid moving forward.
Grant: D
Not really much to go off here for Grant, who had only two catches for nine yards and lost snaps to McFarland and sophomore Greg Daniels.
This game brings to mind why Grant has not had more of an impact during his time as a Longhorn. He had another bad drop, which has always plagued the senior, and struggles to consistently deliver as both a receiver and a blocker.
Offensive Line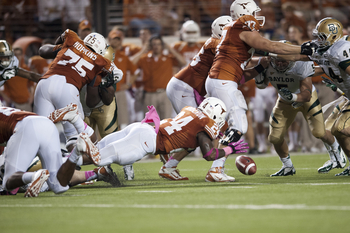 Cooper Neill/Getty Images
Grade: A
A week after getting totally manhandled by the Oklahoma Sooner front, the Longhorn offensive line asserted its will against the Bears and were a key reason that the Longhorns were able to churn out 56 points.
David Ash was not sacked and was hurried only twice. The Longhorns averaged 5.7 yards per carry and scored seven rushing touchdowns. It really does not get a whole lot better than that.
We know what these guys can do against inferior competition, which they have dominated all season. But, I'm still not sold on these guys to do it against some of the better Big 12 fronts, which they will run into in two weeks on the road trip to Lubbock.
Defensive Tackles: Desmond Jackson and Chris Whaley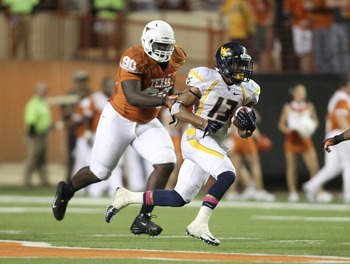 Expect this slide to feature Brown next week
Tim Heitman-US PRESSWIRE
Jackson: F
The interior of the Texas defensive line continues to get pushed around in the run game, and Jackson is no exception as he failed to record anything in the stats column against the Bears.
Jackson is supposed to be the strongest guy on the team and should be a major asset as a run-stuffer. Instead, the Bears averaged 5.8 yards per carry with no significant running backs. Expect Jackson to lose his job to freshman Malcom Brown, who has really started to come on in these past couple of games.
Whaley: D-
What goes for Jackson goes doubly for Whaley, who avoids a failing grade, thanks to his deflection of a Nick Florence pass.
I know these defensive linemen are getting little-to-no help on the back end, but this is unacceptable—especially with Jackson Jeffcoat out for the season.
Defensive Ends: Alex Okafor and Reggie Wilson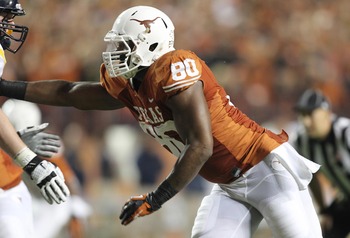 Tim Heitman-US PRESSWIRE
Okafor: B
Among the few Texas defensemen who actually played very well, senior Alex Okafor played his heart out for the 'Horns in his first game without Jackson Jeffcoat playing on the opposite side.
The big defensive end tied for third on the team with eight tackles, including three for a loss, and registered 1.5 sacks. Both times Okafor got to Baylor quarterback Nick Florence were in the second half when the Longhorns were pulling away and then preserving a lead, making those plays that much more important.
Whether it is fair or not, the Longhorns will need Okafor to continue to have games like this if they want to figure in the Big 12 race in any way. He is a leader on this defense and is probably the only defensive lineman who can consistently get into the backfield, which is key, considering the ineffectiveness of the linebackers.
Reggie Wilson: F
Starting in place of the injured Jeffcoat, junior defensive end Reggie Wilson had big shoes to fill on Saturday. He may as well have not even been out on the field.
Making his first start as a Longhorn, Wilson recorded only one tackle and watched Cedric Reed take most of his snaps as the game wore on. Expect that to be the trend going forward as Reed had a very solid game for the Longhorns.
Linebackers: Steve Edmond, Kendall Thompson and DeMarco Cobbs
Brendan Maloney-US PRESSWIRE
Edmond: C+
The Longhorn linebackers continue to get exposed, no matter who the opponent may be, but sophomore Steve Edmond has certainly had his bright spots, and Saturday was one of them.
Edmond not only led the team in tackles, which has become commonplace, but he forced a key fumble late in the third quarter that was recovered by Mykkele Thompson. The Longhorn offense was able to turn that fumble into a Mike Davis touchdown that turned out to be the difference in the game.
Edmond still struggles with his reads and getting into position, but he is still a tackling machine and has been the only linebacker to make plays for this defense.
Thompson: C
The sophomore Thompson, who continues to step in while Jordan Hicks recovers from injury, made his third consecutive start for the 'Horns and had a very up-and-down night for his team.
Thompson is plagued by the same issues that also plague the rest of these linebackers as far as misreads and missed tackles go. However, like Edmond, he was able to come up with a big play late as he collaborated with Alex Okafor on a fourth-quarter sack that ended up in a Baylor punt.
The potential is there for these linebackers, but the performance is not there through seven games. Want another reason to complain about defensive coordinator Manny Diaz? He is also the linebackers coach.
Cobbs: D
What goes for Edmond and Thompson also goes for sophomore DeMarco Cobbs, minus the key plays late in the game.
Cobbs was better than usual in picking up seven tackles but still is not living up to the unbelievable potential he has. People forget that Cobbs was a running back when he came to Austin and is therefore playing a very new position without much help in Hicks' absence.
I come back to Manny Diaz's coaching ability here—or rather his lack thereof. How is it that, through seven games, all three of these guys, two of which you converted to the position, are still making the same mistakes?
Cornerbacks: Quandre Diggs and Carrington Byndom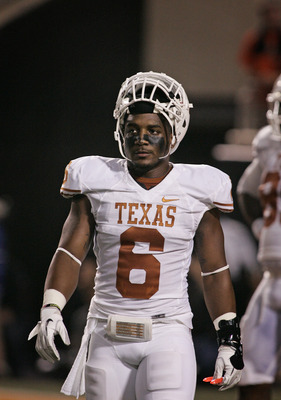 Brett Deering/Getty Images
Diggs: D
Facing easily the toughest one-on-one matchup in the game, Texas sophomore Quandre Diggs had a tough night covering the conference's best receiver in Terrance Williams.
Diggs was matched up with Williams throughout the night and allowed the big receiver to haul in 10 catches for 180 yards, including an 80-yard no-doubter in the first quarter. And there's the 30 yards Diggs gave up on pass-interference penalties.
Normally, I would give Diggs a failing grade here, but he did play incredibly hard from start to finish against a player whom nobody has been able to stop. Still, you would hope he would have won the battle with Williams a few more times.
Byndom: D
Where is the 2011 version of Carrington Byndom? At this point, that version of the junior corner feels like a distant memory as he continues to play below expectations in 2012.
Byndom, who led the team in missed tackles coming into the game, continues to struggle mightily in that department and is just not the same player he was a year ago. His underachievement this season is a big reason this defense has not been all it could have been.
Safeties: Kenny Vaccaro and Josh Turner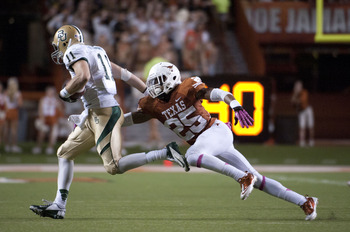 Brendan Maloney-US PRESSWIRE
Vaccaro: C+
Still forced to play on the inside in the absence of Jordan Hicks, senior safety Kenny Vaccaro continues to have a hard time having the type of impact we have come to expect from him.
Vaccaro did have eight tackles and a forced fumble, but it is very obvious that he is not as comfortable in his new role. Instead of being an enforcer in the secondary, Vaccaro is forced to make plays on the inside against the run much more often than usual.
This is no fault of Vaccaro's. It is just the cards this team has been dealt by a very unfortunate injury. But, he is much better as a traditional safety than this nickel corner-linebacker combo he has been having to play as.
Turner: A
Adrian Phillips has been awful, and Mykkele Thompson was not cutting it. Next in line was sophomore Josh Turner, who emerged as the defensive player of the game for the Longhorns.
Making his first ever start, Turner stepped up a tackle for loss, a pass breakup and forced the first turnover of the game on an impossible interception. The interception led to Johnathan Gray's first career touchdown and gave Texas a lead it would not relinquish for the rest of the game.
If he can keep this up, Turner shores up a position of major need and could emerge as this season's breakout defensive player.
Keep Reading

Texas Longhorns Football: Like this team?