Buffalo Sabres: Has Terry Pegula Made Them a Better Team?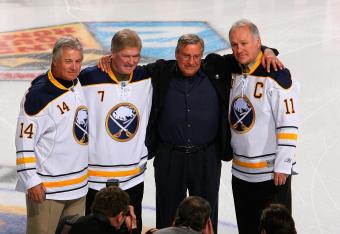 Rick Stewart/Getty Images
On February 23, 2011 Terry Pegula stood in the lobby of the First Niagara Center and introduced himself to the fans of the Buffalo Sabres. In that press conference, Pegula stated that above anything, he was a fan of the Sabres and wanted to compete for a Stanley Cup.
In the full season since he took charge, Pegula's Sabres have not shown they are ready for the Stanley Cup.
Ryan Miller was not himself for the first half of last season, the defense struggled due to injuries, the offense struggled to score at times and the powerplay and penalty kill were not nearly as reliable as they had been in seasons past.
So has Pegula failed?
Not even close.
Yes, the team has not been the most successful since Pegula's arrival, but he has been in charge for only one full season. Beyond that, if anyone believes that the Sabres are in a worse position than they were two years ago, there are a number of things they have missed.
First, Pegula has completely changed the culture and landscape of what it means to come play hockey in Buffalo. One of the biggest complaints from fans about the Sabres is that "no one wants to come play in Buffalo," and before Pegula, there was an excellent argument to be made for that assertion.
Rob Carr/Getty Images
But things have changed in a big way.
One can say that the team's performance, coach and front office make the decision for the player, and while that is certainly true to some extent, the city needs to sell itself to a player as well.
Buffalo is probably one of the better cities for an NHL player for a number of reasons.
It is extremely cheap, both in terms of cost of living and real estate, it is close to Canada and Southern Ontario, where a lot of NHLers are from, it is hockey rabid so the team is one of the city's prized possessions and you have built-in rivalries with Toronto, Montreal and Boston.
The downside of Buffalo?
It has not been the most economically fortunate city in the US for some time and it was reflected in a lot of ways, but most notably a mass exodus from the downtown area.
Now that's all changing thanks to Pegula.
He recently won a bid to build the Harbor Center across the street from the First Niagara Center—a $125 million project that will include a two-pad ice rink, retail shops, a luxury hotel, among other things. He donated a few million dollars this summer to landscape the Commercial Slip area of the Erie Canal.
And many say he's not even close to being done.
With a revitalized downtown area, the city can sell itself to the players, making the front office's job a heck of a lot easier.
Second, Pegula has completely revamped the scouting department for the team. Prior to his arrival, the scouting was primarily done through film, especially for the WHL and NCAA, whose teams are pretty removed from Buffalo geographically.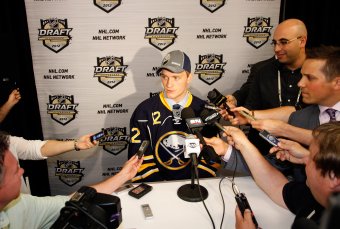 Justin K. Aller/Getty Images
Now the scouting is all in-person, and seeing someone play in person versus on film makes a world of difference.
On film you have one perspective that has been given to you. In-person scouting allows for many perspectives, as well as the ability to notice smaller things like how much they talk on the ice, what their bench demeanor is, their locker room roles, etc.
This will certainly be something the team feels the impact of in the long-run, but it will certainly make the team much stronger, especially if the team starts having success and needs to be able to make a solid pick later in rounds.
Lastly, and the most short-term difference, is his willingness to spend money now.
Say what you want about last offseason, but the additions of Ville Leino, Christian Ehrhoff and Robyn Regehr showed, at the very least, that the Sabres now had an owner that was more interested in the product on the ice than his bottom line.
Yes, as many have learned and many more will learn in the future, throwing money at free agents is not the answer all of the time.
Leino started slow, Regehr struggled when playing with Andrej Sekera and Ehrhoff had injury issues, but there is no way having them on the team makes the Sabres worse. More needs to be done, but it was telling that Pegula was willing to spend that kind of money to make the team better.
Now, don't expect spending sprees like that every season, because they usually don't turn a team from playoff contender to Stanley Cup contender overnight.
A team needs a solid prospect pool and drafts to go with the diligent free-agent pick ups to be truly successful, but they also need the guy at the top that is willing to make the moves necessary to make the team better (ignoring any Darcy Regier opinions).
So, despite a tough season last year, there is no plausible argument that Pegula has made the team worse.
One could possibly argue that the additions of Leino, Regehr and Ehrhoff have not made the team better, and after last season it's possible, but not only should they not be judged on a single season, but all three played well at the end of the season.
But the reality is that with the new additions of Steve Ott, plus the three from last year, plus this year's draft class that includes Mikhail Grigorenko (who is making a mockery of the Quebec Major Junior Hockey League), Zemgus Girgensons and Jake McCabe, the team is certainly going to be better moving forward.
Pegula has not delivered the Cup yet, but don't be surprised if he does sooner than you think.
This article is
What is the duplicate article?
Why is this article offensive?
Where is this article plagiarized from?
Why is this article poorly edited?